Staging to Sell | Let Us Count the Ways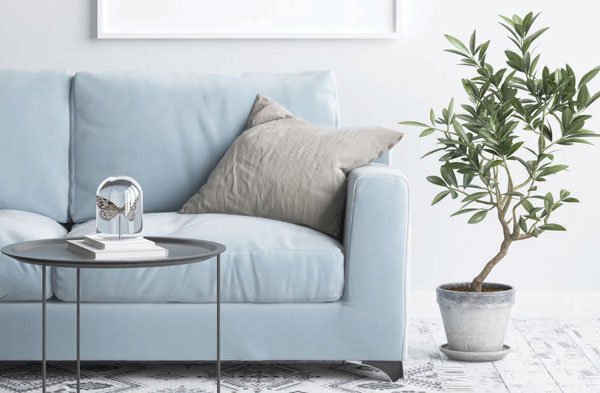 "All the world's a stage," William Shakespeare wrote in his comedy "As You Like It." The Bard was onto something. Relocating his family from Stratford, England, in 1599 across the river to Southwark and again in 1604 to an area north of St. Paul's Cathedral in London, we can assume he understood how to present each residence in its best light for potential buyers, yes?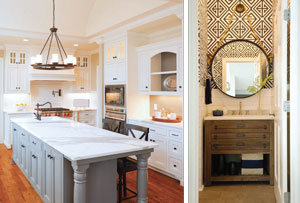 Fast forward about 415 years and the art of staging a property is now part and parcel in preparing for a sale. "Over the years, realtors have helped clients prepare their homes for the market with suggestions and advice. As more people are viewing homes online and watching HGTV shows, staging has become more popular and a whole new industry has been created," Wanda Richards, founder and CEO of Shows Great Photography and Staging, tells Roanoke Virginia HOME.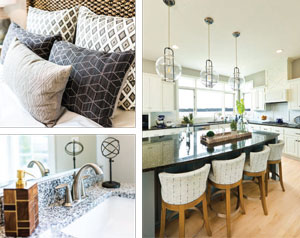 After working as a Roanoke realtor for three decades, a friend asked if Richards would stage her vacant home. She added her own furniture and then—as a trained photographer—also provided images for the newly polished space. It had been on the market for months; following her "intervention," a contract was written in less than 30 days. "I figured I was onto something that would help move homes in a depressed real estate market," Richards says. Today, her company has the goods to furnish as many as 18 homes at a time—and she says that the art of staging typically brings listings to term within 28 days. In 2018, her company also photographed 1,400 homes in Southwest and Central Virginia. She stresses that in addition to staging, "Studies have shown that professionally photographed homes sell faster and for more money."
At the least, most realtors now coach home sellers with tested tips and tools to attract the greatest number of potential buyers. First impressions matter, so we begin curbside. "Let's start at the front entrance before you even get inside, because this is where potential home buyers spend the most time waiting for the realtor to unlock the lockbox," Richards offers. "A fresh doormat, clean front door and a fresh coat of paint on the front door go a long way. Add a nice wreath. Clean those door jams. In season, it is good to add some yellow plants in pots by the front door. Yellow puts people in the buying mood."
And then: Trim low hanging limbs and branches so buyers see the home from the street, she advises. Add fresh mulch, trim shrubs and bushes, clean windows and shutters. Pressure wash the outside if needed. Store trashcans out of sight. "And the backyard should be neat and clean. Please pick up the dog poop!"
Once inside, it's all about decluttering and "hotel clean." Get the scrub brush and Spic & Span ready, Richards advises: "Clean, clean, clean." Make sure to declutter, including countertops and surfaces. "New towels for bathrooms, preferably white and fluffy. Well lighted areas: Keep lamps on when your home is being shown," she continues. "Have a trusted friend give it the smell test, because a lot of times we cannot smell odors in our own homes." And get rid of old, outdated wallpaper. In fact, here's an interesting factoid: Wallpaper ranks just below pet smells among elements that most turn off buyers.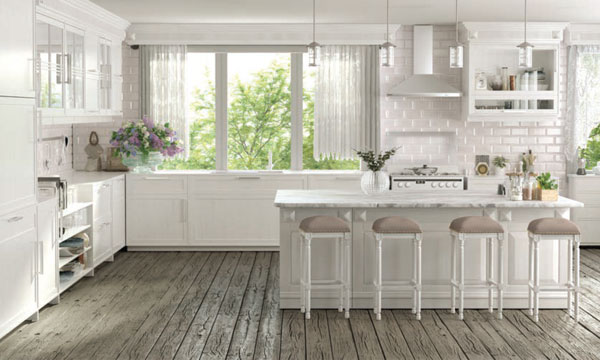 Now, taking the house room by room, let us count the ways to most effectively stage.
1. The foyer should be clutter-free. No coat racks or coats and shoes. A nice table with a lamp is welcoming, if there is room. A bowl of wrapped candy adds ambiance.
2. Kitchen counters should be clear except for a few accessories. The kitchen sink and appliances must be squeaky clean… yes, potential buyers will look inside your stove so make sure it's wiped down. Remove everything hanging on the front of your fridge. Richards says, "I can tell why someone is selling their home by the things they have on their refrigerator… doctor's appointment reminders mean health issues, lunch menus mean outgrowing the home… get the picture?"
3. Living rooms and family rooms usually contain too much furniture. Pare down to give the look and feel of more space. Colorful new throw pillows make photos pop online.
4. Dining rooms are for dining only. "They are not home offices, craft rooms or areas for paying bills. Get rid of everything else," she insists.
5. In family rooms, remove pet bowls and beds when your home is being shown or photographed. And throughout the home, put away personal photos, religious items and personal awards. In other words, take yourself out of the picture.
6. The master bedroom is a retreat. New bedding goes a long way, as do lamps that are the right height for the bed. Add fresh pillows, then deep clean surfaces and add fluffy towels—and again, no personal items.
7. Master bath, again, "clean, clean, clean," Richards says. No personal mementos on the vanity. Fresh towels. For secondary baths and bedrooms, the same applies, with white towels and fresh, modern bedding.
Richards has a few more tips of the trade for savvy homeowners. Declutter closets. "You want to remove half of the items in your closet; this makes it look like you have plenty of storage," she says. "It's a good time to rent a storage unit if you need to, or donate excess stuff." Also, keep it light inside. Make sure every light bulb works—and use cooler daylight bulbs instead of the old-fashioned kind that cast a yellow glow. Open curtains and blinds. Simply, "Let the light in."
Also, mop, dust, vacuum, wash windows and baseboards. Remember that folks will look in your cupboards, under your sinks and in your closets.
Now that your home has been staged to look its very finest for potential buyers, here's a query that remains relevant: among renovations, what provides the best value when selling a home? If homeowners have a property that is inconsistent in its updates, where should dollars be focused before listing? Richards advises, "If you are on a limited budget, but have some money to spend, use it for new light fixtures, fresh paint and refreshing hardwood floors or changing out carpets."
Make repairs that matter. Repair squeaky doors, fix chipped paint, remove worn carpets. If hardwood floors are in disrepair, at the least, place a new area rug over them. With a larger budget, new kitchen countertops and stainless steel appliances are a good investment. "You can also give your outdated cabinets a new look by having them professionally painted. And bathrooms can be updated with new paint, light fixtures and vanities," she advises.
Alongside the staging "do's," there are plenty more "do nots" to heed. Foremost, don't take it personally. You are not selling your home; you are selling a house. To get top dollar, emotionally detach from thinking about those attending an open house as your guests. Don't be offended by potential buyer feedback and trust in your realtor's experience to know what works when staging.
"There are lots of horror stories we have heard over the past few years," Richards says with a laugh. "Please remember that depersonalizing and decluttering are very important. Be sure to remove your dirty underwear and make those beds. You would be surprised at the number of homes we go in to photograph and the beds are unmade and they knew we were coming."✦
declutter, eliminate, FEATURE, light, Painting, professional cleaning, Rearrange, relocating, Staging to sell, Stainless steel