Coming Home | A Young Professional Returns to Roanoke in Search of Her First Home.
Photography by Kevin Hurley
A Roanoke native, Whitney Norbo always knew she wanted to return to her hometown after her college and graduate school years. Her parents, sisters and many other family and friends were still in town; it felt like home. So Whitney found a position as a pediatric nurse practitioner working at Carilion-Roanoke Memorial Hospital and moved back to the same neighborhood where she grew up—the same house even. Like many young professionals just starting out, Whitney initially moved back in with her parents as she started her new job and looked for a place of her own. A call from a friend saying that the charming yellow brick house in South Roanoke, mere blocks from the hospital, might be available spurred Whitney to consider homeownership. She tracked down the out-of-state owners, who were, in fact, looking to sell and offered to purchase. And the rest, as they say, is history.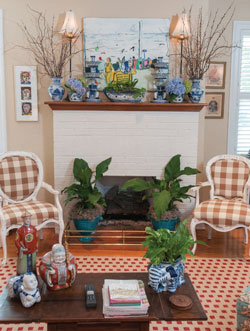 Years of training in antique meccas Charlottesville, VA and Chapel Hill, NC and a lifelong penchant for estate sales, meant that Whitney, an inveterate art collector and self-described tag-sale enthusiast, had to put a lot of her collections in storage in her parents' basement over the years. So it is perhaps with extra impetus, that Whitney and her mother Phyllis began to think about furnishing the house and making it Whitney's own. Thankfully, the home had been wellmaintained, "I was lucky. People had done work on the house all along the way, updating the lighting and renovating the kitchen," explains Whitney, "So there wasn't a whole lot I had to do. I had some things painted. I've changed out some doors, but that's kind of it."
Initially, the walls were all painted the same color—an unobtrusive off-white, but although Whitney has changed the colors in some rooms downstairs, she's chosen very soft neutrals the better to offset her colorful and extensive collection of local and regional artwork. Over the mantle in the living room and grouped together on an adjacent wall, are several works of Charlottesville artist Ted Turner, a particular favorite of Whitney's. "People around here have his paintings in their homes," she laughs, "so I grew up seeing them. Then when I went to school at UVA, I was on the lookout, but it was actually coming home to Roanoke where I got these. I bought one from Ken Farmer Auctions and when my mom and I went to pick it up, he said, 'I have a warehouse of these things if you'd like to look…' and we were like, 'Uh… sure…' I ended up with twelve of Ted Turner's paintings that day!"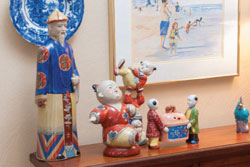 It's lucky finds like these that have fueled a life-long hobby of collecting for this young professional. In addition to hanging artwork, Whitney has always had a love of traditional decorative Chinese figurines, platters and vases. She owns dozens and has collected them since childhood. In fact everywhere the eye rests downstairs in this gem of a house the porcelain figurines add a touch of whimsy and youth to an otherwise traditional-style home. There are several lounging on the coffee table, a pair holding up vases on the mantle and another grouping next to family photos on a side table or guarding the decanters and cocktail napkins on a nearby drink tray.
---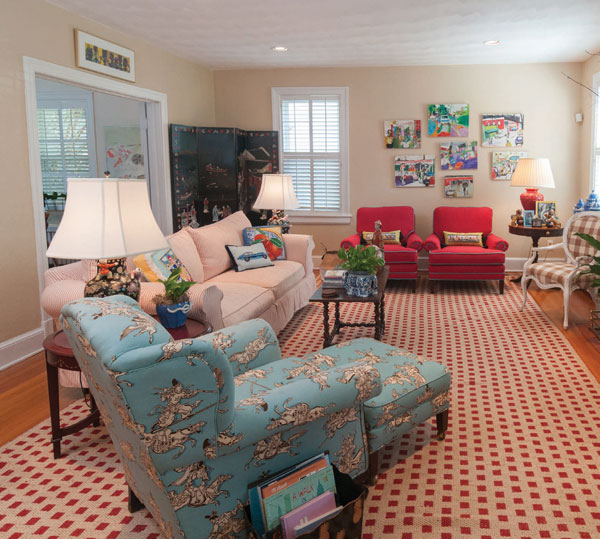 Above the pair of resplendent cherry red club chairs, a collection of seven Ted Turner paintings embodies the colors and details throughout the room.
---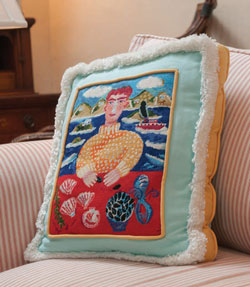 The living room is artfully arranged, with comfortable, overstuffed chairs and a couch centered on the painted masonry fireplace and anchored by an area rug in a subtle geometric print. The television is tucked unobtrusively off to the side atop an antique chest and is still at a comfortable viewing distance from the seating. Whitney has chosen to go with the clean lines of white plantation shutters rather than traditional draperies or other window treatments, which contributes to the feeling of brightness throughout the house and doesn't distract the eye from the artwork or antiques. Scattered around the cozy living room and indeed all over the house, are beautiful hand-stitched needlepoint pillows, which Whitney has made over the years. "I love to needlepoint," she shares, "My sisters and I learned one summer at the beach with my mother and aunt. I've just kind of stuck with it, though I don't have as much time to do it as I used to." Each of these hand-stitched pieces of art is a testament to dozens of hours of careful needlework and provides decorative accents, but also palpable memories for this young homeowner.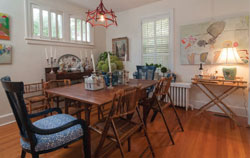 The dining room opens off the living room and here Whitney has refrained from colored walls or carpeted floors, preferring the simplicity of the antique dining room table from her mother's family with chairs that she finished herself. "I love this table," says Whitney, hand resting gently on its finish, "My uncle brought it back from Florida and I said, 'Who's getting that table? Me?' I got my wish." The metalwork chandelier was also a gift from her family, Whitney's mother Phyllis to be exact. "My mother actually bought the chandelier for herself at an antique store by the beach, but she didn't have a good spot for it, so she gave it to me." The dining room is the perfect spot to display more of Whitney's collection of Asian china and porcelain, where it joins another Ted Turner oil painting, in the antique china cabinet and on the nearby sideboard.
---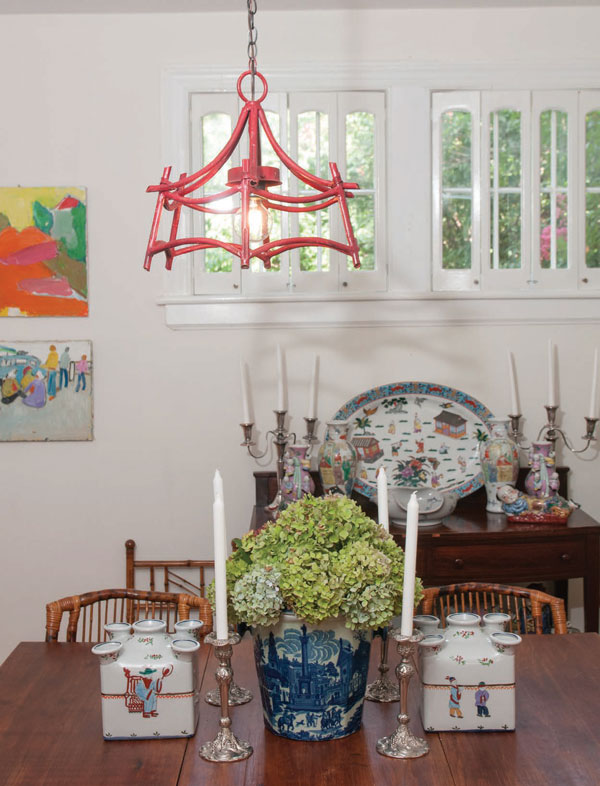 An Asian-themed tulip vase, often referred to as a tulipiere, adds whimsy to the richly honed dining room table. The table is a family piece and gift from Whitney's Uncle.
---
The compact kitchen and eat-in dining area at the rear of the house is a tribute to efficiency. Whitney explains that she didn't have to do much more than paint the walls and switch out a few light fixtures to make the room her own. There's a clever builtin desk/computer workstation with lovely built-in bookshelves, which give Whitney extra storage as well as a home-office of sorts. There's another heirloom dining table in here with matching chairs that Whitney has had covered with crisp navy blue monogrammed seat cushions.
---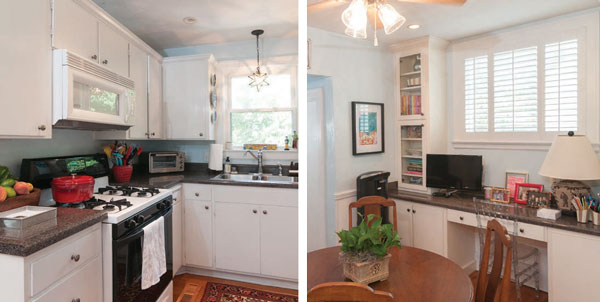 Crisp white plantation shutters allow abundant light to filter through the built-in desk/workstation adjacent to the kitchen.
---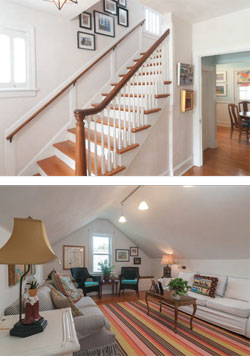 Colorful original artwork hangs along the hall, the stairway and even inside the downstairs powder room. Besides the several Ted Turners, Whitney's collection features celebrated local artists such as Mary Bullington, Jamie Nervo, Mary Jane Burch and Nene Rowe. There is art everywhere. It is the sheer extensiveness of the collection that makes Whitney Norbo's feel like the collection of a much older person, hardly that of a young professional just launching her own career. Whitney explains that all her collections, the art and figurines, the antiques even the needlepoint can be traced through her childhood. While other children were collecting stickers, or Barbies, or posters of teenaged heartthrobs, Whitney was already collecting art and antiques. "I've always just sort of bought random things that caught my eye," she says, "and I have always gravitated to Roanoke art, even when I find them in out-of-town antique places. If there's a picture of Roanoke, I buy it."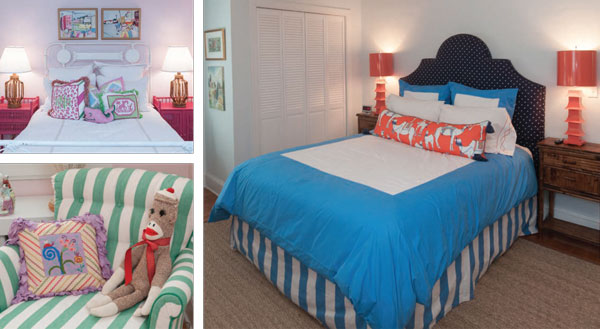 The house actually has four distinct floors, a ground floor, a second floor, where Whitney has three spacious bedrooms and 2 full baths and a finished attic and unfinished basement. The bedrooms are painted cheerful colors: bright, apple green, pink, (Because they matched all the recycled Lilly Pulitzer bedding she had from college and grad school) and her own bedroom, done in bright patterns of blue and orange (an homage to her alma mater, UVA). Whitney is talented at creating art as well as collecting it. For instance, in her bedroom, Whitney displays a grouping of six Chinese vase-themed paintings that she painted herself. She explains, "I have one painting like these in my kitchen that I ordered online for $100 and when it came, I thought, I can do that!" So, she did. The finished attic is brightly lit from large windows at either end. It's set up as a casual second sitting room, but could easily double as an additional bedroom, or, as Whitney explains, even a crafting nook.
---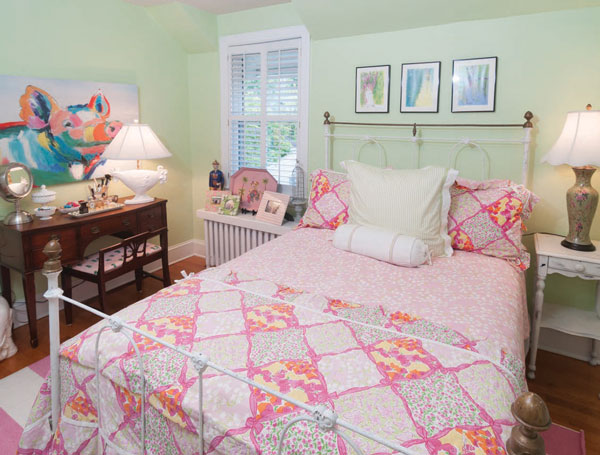 The precious Pig Painting, a Pawley's Island find, is the perfect artwork for the Lilly Pulitzer bedding Whitney reused from her college and grad school days.
---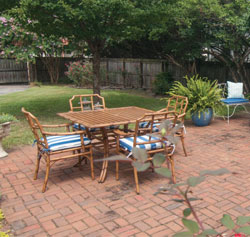 Whitney has put some time and effort into the outdoor areas of her home as well. "All of this was really overgrown when I got here," says Whitney, gesturing to the charming brick patio, lawn and enchanting mixture of shrubs, trees, rose bushes and ferns in pots. "I started slowly, just pulling weeds and cutting things back…a LOT. Then got some fresh plants in. I'm hoping they'll grow." The back yard is sheltered and indeed it seems as if Whitney's plantings will thrive—she has graciously opened her home and yard for this year's Historic Garden Week. The yard itself is fully fenced and includes a small garage at the rear of the property—just a stone's throw from the small, walkable business and restaurant district at Crystal Spring and McLanahan, one would never know it. The yard is quiet and smells like roses from the several bushes Whitney has planted. A custom metal gate divides the front part of the driveway from the back and completes the enclosure of the back yard so that it feels like an oasis of calm under the shade of the large old trees. The large brick patio is laid out in conversational groupings: a bamboo table for four in one corner, wicker chairs in another, a relaxing chaise lounge in another. Whitney has had crisp navy blue and white cushions custom-made for each of these arrangements, as well as those on the front porch. Her guests and visitors to the yard are sure to appreciate both the comfort and the bright pop of color these provide amidst the green lushness of the carefully maintained yard.
---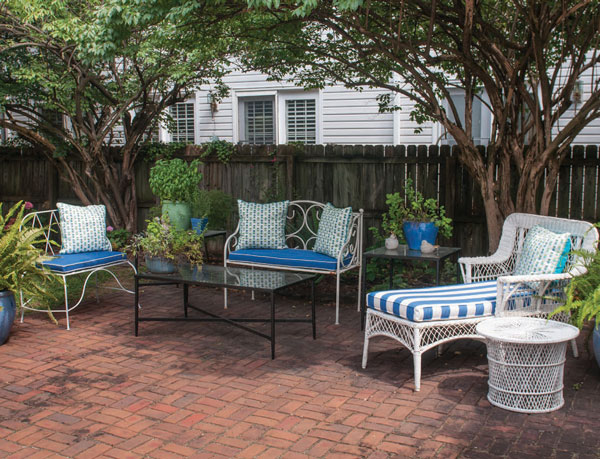 A pair of crepe myrtles offers a shady respite on the rear patio. The vibrant blue and white chaise and wrought iron set add the right pop of color to the outdoor space.
---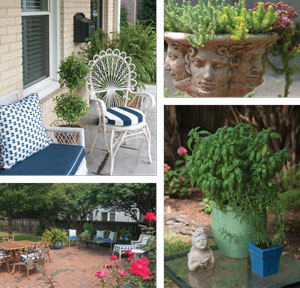 Friends and family know otherwise, but anyone else would probably be surprised to learn that this lovely home with its tasteful decorations, extensive art collections and the beautiful yard is a young professional "hometown girl's" first home. It's certainly a far cry from the stacked plastic milk crates and mismatched cast-off furniture that most people start out with, but Whitney Norbo has been collecting art and antiques for most of her life. It's a collection that she is duly proud of and one that perfectly reflects her tastes and interests. From the welcoming front porch to the cheerful back garden, Whitney has made her first home entirely her own. "I feel so lucky to have found this place," Whitney says with a smile, "I love it here." ✦
antique, Chinese figurines, Estate sales, FEATURE, hometown, platters, Showcase Home, vases