Soft as Velvet | How Velvet Can Add Glamour to Your Home
Velvet décor is trending in home design, but luxurious velvet has never truly gone out of style. For centuries, velvet has captured the zeitgeist of the time, whether in Victorian England, the Antebellum South, or beyond. Who can forget Scarlett O'Hara's sumptuous green velvet dress wrought from beleaguered Tara's curtains in Margaret Mitchell's Gone with the Wind? Originally made with fine silk, velvet epitomized opulence and wealth, but today's velvet, composed of natural and synthetic fibers, is more affordable and accessible. You can infuse glamour into your home by incorporating silky-smooth velvet with rich hues into your furniture, window treatments and accent pieces.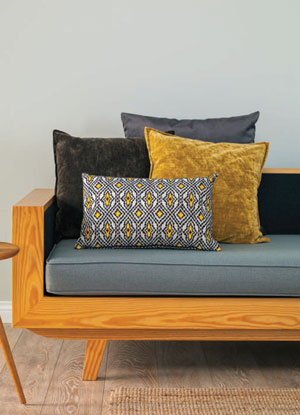 Velvet 101
Velvet refers to the plushy textile's structure, not its fabric. Velvet is characterized by a dense pile of evenly cut and tufted yarn, the soft surface upon which your hand glides when you touch it. It's woven on a hand or power-operated loom that interweaves warp and weft yarns and simultaneously produces two layers of connected fabric. Warp yarns stretch lengthwise on a loom while weft yarns thread crosswise. Velvet fabric displays at least two sets of warp yarn and one set of weft yarn, a fitting feature for the metaphorical "warp and weft" or mainstay of the textile industry.
Yarn fibers determine the velvet's luster and softness. Though pure silk velvet is still revered for its exquisite beauty, velvet is now typically made from a blend of silk, cotton, linen, wool, mohair, and synthetics. According to Dorian Clowers, with Present Thyme in Roanoke, polyester fibers add performance, durability, and affordability to velvet's elegance and glam. She says "The new fabrics make velvet accessible to a whole new generation. They have come out with a performance velvet whose fibers are inherently stain resistant, repel dirt and make the fabric more family friendly."
Velvet history
Silk velvet likely originated in the Middle and Far East, but the silk textile industry reached its apogee in 16th century Italy, according to art historian Melinda Watt of The Metropolitan Museum of Art. In an MMA article entitled "Renaissance Velvet Textiles," she notes that silk velvet was an expression of power, wealth and taste among the nobility: "During the Renaissance, luxurious fabrics made of silk and precious metal threads counted among the most valuable items owned by both individuals and the Church."
Velvet's appeal to the nobility extended across Europe to Britain, from King Henry VIII's regal garb to Queen Victoria's royal palace. Across the Atlantic, velvet reigned in Victorian and Antebellum plantation-style drawing rooms and parlors. These well-appointed settings often boasted silk velvet upholstery on settees, sofas, chairs and foot stools. Their heavy velvet window treatments were both luxurious and practical because they prevented cold air from sweeping room to room. By the 1970s, Elvis Presley reinvented velvet into an energizing pop culture kitsch, reflected in his bejeweled, velvety outfits and Graceland's storied red velvet living room sofa and blue velvet dining room curtains.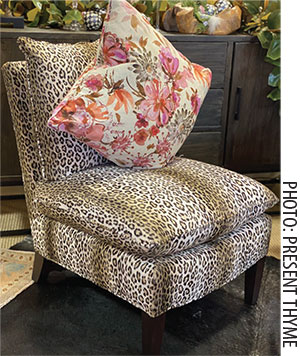 A modern twist
It's not surprising that velvet with a vintage vibe is trending in home design. Designer Clowers says she uses velvet frequently, especially since the COVID pandemic: "We're working with velvet all the time. Velvet is a classic look. It used to be that you think of velvet in a royal home or grand library. It's not so formal now. Part of it is COVID and everyone being at home and craving the warmth that you don't get in neutral linens and cottons. People are incorporating fabrics rich in color and textures."
Elaine Stephenson, owner of Elaine Stephenson Interiors in Roanoke, thinks velvet is resurging in popularity because of its luxurious texture and versatile fabrics. She says, "Velvet can be very versatile. You can use it in a lot of different scenarios and situations in the home. It makes great headboards, ottomans, and pillows, and you can even upholster walls with it." According to Stephenson, velvet's soft and inviting texture makes it ideal upholstery in more formal settings, while a fun velvet throw pillow is perfect for a casual ambiance.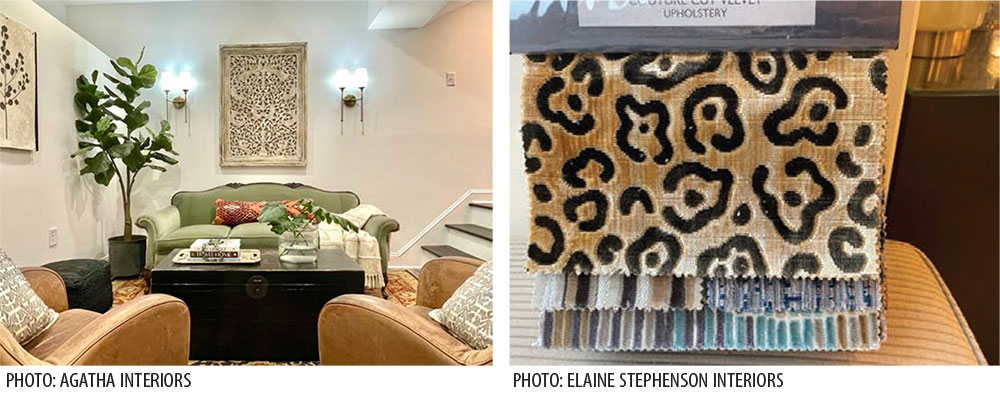 Velvet glam
Deep velvet hues — saturated blue, green, plum, gold, and rose for example — on furniture, curtains and accent pieces give instant glamour to a room. Stephenson says, "A lot of velvets will come in fun colors and give you the special pop you need." She likes to use velvet accent pillows with solid, patterned and vintage textures to brighten and tie a room together. With velvet throw pillows, she adds, you do not need to buy as much fabric, but you get "a big bang."
Clowers thinks that velvet carries color better than other upholstery fabrics such as cotton or linen, hearkening back tothe famed dyes used in silk weaving during the Italian Renaissance. She says, "You can use brighter colors in velvet and achieve a bolder look. You can use colors you wouldn't use otherwise to freshen things up. We have a soft purple velvet sectional sofa whose color might look too young if it were in a solid cotton. The depth of color you get from the velvet makesit more sophisticated."
Venerable velvet
Velvet has provided the backdrop in parlors and drawingrooms where America's historic moments took place, and it still serves as a cultural touchstone. Snow White and Santa Claus enchant us with their cheerful velvet attire while Elvis Velvetwall hangings keep the King's legacy alive. It's no wonder that the venerable velvet is making a comeback in home design because we all need inspiration, enchantment, and a little glam in our lives. ✦
16th Century Italy, Antebellum South, plushy textile's structure, pop culture kitsch, Renaissance velvet textiles, silk velvet, Velvet, velvet décor, Victorian England