A Warm Welcome
PORCHES AND ENTRYWAYS BRINGING THE OLD AND NEW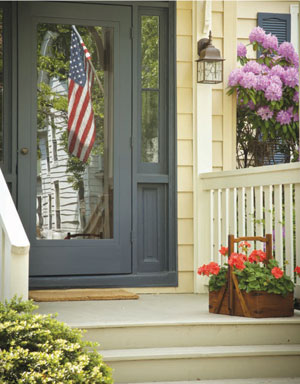 Your entryway is the drumroll to the experience of your home. It can be dingy and underwhelming at worst or hospitable and awe-inspiring at best.
My Nana used to fling open the door with a twinkle in her eye and say, "Come in this house." It was a lovely and cozy home, filled with aromas of delicious foods and warm hugs. Little did I know then that my husband and I would one day own and bring our babies home to this same house.
After living there for a few months or so, a few of our neighbors came in one day and said, "Wow, I wasn't expecting such a decorative and lively house inside." I soon came to realize I'd focused a lot of attention on the inside, while mostly ignoring the front porch and entryway.
Entryway trends of the moment can best be summed up as traditional with a nostalgic nod to whimsical embellishments. The last few years have led to a renaissance of all things that make us want to lean into warm memories of the places we've felt the most loved.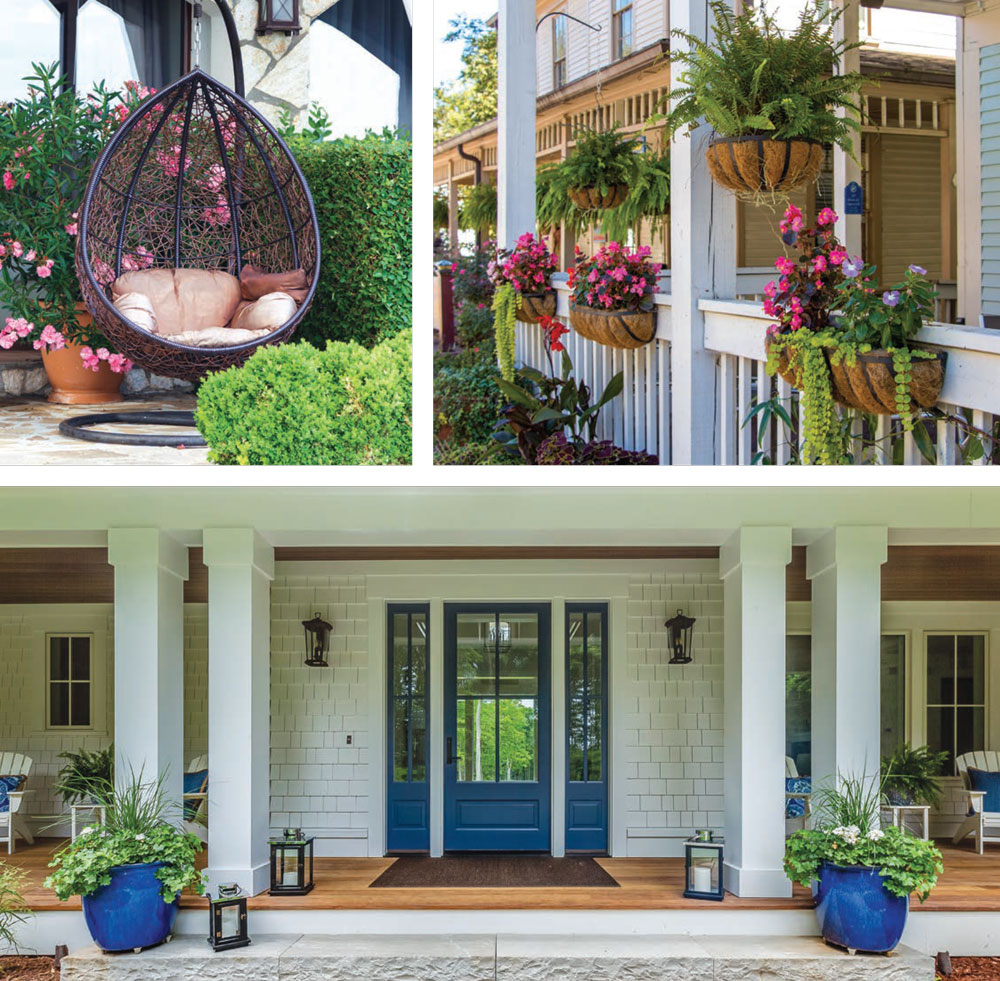 Front porch sittin'
In terms of front porches, traditional symmetry is as popular as ever. Think hanging or potted plants, lanterns, sconces, rocking chairs and window boxes. Layering in organic natural materials like outdoor fringe, jute, wicker and wood add depth and personality in rugs, furniture, textiles, pillows, cushions and throws. Circular and rounded shapes are highlighted in the form of egg-shaped chairs, swings, rounded rugs, tea tables and spherically trimmed boxwood shrubbery. Create pops of color with flowers, floral and checkered print patterns and painted doors.
While the thinking of the prior minimalistic era was "less is more," these days, "more is more." If you enjoy plants, don't stop at hedges. Fill the space with overflowing terracotta and ceramic pots to not only frame the doorway, but also line the porch steps on both sides. Fill window boxes with cascading blooms. Even the smallest of stoops can be personalized with a cheerful welcome mat, lantern and baby bonsai by the door. Don't skimp on the topiary. The more precisely curved, zig-zagged or rounded the trimming, the more eye-catching.
In terms of color, for both porches and foyers — black and white contrasts, gold accents, both neutral and moody shades in monochromatic styles and the rich browns of artistically crafted wood — are thrilling to the eye. Statement marble remains a luxurious feature in foundational furniture and flooring. In terms of accent colors, we can't forget the color of the year, Pantone's Viva Magenta. That and related hues like mauve, dusty rose and lavender are showing up as statement doors and built-in features.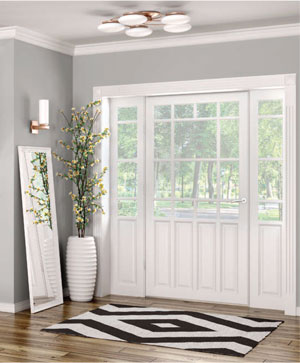 Crossing the threshold
You might be wondering, if everything is symmetrical and traditional, then what's new? Nostalgia is definitely reigning over novelty, and yet novelty is achieved in the eclectic pairing of embellishments.
Leaning further into the biophilic aspects of the home can create a seamless transition from the outdoors in. If you've included plants for the ambiance of your porch, consider continuing the theme with a mini tree by the door, a few snake plants or some fresh-cut flowers in an ornate glass vase in the foyer.
Another form of continuity can be seen in the form of a monochromatic color palette in which the walls match with any molding, trim, millwork, art and accessories.
There's a reason why traditional entryway layouts include a pendant light or chandelier, side table with a mirror and a plant off to the side, typically parallel to a runner that defines the walkway from the front door. Foyers and mudrooms tend to be narrow nooks in the home, and this cohesive layout is what we've come to expect.
However, this doesn't mean we can't push the limits or create a whole new vibe. If you prefer contrast to cohesion, you can define your foyer as a completely separate area off the beaten path from the porch and the rest of the house.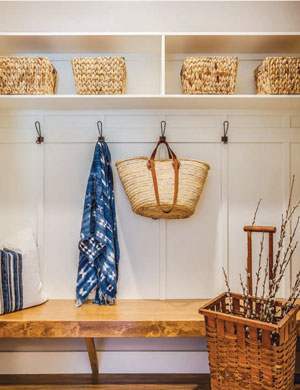 Get creative
Bring in novelty with accent lighting, such as sconces with colorful shades. Vintage pendant lights, along with backlighting on mirrors, art and encased archways can create visual drama. Statement ceilings painted an accent color or adorned with wallpaper can train the eye to take in the full scale of the room.
Built-ins such as sophisticated cubbies and elaborate custom cabinetry complete with hooks and pegs can add practicality in mudrooms and foyers. Families can reduce clutter by designating this drop zone for shoes, coats, bags, mail and other odds and ends. Additionally, cushioned window seats with pillows can provide comfort and sneaky storage with sliding doors or baskets to keep eyesores hidden.
Honorable mentions for expressive whimsy include tassels, fringe, trim, ruffles, stained and fluted glass, scalloped edges and wallpaper accents. Gallery walls add personality by depicting family, friends and pets.
As for my family, it was a bittersweet day when we outgrew Nana's nostalgic house and moved out. Again, I waited until last to decorate the entryway, but this time it was intentional. After considering the rest of the house, I wanted to curate a showstopping entryway with a drumroll to the tune of welcoming my loved ones.
The front porch or entryway can really roll out the red carpet for the rest of the house. Why not include a full orchestra, with trumpets, fluting and all the other enthusiastic touches that say to your guests with a twinkle of the eye, "Come in this house." ✦
accent lighting, biophilic, eclectic pairing, Entryways, front porches, lanterns, monochromatic color palette, more is more, organic natural materials, plants, pops of color, rocking chairs, Sconces, traditional symmetry, whimsy, window boxes