Settled On Stanley Avenue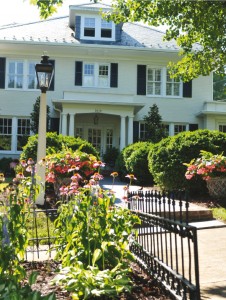 For Bob and Jo Rider, family is everything. Their entire lives center on their children. So it was natural that they would settle in an area known not only as family-friendly but voted at one point as "the number-one street to raise a family in Roanoke."
Stanley Avenue is a quiet street a few minutes' walk to downtown Roanoke. It is a mix of well-kept mid- to large-size homes with the kind of architecture that says,  "These houses are here to stay." Here families put down roots.
And so it was with the Rider family.
Soon after Bob Rider earned his law degree in Richmond, the family moved to the Roanoke area. "When we first moved here we heard about Stanley Avenue," explained Jo Rider. "We had four little children and it was important to have a place where children could grow up in a safe area around other children." The couple soon discovered that this was not only the most popular street in all of South Roanoke but rather picturesque with its turn-of-the-century architecture. It had a "small-town feel."
The couple initially settled down the street from their current home. They thought the location was perfect. And over the years Jo kept her eyes on a nearby house. She admits that she always wanted it. "I just loved this house!" she exclaimed. Finally it became available. "I went all through it," said Jo. "Bob just breezed through." As the couple walked back to their own house down the street, Bob stated, "Whoever buys this house needs to be in an institution!" As Bob looked at his wife he could see the wheels turning and said "Now Jo! Jo!" Her reply; "Now, Bob. I can make it into a wonderful home and we can stay in the neighborhood!" His reply; "No, no, absolutely not!" The Rider family moved in soon after!!


"When we first moved here, people thought that we were crazy to have bought it," said Jo. Bob explained that his father-in-law always referred to the house as "the building." And "if you saw photographs of what we bought you would understand. Jo always had the vision," said Bob. The house was definitely not in good shape. Prior to moving in, a few things were done. "The rest we did while living in it over many years," said Jo. Rooms were renovated one at a time.
The Riders' classic Georgian Colonial was built around 1910 and typifies the classic Georgian qualities of simplicity and symmetry. It boasts multi-pane windows, decorative moldings, dentil work and two chimneys.
While some homes need major renovations to make them showplaces, what the Rider home needed was more like a face lift. The crown molding, fireplaces, hardwood floors, plantation shutters and lovely beveled glass inserts in the French doors were all there when the family moved in. As Jo describes, "The house had good bones."
Clearly the focus of their home is family. Rooms are filled with heirlooms. "The living room is filled with my family," explained Jo. "My mother's treasures, my aunts'… I am the caretaker of these things!" Cupboards are lined with Jo's mother's dishes including Willow Ware and other sentimental favorites.
The home was furnished piece by piece, one room at a time. "We are always changing things and making it new," said Jo. "We go to estate sales and antique shows and pick up things."
Decorating is nothing new for Jo. "It is something I do. I have decorated many, many homes." Jo owned a successful design business, Jo Rider Interiors. "About ten years ago I stopped, and now just do for my family. I search and search for just the right piece. Things call to you." Jo's selections are usually things that the family can live with forever.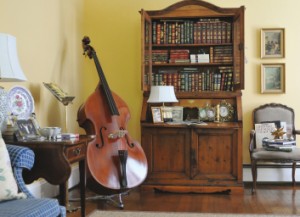 Old homes have character, and stories abound. And what better story to pass on than that of a ghost? Soon after the family moved in, Bob began to hear violin music. It was always the same song—
Liebesträume
by Franz Liszt. It was intermittent, originating from somewhere in the house and completely unexplainable. Talking to a previous owner, they learned that an elderly aunt came and lived with past occupants. She loved the house. Every evening the family would gather around and the aunt would entertain with her violin. Her favorite tune was
Liebesträume
!
One night the music began again and Bob had enough. He stormed up to the attic, which prior to moving in had been meticulously emptied and scrubbed clean. As soon as he climbed the steps, Bob spied something new sticking out of the rafters. It was an old violin covered with years of dust and grime. Piecing things together, Jo decided that the aunt was upset with Bob because at first he did not like the house. "I think that it hurt her a lot," said Jo. "Once we got the house all fixed up, the music stopped."
Today that same violin graces the mantel in the family's den. This simple but large room is jam-packed with books, family photographs and lots of memories. Filled with comfortable furniture, the family gathers here. A big fire roars in the fireplace all winter long. Above the mantel hangs a hand-colored hunt scene print, the first item that the couple purchased for the house. Bob's collection of English Spy prints lines one wall. Often featured in Vanity Fair, these prints depict caricatures of barristers and judges. A portrait of Robert E. Lee holds a special spot here. Lee is a favorite of Bob's. "It came out of my Aunt Lou's house," explained Jo. "Bob was the only in-law who was left anything in her will!"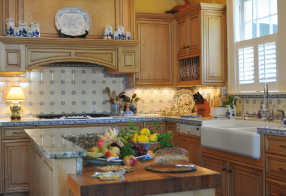 Recently the kitchen was completely renovated. Originally it encompassed a breakfast area and a separate kitchen. Today it is one room. A large oak cupboard, which was original to the house, is still a major part of the room. "I think that all homes of this era had pieces like this. And I could not begin to give something like this up!" explained Jo. Today it covers one wall in the breakfast area. Another wall holds shelving custom built by their son. It is filled with books on cooking and gardening, two of Jo's loves.
The original kitchen cabinets were metal. "Everyone felt sorry for us because we had these old metal cabinets," said Jo. "We had them sprayed with automobile paint and used them and loved them." With this renovation Jo's decorating talents indeed came in handy. "I don't like new kitchens, or new appliances!" Jo said. To pull her kitchen together and keep that aged appearance, Jo found a large butcher block that she rescued from "The Lonesome Dove" in downtown Roanoke. She combined the block with a stone countertop to form an island work space. Carter Cabinets in Roanoke built the maple cabinets that line the walls and installed Corian countertops with a blue and white tile backdrop.
The dining room is one of the highlights of the Rider home. A Welsh dresser graces one wall. Somewhat like a sideboard, the dresser holds more tableware passed down through the family. Jo pointed out that they often use their fine dishes and silverware and enjoy meals in the dining room. "The dining room is so important," explained Jo. "A lot of young people do not understand that. You know that something happens when a family enters the dining room. Baseball caps come off, the manners are used, the napkins are all in the laps, and you build memories." Bob added, "This is when there is real conversation and not just talking." In the dining room the Rider family relaxes and takes their time sitting around the table talking and laughing.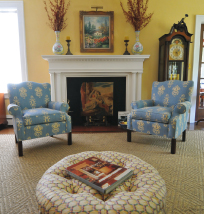 French doors from the dining room lead to a screened porch. A tile floor and wicker furnishings give the room an island feel, a retreat from day-to-day activities. Jo took advantage of pieces that she already had on hand, pulling it all together with a floral painting. It hangs from old shutters that Jo ingeniously placed over part of the screening to provide additional privacy.
A deck, accessible from the garden and also the kitchen, offers a large entertainment area and views of the nearby mountains. Below the deck is a shaded brick-lined patio, a perfect spot for a private dinner party.
After several trees were lost in a severe electric storm, the gardens were redesigned. A dogwood, planted when Jo and Bob's son returned from the Persian Gulf War, stands as a tribute to the armed services and their son's commitment to his country.
A charming brick paved alleyway runs behind the property and follows along the back of Stanley Avenue properties. It has always been here, according to Jo, and is used by families to go from house to house. Jo's grandchildren, who live just up the road, use the route on a regular basis to walk over to visit their grandparents.
But it is the front garden that is most spectacular. "I don't recall doing anything that I have loved so much!" exclaimed Jo when talking about her new garden. After the storm destroyed Jo's shade garden in the back, all of the hostas and ferns were transplanted and intermixed with coral bells and coneflowers in the front of the house. A cast-iron fence from Black Dog Salvage forms a border around the garden and along the sidewalk.
A slate walkway leading to the front entrance is lined with English boxwood. Each shrub was lovingly donated by neighbors when they were small and easy to transplant. An iron garden bench placed along one side belonged to Jo's mother.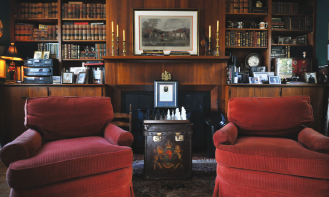 Holidays on Stanley Avenue are special. Never is it more true than on Halloween, especially at the Riders' home. Family and friends gather, as do about 700 costumed children! No one misses stopping by to see what spooky treats the couple has cooked up. It is not unusual to be greeted by a costumed Bob Rider carrying a lit candelabrum. "Bob and I started Halloween years and years ago," said Jo. Today it is a growing tradition. Bob pointed out that "Nowadays people bring their children because they remember their own Halloweens with the Riders." When asked how long they will continue the tradition, Bob replies, "We can't give this up. If you give something like this up, you start getting old!"
Another big delight in the area is snow. The street is known for some of the area's best sledding. According to Bob, Stanley Avenue is usually the last to be cleaned so everyone flocks here with their sleds. Last year the Riders' son-in-law grilled hot dogs for everyone and served over four hundred. Plenty of snow, hot dogs and a roaring bonfire were just the right ingredients to make for some perfect winter fun.
Meanwhile, back at the Riders' house, the grandchildren stream in and out, using their grandparents' home to dry out and warm up before returning for more sledding. Much to Bob and Jo's delight, their grandchildren are experiencing the very same memories that their own children enjoyed!
"It is like a playground here!" said Bob. "We wouldn't move off of Stanley Avenue! Ask someone who grew up here many years ago and the story is the same." Bob explained that a lot of their friends have moved to retirement developments and now they want to come back to neighborhoods like this. "I just don't see myself doing that…We have everything we want here, a lovely home, room, everything is here. Why give it up?"