Setting a Beautiful Table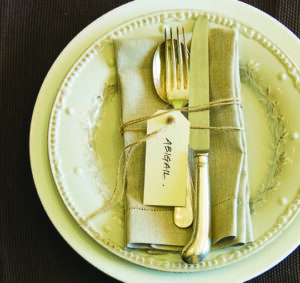 One of the more daunting tasks when entertaining is setting the table. When your guests walk into the eating area, whether it's a formal dining room or a casual breakfast nook, you want your table to be inviting, engaging, and most of all, beautiful.
There is more to creating a memorable setting than simply placing a flower arrangement on a bare table. You want your guests to feel as though you made an effort to make the meal special, and the most visible way to do so is by creating ambience. Decorative elements are an expression of who you are and what you are celebrating. By viewing the table as a whole, instead of focusing on a single element such as the centerpiece, you will take your table from ordinary to extraordinary.
To help you discern how to create an interesting arrangement, here are a few tips: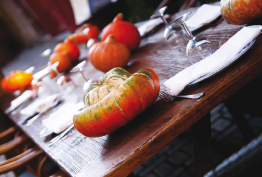 COVERED OR BARE?
The first decision you will need to make is whether to use a tablecloth. This decision will set the tone for the rest of your party ware. Whether you are hosting a casual affair or a formal soiree, table linens should complement, not compete with, the palette of the room in which you are eating.


Casual parties give you the freedom to decorate creatively; checks, stripes, or vivid colors set the backdrop for a tablescape with pizzazz. For a more luxurious feel, use heirloom linen or vintage damask. Whatever decision you make, ensure that the cloth fits properly: the correct length should be either to the floor or 8-10 inches below the tabletop. Finally, remember to place a table pad underneath the cloth to protect your surface!




If you have a beautiful grain or exquisite inlay that you would like to show off, it is perfectly appropriate to skip the tablecloth. Just make certain that you have lovely placemats to protect your table from any spills or scrapes. In addition to fabric placemats, bamboo, wood and straw mats are also popular.


PLAIN OR SASSY?
Many Southern hostesses have multiple sets of china: one formal and one casual. I have learned to create a feeling of continuity and coordination by matching my china to the pattern and feel of the cloth.


As your guests walk into the dining room, a striking table should be set with a charger plate (metal, china or glass) with a small decorative plate placed on top of it. These plates can be whimsical and fun, monogrammed and luxurious, quirky or stately, but above all they should set the tone for the evening.




Once these plates are removed to serve your first course, use white, ecru, or glass (clear or colorful), or your favorite china pattern. Just be careful that these plates do not detract from the overall table.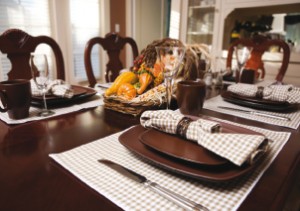 WHAT ABOUT THE REST?
Although floral arrangements are the standard, and immediately enhance your environment with their natural beauty and grace, don't limit yourself to simply placing stems in a vase. Let your table be an extension of your personality and make a statement by adding collectibles (such as porcelain figurines, silver decanters, sculpture) to your table. Use your discretion when adding these elements—you don't want to detract from the beauty of your table by adding too many extraneous objects, but have fun showing off your treasures to your guests!

Look outside for inspiration. This time of year allows for nature to easily be added to your tablescape—leaves, nuts, gourds are abundant, affordable, and readily available. Potted herbs, fruits (grapes, apples, lemons, pomegranates), and twigs add a natural feel to your table. Use these items creatively—as a grouping in small vases or bowls, or to hold place cards or candles.




Instead of creating one large focal point, try placing a series of matching low floral arrangements (you want your guests to converse freely and comfortably—not through a blockade of flowers!), and place them in a row down the center of the table. Scatter in a few votive candles and voilà—an easy and elegant display!




Lighting makes the difference in the ambience of the room. Mirrors, tea candles or candlesticks add light and movement to the table. Don't be afraid to use floating candles in water for added illumination and shimmer. With proper lighting, polished silver and sparkling crystal provide additional shine.




Finally, don't forget the napkins! They should complement the tablecloth and can be folded in a variety of ways or secured with interesting napkin rings to create a unified look.
Additional tricks of the trade:

Designers recommend using an odd number of objects (3, 5, 7) when decorating.
When using multiple objects, create drama by adding height to the table by using pedestals or by varying the levels.
Experiment with different objects and don't be afraid to incorporate unusual elements.
Remember the color wheel and use contrasting colors for an extra "pop."
Allow yourself enough time to play around with the arrangements, dinnerware, glassware and serving pieces for a striking table. Whatever you do, don't leave this task until the last minute—it will be daunting and overwhelming to try to put your vision on the table!
Have fun exploring your creative flair!
Try something new as you create a memorable table, and you may be referred to as the next Martha Stewart!