Kitchen Cabinets: A Myriad of Choices—From Prefab to Custom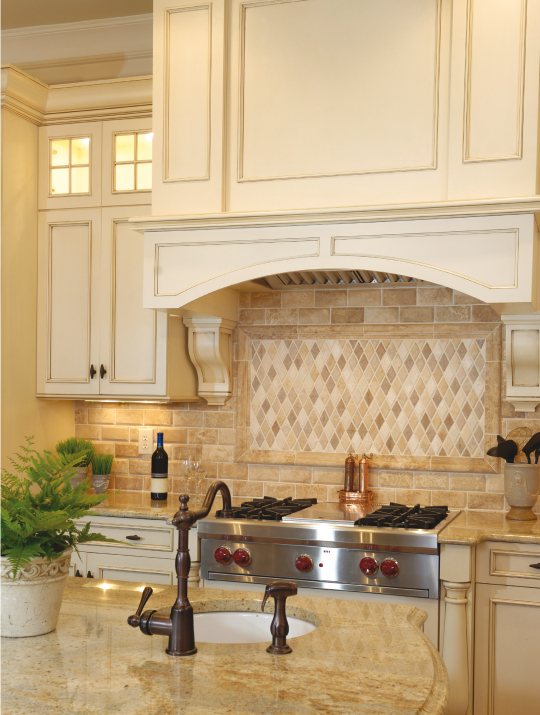 Cabinetry is the most important aspect of a kitchen; it aesthetically sets the tone of the room and creates functionality. Most importantly, it accounts for nearly half the price of a kitchen design or remodel. Forty-eight percent of a homeowner's kitchen budget goes towards cabinets, according to a survey conducted by the National Kitchen Bath Association. (Countertops follow behind, accounting for 18 percent of the budget, and appliances for 15 percent.) Essentially, your choice in cabinets is the most crucial decision you must make when designing your kitchen.
Prior to purchase
The building industry uses a 5 to 15 percent rule, which gives you a sense of what amount is reasonable for you to spend on your kitchen project, according to Henrybuilt Corporation, a kitchen system builder. This means that your kitchen project should cost no less than 5 percent and no more than 15 percent of the current value of your home. For example, if your home is valued at $500,000 and you are getting a middle-of-the-line kitchen, you'll use 8 percent of your estimated home value on your kitchen. This means that you'll be spending $40,000 on your kitchen. And as noted before, 48 percent of that cost typically goes to cabinets, so you'll spend $19,200 on cabinets alone.
The measuring and planning stage is crucial in putting together your kitchen. One wrong measurement can throw off your entire plan. If you are taking the stock cabinet route and aren't savvy with numbers, you should consult a professional to measure your kitchen. If you are purchasing custom or semi-custom cabinets, your kitchen designer will come to your home and take measurements.
With stock cabinets, if you have confidence in your measurements, be sure to draw out a wall plan allowing a few extra inches of space for your appliances. Determine if you want to build a soffit—a partial wall that comes down from the ceiling and meets the top of the cabinet. Look into the plumbing and electrical system in your kitchen. Do you want to add more outlets, under-cabinet lighting, another sink, or perhaps a dishwasher hook-up? All of these decisions will influence the arrangement of your cabinets.
Just like with measurements, the installation process comes down to the capabilities and skills of the homeowner as well. If you plan on having your cabinets installed by a professional, the general rule is to spend 18 percent of the cabinets' initial cost on installation. (Refer back to the 5 to 15 percent rule: This means you'll spend $3,456 on installation for your $19,200 cabinets in your $40,000 kitchen in your $500,000 home).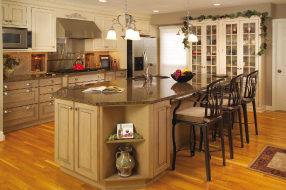 Is prefab fabulous?
I love perusing the kitchen showroom section of Home Depot and Expo Design Center, picking out the kitchen that I'd like in my future house. All the kitchens are built as if they are for small homes, ready for shoppers to cart them home that day. Oh, the instant gratification of stock cabinets! You can see what they look like right then and there in your big-box store and decide if the look matches your taste. And then, with the swipe of your credit card, the kitchen is yours.
Stock cabinets are the quickest route to creating your kitchen. They are available in standard sizes and finishes, with filler pieces taking up the awkward in-between spaces you need to fill. Stock cabinets do offer most of the interior fittings—the lazy Susan, special pullout shelving, etc. to help you organize your kitchen—but they are usually tacked on as additional costs, which will add up when you're ready to check out. Stock cabinet widths will range from 9 to 48 inches, typically increasing in 3-inch increments. Stock cabinets are the way to go if you don't want to invest much money in your kitchen and don't have much time to spare.
A few things to note if you are purchasing stock cabinets: Focus on the price and quality of construction. As noted earlier, minor changes like cabinet upgrades and accessories can add up. Some big-box stores price cabinets per square foot and upgrades can cost you an extra dollar per square foot. The initial price of the cabinets may seem within reason to you, but these little add-ons may cost you more than you originally anticipated.
Big-box stores tend to have elaborate kitchen showrooms that make you marvel at the cabinet's finish and hardware and the entire setup of the kitchen. Don't get swept away by the presentation. Open the cabinets and give them a good look. See if the cabinet box is made of particleboard, fiberboard or plywood. Particle and fiberboards aren't as strong as plywood, and don't hold up well against moisture.
How is the cabinet held together? Cabinets can be held together by staples, nails and/or glue. Well-made drawers are held together by dovetail joints, which interlock the perpendicular pieces of the drawer. These joints are known for their strength and resistance.
Cabinet boxes that are made from particleboard and that are glued or stapled together won't hold up well against daily use or heavy countertops, according to "Kitchens: A Sunset Design Guide." The book also notes that shelves less than 5/8 of an inch thick will give way to gravity and curve downward over time, and so will drawer bottoms made from thin particleboard.
Ready-to-assemble (RTA) cabinets are the most affordable kind of stock cabinets. Most RTA cabinets come with plywood boxes, a solid wood door and frame, and latches, according to RTA Cabinet Store. These cabinets are sold flat and are easy to assemble.
Semi-custom: The middle road
Semi-custom cabinets are the middle way between stock and custom cabinets. Semi-custom cabinets range from stock cabinets with custom-built doors or built-to-order cabinets—cabinets that you can choose from a catalog with many material and style options. Semi-custom cabinets can be of the same quality as custom but limited in size, color and styles.
Many homeowners go for semi-custom cabinets, according to Greg Perdue, owner of Perdue Cabinets, a custom and semi-custom cabinet shop in Roanoke.
"Semi-custom is definitely a better product—you can tell by the cabinet," Perdue says. "There is a sense of quality that you can feel right out of the box. Stock cabinetry—premade cabinets—have been sitting on someone's shelves, waiting to get shipped out. It's not a good quality."
Perdue says that homeowners, especially those who are remodeling their kitchens, typically want something a little better, so they go for custom or semi-custom. Semi-custom works best for resale, according to Perdue.
"It would be a return when I sell my house," he says. "If I put in stock cabinets, that's what they would expect when they walk in the door." Semi-custom cabinets make the kitchen stand out more than your run-of-the-mill stock cabinets.
Semi-custom cabinets have superior construction to stock cabinets. They have solid wood box drawers and most cabinet boxes are made of plywood, much like with custom cabinets. With semi-custom lines, the manufacturers now pre-finish most of the cabinets with a sprayer before they assemble them, speeding up production time, according to Perdue. This makes ordering semi-custom cabinets more convenient than custom. It generally takes semi-custom cabinets four to six weeks to be built, whereas custom cabinets take at least eight weeks.
The more modifications, the higher the price for semi-custom. A superior wood like cherry, a distorted finish or change in dimensions will raise the price.
"The more you do to the kitchen, the more it's going to cost. With custom you can do whatever you want," Perdue says. "Semi-custom is in between. I can modify it to a point, but not to the excessive custom kitchen."
"A lot of people are going with the cheaper lines because of the economy," Perdue says. "The reason I stopped carrying stock cabinets is because I'm not willing to put them in my own home… People think they are saving money with those, but they aren't going to last as long, perform as strong. Semi-custom isn't that much more than stock and you are getting so much more. Semi-custom keeps getting better and better, and more versatile over the years."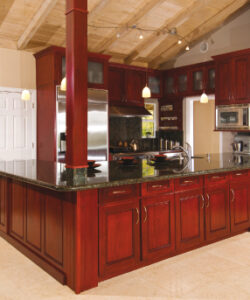 Custom cabinets: All the bells and whistles
Custom cabinets are a big commitment. You must consider three things—property value, budget and kitchen use. You don't want to invest in customized cabinets if you know that you won't get your investment back when you sell your house. Make sure your kitchen investment is proportional to the value of your home.
Custom cabinetmakers price cabinetry by the job. With custom cabinets, you can't price per square foot like with stock cabinets, according to Steve Morris, owner of Classical Design, Inc., a company that specializes in custom cabinetry and millwork in Roanoke. With custom cabinetry, every kitchen is unique and price depends on detail. If the homeowner wants
an elaborate island or desk/workspace built in the kitchen, then it's going to cost more. The more simplistic the cabinet and kitchen, the lower the price, Morris says. But generally, custom cabinets are more expensive than stock and semi-custom cabinets.
Custom cabinets are designed specifically for your space. They are more functional than stock cabinets and the design uses your kitchen space optimally. Everything can be designed and built to fit your kitchen, Morris says. Also, custom cabinets use superior materials and craftsman technique. With custom cabinetmakers like Classical Design, the carpenters have a long history of woodworking experience and kitchen design, which you aren't going to get at your big-box store. Also, custom cabinetmakers can tie your kitchen into other elements of your home. For instance, Classical Design can build your cabinets to complement the wainscoting in your home, or tie them into other cabinetry throughout your home.
Custom also allows you to pick your finish, stain or paint color. Stock cabinets give you limited options.
How often do you use your kitchen? If you host dinner parties, bake regularly and find yourself always preparing a dish in your kitchen, then you will definitely get your money's worth with custom cabinets. If a high-end kitchen fits your family's lifestyle, then it's definitely an investment that will give back. If you don't use your kitchen often, then it's wise to purchase stock or semi-custom cabinets.
Time is another factor to consider with your kitchen cabinets. Custom cabinets take longer to build and install than stock and semi-custom cabinets. A custom-design cabinetmaker like Classical Design would come out and survey the space, design the kitchen, place the order, have everything custom built and then install it. Custom cabinets don't have the instant gratification of RTA or stock cabinets, but they do leave an impression, lasting for decades.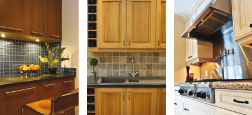 Built-to-order kitchens: The one-stop shop
Kitchen systems are the new hot thing, a trend that the U.S. cabinet market has snagged from its European counterparts. A kitchen system includes a set of well-made cabinets, countertops, backsplash and lighting. Basically, you are purchasing your entire kitchen, rather than buying the bits and pieces. Henrybuilt Corporation uses architects, designers and engineers to tailor each kitchen system to the buyer.
"One of the reasons it is so difficult to put a great kitchen together is because, in this industry, everything is sold in parts," says Scott Hudson, Henrybuilt Corporation's founder and CEO. "Particularly cabinets: pick a box, pick a door style, pick a pull…Then you have to lay it all out, deal with appliance requirements, plumbing and electrical locations. It gets really complicated. Imagine trying to buy a car like this."
Kitchen systems focus on the "big picture," selling you all the quality kitchen parts with an aesthetic and functional layout.
Henrybuilt has recently launched a built-to-order kitchen line, Viola Park, with a median price point, for those who want a high-quality kitchen but can't afford custom cabinet work. Viola Park doesn't offer the range of customization that Henrybuilt's original line has, but is still stylish and can work with various architectural styles.
"For years there has been a lot of talk and online back-and-forth among design-oriented homeowners about how there is very little out there that is well-designed, well-made and priced between IKEA and custom—or between IKEA and the very high end," says Hudson.
Because the kitchen is where you cook and entertain, a great deal of deliberation should go into the planning stages so that you can create a functional yet aesthetic space. Your choice in kitchen cabinets—whether that be stock, semi-custom, custom or a kitchen system—is dependent on your lifestyle and cooking habits. And after all, everyone cooks differently.