Secluded Retreat: Blends Comfort & Elegance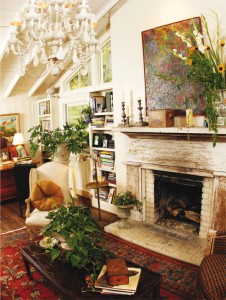 A quiet retreat situated on the rambling banks of Back Creek is the place Liz and David Barudin call home. This private little spot away from city life is all about comfort and relaxation, warmth and welcome, elegance and style.
The Barudins purchased their two-acre retreat in 2004. "We were at a dinner party next door," says David. "We were on the deck, and we both said that this is where we want to be." The property looks out on a scenic hillside of undevelopable land. A picturesque creek meanders alongside the home, providing a backdrop of incredible views. So when the house next door to the one they were visiting became available, the Barudins purchased it, and a large-scale renovation began.
The prospect of a complete renovation was not at all a dilemma for Liz. As owner of home boutique Present Thyme, Liz has years of experience with interior design. Present Thyme has long been known to shoppers for its stylish furnishings and home décor. Originally called Grass Roots, the store had locations in Blacksburg, Crossroads, Tanglewood, and now at Towers Shopping Center.
As owner of a retail home décor business, Liz never leaves her work far behind. Her home reflects her tastes, and also embodies the spirit of Present Thyme's philosophy of style. Liz describes the store as a place where "everything is hand-picked and carried because it brings a special quality to the store and to someone's home." David also mixes home and business; his work in the technology field allows him to work from home in an office on the lower level.
Liz's decorating style can be described as eclectic, both at her store and in her home. Furniture doesn't necessarily match, but why should it? She is not afraid to do things in a slightly different way. Liz does not follow a trend; she starts a trend! While she claims that she has no real design background, her retail experience and innate sense of style are obvious in her home. When choosing pieces for her home or shop, Liz says she is inspired by "scale, patina, texture, color, style, humbleness, comfort, sometimes grandiosity or age, or a totally new concept." No wonder it is exhilarating to enter her store or walk through the front door of her home!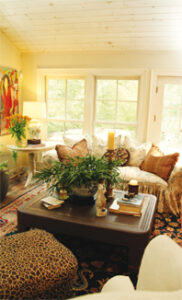 The central room of their home, the great room, has entailed the biggest transformation. Originally three rooms including a porch, the area now combines all of the important elements of a living space including a kitchen, dining area and living room, and access to the balcony overlooking the gardens and creek. The creek is so close you could literally throw out a fishing line.
The floors in the great room are vintage. According to David, they were milled out of a 19th-century barn in Stuarts Draft. Antique Building Products, which specializes in reclaimed wood, supplied the lumber for the floors, which were spot-sanded and stained. Today, void of polyurethane, the natural patina is coming through, providing an elegance only old flooring can offer.
Many of the details in the Barudin home are unique. Liz has used many items from Present Thyme and has also employed a wide array of resources in the area. At first the Barudins did not have an architect. According to Liz, "When walls literally came down around us, we got into a real bind, and decided to call in help." Architect John Shelor designed the kitchen and provided input with other architectural aspects of the project. Mickey Nelson, an interior designer in Roanoke and a good friend of the Barudins, provided extensive help with the house design as well. According to David, Mickey "had an epiphany about the exterior, and helped with roof profiles and other building ideas."
Another craftsman who did much to make this home so special is Brian Lawrence of Roanoke. Brian does extraordinary iron work in addition to working with masonry. According to Liz, "Brian can do anything!" He created an iron pedestal to support an enormous slab of marble for a round dining table in the great room. Another piece of iron was fashioned with swirls and curls as a support piece for a marble top used in a bathroom console. Brian also laid the European fire brick backsplash over the kitchen stove.
Almost every room has a view, many framed by windows with minimal treatments. With such scenery and a secluded atmosphere, extensive draperies would be out of place. Where necessary, blinds shade out the sunlight or provide a bit of privacy.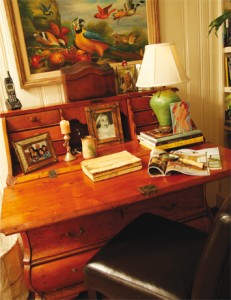 Artwork collected over the years adorns the home throughout, including works by local artists and pieces discovered on New York buying trips. A series of sketch pads cast away by an unknown art student is on display, lying here and there on tables.
Liz gathers the unusual and does the unexpected, and the result is extraordinary. Lamps large and small are perched throughout the house, bedecked with shades of varying shapes and colors. Some are vintage and others are new. A crystal chandelier in the living room is
painted off-white. Yes, painted: Even the prisms are painted for a remarkable effect.
Floral arrangements and green plants are an integral part of the home's décor. Cut flowers fill each room with color and fragrance. Gary Sexton, who is in charge of merchandising at Present Thyme, does all the live floral displays. The plants, mostly purchased and placed by Liz, are cared for by David.
Liz's style, while elegant, is also very comfortable. The beds abound with overstuffed pillows and comforters, just waiting for naptime. Each guest room offers visitors a lovely respite from the day's activities, be it trout fishing in the creek or a walk through the gardens. Walls are covered with shelves brimming with books and little art treasures.
According to David, the Barudins' furnishings are a mix of 19th-century antiques, character pieces and new pieces. Of special note is a Bombay-style European pine desk in the living room dating from the mid-1800s, and a French inlaid block-front console from the mid-19th century with a Carrera marble top. Liz uses this piece for storage in the master bedroom.
In the Barudin home, ceilings are as variable as the furnishings. The great room boasts a knotty pine cathedral ceiling with a translucent layer of whitewash that allows the knots to show through. The living room ceiling was stripped to the rafters, then left exposed and coated with layers of paint.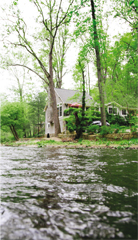 Exterior Enchants


The scenic location of the Barudin home is a big piece of its charm. Situated right at creek level, the effect is relaxing and serene, and wildlife abounds. Brown trout inhabit the creek naturally, and speckled and rainbow trout spill out of holding ponds farther upstream on Bent Mountain, providing great freshwater fishing opportunities right outside the back door
Wherever there is a water source and some ground cover, expect animals to appear. Birds sing in the treetops and mallard ducks paddle across the creek. Liz describes a pair of great blue herons that regularly comes into view, fishing for their dinner. Only minutes from the Blue Ridge Parkway and the nearby mountains, the area is host to many animals coming off the mountains to visit the creek. Wild turkey, deer and raccoons are often sighted foraging along the naturally landscaped hillside across the creek. "We love wildlife," says David. Though their home is within minutes of busy Roanoke, they still feel like they live in a secluded wildlife retreat.
The approach to a home can state quite a bit about a house. At this home, visitors have two choices, each unique and lovely in its own right. Park the car on a small turnoff along the narrow road that meanders high above the creek bed, then follow a stone path down through the garden and onto the porch. Or drive down an unpaved road running beside the creek at water level. For 200 yards, visitors can enjoy this creekside view where David has planted a line of weeping willows. Black birch and sycamore provide additional shade along the water's edge. While some creeks mosey peacefully over land, this one travels swiftly past their home, creating the soothing sound of racing water.
The magnificent gardens were created and are maintained by David. Up one hill and down the other, stepping stones lead visitors through a treasure trove of plantings. In spring, azaleas of all colors flourish. Groupings of daylilies bloom throughout the spring and summer, along with dianthus, purple verbena, black-eyed Susans, coneflowers, salvia, coreopsis and lavender.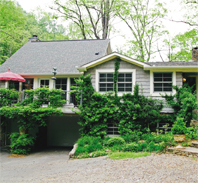 David also installed retaining walls, creating various levels for plantings and statuary. Creating a multitiered garden area provides a backdrop to display his special plantings and adds a pleasant visual perspective. Fountains and urns of every shape and size are plentiful, as well as little benches just perfect for sitting and enjoying nature.
Plantings cling to the outer walls and iron railings of the home creating the illusion that the home is just another part of the landscape. On an exterior wall, David has created an espalier of euonymus and holly. The small porch is bedecked with climbing vines and hydrangeas encasing the iron railings.
A heavy, old wooden door greets guests arriving at this special retreat; today's doors rarely have such personality. Salvaged from another home, this door exhibits that special craftsmanship often lacking in modern entryways, and seems to have a story to tell with its small nicks and imperfections. This door opens up to a home with unique and beautiful outfittings. But on a grander scale, this door opens up to a world of comfort, relaxation, warmth, seclusion, elegance and style.