Plantation Shutters: Classic Look, Timeless Appeal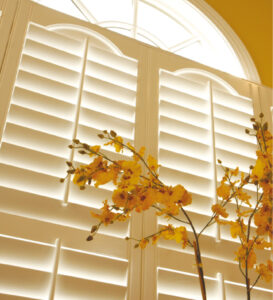 It happens to most of us. The summer sun climbs into the sky and we feel a childlike urge to fling our home's windows wide open.
Today, there is no more indulgent way to usher the sunlight into your home than through the open louvers of a gracious plantation shutter.
The plantation shutter seems almost handcrafted for summer, when life is all about keeping things simple and beautiful. "Plantation shutters offer a clean-lined, distinctive look that is also efficient," says Kathy Spark, design consultant and owner of Accents on Windows in Salem. "They are easy to care for, easy to maintain, and you still have a nice view with them."
Always present in the decadent plantation homes of the South, plantation shutters are an ultimate statement piece. Using them throughout the house not only complements the windows, but brings a sense of continuity to a home. Plantation shutters have many looks, appropriate for windows that stretch from floor to ceiling, or windows that are picture-frame small. In the end, homeowners fall in love with them because they are the very essence of classic.
The original plantation shutter is made of solid wood louvers mounted on a solid frame. The louvers swivel open and closed in an up-and-down motion, using a slender tilt-bar mounted to the outside of each louver. In most cases the shutters come in a four-sided frame, called an outside mount. The mount is then positioned on top of the inside window frame in your home. The frame and mount provide the louvers enough room to rotate open and closed. In some situations, louvers can be placed on an inside mount. But windows that tilt inward will always require an outside mount.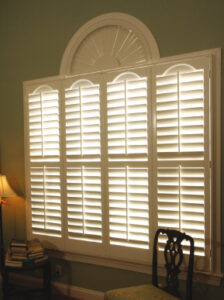 Real plantation shutters are an investment, but one that is sound, say the pros. Plantation shutters for the average-sized window will cost between $450 and $600, depending on the maker and the details you select. In return, this little bit of glam will beautify your home, help insulate it, help with your allergies and increase the market value of your home.
"One of the biggest benefits of plantation shutters is their energy efficiency," says Tom Millehan, president of Custom Shutter & Blind Store. "It's like closing a door when you shut the shutters. They're very thermal-efficient." In the summer, the light can be completely blocked to keep things cool, and in the winter, dead air space between the window and shutter helps insulate the home.
When it comes to allergies, plantation shutters are welcomed into homes because dust, pollen and dander can be so easily dispatched. Wood shutters only require dusting for upkeep, and composite shutters can be wiped down quickly.
Privacy is something we prize, and this is where plantation shutters shine. Teresa Lilly, a consultant with Budget Blinds of Roanoke & Southside, Virginia explains that plantation shutters can be crafted "to fit any window, including curves and unique dimensions." Such customization eliminates any gaps or openings, providing the privacy and light control that make these shutters a favorite in bedrooms and bathrooms. Some homeowners also say that their shutters help shut out nearby noise as well, keeping their homes quiet and peaceful.
Stephen McLaughlin of On The Wall & Windows says there are other advantages: The shutters become a permanent fixture of your home, and they are safe. Customers of all ages love them, he says, and one reason is because they don't have any cords that carry the risk of entanglement or choking. Another plus is that unlike other materials that might rot, these shutters will usually endure.
Original plantation shutter louvers weren't even 2 inches wide. Today they come in widths of 2.5, 3.5 and 4.5 inches, with smaller louvers favored for smaller windows. But there are no hard and fast rules, the professionals say.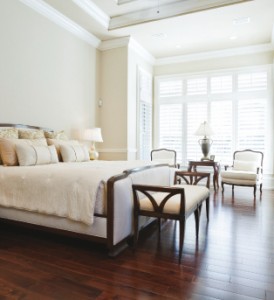 "It actually gives a cleaner look to have a bigger slat," says McLaughlin. "The bigger the slat, the bigger the view. People are starting to see the advantages of having a bigger louver in a window." As far as aesthetics are concerned, it is most attractive to choose a size that will work best on the whole
home and keep the size consistent throughout.
Choosing plantation shutters is fun because of the options available. Shutters can be cut to fit windows of any size and shape. Shutters are available in poly, composite material and a variety of woods. The main difference is in the colors available. With wood, you can match the wood stains in your home and get more colors than with composite.
One reason to consider a composite material is if the room has a high moisture or heat content, like a sauna or garage. Composite louvers won't chip or crack and they are less likely to warp. The cost of wood versus composite is comparable, and you won't be able to tell the difference from the outside, although they may feel different to the touch. Composite shutters are "more resilient as far as wear and tear," says Millehan of Custom Shutter & Blind Store.
Next on the list of choices is what kind of shutter you need. There are café shutters (covering the lower half of the window), whole window shutters, mid-rail style shutters, split–tilt bar styles or a hidden-tilt bar style. Each comes with its own pros and cons. One word of caution, says Millehan: Don't choose a style with the intention of adding to it later. For example, if you like café-style shutters, but think you may want a whole window shutter in a few years, know that there is no way to add to a shutter's height.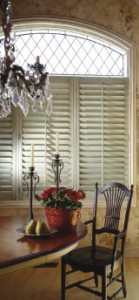 Next, you will have a choice of wood stains and colors; the number of choices depends on where you shop and the type of material you select. As you might guess, white-white is the number-one color choice in this area. Customers typically try to match the shutters to their inside trim. While you are shopping, ask to see the different outside mount frames which add a decorative touch.
Always ask to see a sample in your home. Companies can bring you a louver so you can see it in your home and, if you ask, they can even bring an outside mount to your home, allowing you to see how far it might extend into your living space.
Once installed, the decision to add a flourish around the shutters is yours. Not every homeowner will add a window treatment to a window with a plantation shutter, but it can be done. Spark of Accents on Windows suggests it's best to frame the shutters with a treatment on the side rather than the top, so that they don't interfere with opening and closing the shutters.
Whatever style you choose, plantation shutters can make a statement in your home. Both beautiful and functional, this design element will usher into your home some of that bright summertime light.