Seasonal Styling | Offer Guests a Year-Round Welcome to Your Front Porch
Like bears in their winter dens, many of us feel like hibernating in our cozy homes when the holiday season ends. But our front porches tell a different story. They epitomize our connection to others all year long, and well-appointed ones are welcoming to family and friends. An extension of our homes' interior, the front porch creates a lasting first impression and emanates warm hospitality despite the lingering cold weather. Give your front porch some extra Valentine's Day love as winter gives way to spring through simple upgrades and stylish accents to boost your home's charm and curb appeal.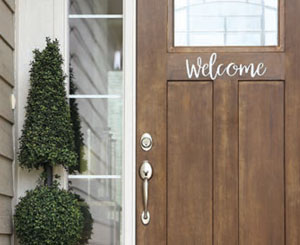 Make your front door the focal point
Your front door is the centerpiece of your front porch, so grace it with finishing touches that draw your eye towards it. Try a fresh coat of paint on the door or trim that complements your home's exterior or pops with bold spring color. Flank your door with eye-catching planters and attractive light fixtures, install a gleaming new brass knocker, and outfit your doorstep with a traditional monogrammed welcome mat or one with darling spring motifs (think flowers, robins, honeybees, leprechauns and cloverleafs, or even basketballs and hoops for March Madness). Transition your winter wreath to an early-spring profusion of fresh and faux flowers, berries and greens; a sprinkling of red and pink hearts will hint of Valentine's Day love.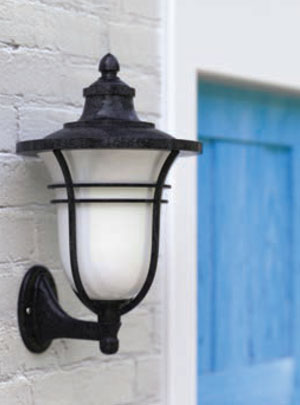 Light it up
A well-lit front porch is both safe and inviting. Consider upgrading your smaller light fixtures to larger, more luminous ones; for a cohesive look, match them to your trim and accents. Scale your light fixtures to one third of your front door's length and position them at eye level, or about 72 inches from the floor. Adorn your porch with lanterns lit by flameless LED candles to yield an incandescent ambiance; buy ones with a timer so they light automatically in the evening. Path lights leading to your front porch not only convey your concern for others' safety but also dial up your home's curb appeal.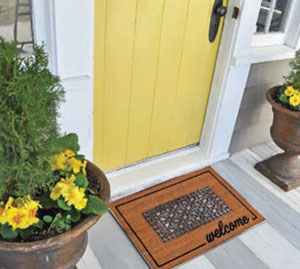 Please tread on me
A new spring doormat will spruce up your home and protect it from grub and grime. Select a doormat that extends the length of the front door and its sidelights; ensure it has a non-slip rubber backing or pad to prevent falls. The greater the foot traffic, the more durable the mat material should be. Coir mats are best for heavy outdoor use because their coarse natural fibers easily scrape away shoe dirt and can withstand the elements. Consider layering your welcome mat on a patterned outdoor rug for an infusion of texture and interest.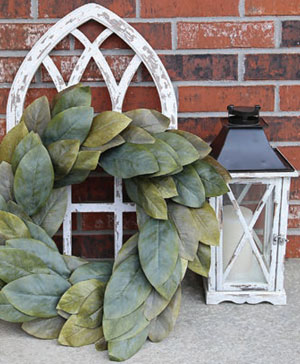 Thrill, fill and spill
When stylishly arranged, evergreens adorned with spring elements rejuvenate your front porch. A simple three-step design technique—"thrill, fill and spill"—creates a simple yet elegant arrangement which you can refresh throughout the year with seasonal flowers and plants. Start with a dramatic focal point (the "thrill") like a tall boxwood topiary or spruce tree centered in an urn or large container partially filled with potting soil and outfitted with drainage holes. Plant variegated English ivy or golden creeping Jenny so they cascade ("spill") over the side. Festoon ("fill") the arrangement with pansies or other hardy flowering plants and budding branches to inject fresh spring color and varied textures.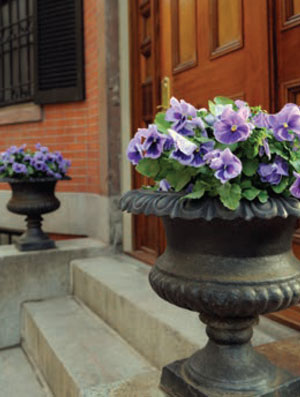 For a sophisticated entrance, frame your front door with handsome urns that echo your porch trim and accents. For a dramatic effect, cluster brightly colored planters or place them symmetrically on the ascending porch stairs. An even number of pots is more formal than an odd number. For an infusion of early springtime color, fill your hanging baskets with fresh ferns and plant your window boxes with pansies and greens.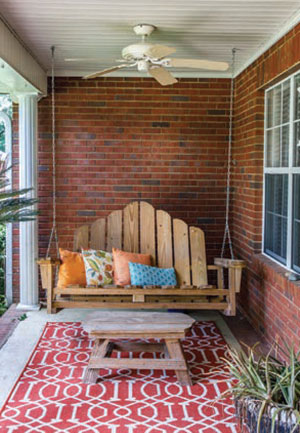 Achieving hygge
Place lemon or citrus-hued pillows and beige throws on your porch chairs and lay a plushy, warm-toned outdoor rug to achieve hygge, the Danish notion of soothing comfort and minimalist simplicity. For added country chic, pair a galvanized watering can full of flowers with colorful rainboots. Or stand an antique bike next to a wooden welcome sign, a weathered fruit crate holding a bird house, and lanterns. Don't forget to welcome your pooch on the porch: add a cozy, sturdy dog bed and a colorful, elevated water bowl to complete this comforting spring tableau. ✦
"thrill, doormat, fill and spill", Focal Point, front porch, Hygge, incandescent, LED, light fixtures, three-step design technique