Savor Spring Flavor | Sauces, Marinades and Rubs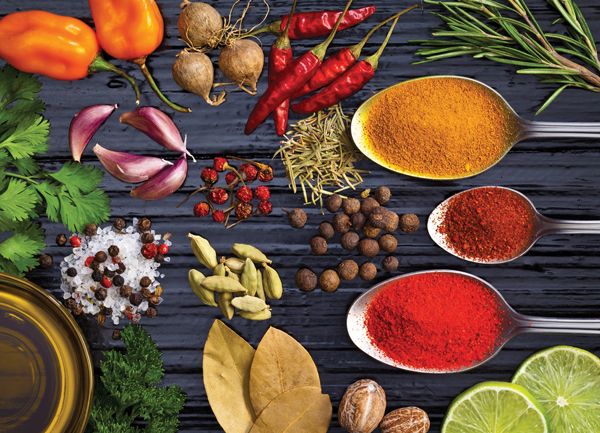 Sauces, marinades and rubs pump up the flavor of our favorite foods and can transform a boring dish into something that is next-level. Marinades and rubs tenderize and help meat, poultry and seafood retain moisture, as well as infuse the food with tons of flavor. Sauces can make a mundane meal extraordinary.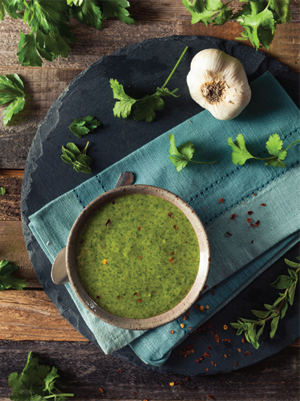 SAUCE IT UP
My favorite sauce for meats and roasted or grilled vegetables is chimichurri. The first time I tasted it, we were in a tiny village in southern Spain. Tired of the typical Spanish food we'd been eating for days, we wandered into an Argentinian restaurant and were greeted by the most delicious smell of grilling meat. Every dish was accompanied by chimichurri, which is typical in South American and Mexican cuisine. One bite and I was hooked! It's a zesty sauce flavored with parsley, garlic, vinegar, olive oil, and flakes of chili pepper. I put a little spin on my recipe with more fresh herbs. I especially love the sweetness that fresh basil brings; however, if you don't like cilantro or can't find fresh basil, choose whatever substitutions suit your palate. Chimichurri can also be used as a marinade for meat before roasting or grilling.
Chimichurri Sauce
4 servings
(about 1 cup of sauce)
1 cup fresh flat-leaf parsley, chopped
¾ cup fresh cilantro, chopped
¼ cup fresh basil, chopped
3 garlic cloves, minced
¼ cup red wine vinegar
1 teaspoon red pepper flakes (more if you like it spicy)
juice of 1 lime
½ cup olive or avocado oil
1 teaspoon salt
½ teaspoon pepper
Place parsley, cilantro, basil and garlic in a food processor. Add red wine vinegar, the juice of 1 lime, red pepper flakes and salt and pepper. Process to combine. Slowly add olive oil and process until smooth.
Put chimichurri in a bowl and refrigerate for at least 20 minutes to allow the flavors to blend. Serve over grilled meats and vegetables.
LET IT MARINATE
These marinades add amazing flavor to all kinds of proteins. If you are short on time, even 15 minutes of marinating can make a difference. The point of a marinade is not to get the flavor down into the center of the protein; it's to be the first thing that cooks when the meat is grilled or seared. The salt, sugar and acid in the marinade should caramelize and create a delicious crust on the meat.
Lemony Greek Marinade
Delicious on chicken and seafood, especially shrimp—enough to marinate one pound of meat
3 tablespoons extra-virgin olive oil
3 tablespoons red wine vinegar
2 teaspoons honey
4 cloves garlic
1 tablespoon dried oregano
2 teaspoons dried thyme or dried rosemary
1 teaspoon kosher salt
½ teaspoon freshly ground black pepper
Southwestern Marinade for Flank Steak
1½ pounds flank steak
¼ cup fresh orange juice
2 tablespoons chili sauce
2 tablespoons soy sauce
2 tablespoons vegetable oil (I use avocado oil)
1 teaspoon honey
2 cloves garlic, minced
1½ teaspoon grated orange rind
2 tablespoons chili powder
½ teaspoon salt
¼ teaspoon ground red pepper
1 medium orange, peeled and sectioned
Score steak diagonally across the grain at 1-inch intervals. Place steak in a heavy-duty ziplock bag.
Combine orange juice and the rest of the ingredients except the orange slices. Whisk together and pour over the steak. Place orange slices over the meat on both sides.
Combine orange juice and the rest of the ingredients except the orange slices. Whisk together and pour over the steak. Place orange slices over the meat on both sides.
Pork chops and tenderloin can marinate up to 12 hours without danger of breaking down proteins in the meat. Chicken and shrimp are more delicate and will turn mealy if left too long in the marinade.
The Best Pork Chop Marinade
Also good with chicken and pork tenderloin—enough to marinate one pound of meat
⅔ cup vegetable oil (I prefer avocado oil)
3 tablespoons soy sauce
1 tablespoon Worcestershire
1½ teaspoons lemon juice
⅛ cup white vinegar
1 tablespoon grainy mustard
1 teaspoon salt
½ teaspoon black pepper minced garlic to taste (I use 2 teaspoons)
1½ teaspoon dried parsley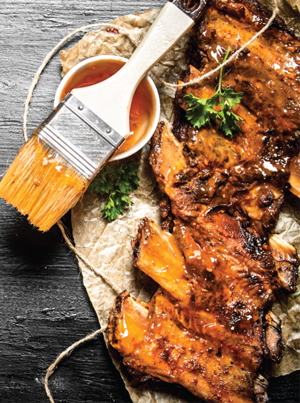 Place all ingredients in a heavy-duty ziplock bag or large ceramic dish. Add 1 pound of protein to bag or dish, and mix well to coat evenly.
Marinate protein in the refrigerator for up to 2 hours before cooking. Thirty minutes before you're ready to cook, remove the protein from the marinade.
Grill or sear in a pan to develop that beautiful crust.
RUB IT IN
The best dry rubs incorporate sweet, savory and spicy flavors. I like to use brown sugar for sweetness. The savory comes from salt and pepper, onion and garlic powders, and various aromatic spices like cumin or coriander. Cayenne pepper or chili powder brings in the spicy flavor. Chipotle chili powder is a great choice if you want smoky flavor, or ancho chili powder if you desire something a bit sweeter. Paprika adds nice color and can be smoked, hot or sweet. Rubs are fun to experiment with; develop your own recipe based on your family's personal tastes. This is one of my favorite combinations.
The Best Dry Rub
For ribs, chicken, brisket and more
4 tablespoons dark brown sugar
4 tablespoons smoked paprika
2 tablespoons coarse salt
1 tablespoon ground black pepper
2 teaspoons garlic powder
2 teaspoons onion powder
1 teaspoon cumin
1 teaspoon ground coriander
1 teaspoon cayenne pepper
Combine all ingredients in a bowl and mix well, or put in a jar and shake.
Pat the meat dry with a paper towel. Rub the meat with oil or yellow mustard at this point if you desire, but it's not necessary. Generously rub the mixture all over the meat, making sure to cover it well.
Pat the meat dry with a paper towel. Rub the meat with oil or yellow mustard at this point if you desire, but it's not necessary. Generously rub the mixture all over the meat, making sure to cover it well.
Grill or roast the meat right away, or wrap it in plastic and refrigerate for up to 24 hours. When you grill meat that has been coated with a dry rub, it's best to grill over indirect heat; the brown sugar may burn rather than caramelize if heat is direct.
Store leftover dry rub for up to 6 months Preferably, keep in an airtight container in the freezer. ✦
chimichurri, Dry Rub, Lemony Greek Marinade, marinades, Pork Chop Marinade, rubs, Sauces, Southwestern Marinade