"Huntopia"| At the Taubman Museum of Art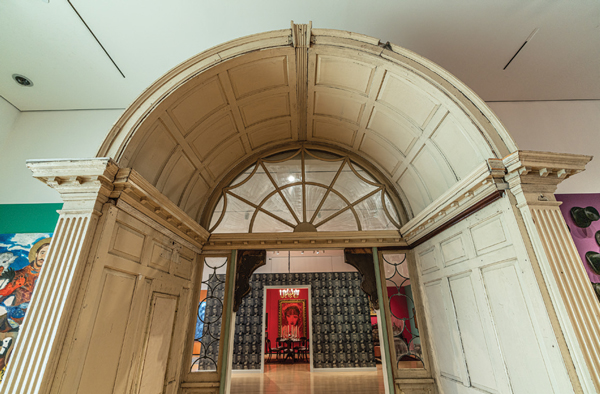 Akin to visiting an old, eccentric aunt, Hunt Slonem's "Huntopia" exhibit at the Taubman Museum of Art features a mix of the artist's paintings, textiles and wallcoverings with luxuriant and quintessential period antiques. A New York-based painter and installation artist whose work is also found on textiles and wallcoverings, Slonem embraces a practice he calls "collectorating"—his special brand of collecting and curating pieces and national historic properties he saves from neglect. The exhibition, through March 29, spans two galleries and showcases Slonem's artwork and textiles pulled from local institutions, museums and private collections to fully explore his broader installation sensibility, featuring an amalgam of Victorian-era paintings and antique furniture alongside Slonem's own exuberant paintings from 1983 to the present.
---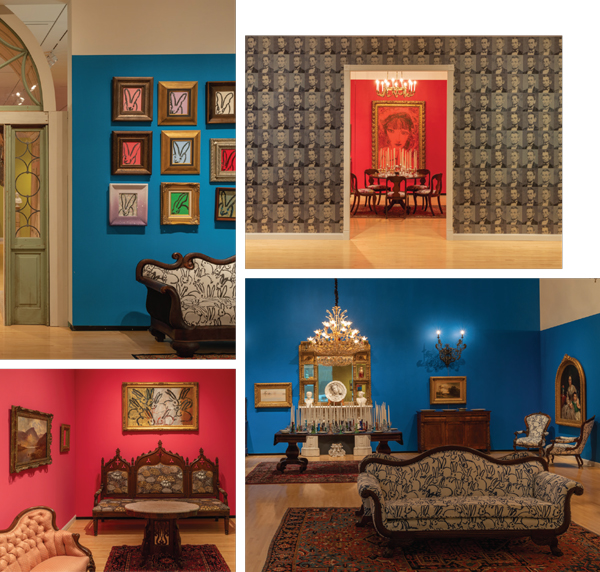 Amy Pearman Courtesy of the Taubman Museum of Art and Hunt Slonem
---
A world traveler, Slonem's life-long experiences with the various customs, religions, flora and fauna of the world have led him to describe his work as "exotica." His verdant artistic visions are as multifaceted as his travels. Hundreds of bunnies, swarms of butterflies and flocks of birds undulate across his art which appears on canvases, fabrics and wallpaper.
At once familiar while leaning toward wild abandon, the exhibition's scenes include a dining room, parlor, bedroom and several intimate nooks. A bright red séance room dedicated to Slonem's muse, Abraham Lincoln, dazzles with candles, top hats and a crystal scrying ball. This vignette is a nod to the practice of spirituality, popular in the mid-19th century and observed in the Red Room of the White House by President and Mrs. Lincoln.
The structural centerpiece of Huntopia—a massive wood-and-glass arched structure courtesy of Black Dog Salvage—was once a stately bank entrance and now bridges the walkway between the two galleries. Persian and one-of-a-kind Oriental rugs on loan from Halifax Fine Furnishings ground the vignettes with exquisite pattern and color.
With a stroll through the galleries, one can absorb the joyful delirium and fervor that Hunt Slonem creates with seemingly effortless abandon. Through this exhibition, Slonem hopes to convey a sense of upliftment, peace and awareness of the magnificent natural world. ✦
Abraham Lincoln, collectorating, Huntopia, Slonem, Taubman Museum of Art, textiles, wallcoverings