Rhubarb | A Little-Known Treasure in the Vegetable Family
Rhubarb, with its celery-shaped, scarlet stalks, arrives in market stalls and grocery store vegetable bins each spring. Is it a prize or rubbish? A blessing or a curse? Rhubarb's colorful, international journey uncovers both. Since 2700 B.C. when rhubarb was discovered in China, it's been worshiped for its taste and health benefits. Greeks and Romans bought it from the barbarians, Russians hoarded it, Scandinavians considered it an annoying weed. So how did it go from medicinal to cuisine, and what delicious dishes can we create with it now?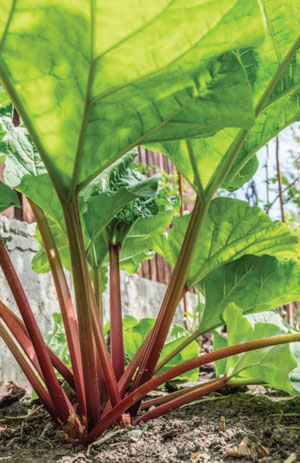 Rhubarb is native to cold climates where its vibrant color and healing properties were first observed. In the third century, a Chinese medicine man experimented with the roots and discovered its digestive benefits. Later Marco Polo included rhubarb in his thriving spice-trade business. By the 1500s, rhubarb became more expensive than cinnamon or saffron as a stomach disorder treatment.
Rhubarb grows wild and plentiful along the Volga River in Russia. Trading its dried roots became so lucrative in the mid 1700s that the Russian government forbade selling the plants to limit supply. In Norway, rhubarb is so prolific it is deemed a weed. Rhubarb also gets a bad rap because its leaves are poisonous; they contain oxalyic acid, which is processed to make stain remover, ink, and metal polish.
As growers traded and cultivated it, travelers smuggled it into other countries. Once it traveled from China to Britain, cooks began to experiment with it as a vegetable dish, then substituted it for gooseberries used in traditional tarts and cobblers. After it transitioned from a side dish to a dessert due to the discovery of sugarcane, Ben Franklin brought the plant to America.
Rhubarb is a vegetable. Its stalks look pretty and add a unique tart taste to pies, cobblers and chutneys. Rich in vitamins and antioxidants, rhubarb is also good for you. If it becomes a staple in your kitchen, rhubarb can be grown in the garden as an herbaceous perennial that sprouts from small, stubby rhizomes. The roots need the ground temperature to go below 40 degrees for extended days during winter, and its giant ruby stalks are often one of the first signs of spring. It thrives in well-drained soil with lots of sunlight and will continue to produce as long as the weather does not get too hot and dry.
In the past couple hundred years, as rhubarb went from therapeutic to provision, both sweet and savory recipes became popular. Rhubarb makes some people nostalgic, reminding them of the dishes their grandmothers made.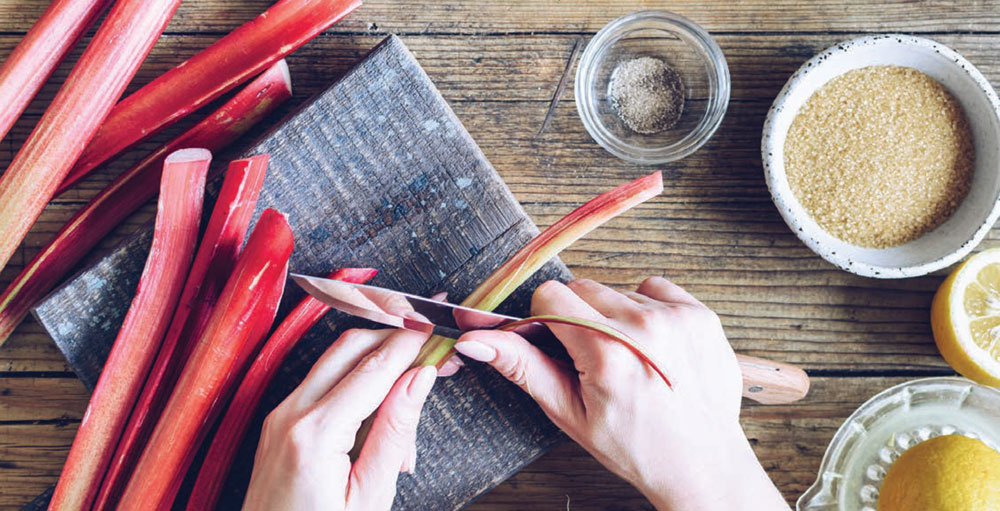 This spring when rhubarb arrives in the grocery or a farmer's road stand, try one of these recipes. Rhubarb may become a favorite in your market basket.
---
RHUBARB COMPOTE
Makes a delicious topping for yogurt, granola or ice cream, as a spread on sandwiches, or even tucked on a plate beside roast pork or beef.
3 sprigs mint, finely chopped

1 teaspoon grated orange zest

Pinch of nutmeg

1 1/4 cups natural cane sugar

10-12 stalks of rhubarb, diced in small pieces
Blend spices with sugar. Place rhubarb in saucepan and pour sugar mixture on top. Heat slowly, stirring until the rhubarb breaks down (about 15 minutes) and its juices combine with the spices and sugar. Cook until thick and well blended. Let cool. Use immersion blender, or pour in a blender, and pulse until smooth. Return to saucepan and cook 3 more minutes. Pour into clean, sterilized glass jars. Refrigerate for up to a week.
Adapted from Fika, Anna Brones and Johanna Kindvall
---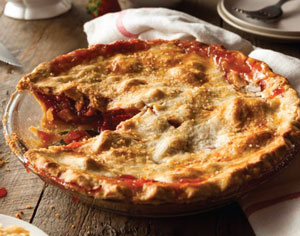 CLASSIC SOUTHERN RHUBARB PIE
This simple pie welcomes spring to the table. Nothing beats it topped with vanilla bean ice cream.
Pastry for a double-crust pie

1 3/4 cups sugar

3 tablespoons cornstarch

1/2 teaspoon ground nutmeg

1/2 teaspoon grated orange rind

1/4 cup lemon juice

2 tablespoons butter

4 cups rhubarb, sliced into 1/2-inch pieces
In a small bowl, mix sugar, cornstarch, nutmeg and orange rind. Blend well until thoroughly mixed. Put lemon juice in a saucepan and add the sugar and spice mixture. Cook until the mixture thickens and bubbles. Add butter. Stir in rhubarb and cook until it falls apart, about 10–15 minutes.
Put pastry in a 9-inch pie pan and crimp the edges. Pour in rhubarb mixture. Place second pastry on top and cut slits for steam to release during baking.
Bake in 400-degree oven for 15 minutes until crust browns. Cover crust edges with tin foil or a pie crust cover, then reduce heat to 350 for 35 minutes. Remove from oven to cool for 10 minutes. Serve with vanilla ice cream.
Adapted from The Southern Living Cookbook, compiled/edited by Susan Carlisle Payne
---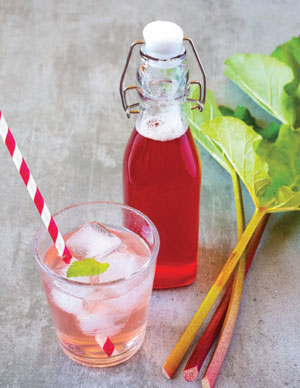 RHUBARB CORDIAL
This delicious elixir makes a refreshing warm-weather drink when mixed with seltzer, water or your favorite spirit. To serve the cordial, dilute it using 1 part cordial to 4 parts sparkling or still water. Garnish with mint and lime or lemon. Gin makes a lovely addition for a cocktail. Makes two 25-ounce bottles.
10–12 stalks of rhubarb cut into 1/2-inch pieces

6 1/2 cups water

2 1/2 cups natural cane sugar

5 whole cloves

1 cinnamon stick
Place rhubarb pieces and water in a large saucepan. Bring the water to a boil and let simmer until the rhubarb pieces fall apart, about 15 minutes. Skim off and discard any foam that rises to the surface.
Remove from heat and strain the liquid through cheesecloth. Return the strained rhubarb juice to the saucepan; stir in sugar, cloves and cinnamon and bring to a boil. When the sugar has dissolved, remove the cordial from heat. Remove cloves and cinnamon stick and pour into clean sterilized bottles. Pour liquid all the way to the top and seal the bottles.
Store bottles in the refrigerator and consume within 6 weeks. If you want to keep it longer, pour into a plastic container and freeze.
Adapted from Fika, Anna Brones and Johanna Kindvall ✦
classic southern rhubarb pie, cold climates, digestive benefits, rhubarb, rhubarb compote, rhubarb cordial