Cool Containers | Materials Matter When Choosing Outdoor Planters
While there's nothing gardeners love more than planning their spring and summer plantings, even the most seasoned of us can get overwhelmed when it comes to choosing containers for outdoor spaces. Garden centers have a dizzying array of beautiful planters and pots, in various popular materials. But choosing can be high stakes—especially if you spend time and money setting up a container only to see your plants struggle. To avoid disappointment and improve chances for success, choose the right material for your container garden.
Various materials have their pros and cons and should be weighed against your garden objectives, both for plants and for your outdoor decor.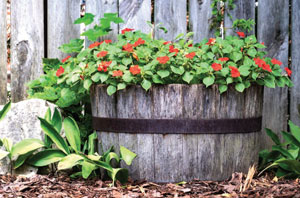 Wood: Wood is often a sought-after choice, for its natural material and its ability to weather over time for a relaxed, rustic look. How many gardens have we all admired with the half whiskey barrel overflowing with flowers? Wood will also retain moisture, allowing more time between waterings. It doesn't retain heat as much as other materials, which helps in the hotter summer months.
However, wood has its drawbacks. Because it will retain moisture, it can be susceptible to mold. And, even treated wood will eventually begin to break down—untreated wood even faster. So, plan to potentially replace every few years. You can also mitigate this by choosing rot-resistant woods, such as redwood and cedar.
If you are using wood containers for vegetable or herb gardens, choose untreated wood, to prevent any toxins from leeching into your foods. (Untreated wood is also suitable for staining or painting the outside, to match your exterior color scheme.) For non-edible flowers, you can certainly expand choices into treated wood. However, for all wood planters, look for wood certified by the Forest Stewardship Council, an international non-profit that promotes responsible management of the world's forests, or other sustainably sourced wood.
Metal: The main benefit of metal is style. Metal containers can be modern or antiqued, edgy or vintage. Popular metals for containers include galvanized steel, aluminum and copper. Some materials will resist rust, while others (like copper) will develop a patina. Zinc-coated galvanized steel especially is durable, resisting corrosion and rot. Drawbacks to metal include heating up in direct sun, and potentially damaging roots, and then cooling down fast at night, creating temperature extremes that might impact plants. You should consider metal only for areas where there is no direct sun.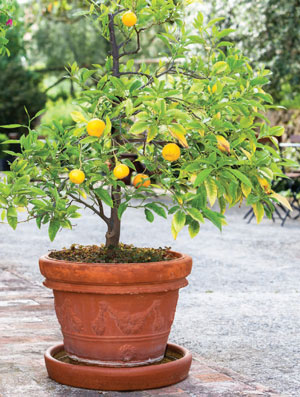 Terracotta: Is there anything more lovely than a cheerful geranium nestled in a weathered terracotta pot? The image evokes Tuscan sunshine and villas. For these reasons terracotta remains an extremely popular choice—despite some drawbacks. Terracotta is beautiful, and many gardeners love when the mineral salt deposits from hard water and fertilizers create a white patina on the outside. Because it's porous, there is increased airflow for roots, but it also means you have to water frequently. And it's also very susceptible to frost, so it needs to be stored in a garage or other indoor space during the winter. And of course, it's also susceptible to breakage.
Concrete/Stone: This material can make quite a statement, especially in large, bold designs as permanent fixtures. The benefits are many. They are very durable and usually frost proof. Their heft also means they won't blow away in storms. However, they are extremely heavy and therefore can't be placed on balconies or elevated decks, and they can't be easily moved around. Think of them as permanent features for your yard or patio. They are best suited for trees and shrubs that need the weight to keep them stable.
Plastic: Plastic containers are extremely practical for a variety of reasons. They can be very inexpensive. They are lightweight and easy to position in place or move around if needed, even when planted. Drawbacks include color that fades, and the plastic can get extremely hot in the sun, roasting roots and killing plants. To mitigate that, choose lighter colors over darker.
When choosing plastic containers, try to find ones that have a self-watering feature, where a reservoir provides roots with a consistent water source.
You can also enjoy some of the benefits of plastic while enjoying the decor of other materials by sinking a plastic planter into a larger terracotta, metal or wood planter—especially if you choose a self-watering planter. The plant will benefit from consistent water, the look will be elevated, and you can remove the planters to easily refresh your garden look.
Polyresin: The biggest benefit to resin containers is the faux-look of stone or clay they provide while being lightweight and less expensive. You can get the look of stone on a balcony or porch, and you can also move them around to change arrangements. They will retain water and hold their color longer than plastic, but will be pricier as well.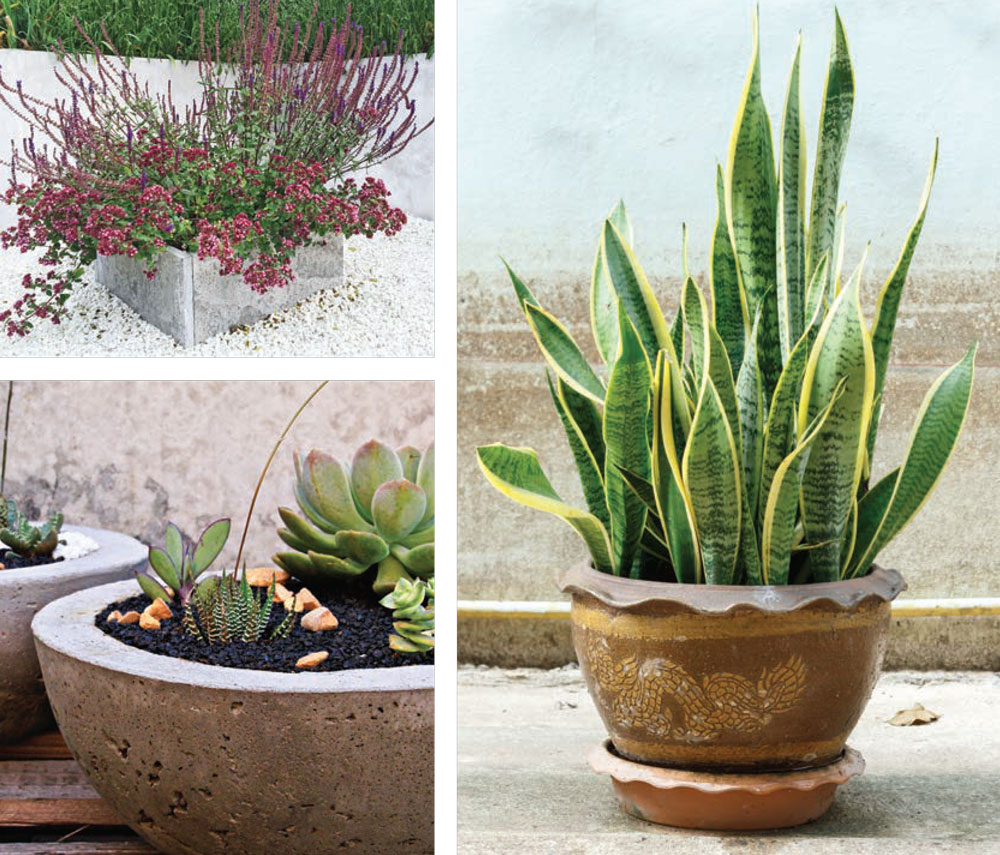 Bear in mind that, for all types of containers, size also matters. The larger they are, the less frequently you will need to water, because the mass of soil will hold moisture longer. As cute as they are, smaller terracotta pots with cheerful flowers will need daily if not twice daily watering to be lush and healthy. You can also minimize watering by placing planters where they will benefit from natural rainfall.
With so many material choices, gardeners can mix and match to create a tailored look while enjoying all the benefits of each. Wood containers can grace front walks, with metal containers placed on a shady deck. Terracotta nestled on porches creates a welcoming atmosphere, while selfwatering plastic containers tucked in your back yard can provide vegetables and herbs. Gardeners can be creative, with an eye toward practicality, and enjoy a beautiful a container garden throughout the summer. ✦
Aluminum, Concrete/Stone, copper, galvanized steel, metal, Planters, plastic, polyresin, pots, terracotta, wood containers