Retirement Living Guide | Roanoke Valley Offers Many Options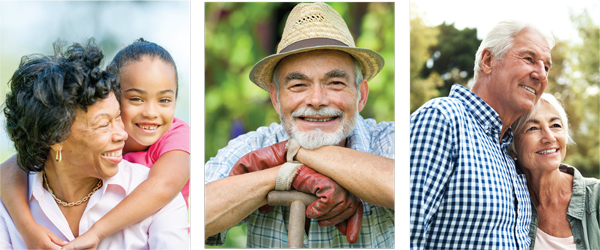 The greater Roanoke area, with its moderate climate, reasonable cost of living and beautiful scenery, has drawn retirees for decades. But today's retirees are looking for more than just a comfortable recliner and a nice view—21st century seniors are interested in keeping their minds sharp and bodies agile. Retirement living communities have responded, and now offer a wide range of optional activities on their campuses, from yoga and photography classes, to opportunities to attend concerts, plays and other cultural events. Retirement has become a chance to learn new skills, make lasting friendships, and explore opportunities that people were too busy for during their bustling career and family years.
Retirement communities offer different levels of care—many them within the same location so residents can add care as needed. Independent living offers retirees maintenance-free apartments or homes with kitchens and/or restaurantstyle dining and minimal assistance. Assisted living is a step beyond, with staff attending to basic care needs, including help with grooming and medications. Full-time or long-term care is around the clock monitoring, which may also be called a skilled nursing center. Some communities offer specialized memory care for patients with dementia or Alzheimer's disease. If you are looking to transition to a retirement facility, or are exploring the option for a loved one, here is a breakdown of nine facilities in the region—one of which is sure to be a fit for your lifestyle, finances and preferences.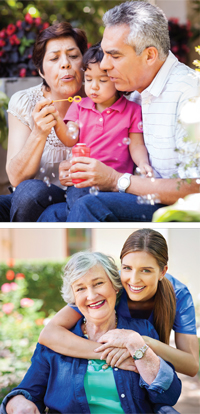 Brandon Oaks
Brandon Oaks is a nonprofit community operating under the sponsorship of Virginia Lutheran Homes. It is located in the heart of Roanoke, with beautiful views and easy access to amenities. The community offers independent living, assisted living, rehabilitation, and nursing care within the campus, so residents can step up to more advanced care as needed. "Along with the numerous, customizable living options Brandon Oaks offers, we also have two dining venues, an indoor heated pool and spa, full service salon, robust calendar of activities and wellness classes," says Nicole Bruch, corporate marketing coordinator. Bruch describes the culture as active, lively and vibrant, with plenty of activities for those who want to stay busy, along with more leisurely options. Some residents take classes at Roanoke College through the Elderscholar program, which offers continuing education opportunities. Classes and clubs exist for varying interests, as well as off-site trips to places like Myrtle Beach. Singing groups from Brandon Oaks also perform around Roanoke.
AT A GLANCE: Studio apartments to larger two bedroom patio homes and cottages. Varied financial options depending on accommodation and whether single or couple. 3804 Brandon Avenue SW, Roanoke, brandonoaks.net
Richfield Living
Richfield has been serving the area for nearly 80 years. Located in Roanoke County near Salem, the 50-acre campus offers the full continuum of care at one location, including short-term rehabilitation, independent living, assisted living, memory care for dementia patients, and nursing care. "The campus features two beautiful lakes with fountains, and lush landscaping that adds beauty and a feeling of serenity in and around the grounds," says Stephanie Landes, who handles marketing and fund development at Richfield. The facility strives to provide residents with as much control as possible, and Landes says residents decide when to wake up, when to eat, and when he or she prefers to bathe. This care approach is extending into the nursing facility, which is called the Richfield Recovery & Care Center (RRCC). In December 2017, Richfield Living opened Mountain View Lane, a "household" within the RRCC, 14 Roanoke Val ley HOME Summer 2018 designed to feel more like a home than a nursing facility. Residents can stay engaged with regularly scheduled Bible studies, flower arranging, movie showings, musical performances and outings to shops and restaurants. The community partners with Glenvar Library, local schools and sports teams, as well as churches and scout troops. "With our strong volunteer base, our residents enjoy being connected to fellow Richfield residents and team members, as well as the greater community," Landes says.
AT A GLANCE: Independent living options in private cottages and apartments; assisted living, memory care and skilled nursing in different facilities on campus. All residents are renters. 3615 W. Main Street, Salem, richfieldliving.com
Hermitage Roanoke
Hermitage in Roanoke (formerly known as Virginia United Methodist Homes) is part of a network of care communities called Pinnacle Living, and offers all levels of care to residents, so they can add services as needed. This includes independent living, assisted living, rehabilitation therapy and nursing care. Established in 1964, the community has continually renovated and expanded during the more than 50 years of serving the greater Roanoke Valley. A unique feature of Hermitage is a Samaritan program that provides peace of mind to residents who have outlived their financial resources. An established policy provides assistance to those who, through no fault of their own, become unable to meet the full cost of services. At Hermitage, residents enjoy a library, paved walking paths with outdoor gazebos, a chapel, exercise room, billiard room and woodworking shop. A full calendar of events and classes like chair yoga and bingo, as well as off-site trips, are provided.
AT A GLANCE: Rental community. Independent living apartments with porches and patios. Studio, one and two bedroom assisted living apartments; nursing care facility. 1009 Old Country Club Road, Roanoke, hermitageroanoke.org
The Glebe
The Glebe is a community in Botetourt County with views of the Allegheny and Blue Ridge Mountains. It is operated by LifeSpire of Virginia, which has corporate offices in Richmond and has Explore Premium Outdoor Furnishings Kaleen Outdoor Rugs • Kingsley Bate • Lloyd Flanders Meadow Craft • Treasure Garden • Whitecraft • Woodard /bettersofas 4919 Grandin Road, Roanoke County 540.400.6334 • bettersofasroanoke.com Experience the difference r vhomemagazine.com 15 been in business for more than 60 years. A nonprofit facility, The Glebe is a faith-based community for people of all faiths. Residents can choose to live in apartments or cottages, and have access to the full continuum of care as needed, including assisted living, nursing care and rehabilitation therapy. Extensive cultural, spiritual, educational, fitness, and social activities are available. On-site amenities at The Glebe include an art studio, woodworking shop, game room, billiard room, business center, library, chapel, and a variety of gathering rooms for conversation and relaxing. In addition, there is outdoor space for flower and vegetable gardening, a greenhouse and walking trails. An on-site library, beauty salon, mail center, bank and thrift store foster a town-like atmosphere. Residents also explore off-site activities in and around Roanoke.
AT A GLANCE: One time entrance fee and monthly service fees. Fees vary, see website for details. Cottages and apartments are available. 200 The Glebe Boulevard, Daleville, theglebe.org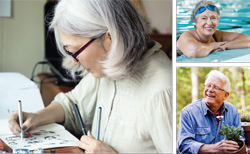 Friendship Living
Friendship Living provides all necessary services for seniors, including independent living, assisted living, home care services, inpatient and outpatient rehabilitation, nursing care and memory care. "We provide most any option for senior care at a very affordable rate," says Chris Dodd, director of marketing and communications. The Friendship community spans two locations—one in northwest Roanoke that offers all services, and one in southwest Roanoke (Friendship Health Rehab-South) that offers short-term rehabilitation and long-term care. Friendship residents have annual leases with no buy-in requirement. Dodd says activities for physical, mental and spiritual engagement are plentiful within the community, and range from group outings to see the Broadway in Roanoke series at the Berglund Center, to fitness and hobby classes on campus. An indoor pool, virtual golf, chapel and full-service restaurant are some of the amenities enjoyed by Friendship residents.
AT A GLANCE: Monthly leasing with no buy-in requirement. 397 Hershberger Road, Roanoke (full continuum of services); 5647 Starkey Road, Roanoke (short-term rehabilitation and longterm care), friendship.us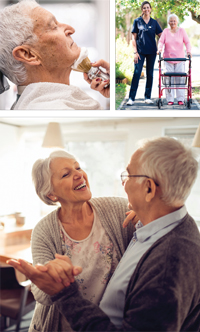 The Park—Oak Grove
The Park-Oak Grove is an assisted living facility in Roanoke operated by Capital Senior Living, which has a network of senior facilities throughout the country. The company's philosophy is a belief that residents should be able to choose an affordable lifestyle that is best suited for them. The Park-Oak Grove is quietly tucked away in a residential neighborhood convenient to shopping, dining and medical care. The community offers apartments for seniors who need help with daily living tasks— such as medication administration or personal grooming—by staff that is available 24 hours a day. Residents are encouraged to get involved in the community's activities program that includes spiritual and wellness classes, or take advantage of scheduled courtesy transportation to get out and explore Roanoke.
AT A GLANCE: Studio, one and two bedroom apartments. Contact for financial information. 4920 Woodmar Drive, Roanoke, capitalsenior.com/theparkoakgrove
Our Lady of the Valley
Our Lady of the Valley is an assisted living, rehabilitation and nursing facility in downtown Roanoke, next to St. Andrew's Catholic Church. It is a nonprofit, non-denominational community sponsored by the Catholic Diocese of Richmond. Our Lady of the Valley has been serving the community since 1989, and strives to provide affordable senior housing and care. Assisted living services are customized for each resident to preserve as much independence as possible, and residents step up to additional care as needed as they age in place. A calendar of changing programs and activities keep residents engaged in life, such as wine tastings, art shows, dances, movie matinees and salsa dancing. The nearby Roanoke Catholic School provides residents opportunities to interact with students.
AT A GLANCE: Apartment living, no buy-in. Monthly leases; contact for financial details. 650 North Jefferson Street, Roanoke, ourladyofhevalley.com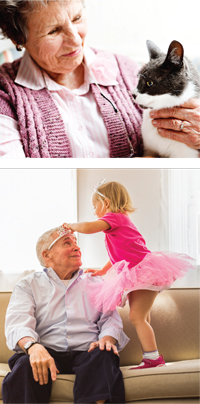 Elm Park Estates
Elm Park Estates offers independent apartment living for seniors who wish to leave cooking, cleaning and home maintenance behind and be a part of a community. The community offers views of the Shenandoah Valley and is close to restaurants, medical care and other amenities. A pet-friendly facility that allows seniors to keep furry family members with them, Elm Park Estates is operated by Holiday Retirement, a network of senior communities. Residents enjoy playing a live version of "The Price is Right," practicing yoga and participating in book clubs and other hobby groups. Transportation is provided along with daily dining room meals. Residents gather in common areas, such as the chapel, billiards room, game room, TV lounge and computer room.
AT A GLANCE: No buy-in fees; rental community of apartments. Contact for lease options. 4230 Elm View Road, Roanoke, holidaytouch.com (search communities for Elm Park Estates)
The Village on Pheasant Ridge
Nestled high up on Pheasant Ridge in southern Roanoke, The Village on Pheasant Ridge offers seniors independent and assisted living with amazing views of the Roanoke Valley. Close to area attractions with easy access to I-581 and I-81, the community is locally owned and operated by Harmony Senior Services, a Roanoke-based company. A calendar with daily changing events keeps residents as active as they wish to be, and includes fitness classes, craft classes, movies, happy hours, off-site activities and more. Living options include studio, one and two bedroom apartments with no long-term buy in. The dining room incorporates the "farm-to-table" concept in its daily menus, featuring fresh fruits, vegetables and herbs from local farms across the Roanoke region. AT A GLANCE: Studio to two bedroom apartments with no-long term commitment. Contact for pricing specifics. 4428 Pheasant Ridge Road, Roanoke, villageonpheasantridge.com
Senior living options in the Roanoke region are varied and plentiful, allowing seniors to spend their golden years doing more of what they love while relinquishing the tasks that they no longer wish or are able to do safely. There are options to suit various lifestyle wishes and budgets, making retirement more enjoyable than ever before.
brandon oaks, Elm Park Estates, Friendship Living, Hermitage Roanoke, Our Lady of the Valley, Richfield Living, The Glebe, The Park—Oak Grove, The Village on Pheasant Ridge