Midcentury Makeover | Hometown Couple Transforms House on Spring Valley Lake
Just inside the city limits of Roanoke lies a slice of bucolic bliss known as Spring Valley Lake. This large private lake ringed by single family homes—and one of the last functioning farms in the area—is actually a reservoir, and feels miles away from the hustle and bustle of city life.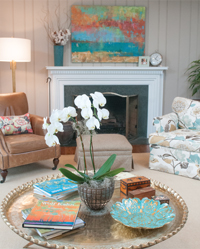 You'd be forgiven if you'd never heard of Spring Valley Lake. Even lifelong Roanokers Leigh Ann and Jack Hamlin, who are now raising their family in the neighborhood, hadn't heard about it until just a few years ago. "Jack drove me out here the first time, and I just looked at the farm and the lake, and said, 'Jack… where are we?!'" recalls Leigh Ann. "I never even realized there was a lake in the City of Roanoke!"
Leigh Ann explains that they had initially settled in the Raleigh Court neighborhood of Roanoke, choosing to stay in town to be close to work and family. Leigh Ann is the Director of Counseling at North Cross School, and Jack is the president and owner of Hamlin Builders, a custom residential builder and remodeling company. However, with the arrival of Grace (age four) and John Henry (almost one year), it also became increasingly important to the young couple to be close to grandparents.
The way Jack describes it, they almost never saw the house on Spring Valley Lake at all. He credits longtime friend and local real estate agent, Teddy Dalton, with bringing the property to their attention. "Teddy is an old friend; we go way back," explains Jack. "He always keeps an eye out for houses that I might be interested in working on. But when he came to me with this one—a 1950s brick ranch home—I just shut that idea right down. My business was young and I had enough work doing projects for other people. So I just told Teddy, 'Nope. Not even interested in looking at the house.'" Fortunately, Teddy kept at it. One night, out for a casual beer, Teddy caught Jack at a weak moment, suggesting that they go look at the house right then and there. Jack agreed and the rest, as they say, is history. "The minute I walked in the door I knew I wanted the house," says Jack.
The home's original blueprints are framed above the fireplace in the den.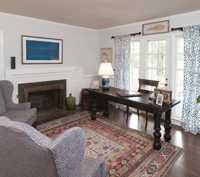 The home was built in 1953, and had been on the market for a while, despite its beautiful location on a two-acre lakeside lot. Designed and built for a sole previous owner, in its prime it had been a state-of-the-art custom home, but nearly 70 years later, it was in need of some TLC and updating. "For starters, the entire home—and I mean the entire home, was painted a flat avocado green," recalls Jack. "Walls, molding, doors, door hardware… everything." The exceptions were the bathrooms and the kitchen, which sported even more vintage colors. "The cabinets in the kitchen and the entire master bath were painted a Pepto-Bismol pink," Leigh Ann adds. "It was really something."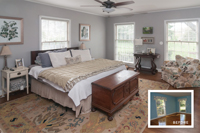 The couple could see beyond the paint to the home's strong points—the picturesque lot with old trees, floor-to-ceiling windows, and quiet neighborhood. Additionally, there were thoughtful touches in the custom home which indicated to the Hamlins that it had been built by someone who truly cared about the details—closets with automatic lights, an ironing board that unfolded from its own special niche in the kitchen counter, a reach-through linen closet accessible from a hallway or the bathroom, and perhaps most amazingly for an older home, an abundance of storage space in every room. "It was like someone with an engineering mind refined every single corner of this house," recalls Jack. "As a builder myself, I can really appreciate that." Despite the dated color scheme and layout, Jack felt the house had "good bones" and was eager to take on the project, and could visualize the improvements that would breathe new life into the house. Leigh Ann recalls, "I'd seen that look in his eyes, and knew he was making plans." She also knew enough to trust that when Jack got that look, he was going to make something wonderful.
Large windows in the living room offer panoramic views of the lawn and lake.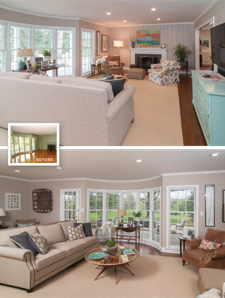 The Hamlins bought the house in August of 2016 and, as Jack describes it, began demolition that very day. Over the next several months, Jack and his crew set about transforming the old house. They removed a couple of walls that divided the living room, dining room, and kitchen, flooding the common areas with light and improving the flow of the downstairs. The kitchen needed a complete overhaul, as did the entire plumbing and electrical systems. There were a few surprises as well. As the team worked to update the home by installing recessed lighting throughout, they managed to hit water pipes in nearly every ceiling. On further inspection, Jack discovered that there was a unique, but obsolete, radiant heating system up there, and he quickly realized that the ceilings would need to be redone. "There are over three miles of copper tubing in the ceilings of this place," explains Jack. "And over time, the heating and cooling made the ceilings crack."
The sunken patio features shade trees, lake views, and a substantial fire pit.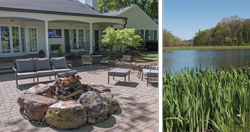 To capitalize on the long stretch of lawn that leads down toward the lake, Jack excavated what he calls a "sunken patio" off of the home's original slate patio. The expansive space is home to several cozy seating arrangements and a fire pit made out of giant boulders. Surrounded by large old shade trees, Jack explains that he realized early on that they'd never get grass to grow in the area, and that with two large Labrador Retrievers, two small children, and a constant stream of friends and family, the area would always be a muddy mess. Thankfully, his mother, Colleen Hamlin, is a lifelong gardener who works at Townside Gardens, and she helped him make a landscape plan for the terraced area surrounding the hardscape. During the warmer months, the family spends much of their time on the patio. "We practically live out here," confesses Leigh Ann. "We sit out here with the kids, have people over to cook out, or watch football," she says, gesturing to the large flatscreen TV that Jack mounted under the original covered patio. "It's like having a whole other room. We love this space!"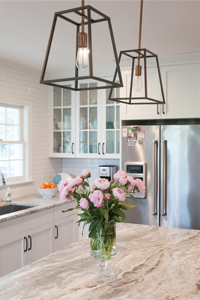 Other improvements to the home's exterior included painting it a fresh white, adding a paved path to the side door off the kitchen, and replacing the wrought iron pillars along the back of the house with thick, six-by-six structural posts with decorative crown and base moldings. Jack explains that transitioning from a small backyard in Raleigh Court to acres of grassy lawn was no sweat. "It simply required that I get a big ride-on lawnmower," he chuckles. "And you know what? I was pretty excited about that."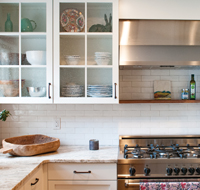 Perhaps the most dramatic changes in this renovation occurred in the kitchen. No longer "Pepto pink," the kitchen has a bright, airy feel that can be attributed to the new open layout, and also to the clean white subway tile, floating shelves and custom cabinets. In the center is a large island workspace with French bistro stool seating. White cabinets with glass doors, new stainless steel appliances, and marble countertops complete the update. Jack chose honed and leathered "fantasy brown" marble The remodeled kitchen has an open layout and bright, airy feel. BEFORE r vhomemagazine.com 47 for its texture. "I love that the sheen is removed," he explains. "It takes some of the hardness out of the stone.
The remodeled kitchen has an open layout and bright, airy feel.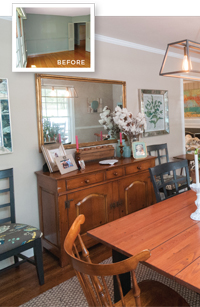 Surprisingly, the updated kitchen is actually somewhat smaller that the original. Jack explains that he "borrowed" part of the space from the kitchen and a cavernous pantry, and reworked it to create a large half bath, a smaller pantry, and an art nook where daughter Grace creates and displays her artwork. Leigh Ann says that Grace's artistic talent runs in the family, though she quips, "It skipped a generation." Leigh Ann's mother, Courtney Cronin, is a prolific artist whose brightly colored paintings hang in each room of the home, including the kitchen. The large oil in the living room over the fireplace is a special favorite of both Leigh Ann and Jack. "I used to have it hanging in my office," Leigh Ann says, "but when Jack saw it, he loved it. It's his favorite one of her works, so we hung it here where we could all enjoy it every day."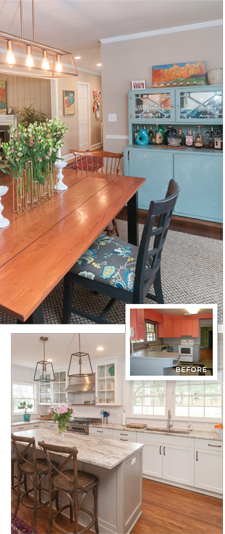 Since most of the original wall separating the living room and dining room was removed, the result is a generous space that flows from the casual, family-style dining room—with its large farm table and church pew bench—into the living room, where huge windows offer panoramic views of the lawn and lake. The room is furnished in a comfortable, relaxed style that makes sense for a family with two small children. "Having a so-called 'formal living room' doesn't really fit in our life right now," laughs Leigh Ann, as she bends down to open a juice box for Grace, "so this is our rendition."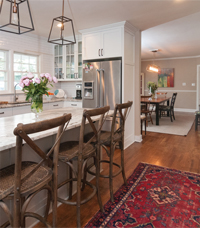 Directly off the living room is a small den, which boasts a lovely fireplace and a wall of windows that captures more of the beautiful view. The walls are hung with a soothing gray wallpaper that mimics seagrass, and trimmed with wainscoting. Jack plans to someday add built-in shelves to create a cozy study feel. Leigh Ann says that during the renovation process, they opened up the small closet to the left of the fireplace to discover—amongst the tangle of ancient stereo equipment and security systems—a treasure: the original blueprints of the home. They are now framed, and one hangs over the fireplace.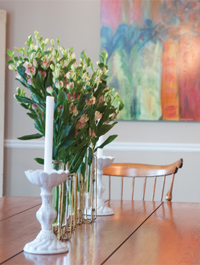 Like most ranch style homes, the bedrooms open off of a main hallway on the opposite side of the house. The children's rooms are charmingly decorated in shades of blue and gray for John Henry, and pink and gray for Grace. The bedrooms have the same oversized windows as the rest of the home, as well as positively enormous closets thanks to the original design. The master bedroom also had a massive closet which, like the master bath, was very pink. Jack again "borrowed" a little space from the master closet, a little from Grace's closet, and a bit more from a linen cupboard to create a second closet in the master suite, and enlarge the original bath. Thanks to Jack's clever reconfiguration, the master bedroom lost none of its dimensions, but it has gained his-and-hers walk-in closets, and a master bath nearly double the size of the original.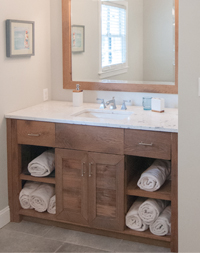 The new bath has a large marble shower, which Leigh Ann loves, that features built-in benches and three shower heads. Jack is proud of the rustic hisand- hers vanities that were handcrafted by Floyd Rustic, a custom furniture maker out of Floyd, Virginia. After so many years in the business, Jack explains that he learns a little bit from each of his projects. "I've definitely been refining my own designs," he notes.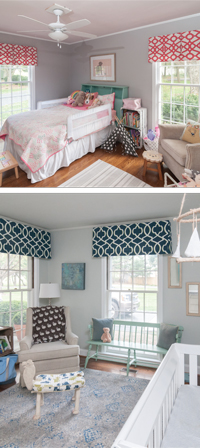 Projects left to do? Ah yes, there are many. For instance, the ranch home actually has a finished walk-up second floor instead of an attic. There are two bedrooms and a bath up there, plus ample storage in the eaves. Jack hasn't gotten around to renovating it yet, but he muses that it would be a wonderful space for their daughter when she gets a little older. There is also a large basement with vintage, wood-paneled walls and a large brick fireplace. The space is currently used as Jack's home office, but one day, Jack and Leigh Ann envision an area for kids to hang out. But for the time being, the family's focus has been on the main floor. "If you'd told me five years ago that I would have been living in a single-level ranch house, I wouldn't have believed you," Leigh Ann says. "But now, I couldn't imagine living any other way. I love single-level living so much—especially with little kids."
It was a fortuitous chain of events that led the Hamlins to Spring Valley Lake. Thanks to a good friend, Jack's expertise, and Leigh Ann's trust and support, they've created an ideal home for their young family. Over the past two years they have transformed a once tired old house into a haven. The out-in-the-country feel of lakeside living, with the conveniences of being in Roanoke and the home's generous layout, ensures the Hamlin family will have room to grow for years to come.
church pew bench, Floyd Rustic, Hamlin Builders, marble shower, Spring Valley Lake, Townside Gardens, walk in closets