Restyling a Classic | South Roanoke Bungalow is Updated for Young Family's Forever Home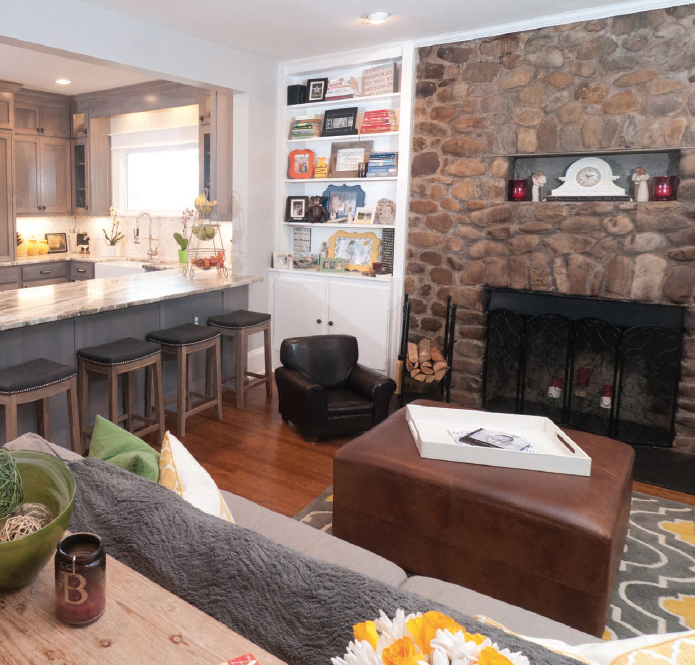 South Roanoke is where Michael Bear grew up, so when his job moved him back to town from Bluefield, West Virginia three years ago, he knew he wanted to buy a house in his old stomping grounds. He and his wife Kailyn looked at several places but hadn't found the right one until Michael, who goes by "Bear," saw a Craftsman-style bungalow that looked promising. There was only one hitch: Kailyn was out of town. Bear sent Kailyn the online link to the listing, and her immediate response was, "Buy it!" Bear chuckles, recalling the story. "I said, 'You haven't even seen it yet!' But I went to the open house that weekend and put an offer on it, contingent on spousal approval. She took a look a few days later, and the rest is history!"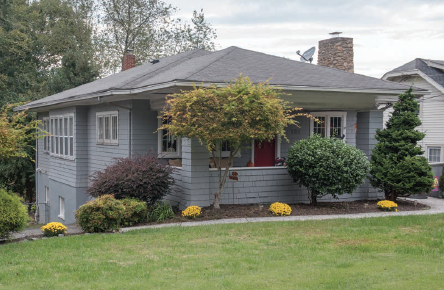 The 1923 three-bedroom bungalow, with its painted cedar shingles, blown-glass casement windows, spacious backyard and convenient location, was a great choice for the Bears, who have two young children and a large extended family. However, the interior layout—typical for homes of that era—wasn't such a great fit. "Everything was livable," says Kailyn. "It just wasn't very user-friendly." A large wall ran across the center of the main floor, dividing the rectangular-shaped living room in the front from the rest of the house. Access to the kitchen meant walking through a doorway to the dining room and then across a hallway, which was inconvenient for a family with young children, as well as unsuited to the large family gatherings they enjoy. Kailyn says, "The main room where your family is and where you entertain was totally shut off from the kitchen, so if you were in there cooking or prepping, you couldn't see anyone."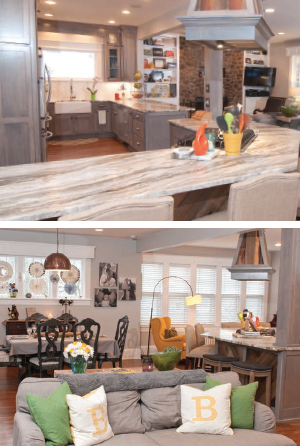 Kailyn and Bear held off on renovating the main level for more than a year after moving in so that they could be sure of what they wanted and needed, and during this time their plans evolved. "Initially we were just going to cut a little 'peek hole' from the living area into the kitchen, sort of like a bar," says Kailyn. "But then we started talking to different contractors and it snowballed into opening the whole thing up." They chose Stone River Contracting to do their renovation, and worked on a layout with owners Wyatt Silcox and Michael Kraemer. The Bears really wanted to create a great room, and the key to making it work turned out to be removing the existing bathroom, which was in the middle of the main level, and putting a new bathroom farther to the rear of the house, where a linen closet originally stood. The final concept was a collaborative process between contractor and client. Kailyn, a photographer and former elementary school teacher, enjoys home organization and design, and had a clear vision of what the space could be. "I drew a layout of what I wanted with the kids' crayons," she laughs. Mary Silcox, of Mary Silcox Interiors (and wife of Wyatt Silcox), then created an auto CAD drawing from Kailyn's "crayon vision" for the contractors to use as a blueprint, and work began.
With the renovation complete, the bungalow's interior now feels bright and welcoming.
The long dividing wall is gone, and the new, open-concept kitchen is a world away from the previously hidden space. The cabinetry is maple and was actually made by Stone River Contracting. Bear says, "They've got their own cabinet shop, and everything is custom." The cabinets are finished with a soft gray stain, which has a bit of orange added to the color to keep it from having a bluish tint. The countertop is Fantasy Brown marbled granite and features a farmhouse sink. The backsplash, white subway tile in a herringbone pattern, was Kailyn and Bear's personal project. "We both decided we could finish that part," Kailyn says. "Stone River let us borrow some of their tools, and we did it over the course of a couple of weekends." A glass butter churn which once belonged to Kailyn's grandmother, and is probably of a similar era as the house, sits on the counter.
The cabinets have handy built-in features, such as an appliance garage with adjustable shelving and multiple plugs, and large, pull-out pantry shelves. Two upper cabinets with bubble-glass doors, and a stainless steel fridge with a kid-friendly snack drawer, add a little shine. A long peninsula counter that separates the kitchen from the family room has deep-drawer storage for easy access to frequently-used items, like kid cups and the family's dishes, which Kailyn jokes is necessary because she's "short." The dishwasher is positioned next to the dish drawers for convenience, and the built-in trash and recycling cupboards are within easy reach near the sink. The layout was carefully planned by Kailyn, who knew what would go in every drawer before it was built.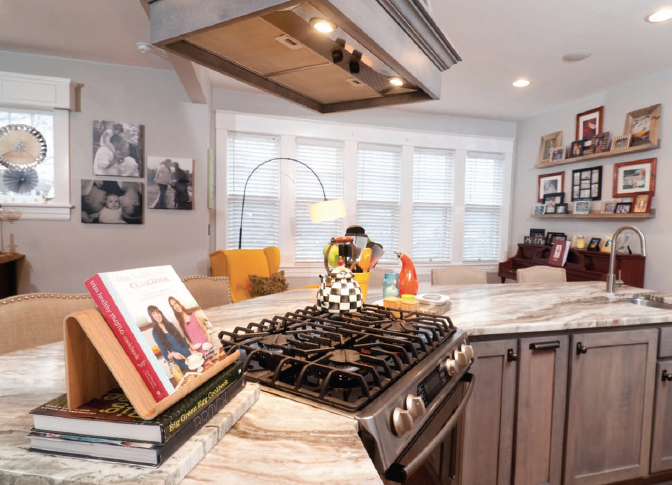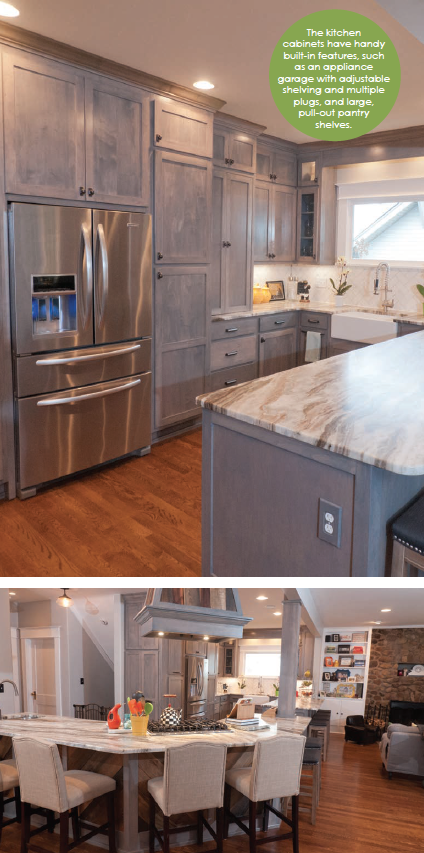 Her assurance extended to the kitchen island, which frames the corner of the space and is positioned near the center of the great room. In addition to more deep-drawer storage for pots and pans, the island has a prep sink, electric oven, and a gas range. Kailyn says no one else was enthusiastic about the idea of a stove in the island, but she had grown up in a house with that configuration and knew how it would work. She says her reasoning was, "If we have this big island as well as the peninsula, what is the point of having it here, other than for sitting and eating? This way I can look out and talk instead of facing the wall while I'm cooking." The island also houses spice cabinets and a custom cupboard for her Kitchen Aid mixer that features an adjustable, pull-out stand with its own outlet. A supporting pillar which had to stay put was given double duty by outfitting it with plugs and turning it into a charging station.
The island, in addition to being functional, is a focal point of the room's updated look thanks to its unusual design, which is repeated on the range hood. Both pieces are inlaid with various reclaimed woods—such as mahogany and cherry—in an angled pattern that Kailyn says was inspired by Pinterest. "I wanted to keep the overall room fairly simple, because it's a Craftsman-style home, so you see that with the cabinets we chose," says Kailyn. "But at the same time I wanted something unique. So this part is us." Initially the range hood was going to have a more basic wood finish, but Stone River suggested that they use the same inlay they'd put on the island. This had the advantage of turning what could have been just a fixture that hung down in the space into a statement piece. And as Bear says, it's one of the benefits of their collaboration on the design process. "When you go local and you go custom, you've got options," he says. "We were fortunate in that we showed them a picture, and they were able to do it."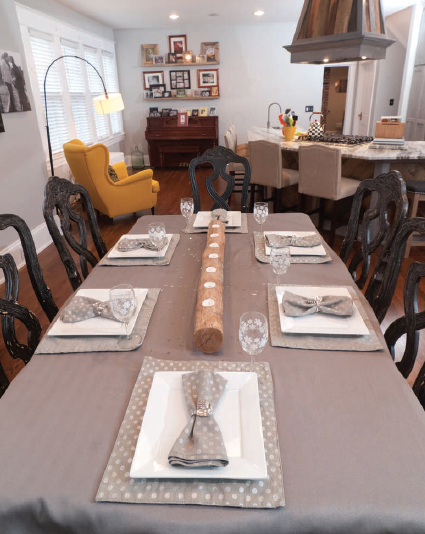 There are plenty of stools along both the peninsula and island, which come in handy for hosting. Kailyn says, "We wanted to make sure that, if we had everybody here for Christmas and holidays, we had enough seating." The rest of the space got a makeover, with recessed lighting, Behr's Silver Marlin paint on the walls, and a fresh coat of white paint on the built-in bookcases surrounding the fireplace. Part of the original flooring had to be taken up during the renovation, so new oak flooring from Lee's Hardwood was toothed in to the existing wood, and then the whole floor was sanded and stained in a warm, medium-toned brown. A gray sofa has yellow throw pillows with a "B" monogram, and around the room, pops of yellow and personalized accents—including a fun bear theme, a play on their surname—unify the space.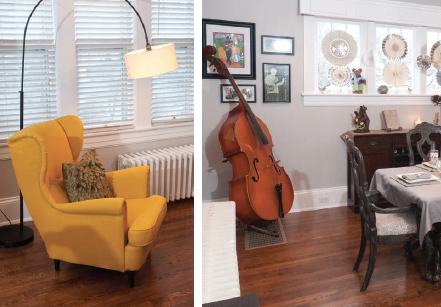 There's also a music theme evident in the room. An upright bass in the corner of the dining area was passed down to Bear from his grandfather, who once played jazz gigs at Natural Bridge to help pay his way through medical school. Bear can play the bass, as well as guitar and piano, though he admits, "Not so much anymore, with family life." Kailyn grew up singing and playing piano, and her grandparents gave her the upright piano which sits near a window alcove, not far from a cheerful yellow wing chair that was her birthday present. The Bears' children go to music class, and Bear and Kailyn hope they'll continue the family tradition.
Another tradition Kailyn has started is apparent throughout their home: family pictures. Kailyn, who last year launched K. Bumble Photography, which specializes in children and family portraits, loves having personal photos around their home. Having lost her parents when she was younger, Kailyn says, "I only have four or five pictures of my family together. So I might overdo it in the end, but I think it's important for generations to do that and to have those memories."

One of her more unusual photos is printed on a metal sheet that hangs in the new bathroom, and shows a city corner with the names "Kensington" and "Davis" on the street signs. It has special significance because it's a photo Kailyn took of their old neighborhood in Richmond, where she and Bear went to college, lived, and met. Kailyn says, "When we were walking home one night, Bear proposed on my front step on Davis." Kensington Street ran near both of their homes, and it was a name they both liked, so they named their daughter after Kensington, and then their son after Davis. The Richmond theme is continued in the design of the bathroom, which features exposed brick, industrial accents and a black and white color scheme with pops of red. The brick is thanks to the chimney of the downstairs fireplace, which was uncovered during the renovation and that the Bears decided to leave exposed. Behind the chimney, a small space was fitted with floating shelves and is now used to store supplies. The storage space is handy, given that the bathroom took the place of the former linen closet, and because of this, the bathroom cabinetry includes a tall central unit for towels and sheets. The cabinets are stained the same color as in the kitchen, and also have built-in features, such as a laundry hamper and two step stools that pull out to help little hands reach the white utility sinks.
The space is a blend of modern and historic elements. Bear and Kailyn went to Valley Tile in Salem to have the original bathroom's black and white "soccer ball" patterned floor tiles replicated in the new room, and went to Black Dog Salvage for several items, such as the large "K" and "D" letters (for Kensington and Davis) hung on the brick wall, an iron towel rack, and an entry door with a frosted glass window. "I wanted the glass in it because there are three doors in this area," Kailyn says, gesturing to the alcove that leads to the kids' rooms, adding, "I didn't want it to feel dark and heavy, so the glass added lightness." Industrial elements such as black-painted pipes for towel racks and lighting fixtures were made by Bear and update the feel of the room.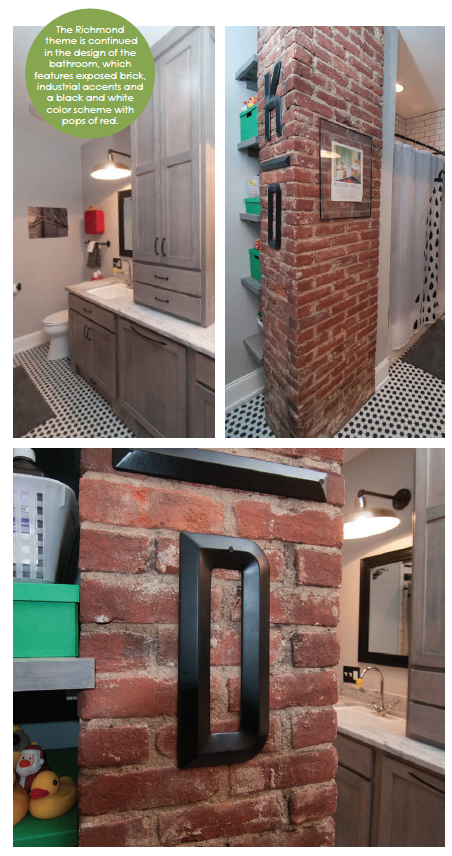 The renovation uncovered more than just the brick chimney. Kailyn says, "When they pulled out the existing oven and stove, behind it was a hole that led to a walled-up pantry with shelves. On the shelves were about 30 magazines from the 1950s, such as Good Housekeeping and American Magazine. Most of them have our address on it and the name of the people who lived here." Several of the magazines are now displayed in the great room, including one Good Housekeeping that sits on the sofa table. Kailyn initially put it there for its yellow cover, which matches the room's color scheme, but then she saw that one of the articles was titled, "Things I Never Tell My Husband," and left it there as a joke. This is news to Bear. "I never even noticed!" he exclaims.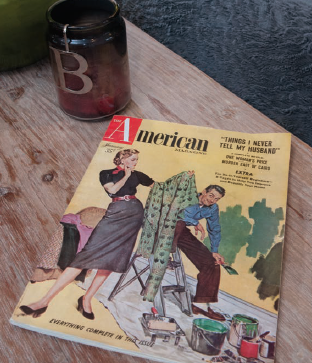 The magazines weren't the only surprise Kailyn and Bear found in the bungalow. While mounting their TV in the bookshelves, Bear says, "We cut holes in the back of the shelves and were reaching down to feed the wires through, and we came across a hatchet inside the wall." The hatchet, which Bear says was handmade, now lives in the garage, but the mystery endures. Perhaps someone long ago wanted to "bury the hatchet"?
While a nearly hundred-year-old house is bound to hold some surprises, it's well suited for this young family. The updated bungalow is situated on a rare double lot, with a huge beechnut tree for shade and plenty of room for swing sets, soccer, and backyard gatherings. Bear says that when they moved from Bluefield they were worried about losing land, so having the extra space was a boon. He likes to joke that their house is a mullet (the legendary haircut described as "business in the front, party in the back") and says that, between the somewhat busy front road and quiet backyard, it's "Richmond in the front, Bluefield in the back."

The Bears have only lived in the bungalow for three years, but with family nearby and "awesome neighbors," they have no desire to move. And now with the renovation complete, the great room is the perfect space for the way Kailyn and Bear live and entertain. "That's one reason we decided to go all the way with the kitchen and not just do the peep-through," Kailyn says. "This is our forever home."
Photography by Kevin Hurley
americana, brick, bungalow, cabinets, custom home, family, family homes, Renovation, style