Deck the Porch | Source Your Garden for Winter Patio & Porch Decor
When the first frost hits and there's a sustained chill in the air, those festive fall ornamentals you planted will sing their swan songs and fizzle. Even relatively cold-hardy pansies, mums and ornamental kale will give up the ghost once temperatures and sunlight fade into the winter season. Christmas wreaths and holiday lights can temporarily perk up your porch, but what can you do to help keep your home's exterior looking cheerful until spring? No, we are not suggesting you leave up your Christmas decorations until Easter. Instead, look to Mother Nature for the answer and put those empty garden containers to work.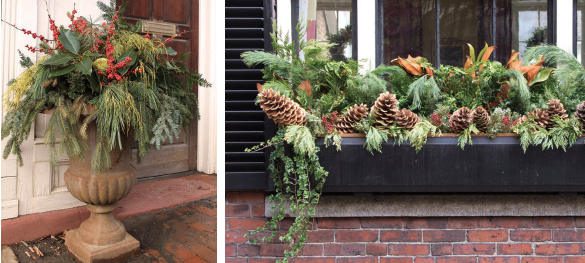 In the garden, the approach of winter mostly means keeping things tidy—raking leaves, removing dead foliage, putting down a layer of mulch. Hopefully there are a few evergreens in your landscape, which often take a backseat to showier plants during the growing season, but provide welcome greenery during the cold months. If you have your garden tucked away for winter and a few year-round specimens within view, you're doing well. You can head inside for a cup of tea by the fire with a sense of satisfaction… until you get to that bare front porch, or gaze out at that empty-looking deck! Tidy, yes. Welcoming? Maybe not so much. But there's an easy way to add a little extra appeal to the quiet months, using potted evergreens and items from around your garden.
First, take stock of the containers you have to work with. Do you have window boxes on your back deck or—très charming—beneath your front windows? These are great spots for adding seasonal accents. How about some pots or urns? A combination of several different containers will provide the most visual interest; for example, a pair of urns flanking your front door, along with a good-sized ornamental pot on the porch or entry steps, will provide plenty to work with. Choose containers that are medium-sized or larger for better impact, and check that the pot is in good condition, free of chips and cracks (unless you're going for shabby chic). Don't forget to look in your garden shed for pots you may have stored which offer decorative finishes or unusual shapes; uncommon features stand out more during the winter months when foliage is scarce. Once you've got a good selection of containers, make sure you're starting with a clean slate. Remove any faded or frost-mangled seasonal plants, wash away dust so that everything looks fresh, and fill with potting soil if needed.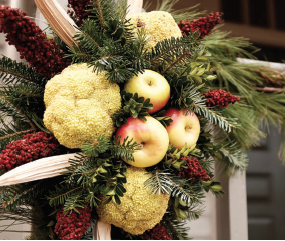 A simple way to provide year-round interest in a pot or urn is to plant a compact evergreen, such as a dwarf spruce, Sky Pencil holly, or English boxwood, in the center of your container, and vary the surrounding items with the season. If you want your evergreen to have a better chance of surviving the entire winter, make sure it's in a sheltered spot (a porch that receives some low winter sun is the perfect place) and try to use a pot on the larger side so that the roots have more soil protection from freezing temperatures. Potted boxwood can generally survive winters in our area, and its compact growth habit and ease of pruning make it a great choice for this project. Window boxes are usually small and shallow enough that evergreens aren't necessary, but you can use small English boxwoods if desired.
Once you've got your centerpiece, it's time to add the trimmings. English ivy, either dark green or variegated, is often invasive in the garden, but in a container is a hardy companion that will trail nicely. For spring, summer and fall, small annuals from the garden center tuck nicely around the edges, and for winter, you can achieve the same effect by arranging cuttings from your garden to fill in the bare spots. Look for a variety of shapes and textures. Lush magnolia leaves are a Southern classic; holly, boxwood, yew, fir and spruce provide chunky texture; white pine, cypress, cedar and arborvitae drape nicely and lighten arrangements with their feathery, delicate habits. Don't forget to think outside the boxwood (groan)—camellia, euonymus, cherry laurel, aucuba, hardy rosemary, nandina—anything green is worth consideration.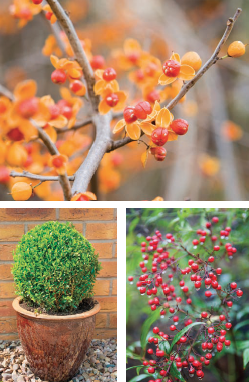 Speaking of nandina, plants with berries offer a festive pop of color. Additional species such as holly, cotoneaster, winterberry, red chokeberry, and cranberry bush viburnum can all produce late fall and winter berries. Bittersweet and pyracantha have bright autumn berries that can last into winter, depending on the weather. If you're a fan of the Colonial Williamsburg "della Robbia" wreaths and swags that adorn many historic houses during the holiday season, you can incorporate some of the subtler natural elements—such as apples, nuts, seed pods, grasses, and pinecones—into your arrangements for a look that can make it safely past the Santa and reindeer zone. If you can find it, the Osage orange tree (also known as hedge apple) bears bumpy lime-green fruit which look marvelous and last for quite a while. Even textural elements such as twigs and small branches (dogwood branches have a pleasingly lacy, open structure) can be used for height and variety.
When you have your selection of natural materials, simply tuck them into pots, urns and window boxes as desired. (Moisten the soil a bit first, if it's very dry.) To help cuttings last a bit longer, snip stems at a 45-degree angle and give them a last drink of water, just like you would with cut flowers. If the container you're using doesn't have any sort of evergreen centerpiece, consider using some larger pieces in the middle and placing smaller bits at the edges. You can usually just tuck stems directly into the soil, but if that's not working, try placing some chicken wire or sturdy mesh on top of the soil to help hold things in place. Finish the look by filling any bare spots with pinecones, smooth river stones, or moss, which can be bought at craft stores and also helps the soil retain moisture.
That's all there is to it! Cold air will preserve the clippings for some time, but if you want to extend it a bit further, try an anti-desiccant such as Wilt-Pruf, a protective pine oil coating designed to keep leaves on live plants from drying out which also works well on cuttings. Using evergreen clippings to "spruce up" (pardon the pun) your garden containers can help keep your porch and deck looking merry past the holidays and well into the new year.
holiday decor, holiday flower, outdoor decor, porch decor, winter bouquet, winter decor, winter garden