Pump Up the Powder Room | The Home's Smallest Space Can Pack a Big Punch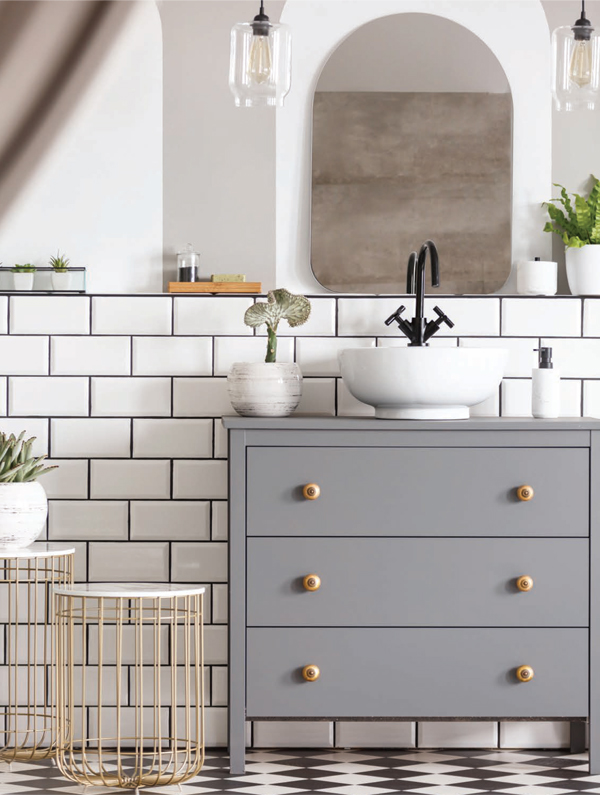 A powder room, known in real estate parlance as a half bath, is often located near the entrance of the home. Used by the family and guests alike, the powder room deserves special attention when thinking about upgrades and renovations. The tiny powder room often misses out on its share of creative design, as homeowners dismiss its small space as purely functional and boring. That neglected powder room is a missed opportunity to have some design fun: try bold ideas or luxury fixtures that might be impractical in larger spaces. It is also the place to inject a little refinement, personality or whimsy that will bring a smile to guests' faces. The powder room's diminutive size offers an oversized chance to make this room a showstopper.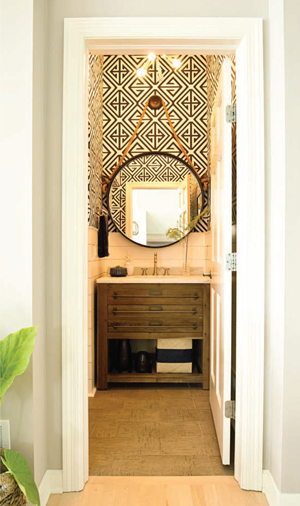 Small but mighty
Considering a powder room facelift? First, take a moment to analyze the rest of your home's style. You'll want your powder room design to be cohesive with the rest of your home. Then, decide upon your vision for the updated space. Often choosing a theme can be helpful. Maybe you find inspiration in leafy botanicals or travel-inspired features such as Moroccan tile or Italianate features. Maybe a dominant design element such as a unique piece of marble, a wall-covering, or even a color, can focus a powder room project, and the possibilities are limited only by your imagination. Determining your own style and vision at the outset will guarantee your tiny gem doesn't end up a jarring mishmash.
Walls (and ceilings and floors, oh my!)
The common conception that a small room should only be painted in light colors is passé. Today's powder rooms are powerhouses of color and texture achieved through combinations of paint, wallpaper and tile. Painting the walls (or the ceiling!) a rich, vibrant hue makes a bold statement. If strong color feels overpowering, consider breaking up the space by painting only the upper half. The lower half of the bath can be painted or tiled a simple white or other complementary color. Architectural details such as wainscoting, shiplap, or bead-board are imminently achievable in a small space and lend your project a high-end, refined feel.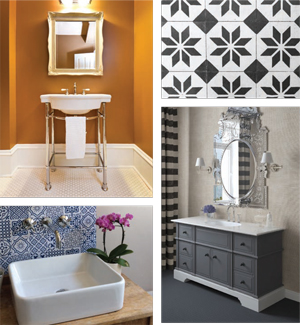 Wallpaper is another good option for powder rooms. Sumptuous wallpapers abound at every price point, and homeowners and decorators alike are finding ways to use these stunners; the rise in popularity of large print florals and gem-toned patterns with metallic highlights are enjoying a comeback. There are even several lines of removable wallpapers in every style for commitment-phobes (or those who like to change their mind frequently)!
Don't forget to investigate tile for flooring and walls. The last few years have seen a veritable explosion of beautiful tile patterns, from woodgrained and stone look-alikes to vibrant European and African-inspired designs. Worried that patterns will make your small space feel smaller? Fear not! The liveliness of stronger patterns and textures can make a room feel larger. Choosing grout in an unexpected coordinating color is on-trend as well.


Fixtures– think outside the box
The sink, vanity, toilet and accompanying hardware are often the most expensive items in a powder room renovation. Design choices will be partially driven by cost, of course, but also by size constraints. Again, here is where the powder room's smaller size and scope make it possible to consider higher-end items that would stretch the budget in a larger room or a master bath. Powder rooms don't require all the storage or fixtures that a full bath needs, so trading some storage for style is a real possibility. Your sink is where the eye will rest and it needs to capture attention, so think of it as the centerpiece of your powder room. swap out that clunky square behemoth of a vanity for a more stylish piece and select hardware—faucets, drains and towel racks—that compliment rather than compete with the sink.
Pedestal and washstandstyle sinks are timeless and authentic in historic homes, especially when paired with shiny chrome or solid brass hardware. A unique piece of furniture can be converted as a base for a vessel or under-mounted sink, and can give a powder room a classic look. "Floating" vanities of wood, stone or even concrete, which attach to the wall rather than the floor, are also popular, with their clean, contemporary good looks and spacesaving allure. Don't forget to have a look at the sleek new floating toilets that come with more features than some appliances. Since we unconsciously measure a room's size by its visible floor area, smaller powder rooms can benefit from floating both the toilet and the vanity.
Lighting–flip the switch
The powder room is an excellent place to showcase a wellthought out lighting plan. Here is another area where it is possible to splurge a little on quality and inject your project with more personality. An elegant glass and chrome globe, a whimsical painted lantern, or a glittering chandelier will add more to your room's character than say, a cup light. But don't stop with the overhead lighting; powder rooms benefit from a layered lighting approach. In addition to a fixture overhead to illuminate the room from above, you'll need to include lighting next to, or on either side of the mirror—maybe sconces or pendants, though a table lamp can also cast a warm, inviting glow. Remember, warmer light will always be more flattering than harsh bluish fluorescents, so choose fixtures and bulbs that show you and your guests in the best light.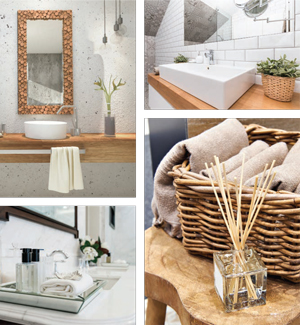 Through the looking glass and more
Next to the sink and toilet, the mirror is probably the only other critical piece of powder room design. Not only do mirrors provide guests the place to apply lipstick or make wardrobe adjustments, they also make the room feel larger, drawing the eye upward and visually expanding small areas. Every powder room should have one. A basic mirror is, well, fine, but a stunning powder room mirror, centered above the sink, is a critical design element and should be treated as such.
Accessories should be kept to a minimum unless your powder room is larger than most, as they can detract from the design rather than enhance it. However, even the smallest powder room will benefit from good quality hand towels, an attractive soap dispenser and trash bin, and perhaps a small green plant or orchid and carefully selected wall art.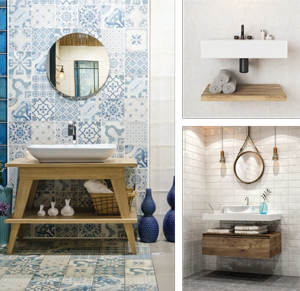 A word about storage: less is more
Ok, that was three words, but an important concept. Storage in a powder room can and should be kept to a minimum. Everything extra that you place in the room eats up the visual space and makes your small room feel smaller. Stacks of stuff competing for visual attention becomes clutter— think over-the-commode etageres, shelving units, or magazine racks. Most storage in a powder room is unnecessary. What, really, do you need to store in there? The answer is not much beyond extra supplies of the necessities you and your guests will use: toilet and facial tissue, towels, soap and perhaps sanitary items.
Those items don't take up much space, but are better out of sight. If you have sacrificed the box vanity with its commodious storage, consider a small shelf or cabinet that can be wall-mounted. You want guests to focus on your fabulous design—the luxe wall treatment, the sparkling light fixture, the unique mirror hung over a beautiful vanity—not on a stack of toilet paper.
From selected improvements to entire overhauls, the powder room offers the chance to experiment with texture, color and pattern. In the world of design, most attention is spent on big impact rooms— the kitchen, great room and master suite— but it is the tiny powder room which delivers an oversized opportunity to take some design risks.
It's true for sure: the home's smallest space can pack a big decorating punch. ✦
creative design, Features, Fixtures, flooring, half bath, lighting, Mirrors, paint, Powder Room, renovations, small space, tile, upgrades, wallpaper, walls