Local Makers Have the Gift(S) | Holiday Shopping with Area Artisans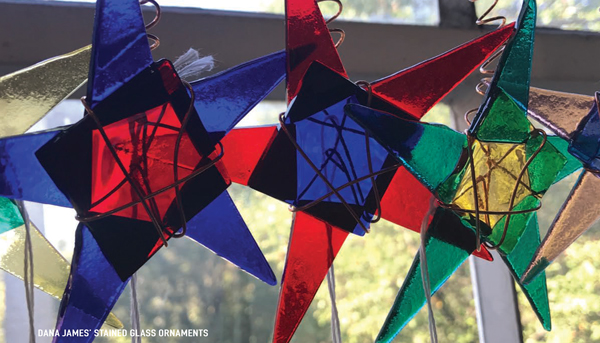 The holidays are upon us and buying gifts may feel like a chore. With all the "havetos" that demand our attention in this season of giving, why not make shopping an adventure? After months of hectic schedules, taking a day to shop for gifts provides a respite from decorating the house, office parties, and rushing to kids' holiday programs. One of the nicest features here in southern Appalachia and the New River Valley is the extensive offering of artisans and makers who live and work in our region. Their products are unique, one-of-a-kind gifts suited to many tastes and needs; you're sure to find a local handmade gift for everyone on your list.
Head out to local shops where handmade products are sold. Just seeing the colorful array of items will make you happy and feed your soul as a museum trip would, only more so because these works of art can go home with you.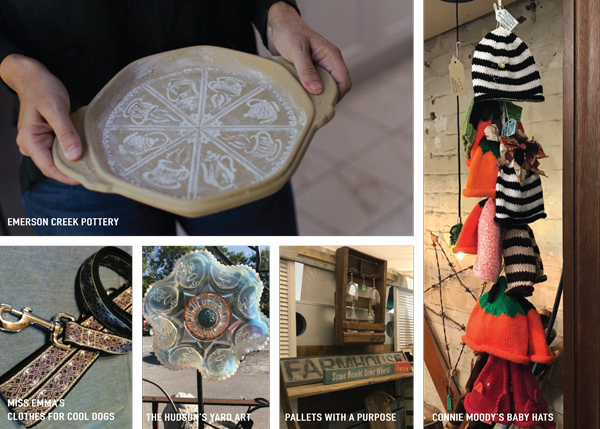 Shopping Black Dog Salvage is an adventure. Located near the Memorial Street Bridge at 902 13th street, the warehouse is full of architectural salvage and antiques, offering an abundance of delightful artisans' works. There is a rack of beautiful iron tools, skillets, hooks, and brackets that Parker Jamieson forges from metal, useful and beautiful for any style home. Customers flock to the cutting boards that Cameron Florin makes from leftover lumber scraps—as well as the charcuterie boards he carves from live edge wood—as fast as he can make them. Cameron also constructs fractal-burned magnetic bottle openers; no two are the same, as the electrical current runs through each piece of wood differently. Black burn lines give a hand-painted look to the wood behind each opener.
For the little ones on your list, Connie Moody's knitted baby hats are pieces of art. Little ones will love wearing these colorful caps that look just like the animals they represent: some sport kitty ears and whiskers; others are holiday-themed. Connie also decoupages boxes and sews beautiful pillowcases.
You won't want to leave without buying a Dana James stained glass ornament for your tree. These colorful stars twirl in glass combinations of reds, blues, yellows and greens, ready to dazzle a special someone's tree or hang year-round in a sunny window. For outside décor, there are yard art flowers made by Dennis and Linda Hudson crafted from antique china plates and glass knobs. For these pieces, the couple repurposes vintage dishware to make statement pieces for the garden.
Get out into our community and visit some of these shops for unique gifts. The thrill of the hunt, the stories you find and tell of the presents that you share, make memories their recipients will cherish.
Downtown Roanoke offers fabulous shopping in art galleries, bakeries, and small local businesses. One new addition provides many unique gifts in one spot. Crafteria, located at 16 West Church Avenue, showcases an impressive collection of handmade food and goods stocked by area makers. Spices, jams, jellies, and sauces line the shelves in the food section. Appalachian-themed gear holds another spot, and the year-round Maker's Market offers goods from more than 60 craftspeople.
In the booth at Transcendent Glass, find bright red hummingbird feeders and unusual barware made by Andy Dillon. Taylor Smith designs leather jewelry including earrings she crafts with a magical, feathery look; they dangle and dance as you move. Brad and Stacy Boris of Pallets with a Purpose reclaim discarded wood pallets to create eye-catching, inspirational signs and racks. Buy one with a metal hook and add a holiday dishtowel for your favorite cook. Find one with several heavy hooks for a family on your list to hang rain gear or backpacks by the door.
Don't forget the pets! Stop by Miss Emma's Clothes for Cool Dogs to find festive holiday collars and coats to dress up furry friends for winter weather. Other booths feature pottery and natural skincare products; Crooked Mountain Crafts makes thick, wooly afghans and warm, hand-knit scarves in yummy colors. Before you leave, take a brochure or check the Crafteria Facebook page for weekend and evening events, including Meet the Maker openings and Wine & Art Wednesdays.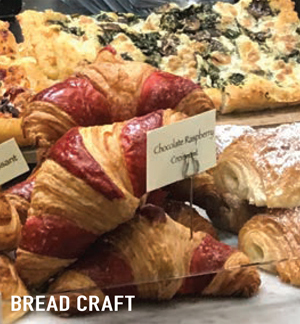 Right next door on Church Avenue, Bread Craft displays a case full of sweets and breads. If you need something delicious for the office party or a gift for a pastry lover, Bread Craft offers an array of croissants, cookies, cakes, and pecan shortbread made from scratch year-round. Special holiday treats include gingerbread men, croissant loaves (fans are obsessed with making this into French toast for brunch), scones, tarts and special breads. Boxed up in their signature blue boxes, any combination of these delights will make someone's day.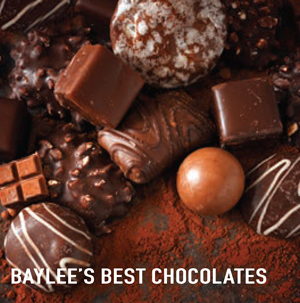 For chocolate lovers, visit Baylee's Best Chocolates in West Village on Route 419 in Roanoke County. Bayla Sussman greets you in her black chef's hat and uniform as you step in the door of this fabulous spot. Baylee's will box your selection of buttercreams—peppermint and dark chocolate are favorites this time of year–she also packages truffles, salted caramels, homemade marshmallows, almond butter cups, fudge, handdipped pretzel pops and caramel bites in red holiday boxes. For special orders, stop by early and chat with the chef. Bayla creates most of the candy recipes herself; for gifts she offers signature chocolates and custom creations. Flavors change with the seasons; Bayla lines her glass case with chocolate varieties of milk, white, dark and ruby couverture, yes, those are red chocolates calling your name, made from ruby cocoa beans.
Treat yourself to a ride in the country and head to Emerson Creek Pottery in Bedford, Virginia. With the Blue Ridge Mountains in the distance, wind the quiet roads surrounded by fields of hay rolls and hills on the horizon to find Emerson Creek's cabin store, full of gorgeous pottery. Started in the 1970s by Jim Leavitt, this business has grown to include dishware sets, bakeware and unusual pieces—lamps, clocks, garlic preservers, honey pots, vases, soap dishes and colanders. There's a gift here to discover for just about everyone in this shop.
The pottery offers Scottish shortbread mixes to go with the handmade shortbread pans. Choose a motif for the pan from clovers to flowers to holiday themes and add a shortbread mix; just add ribbon to tie up a stunning gift. There are bread pans and bread bowls, casserole dishes, even pet bowls designed with a signature paw print in various colors.
It is hard to leave Emerson Creek empty handed. There are five rooms of dishware; each room features stunning collections in tempting colors and patterns. Stacks of plates, bowls, and mugs glazed in beautiful colors line the shelves. Solid pieces are available in cream, copper, green, black, and traditional brown; some mimic old blue and white tinware. Emerson Creek patterns feature clean, organic designs—dragonflies, mountain scenes, apples, olives, dogwood, birds, fishes, pinecones and flora. A set of mugs and a bag of good coffee will make someone's holiday memorable for sure.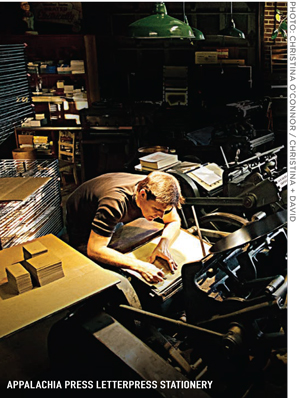 Appalachia Press Letterpress Stationery creates handmade cards with letterpress printing, the ideal touch to refine your gifts. John Reburn, who also creates silkscreen prints of Valley landmarks, designs and prints cards and stationery using the centuries-old technique. His work is sold at Black Dog Salvage, Bread Craft, and Ellie Proctor Antiques and Fine Things and over one hundred stores around the country. Browsing the racks of his high-quality cards— made on 100% cotton paper—reminds you the best things in life are simple, but fine.
Shop local this season and support area artisans. Doing so is good for the economy and a happy pursuit in making "forever" memories you and your loved ones will treasure. Get out into our community and visit some of these shops for unique gifts. The thrill of the hunt, the stories you find and tell of the presents that you share, make memories their recipients will cherish. ✦
Antiques, Appalachia, architectural salvage, art galleries, artisans and makers, bakeries, Bakeware, clocks, dishware sets, garlic preservers, handmade products, honey pots, lamps, letterpress printing, local handmade gift, local shops, New River Valley, one-of-a-kind gifts, small local businesses, soap dishes and colanders, stained glass ornament, sweets and breads, vases