PICKLEBALL FOR ALL
ALL AGES & SKILL LEVELS WANT IN ON THE FUN
Everyone everywhere seems to be playing pickleball these days. The fastest-growing sport in America, which has courts popping up all over the place, is a cross between Ping-Pong, badminton and tennis. According to Pickleheads – the #1 online destination for pickleball players – there are 367 pickleball courts in Virginia, making the state 11th on the list of most courts in the United States. Some homeowners are even building their own, personal pickleball courts. So, why has the sport quickly gained so much popularity? 
Why pickleball? 
Pickleball was invented back in 1965, but has really ramped up and become a craze over the last couple of years. 
"Pickleball's popularity exploded during the pandemic when many Americans were looking for responsible ways to socialize and stay active," says Brandon Mackie, co-founder of Pickleheads. "But that was only the beginning – pickleball's growth has continued even as lockdowns have ended and normal life has resumed." 
Pickleball is fun, social, easy to learn and can be enjoyed by players of all ages.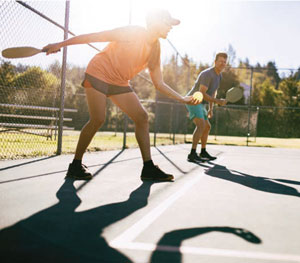 "The magic of pickleball is it's easy to learn, but hard to master," Mackie says. "Beginners can go out their first time, learn the game, have fun and even win a few games. But advanced players stay challenged and keep coming back for more. This dynamic is a big reason why pickleball continues to grow like crazy."
With its smaller court, slower ball and underhand serving, pickleball is not as intense as other games such as tennis or racquetball, making it more appealing to younger and older generations alike.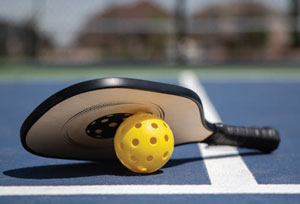 Experts say it is a low-impact sport that anyone with any skill level can play and still have a great time. It is easier on the knees, shoulders and cardiovascular system, which results in less injuries than other sports. On the other hand, if someone does have an old knee or shoulder injury from playing a previous sport, they could still play pickleball easily.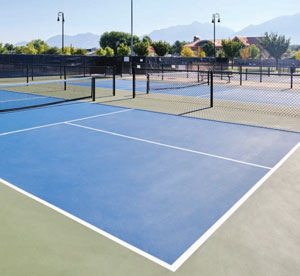 How to play 
The game is played on a 20-by-44-foot court with a net. The paddles are smaller than tennis rackets, but bigger than Ping-Pong paddles. Plastic balls with holes, similar to a Wiffle ball, are used. While pickleball is more relaxed and moves at a slower pace than tennis, it's still a great workout. Some personal trainers say the average, middle-aged man that isn't particularly active could likely burn at least 300-400 calories playing one hour of pickleball. 
As far as equipment, a paddle and pickleball are all you need to bring with you to the court and can be found at any sporting goods store. Players can wear anything they are comfortable in such as athletic shorts, sweatpants, wicking apparel, t-shirts, etc.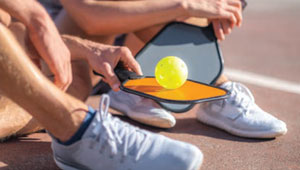 Let's be pickleball friends
"Pickleball is a social activity as much as it's a sport," Mackie says. "It's commonly played in an open-play format where 50 or even more players show up and rotate games and partners. You also almost always play pickleball as doubles, which leaves many opportunities to socialize and meet players."
According to the Pickleheads website (www.pickleheads.com), there are 23 pickleball courts near Roanoke. The website makes it easy to help find a court close to you, find local players and organize games together with its free online scheduler. There is also a Facebook group for Roanoke Valley Pickleball Club, which plays at numerous indoor and outdoor facilities throughout the area.
Private courts
Some people are loving pickleball so much so that they are building a private court right in their own backyard. Southern Landscape Group has had several clients inquire about building courts, and they are currently building one in Evington.
"The nice thing about pickleball is that they are smaller than tennis courts, which makes them easier to fit in smaller spaces," says Mark Maslow, president of Southern Landscape Group. 
The most popular surfaces are asphalt and concrete. The cost can range anywhere from $20,000 to more than $60,000, however, there is virtually no maintenance whatsoever other than occasionally blowing debris off the surface.
"While it's not likely to increase the value of a home from a financial perspective, it will increase the value of the fun and memories you make having friends and family over for an evening cookout with a great pickleball match," Maslow says. ✦
---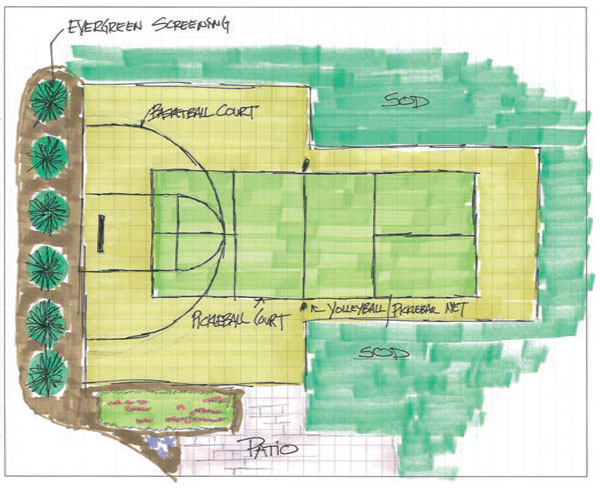 Rendering: Courtesy of Southern Landscape Group
Future tri-sport court (basketball, volleyball and pickleball) by Southern Landscape Group
Places to Play in Roanoke
YMCA (multiple locations, membership required)
Eureka Park (public)
Carilion Wellness Center (membership required)
Highland Park (public)
Waterfront Golf & Country Club (membership required)
Carter Athletic Center (fee required)
asphalt, concrete, doubles, low-impact sport, net, open-play format, paddles, pickleball