Perfect Planters: Which Container Works for You?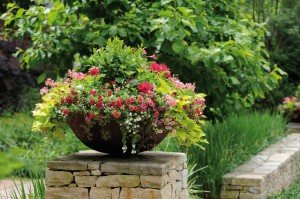 It may be too early to plant much, but it's never too early to get organized for the upcoming gardening season—starting with your containers. Avid gardeners tend to collect containers over the years, which can evolve into a haphazard lot of pots. Before the dazzling display of annuals, perennials and grasses hits nurseries later this spring, take some time to reconsider your own stash of containers, culling the old or collecting new for an easy refresh of your outdoor space.

Size and Scale
Before buying new containers, the first thing to consider is where you are going to place them. While the front entrance of a traditional Colonial, for example, might look great with matching Classical urns flanking the door, here more than anywhere else scale and proportion are arguably even more important than style. Remember that front entrance containers are admired from afar by passersby, and by you and your guests as you come and go. So make sure these containers are big enough to stand up to this task, and small enough that they don't overpower the walkway or stoop.
Decks, patios, driveways, walkways, even a bare patch in your yard or border garden are all good places for container gardens. Whatever spot you're looking to adorn, keep in mind that these will need to be watered by hand, so don't orient them too far from a water source or collect too many that watering them becomes a chore.
The material you choose depends upon your personal aesthetic as well as your gardening style and work habits. Simple symmetry or eclectic collection? Modern or traditional? Are you likely to water faithfully, or do you water only when you notice plants drooping? Do you like to move your pots around to various spots depending upon the occasion, or are you one-and-done—plant in May and leave it until September? Think about these questions before you consider which containers to buy.
The Heavy-Hitters
The old faithful terra cotta pot is a reliable choice for its low cost and the blank canvas it provides. While unglazed terra cotta develops a lovely patina over time, its distinctive color can clash with traditional red bricks or other strong color elements around your home. It's also highly porous, which means water can do a number on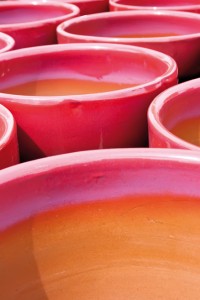 it. If you tend to leave your planters out year-round, terra cotta is not your best choice, since water freezing and thawing can cause cracks. You'll also need to water plants in unglazed terra cotta frequently since water will evaporate quickly. The bright side? Your plants are unlikely to suffer from waterlogged roots. Many such containers are sold with saucers to catch overflowing water and provide reabsorption; resist using these as they are breeding grounds for mosquitoes.
Glazed clay or ceramic pots work well for gardeners who like the heft of terra cotta but want something with a little more style that requires less maintenance. The colors and patterns of ceramic containers are as dazzling as the flowers you'll plant in them. While these planters retain more water, dark-colored glazed pots will also retain more heat and could damage plant roots in extremely high temperatures.
Wooden planters fit the bill in places where you want big bang for the buck (think whiskey barrel planter). Wooden planters are porous as well and will need frequent watering, and will also be susceptible to water damage over time. Line wooden planters with plastic to stave off some of this damage. Cedar, redwood and teak are the most water damage-resistant; treated wood lasts longer than untreated wood, but you won't want to plant any edibles in a treated wood container since ingesting the chemicals may be harmful.
Concrete and stone planters can make a bold statement and provide a neutral background for your garden. Think of these containers as permanent fixtures; they'll work great for container gardens that don't need to be moved to accommodate sun, watering or the changing seasons. They are also great for spaces where an over-exuberant pet could topple lightweight containers.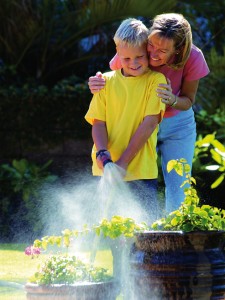 Lightweight, But Not Light on Style
Easy to use and easy to move, synthetics like plastic and its upscale cousins, resin and fiberglass, are great options for lightweight but pretty containers that can mimic the "faux" look of just about anything—stone, wood, metal and ceramic. Since they aren't porous, they won't lose moisture as quickly as unglazed pottery. But because they don't lose moisture, it is especially important that they drain sufficiently, so plant roots don't become waterlogged. Synthetics tend to resist weather damage, and because they are so lightweight, they are easy to haul in and out of the shed each season. Keep in mind, though, that tall, narrow synthetic-material pots, heaped full with plants, will be top-heavy and could tip over easily during big summer storms.
Playing with Placement
When grouping different containers in a space, aim to include some unifying element. You might use all gray containers in one area, but made of different materials—or go with all bright blue ceramic pots but in an array of sizes (and perhaps a small blue-and-white patterned pot on the outdoor table to accent the look). Or if you have many different kinds of containers that you adore on your deck, stick to quieter flower arrangements, repeating the same arrangement in each pot. Keep in mind that vividly colored glazed ceramics draw attention to themselves, while neutral grays and browns fade into the background and place more attention on the flowers.
Armed with this information, you can choose the right container to suit your garden style. With the right containers in place, you can focus on creating arrangements to punctuate your outdoor space with bursts of color and creativity.