A Perfect Fit: A Customized Family Home In Crystal Spring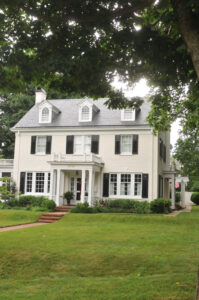 Nineteen years ago, Anne Marie and Gordon Poore relocated their family to Roanoke, Gordon's hometown, and moved into the Crystal Spring neighborhood, close to Crystal Spring Elementary School. The Poores, planning for their family to grow, knew the house they were in did not have enough space.
Just a few blocks away, a larger home went up for sale. Anne Marie and Gordon thought the location was perfect for their growing family. "I went to look at it first, then we went to together. My husband looked at it and said that this is all the space we will ever need, but that we would have to redo every square inch of it," she recalls.
The Poores have been at their current location for more than a decade, and over that time Gordon has completed the bulk of the restorations. He relied on a few outside professionals to help him complete his task, and the final renovation is ideal for a family with three children.
"Gordon was an Eagle Scout," says Anne Marie, implying that her husband can tackle just about any renovation job. With a college degree in systems engineering and minors in both mechanical engineering and computer science, Gordon's background has served him well in top-to-bottom renovations.
"Gordon has a mind for it," says Anne Marie. "I can show him a picture or make a drawing and ask, 'Can we do something like this?' and he figures out how to do it. And since their home is almost a century old, Gordon has had to deal with some very old problems such as outdated plumbing, poor room design and general disrepair.
An inviting walkway leads up to the Georgian style home. Bedecked with double-file viburnum standards (a deciduous shrub native to China and Japan) on either side of the walkway entrance, the path ends at an engaging gleaming white porch with matching urns overflowing with sword ferns on either side of a large black front door.
The couple installed foundation landscaping including liriope, boxwood and Otto Luyken laurels. An enclosed front garden is now planted with blueberry and raspberry bushes. Anne Marie explained that the area originally housed 80 rose bushes, which have found new homes. Fencing and netting keep deer and birds at bay so the area now serves as a magnet for the children. They love the spot, and the Poores' younger son enjoys standing inside the enclosed fruit patch picking the berries and eating all of the takings.
This turn-of-the-century home came with niceties, including a wide entry hall and front hall staircase. Other than a new ceiling, freshly painted woodwork and wallpaper, this room has remained unchanged. The original wooden floors now gleam with a rich stain and finish while a small Persian rug adds interest. Anne Marie commented on this rug and how her homes have grown. "It once covered the living room floor in my first apartment. I like to remind myself what came before and just how fortunate I am now. I look at that rug and think that is how big my first living room was."
Anne Marie describes her home as a simple house. She explained that two bachelor brothers originally lived here, and for them detailing was not very important. Thanks to Gordon, the couple has been able to add some of those details, creating a more elegant space.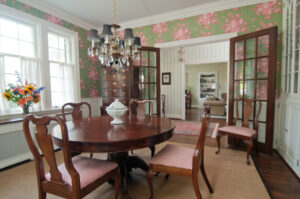 For example, Gordon installed crown molding throughout the house, a chair rail in the dining room, custom wainscoting, and a plaster medallion in the center of the room where the chandelier hangs. Though Anne Marie says that she does not collect fine antiques, she points out that the dining room table is a family heirloom. A built-in china cupboard adds a sense of charm to the room.
Thanks to three large windows facing the front of the home, the living room has a good deal of light. Family photographs, built-in bookcases, a baby grand piano in a corner and cozy furniture create a warm ambiance.
A small side porch adjoins the living room. The Poores hired Prescott Construction to redo this area, screening the porch as well as repairing and replacing trim. Today the space creates a great extra room in the summer months, adding additional space to the living room and a covered room adjoining the patio.
A butler's pantry is conveniently located between the kitchen and dining room and also serves as a side entrance to the house. Built-in cabinets, which are original to the house, line the walls. "We use this side door so much that I wanted to brighten up the room," says Anne Marie. She called in local artist Leigh Ann Martin to decorate the cabinets and the result is positively delightful. Polka dots, stripes, lemons, oranges and gingkos decorate the wooden cabinets. A colorful throw rug complements the choice of colors on the cabinets.
The kitchen and its adjoining rooms underwent one of the largest transformations. This area of the house has endured both gutting and altering. "It wasn't only a tiny space; it was a warren of rooms," says Anne Marie. She describes a maze of small spaces leading to the back end of the house and a rear staircase. Gordon moved walls; a contractor moved the staircase. Other walls were opened and doors were added. "We widened four doorways, removed two openings, and five doors. All this helped provide more space, a better traffic pattern, easier access to rooms plus additional sunlight," Anne Marie says.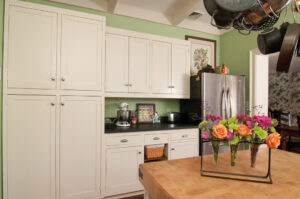 "I really wanted to use all of the space in the kitchen," says Anne Marie. "I cook a lot and I don't want to run myself to death." As a result everything is close and efficient. They added a coffered ceiling, bringing character to the room, widened a doorway, and added a mantel hood. Neighbors gifted an old brass fixture originally used for a department store display. It suspends over a decorative butcher-block center island and is perfect for hanging pots and pans.
A friend was removing kitchen cabinets in a renovation. They were of a simple wooden design and when Anne Marie saw them she knew they would be perfect in her kitchen. Once they were refurbished, the cabinets fit perfectly in the kitchen space. The simple lines align perfectly with Anne Marie's style. "I wanted it to look like they had always been in this house," she says. And they do! A traditional farm sink with apron front and turned legs fits well in the overall kitchen design and the soapstone countertops, which are easy to care for and impervious to stains, also add to the authentic look of the room.
The kitchen opens directly into a small dining area with a large enough table to accommodate the entire family. Green floral Thibaut wallpaper and a geometric patterned rug create a relaxed atmosphere perfect for family gatherings. The geometric pattern on the rug mirrors the black and white diagonal pattern on the den floor.
In addition to serving as an informal dining room, a corner area doubles as both a bar and laundry. Anne Marie devised an ingenious way to utilize space by tiling a counter and backsplash that enclose the washer and dryer. Both units are front loading and remain hidden when not in use with a bright gingham curtain hanging on a café rod. On laundry day Anne Marie pulls the curtain aside, and during the remainder of the week the room is ready for whatever may happen. The Poores find the green and white tiled area perfect as a bar and serving area when they entertain.
A dark and dingy den was drastically altered when the couple removed the cherry paneling, painted the walls and applied a geometric design on the parquet wooden floors. Anne Marie points out that they never would have considered removing the paneling if it had been authentic tongue and groove wood paneling. And the wooden floors, originally laid on concrete, were in bad shape. Gordon sanded them and then used an industrial paint to apply a diagonal black and cream checkerboard pattern over the floor. It was a very gutsy move on his part, but the outcome was impressive.
The addition of French doors leading to a back patio creates a bright and cheerful room.
The original patio had no easy access from the house. Now family and guests can reach the outdoor area readily through the den.
At the top of the rear staircase is a small sitting room and home office space. At one time, before an addition was added to the house, this was a sleeping porch. Today it houses lots of rattan as well as a Tiffany-blue computer desk, and is a perfect room for reading or playing. It connects the master bedroom suite with the rest of the upstairs bedrooms and serves to unite the entire upper level.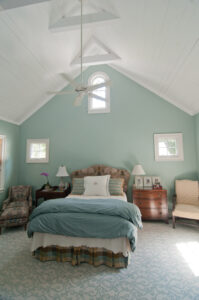 Anne Marie has fond memories of summer camp and the natural wooden ceilings in her cabin. She and Gordon were able to recapture the spirit of that ceiling in their bedroom suite. Originally, the room had a leaky flat roof and a ceiling height of only seven feet (the other rooms in the house are 9 or 9 1/2 feet high). "To get the slope and pitch of the roof right to marry well with the existing roofline, we had to raise the walls 24 inches," she explains. "The roof is on the less formal portion of the house with cedar shake shingles, so we decided to put a standing seam copper roof on this part of the house," she adds. A contractor raised the room's height to create a cathedral ceiling, and left the wood natural, adding a thin layer of whitewash. "We moved this Palladian window from the brick gable of the house to the new gable, so extra light streams through," Anne Marie says. The bedroom walls are colored in tones of Wythe Blue and accented with white coverlets and monogrammed pillows.
A white Carrera marble bath completes the master suite. Anne Marie says that they chose a honed marble rather than have it polished, for a softer look. And all of the cabinets are open. Three dark willow baskets tucked underneath the vanity keep bathroom accoutrements organized and out of sight. "We utilize our space well and try to be very efficient," says Anne Marie. "Plus I like the open concept. It makes it easy to get to things and keeps things neat."
The front bedrooms include a guest area and children's bedrooms. The hall bath was a major job that needed a transformation. According to Anne Marie, at some point there had been some new tiling added to the tub area when the previous owners wanted to make it a shower tub, but the tile was not secured properly and needed to be redone. The couple called in Pittman Construction to do the job. They had a small window of time to complete the job when children and guests were not there. Walt Derey and his crew were able to match the existing tile; add PVC wainscoting (a great product for a steamy bathroom area) to the walls; tear out the existing tub and install a new one; tear out a closet and add a custom built-in three drawer cabinet; move a radiator; paint and install Thibaut wallpaper—all while working within the couple's time frame and budget.
"They did a phenomenal job," says Anne Marie. "Every time a homeowner is happy, we are happy!" says Walt. He explains that when they deal with older homes they are often required to match existing work. By blending the old with the new, "We try to make it appear like we were never there."
Gordon and Anne Marie called in Randy Brannan of Roanoke Landscape to install a new brick patio, water feature and ornamental plantings in their back garden. According to Brannan, the original yard was made up of scrubby grass, bare dirt and several holes created by the family pet. He described it as a "rough spot to keep green."
Randy was very concerned about a large maple tree that served as a focal point in the back yard. "We didn't want to lose that tree,' he says. The original patio was set in mortar. To allow more water to reach the prize maple, Randy set the brick patio pavers in limestone sand. In addition, most of the work was done carefully and by hand so the roots of the maple would not be disturbed. Camellias, hydrangeas, dogwoods, hostas, ferns, azaleas and rhododendrons provide both greenery and color year-round.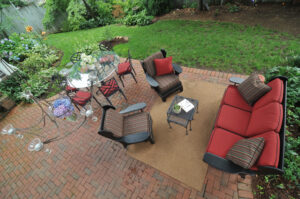 A charming Craftsman-style garden shed decorates one corner of the garden area. Designed and constructed by Prescott Construction, the shed provides much-needed storage space. Anne Marie explains that now they finally have space in their garage to park their cars. Anne Marie jokes, "It's a novel idea—cars parked in the garage!"
Prescott Construction also installed a pergola directly off the informal dining area. At one time, a rather large greenhouse occupied the area. Anne Marie exclaims, "it was really like a see-through garage!" After tearing down the structure, they used the same footprint for the current pergola and the area now serves as a small covered patio for informal gatherings.
Gordon Poore was right: The couple redid every inch of their home. "We did it in stages," says Anne Marie. "It has good bones and as my husband pointed out, it is all the space we will ever need." Not only is the amount of space perfect for the family, but the home is ideally suited for their lifestyle today and for future years.
butler's pantry, copper roof, inviting walkways, Turn of the century home