Peach Season! Short but Sweet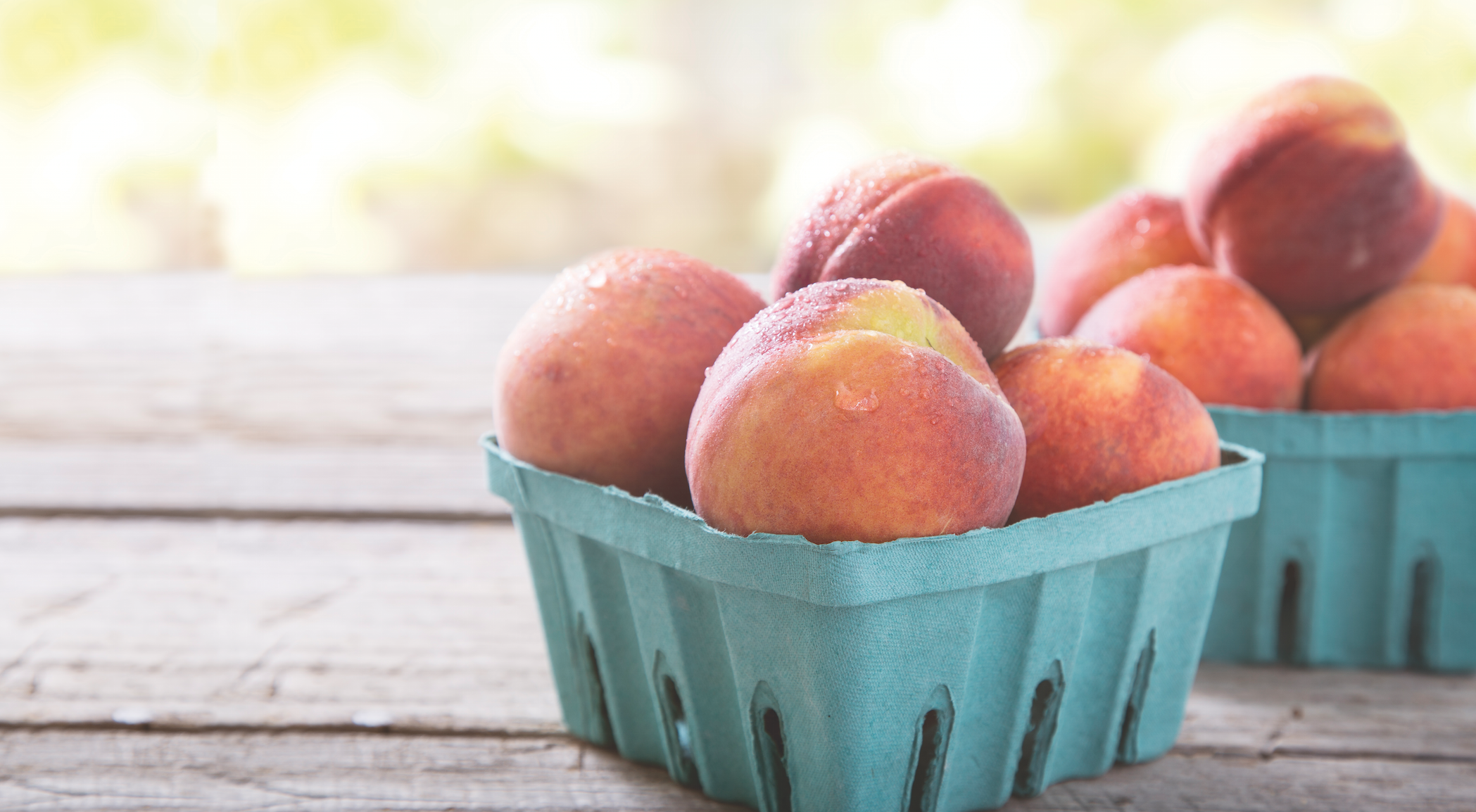 Modern shipping and growing practices have spoiled us as consumers—we're able to get reasonably good fruits and vegetables most of the year. Unfortunately, fresh peaches are one summer favorite that have not become available year-round—but that's what makes them even more desirable! Each year, my first bite of a perfect peach brings thoughts of how short the season will be, and sends me into a peach frenzy for the short time that they are at their peak.
When shopping for peaches, either at the farmers market or picking your own, there are a few things to keep in mind. First, know that peaches and nectarines are interchangeable in recipes. Clingstone peaches ripen first, but freestone peaches are easier to pit and are generally more succulent and sweet. Select peaches based on color and size; look for larger peaches that give slightly when squeezed and have a fully developed color—especially the yellow/gold tones (the rosy color varies among varieties, and isn't a good indicator of ripeness). Speed up ripening by putting the fruit in a paper bag. They're ready when they're soft and have a strong peachy smell, usually about 1 to 2 days. A cotton-y texture of the flesh—almost impossible to distinguish before you ripen the peaches—is a direct result of the fruit being transported in cold storage and a good reason to buy peaches at the farmers market. And don't forget: the best peach is eaten fully ripe, plain and drippy over the kitchen sink!
Peach season is short; although my ideas of eating seasonally may tell me that I should enjoy the peaches at peak season, I'm tempted to try to extend their season by preserving them through canning, drying or freezing some of the bounty, so that I can have a moment of summer even on a dark winter day. The peach chutney recipe I've included would preserve well, and there are also plenty of recipes online for preserving halved peaches in a light sugar syrup. (Try adding a little star anise, a cinnamon stick and a couple of cloves to spice them up!) I also puree fresh, ripe peaches in a blender or food processor. Store the puree in sandwich-sized bags in the freezer, being careful to squeeze out all the extra air. Peach puree can be used in cocktails, smoothies, or on biscuits or pancakes.
Here are a few recipes to help you make the most of peach season. Happy cooking!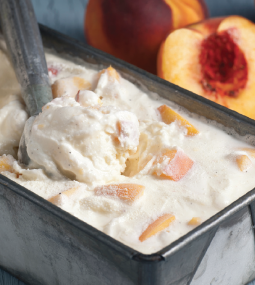 Peach Ice Cream (makes 1 ½ quarts)
This is worth going out and getting an ice cream maker if you don't have one! During blackberry season, I use this same recipe, substituting four cups of blackberries for the peaches. We also sometimes freeze this in popsicle molds—a delicious afternoon treat!
4 large very ripe peaches, peeled,
pitted and halved
1 tablespoon fresh lemon juice
2/3 cup sugar, divided
1 cup milk
4 egg yolks
1 cup heavy cream
Place the peach halves in a bowl and gently crush with your hands. Add lemon juice and 1/3 cup sugar. Cover and chill.
Heat the milk almost to a boil. In a separate bowl, whisk the yolks and remaining sugar. Add the hot milk to the eggs very slowly, whisking madly. Return the mixture to the pan, and continue stirring over low heat, until thickened. Pour into a clean container; cover and chill overnight. Whip the heavy cream until soft peaks form. Fold together whipped cream, peaches and chilled milk-and-egg mixture, and freeze according to your ice cream maker's directions.
Serving idea: In a wine glass, layer two small scoops of ice cream with additional peach slices. Pour a cup of chilled Italian Muscat over each glass to make a grown-up version of a peach soda.
Fresh Peach Chutney (makes about 1½ cups)
This versatile condiment is delicious with chicken or pork. Or for a meatless meal or appetizer, top a toasted slice of bread with fresh ricotta cheese and a spoonful of this relish!
1 large peach, peeled and diced
½ fresh jalapeno chili, carefully seeded and chopped
1 tablespoon finely chopped red onion
1 teaspoon finely chopped fresh ginger root
1 tablespoon chopped fresh parsley
1 tablespoon honey
1 tablespoon lemon juice
Mix all ingredients together in a medium bowl; season to taste with salt and pepper.
Peach and Berry Shortcakes (makes about 8)
Move over strawberry shortcake: This combination of peaches and raspberries is classic, delicious and beautiful to look at! Each part can be made in advance, then assembled right before serving.
For shortcakes:
2 cups all-purpose flour
1 tablespoon baking powder
½ teaspoon salt
1 tablespoon sugar
2 tablespoons finely chopped crystallized ginger
1 ½ cups heavy cream, divided
3 tablespoons butter, melted
2 tablespoons raw sugar
In a large bowl, combine flour, baking powder, salt, sugar and ginger, whisking to combine. Add 1 ¼ cups cream and stir with a fork until the dough comes together, adding more cream as necessary.
Turn the dough out on to a lightly floured counter and knead once or twice. Roll the dough to a ¾-inch thickness and cut with a 2-inch cutter. Reroll dough scraps and cut again. Brush each biscuit with melted butter and sprinkle with raw sugar. Bake at 425 for 10-13 minutes until browned and baked through.
For the filling:
3 large peaches, peeled and sliced
½ pint raspberries (or strawberries)
1 teaspoon lemon juice
2 tablespoons sugar
For the cream:
4 ounces mascarpone cheese
1 cup chilled whipping cream
¼ cup sugar
1 teaspoon vanilla extract
Prepare the filling: Gently mix peaches, berries, lemon juice
and sugar; set aside for at least 30 minutes.
Prepare the cream: In a medium bowl, beat the mascarpone with an electric mixer until fluffy. Add the cream and whip until soft peaks form. Mix in the sugar and vanilla.
To assemble: Split warm shortcakes. Mound a heaping spoonful
of peaches on bottom half, making sure to get some of the syrup on the biscuit. Sprinkle with a few raspberries. Spoon a generous ¼ cup of the cream on the peaches, and cover with the biscuit top.  Sprinkle a few additional raspberries on the plate. Pass remaining cream alongside.
desserts, diy, live, peach, peach dessert, peach season, recipe, recipes, summer recipes