One-Pot Wonders | Delicious Dinners with Less Cleanup
You may be thinking that "one-pot wonders" are your basic recipes with the standard chicken, cheese and rice combination. Don't get me wrong, I love a reliable, like-your-Grandma-made recipe, but these dishes will elevate your reliable to unbelievable with new levels of flavor and minimal clean up!
Did you ever imagine Coq Au Vin that wasn't overly complicated and took a fraction of the time? Better yet, a Frittata to please young and old — made with potato chips?! Yes, you heardme correctly. Lastly, let's throw in your not-so "run-of-the-mill" sheet pan chicken withamped up ingredients.
Try these recipes on any weekday and WOW your family with new favorites all season long.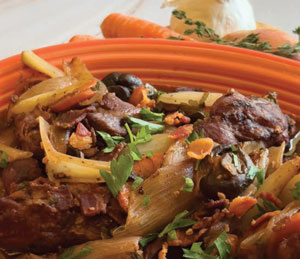 Easy Coq Au Vin
3 pounds skin-on chicken thighs
2 ½ teaspoons kosher salt + more if needed
½ teaspoon ground black pepper + more if needed
3 cups bold & dry red wine
1 bay leaf
1 teaspoon fresh thyme, coarsely chopped
6 ounces thick cut bacon, diced into ¼-inch "lardons"
8 shallots, peeled & quartered
2 large carrots, peeled & diced
8 ounce baby portabella mushrooms
4 garlic cloves, minced
2 teaspoons tomato paste
1 tablespoon all-purpose flour
2 tablespoons brandy
3 tablespoons butter, cold and cubed
¼ cup fresh parsley, chopped and more for serving
Season your chicken with salt and pepper. Combine the chicken with wine, bay leaf and thyme in a large casserole dish. Cover and refrigerate for at least 4 hours to overnight to allow the meat to marinate. In a large Dutch oven, cook bacon until the fat is rendered. Set aside, allowing the excess fat to drain on a paper towel. Leave 2 tablespoons-ish rendered fat in Dutch oven. Pat marinaded chicken until dry with paper towels and set the marinade aside for later use.Heat the Dutch oven with fat and add the chicken in a single layer. Cook until the chicken skin is browned, about 4 minutes per side.You may have to work in batches. Place chicken on a plate. Add the shallots, carrots and mushrooms to the Dutch oven and season with salt and pepper. Sear the vegetables until browned, but not burned, about 10 minutes. Add the garlic and tomato paste and cook for another minute. Slowly stir in flour and cook for 30 seconds or so. Add the brandy and gently scrape the "bits" off the bottom of the Dutch oven. Cook for a few more minutes and then stir in marinade that you saved earlier. Add the chicken and bacon back in. "Nestle" in with the vegetables. Cover and gently simmer over low heat for 1 hour. Uncover and simmer for 30 minutes to thicken. Season to taste. Add butter and 1/3 cup of parsley. Stir in until butter is melted.Top with additional parsley for serving. ENJOY!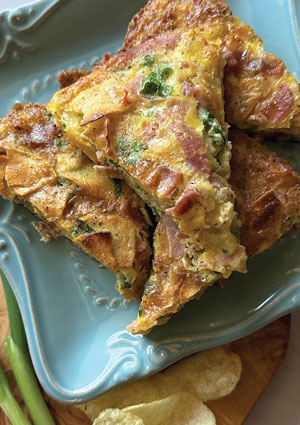 Potato Chip Frittata
2 ½ cups salted potato chips Note: I used Lays! (Sour Cream & Onion are amazing, too!)
2 ounces prosciutto, thinly sliced
½ cup green onions, thinly sliced
¼ cup Gruyère cheese, shredded
1 tablespoon parsley, coarsely chopped
8 eggs, lightly beaten
1 teaspoon salt
½ teaspoon freshly ground black pepper
2 tablespoons olive oil
extra chips for garnish
Heat the broiler to high. Combine the potato chips, prosciutto, green onions, Gruyère, parsley, eggs, salt and black pepper in a bowl. Let sit to allow the chips to soften in the eggs, about 3 minutes.
Heat the olive oil in a 10-inch, oven safe, nonstick skillet over medium-high heat. Add the egg mixture and cook, no stirring, until the bottom turns golden. Transfer to the broiler and broil until the top is set, slight jiggle, about 3 minutes. Cut into wedges and serve at room temperature. Garnish with crumbled chips!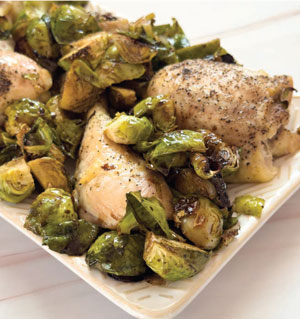 Sheet Pan Balsamic Chicken & Brussels Sprouts
2 pounds Brussels sprouts, ends trimmed, halved or quartered (depending on size)
6 bone-in, skin-on chicken legs & thighs
3 tablespoons olive oil
kosher salt and pepper to taste
½ cup balsamic vinegar*
Preheat oven to 425ºF. Place the Brussels sprouts and chicken on a greased, rimmed sheet pan. Pat the chicken dry with paper towels. Season the chicken and sprouts all over generously with salt and pepper. Drizzle with the olive oil and toss to coat evenly. Spread everything out into an even layer, placing the chicken skin side up. Roast for 30 minutes, rotating the pan halfway. Meanwhile, place the balsamic vinegar in a small sauce pan and bring to a simmer over medium heat. Adjust heat if needed; balsamic vinegar should be gently bubbling. Once reduced, remove from heat and remove chicken and sprouts. Preheat the broiler on oven now. Transfer the sprouts to a bowl and return the chicken to the oven. Broil until the chicken skin is golden brown, about 2 minutes. Remove chicken and place on platter. Pour the reduced balsamic vinegar on the sheet pan and scrape up any bits (the yummy stuff!) from the pan. Pour the balsamic vinegar over the sprouts and toss. Add to the chicken.
* Take ½ cup balsamic vinegar & reduce by half (at least) in sauce pan. ✦
Balsamic Chicken, Brussels sprouts, Coq Au Vin, One-pot Wonders, Potato Chip Frittata