Mountain Village Living in Roanoke
Imagine living in a peaceful mountain village with all the vitality and easy access to the amenities of downtown living. That's exactly what's in store for residents of South Peak, a new development located just above the intersection of routes 419 and 220 in Roanoke County. Developers Smith/Packett plan a combination of commercial and residential areas tied together with a shared architectural design and sense of community.
South Peak's commercial component will include offices, restaurants, a parking garage and a five-story Hilton Garden Inn. The residential area will be a mix of condominiums and single-family lots, all offering beautiful views.
Director of Sales and Marketing for South Peak Jeff Barbic explained that the residential and commercial segments will be tied together by a specific look. "There will be a common theme in architectural design. The same architectural design of arts and crafts will be carried through all of the buildings," said Barbic.
While the entire development shares a cohesive look, South Peak's condominium owners in the gated residential section, known as The Peaks, will have 11 choices for floor plans. "This is not a cookie cutter-type of condominium project," Barbic said. "Owners will be able to put their fingerprint on their residence and really customize."

The first 32 units will be ready this spring and could eventually grow to a total of 176 units spread over five buildings. While floor plans vary, each unit will feature a great room with a raised- hearth gas fireplace, and a gourmet kitchen with granite countertops and stainless-steel appliances. Condo owners will also enjoy individual in-unit laundry facilities and a large master bedroom with a walk-in closet.
Cecelia "Cece" Currie, real estate agent for South Peak, is also a future resident who looks forward to the benefits of condo living with her husband Jim. "One of the things we really like is that it is maintenance-free, with underground parking, and we can just go up to our place and relax," Currie said.
Underground storage units are available to every resident of The Peaks, and are spacious according to Currie. "The storage unit in the basement is larger than my first apartment after law school," she said.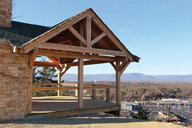 Other amenities for The Peaks will include a large community room with a bar, an outdoor living area with an observation deck, a walking trail, a fitness room and a dog park.
In addition to condominium living, 23 lots ranging in size from one-third to half an acre will be offered for sale nestled in The Estates area of South Peak. Owners of the single-family lots will all enjoy scenic views and the same common area amenities as the condominium owners.
Barbic expects the future residents of South Peak be a variety of ages and life stages. "We feel we have two markets—young professionals and empty nesters," Barbic said.
Whether the resident is rushing off to work downtown or leisurely meandering on the walking trail, Barbic feels the community is going to be about one thing. "South Peak is going to be about a lifestyle — a maintenance-free lifestyle for folks looking to enjoy everything Roanoke has to offer," he said.