Living the Festival Life | Glamping Your Way Through Virginia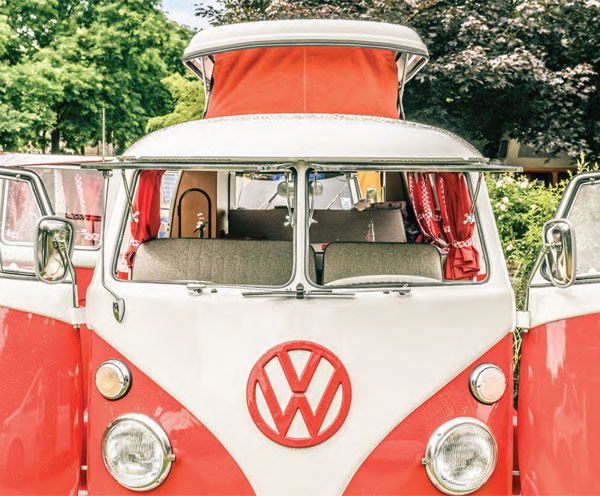 Ah, summer. This is the season synonymous with trips to the beach, family gatherings and an ever-growing schedule of outdoor music festivals. Over the past 10 years, these festivals have morphed from single-day events into multi-day productions with countless performers, gourmet food trucks, craft beer and numerous outdoor activities to enjoy. People travel from miles around to camp out under the stars for a few days, enjoying the entertainment and company of thousands of other music lovers. While many people relish the idea of unplugging and becoming one with all that nature has to offer, for some the unpredictable weather, creeping critters, gear and effort associated with traditional camping isn't their idea of a good time. Glamping, or glamorous camping, is the solution for people looking to live that festival lifestyle while enjoying some of the comforts of home. There are a variety of glamping options, from teardrop trailers to airstreams, from basic tents to luxurious yurts; regardless, whatever experience you are looking for, festival producers have got you covered.
The VIP experience
When Dave Frye first started LOCKN' in Arrington, Va. there were not a lot of people participating in onsite camping. Today he reports that over ninety percent of LOCKN's patrons come to camp, including a lot of glampers. The choices are endless when it comes to glamping, and fancier festival-goers agree that for comfort, there are certain non-negotiables. A sturdy shelter and a cozy bed to sleep in are high on the list since most music festivals have music playing up to 14 hours per day, well into the early morning hours. Although cell service and wifi aren't limited to glampers, they do like to be connected. Private showers and bathrooms (even if it's just a separate port-a-potty) are a definite necessity when it comes to a comfortable glamping stay. For glampers, a hot or cool shower at the end of a long day makes all the difference in a great festival weekend versus a rough one. Frye is all about the festival experience when it comes to LOCKN', offering VIP and Super VIP glamping options for an elevated festival experience. The VIP and Super VIP tents are ready to go when you arrive. These two-person tents include twin or queen-sized beds, linens, bath towels, side tables, lighting, basic power, fans, access to flushable toilets and showers and other special items limited to VIP festival-goers. The Super VIP level even includes a mini refrigerator in your tent and a light breakfast in the Super VIP glamping lounge.
Sam Calhoun, Chief Operating Officer of Across the Way Productions, which puts on Floyd Fest each summer, says "glamping is a mechanism to improve the patron experience. In the festival world in general, we are seeing a move toward increasing VIP options. I think this comes down to comfort and experience, which dovetails perfectly with our mission for taking exceptional care of our patrons." Calhoun knows what he is talking about; after all, Floydfest is in its nineteenth year and has offered glamping since its beginning. Their most exclusive offering is the Yurt Dweller Bundle which includes plush accommodation in a two-person yurt with unparalleled extras—onstage seating, complimentary beer and wine in a VIP pub, massages and fully catered meals. There are eight of these bundles offered, which since the event's day one have sold out early, with a waiting list. With that desire to create a memorable experience for festival enthusiasts in our area, an industry was born. Calhoun adds, "We have witnessed first-hand and nurtured the creation of glamping companies such as Dancin' Dave's Festival Camping, The Show Sherpa and Solid Ground Shelters." These festival-savvy professionals aim to take the hassle out of traveling and camping so you can enjoy yourself from the minute you enter the festival grounds.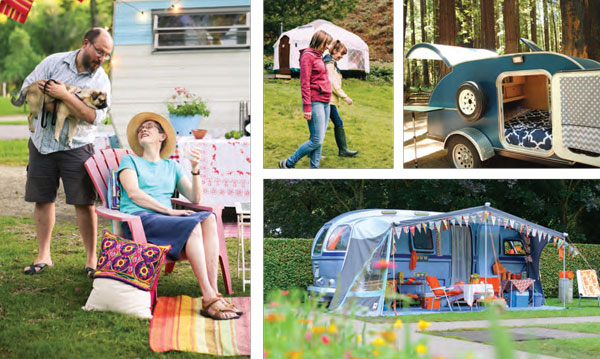 From camper to glamper
A lot of glampers don't start out that way, as was the case for Julie Barger. Her inaugural festival experience included four teenage girls, a tent and lots of mud. Eventually, she became the proud owner of a 1972 Shasta teardrop trailer that she has converted into her own boho-chic home away from home. "It has a small closet for storage, a bathroom and air conditioning, and it's a place I can retreat to with a wine and cheese plate. It's also very easy to tow to festivals not far from home," says Barger. These teardrop trailers have become increasingly popular with glampers over the past few years for a variety of reasons. They are small and lightweight, making them easy to park and manage on the road. Teardrop trailers are fairly affordable; they are fuel efficient with little environmental impact. They are easy to keep stocked with all the glamping amenities and ready to go in no time. Their sleek appearance gives off a fun vibe which goes hand in hand with the festival lifestyle. That is one thing Barger loves about packing up and heading out for a weekend away at LOCKN,' and other area festivals. It's a relaxing environment where everyone is having a great time and willing to share whatever they have to make the glamping community experience as enjoyable as possible.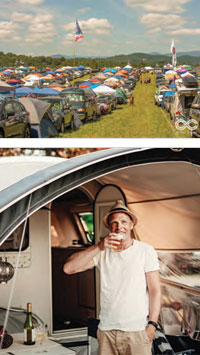 Glamping with a purpose
While music is certainly the focus of most of the festivals in the area, event organizers are aware that they can take advantage of the area's beautiful surroundings and attractions, and offer a range of activities for their guests. Outdoor fun is found in hiking, biking, yoga, disc golf, slacklining and other sporting activities, and festival patrons can shop with local vendors and enjoy community amenities which are unique to each festival. Accessibility is the main goal of GO Fest in Roanoke each fall: the city strives to create a memorable outdoor experience for everyone. A free admission festival, GO Fest offers glamping packages at a premium on a first come, first serve basis with proceeds dedicated to bringing more great, free-to-the-public music to the area. This thoughtful approach to community is a common theme among many event planners. Patrick Boas of Roanoke Parks and Recreation stresses that the benefits of outdoor recreation are immeasurable for the overall well-being of its residents.
RoosterWalk Music and Arts Festival takes place in May in the rolling hillsides near Martinsville. A four-day event, RoosterWalk was founded in memory of two friends who passed away who are honored each year with a huge family-friendly festival that gives back to the community in the form of a scholarship fund and donations to numerous local charities. Whether you are brand new to the music scene or are a seasoned glamper, you are sure to be surrounded by the beauty of nature and the kindness and compassion that goes hand in hand with festival life.
A festival experience might be just the ticket to round out summer vacation plans. Check local resources to discover what's coming up for the 2019 festival season. ✦
beach, family gatherings, Floyd Fest, Glamping, live, LOCKN', multi-day productions, outdoor music festivals, RoosterWalk Music and Arts Festival, single-day events, teardrop trailer