Gadgets, Gizmos & Whatchamacallits | Advances and Assists for 2019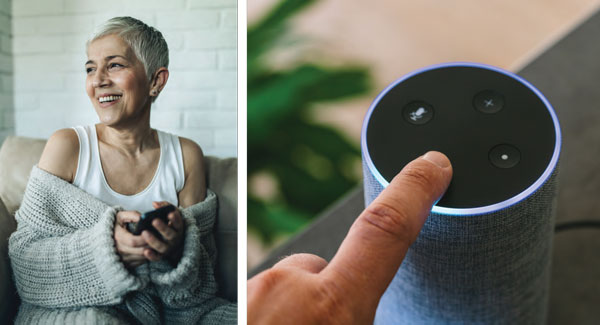 Seniors today are working longer, harder, and smarter than any generation before them. A significant part of this new era of senior living is technology, both at home and on the go. From smartphones and watches to ridesharing and home security, today's seniors can (and do!) use technology to live their best lives.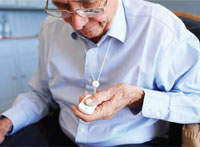 In 2000, only around 14 percent of senior citizens had internet service in their homes. Today, over 67 percent of adults over 65 have an internet connection, and many are accessing the internet away from home, using smartphones and watches. In the past, internet connectivity at home was tied to a telephone line and allowed seniors to have access to services such as home security and in-house monitoring such as LifeAlert, but only inside their homes. Now, most people are receiving internet separate from a landline, which can save money and often provides a more reliable signal. This disconnect also allows seniors to take the security and monitoring services they've used for decades outside their home. Home security devices like motion-sensing doorbell monitors and other security cameras are easily accessible from your smartphone or tablet. The monitoring brand SkyBell is compatible with both Amazon's Alexa and Google Home for those that use a smart speaker or "voice assistant" as they're frequently called now. Smartwatches such as the Apple Watch can carry the protection (once covered by LifeAlert) anywhere you can use a cellular signal. Even more, Apple Watches now operate as ECG monitor, meaning the newest Apple Watches are also capable of detecting a heart attack.
Smartphones such as the iPhone and Samsung Galaxy are now the most popular cell phones in the world. Indeed, the ability to communicate via telephone, text, or email at the touch of an onscreen button is convenient and amazing at the same time. However, smartphones can offer seniors in particular much more than just communication with loved ones. Applications, or "apps," open up a world of possibilities for everyone, including seniors. Some provide services like medication reminders, doctors on demand, online banking, and even magnifiers for when reading glasses are left at home. Many airlines and Amtrak also have apps to make long-distance traveling easier for users.
If Apple and Samsung options are too complicated for your taste or needs, Jitterbug now makes the Smart2, which features a larger screen, long-lasting battery, and a 5Star Urgent Response button in case of emergency. The Smart2 is designed for the most natural orientation for consumers who haven't used a smartphone before or haven't enjoyed the ones they've used in the past. The Smart2's primary selling point is a thoughtfully simplified menu that lists the phone's functions in an easy-to-read list on the home screen as opposed to the picture icons used by other smartphones. Also, like other Jitterbug products, the Smart2 is much less costly than other smartphone brands while still providing internet, email, text, camera, and map services.
Ridesharing apps such as Uber and Lyft provide taxi-like service, with much more convenience. Both services show the user an in-app map that displays the available vehicles in the area. Once a ride is requested, the user is given the driver's name, picture, car model, and license plate. One can track the driver's location, contact the driver, and see a continuously updated ETA. All rides are paid for within the app, and tips are added as an option after transportation is complete, as well as the opportunity to rate your driver and leave comments. Any incidents or displeasure the rider experiences are easily reported within the app and users may be issued refunds if their experience isn't up to the standards of the company.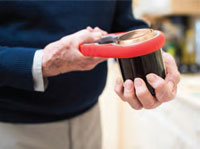 Apart from smartphones and other devices, gadgets such as mechanized can and jar openers, large button remote controls, grabber reachers, and magnetic pick-up tools, electronic corkscrews, and flexible mini-LED lights make daily tasks easier for everyone. In fact, with the higher population of seniors due to the Baby Boomer generation, the amount and variety of mobility, vision, and hearing devices available have skyrocketed while the prices of many items have dropped. For example, on Amazon. com a very highly-rated grabber reacher tool sells for around $15–$18. A wireless key finder sells for approximately $20. A wireless LED light for reading is less than $10. These devices are priced for any budget and make tasks like reading, cooking, and traveling much safer and more comfortable for seniors.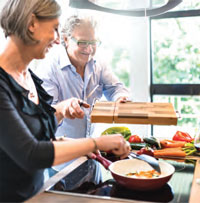 As we age, many of us become uncomfortable driving due to vision, hearing, or mobility issues. To some, losing the ability to drive can seem like the end of independent living. However, there are now many services available via the internet that allow living independently possible even without a car. Food delivery subscription services such as Hello Fresh and Blue Apron provide customers with fresh, pre-measured ingredients and recipes for a set number of meals every week. There is an abundant variety of these food services, each setting themselves apart by catering to consumers with specific dietary needs, including diabetes, food allergies, as well as a vegetarian or vegan diet. Some allow customers to select their meals and some provide the option of surprising you. Many people choose to use this service for part of the week, and some use it every day.
Locally, FPS in Roanoke and Salted Chef in Lynchburg offer two wholly different meal prep solutions. FPS is affiliated with the delivery service Grub Hub for much less cost than many other services. They also offer a takeout option to save even more money. Salted Chef also offers meal prep; however, their personal chefs travel to your home and create a meal in your kitchen. Salted Chef also provides an online menu of dishes that accommodate dairy-free, vegetarian, paleo, and gluten-free diets to name a few. Kroger also offers delivery through online orders over $35 for a $4.99 service fee. Just log onto Kroger's delivery website and start shopping. Additionally, the Amazon Prime subscription delivery service provides its users with practically immediate delivery of everything from groceries to, well, basically anything you can imagine!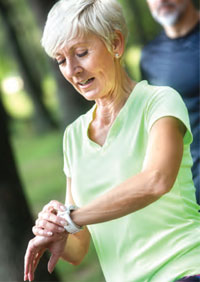 Technology has made certain parts of all our lives more convenient, but for some, this convenience is overshadowed by a steep learning curve. Fortunately, all of these sensational devices come with the old standard: a manual detailing exactly how to use your new apparatus. Additionally, many tech companies provide "real people" in their customer service departments who are trained to help all users overcome their "technical difficulties." With a little bit of patience and just a few clicks, anyone can learn to use the technology and/or gadgetry to achieve optimal convenience and lifestyle. ✦
doctors on demand, gadgets, home security, internet, live, medication reminders, online banking, ridesharing, smartphones, technology