Living into Retirement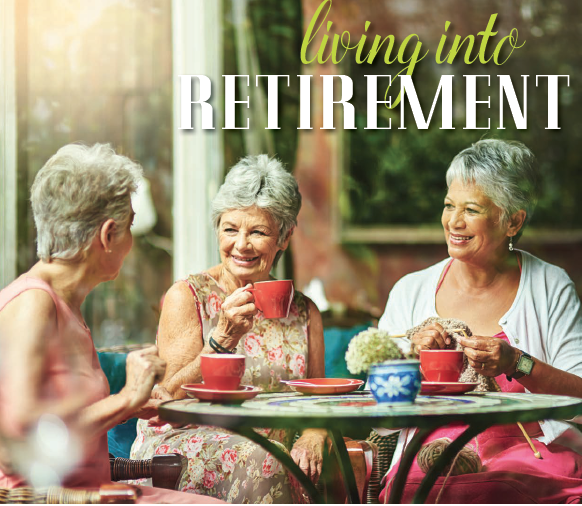 At the turn of the 20th century, most retired people expected to remain in their homes throughout the aging process, surrounded by their families, friends and neighbors. In 1900, the average life expectancy was 49 years old and the "senior citizens" of the day made up less than 4 percent of the total population. Fast forward to 2017, and the definition of aging itself seems to have radically changed. It's hard to imagine most 49-year-olds rocking away their golden years in a rocking chair on the front porch! People work longer and live longer—and it is only upon turning 65 that most people actually define themselves as "senior." This is the age that US citizens may apply for Medicare, and it's the most common age of retirement. People who are turning 65 this year were born in 1952, putting them squarely in the "Baby Boomer" generation; at over 75 million, they were until recently the largest population America had produced (the Millenials recently took first place), and now they range in age from mid-50s to mid-70s.

As they enter retirement, this trail-blazing generation has redefined aging, not only pushing off the designation of "senior citizen," but also reinventing the whole idea of how they age—and where they will do it. Though Baby Boomers' grandparents largely stayed put, the Baby Boomers themselves have demanded other choices. This can be attributed in part to the fact that people live much longer than they did in 1900; their plans for post-retirement aging have expanded from a few years to several decades. Retirement is now a stage of life that lasts long enough to require careful and realistic planning.
To that end, many of today's adults of retirement age need to put careful thought into how they will spend this stage of their lives. Planning for these years means defining where and how you want to live, and, at the same time, being realistic about the inevitability of aging and the complications and uncertainties this can engender. Thankfully there are many excellent options, most of which fall into two categories: Retirees can join communities that provide a full or partial continuum of care, known most commonly as Continuing Care Retirement Communities (CCRCs); or they elect to "age in place," remaining home (though "home" could also be the home of their extended family) and making whatever structural modifications are needed along the way.
Continuing Care Retirement Communities
"I'll never go into a 'home.'" This was a near-constant mantra from my elderly grandfather. Almost ten years a widower, he was proud of his independence and he never wanted to leave his tidy little Cape Cod. As he moved into his 90s (his 90s!) however, things began to change. He hired cadres of people to maintain his house and yard, but his vision was failing, and so was his manual dexterity, and it became hard for him to take care of himself. He could no longer drive and no one came to visit. With failing eyesight and hearing, he couldn't watch TV, talk on the phone, or use his beloved computer. His world began to shrink exponentially, and he became lonely, isolated and perhaps depressed. But at least he hadn't been put into a "home," as he called it, envisioning a sad, dim nursing home where elderly people were parked in wheelchairs and forgotten. His fear of such a place was palpable. He had his pride, and even if his quality of life was dwindling, he was determined to hold out … until of course, he couldn't.
A relatively mild cardiac event landed him in a small continuing care community that offered rehabilitation services as part of their full continuum of care. As he recovered, he began, as health permitted, to sample some of the activities offered in this community. A few weeks into his stay, he perked up like a wilted houseplant given water and care. He played bingo, ordered take-out, participated in musical events, but most of all, he made connections with several old friends and acquaintances he'd lost touch with over the years. All those years isolated in his house, he'd assumed he was all alone, but as he joyfully confided one visit soon after moving in, "It turns out, my friends were all here!"
Today's CCRCs couldn't be farther from the "home" my grandfather feared. To begin, they often resemble luxury resorts, complete with indoor swimming pools, gyms and fine dining—but they also offer a full continuum of care, from practically none to 24-hour skilled nursing, all on the same campus. The first stage, the "independent living" step on the continuum, is often just that: Residents live in apartments, condos, or even freestanding houses complete with full kitchens, 1-3 bedrooms, laundry, balconies and even sometimes small gardens and patios. The second stage is "assisted living." This stage offers step-up care for people who need a little extra help completing daily tasks but who do not require full-time care. The third step in the continuum is "long-term care," which provides round-the-clock assistance, skilled nursing, and even sometimes memory care for those struggling with Alzheimer's Disease and dementia-related illnesses. Often these communities also have a separate, short-term rehabilitation unit for people who are recovering from surgery or other illnesses. Seniors who choose to join an independent living community are encouraged to do so while they are still young enough to enjoy the many amenities offered at every level of care. Once they have joined, seniors can transition, as needed, through the different levels of care all within the same campus. The advantages of this are obvious: Seniors can stay onsite for the rest of their lives with no disruptions of their social and care networks. They also have peace of mind—and so do their families—knowing that as they age, their needs will be met.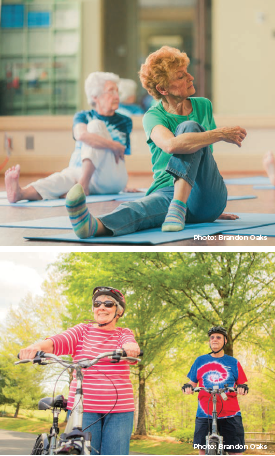 The Roanoke Valley's mild climate and proximity to the Blue Ridge Mountains attract many retirees, who, as they age, begin to look for ways to simplify their lives and have more time for the things they enjoy. Often independent living communities are a great choice for these active individuals. At Brandon Oaks in Roanoke, a non-profit community affiliated with Virginia Lutheran Homes, over 500 seniors have taken this step. Carter Hanna, director of sales and marketing at Brandon Oaks, explains that seniors are often relieved to find that they can give up all the exhausting and expensive details of running their households: housekeeping, yard maintenance, utilities, and even cooking. This frees them up to invest their time in activities they enjoy—fitness, volunteering, or learning new things. "While it can be challenging initially to downsize one's belongings and move," Hanna says, "most of our residents find that they are more active and involved here than they were before their move." For nearly 25 years, Brandon Oaks has been providing a community where residents have opportunities for interaction and socialization, for exercise and health, and for learning and volunteering. There are weekly organized and impromptu socials, an "Elder-Scholar" program affiliated with Roanoke College, and an active Resident Auxiliary which organizes events. In addition, many residents also maintain relationships and activities from before their move to Brandon Oaks, which preserves a sense of connectedness and enthusiasm for the future. Brandon Oaks also offers residents continuing care across the health continuum for the rest of their lives. Residents pay an entry fee based on the size of accommodation they choose (with a choice of several models of luxury apartments and freestanding houses), and then a set monthly fee, which includes rent, utilities, maintenance and housekeeping, scheduled transportation, on-staff nursing care, urgent response and 24-hour security, not to mention access to all the amenities—and this fee stays nearly the same no matter how much care is needed. Like many premier CCRCs, these amenities are impressive: elegant residences with luxury details such as gas fireplaces, built-in shelving, walking trails, gourmet dining, beauty and barber shops, craft and art studios, an indoor pool and spa, and a health center. "I have residents say, 'I could never NOT be here!'" says Hanna, "and that makes me feel so good. There is a sense of camaraderie here that is irreplaceable." Brandon Oaks is also growing; it added home health services last year and plans to open a memory care facility this year. 
CCRCs come in many shapes and sizes, but the one thing they usually have in common is a maintenance–free lifestyle paired with comprehensive care across the health continuum. For seniors looking for the peace of mind that comes with continuum care, but who prefer more of an à la carte system in which you pay only for services you or your partner/spouse use, Richfield in Salem is another great alternative. Richfield has a long history in the Roanoke Valley. Founded nearly 100 years ago to provide nursing training to rural citizens, it has evolved into one of the area's leaders in retirement care. Like Brandon Oaks, Richfield is non-profit, and offers a gracious campus and many amenities, such as a lap pool, a state-of-the-art wellness center, a library, and many scheduled social activities. Residents have a wide choice of apartments or lakeside cottages, ranging from studios with 732 square feet to over 1800 square feet. Each residence comes with housekeeping and maintenance services, meals, access to a licensed nurse, and group transportation. Pat Martin, a nurse at Richfield who works closely with retirees who are exploring a move to a CCRC environment, explains that many seniors are attracted by Richfield's full continuum of medical care available on campus and the flexibility of their contract. "We find that people appreciate that there is not a buy-in, and residents sign a yearly lease and pay for only those services that they use," says Martin. According to Martin, residents at Richfield have access to the area's two hospitals (Carilion and Lewis Gale), plus there is a doctor's office and a pharmacy on the property. Richfield is also growing. "We are really excited about the opening of our new on-site dialysis center," says Martin. "It's another way we are meeting our goal of commitment to individual well-being and quality of life for seniors in Southwestern Virginia."
While retirement communities like Richfield or Brandon Oaks offer predictability and stability for retirees entering the next stage of life, there are some things to consider: First, planning is key. Financial planning is a must. Whether utilizing health or long-term care insurance, Medicare, or personal savings, you will need to find a path that fits your individual financial picture. Thankfully most retirement communities have experts on staff who can help clients chart the best path.
Another consideration is the transition itself. Moving is always stressful, but often moving to a retirement community means leaving a long-time home, neighborhood or community, and often it also means significant downsizing. Most seniors feel that with their children grown, they no longer need the big house with many bedrooms, but if they are moving to a cottage or an apartment within a retirement community, this will usually necessitate some serious thought about what to do with all the "stuff" that won't be used and probably won't fit into the new location. According to Martin and Hanna, this can be an emotional experience, but much easier if it is carefully planned in advance, rather than forced upon a person because of a health emergency. They recommend that potential residents take time to earmark furniture and possessions that they want to bring along to their new apartment or cottage, and then distribute the remainder amongst their family members, donate to charity, or contact estate sale professionals. Fortunately, many retirement communities also have someone on hand to help with this process as well. "Making a move to a retirement community is challenging," says Hanna, "but you are not alone. We are here to help, and down the road we believe you'll feel that this was one of the best decisions you ever made."
Aging in Place
The term "aging in place" can refer to a diverse category of alternatives for older adults who cannot or do not want to join a retirement community. These are most often seniors who choose to stay in their own home, contracting for the health, transportation and home maintenance they need. It can also refer to intergenerational living or other self-designed living arrangements.
Lacking the built-in continuum of care available to residents of CCRCs, retirees considering this option will need to budget and plan for their future years by essentially building their own plan for each stage of the aging process. Often this will mean making some big changes, even if you are planning to remain in the same home or move in with family. Though hiring help with tasks like home maintenance or housekeeping will certainly help, sometimes the home itself needs to be updated or modified to make everyday living easier.
Your first step should be to talk to an expert. The National Association of Homebuilders offers builders who qualify a Certified Aging in Place Specialist (CAPS) designation. Builders with this certification have received special training in the housing concerns for older individuals. Jeremy Smith of F&S Builders, who serves the Central and Southwestern Virginia areas, proudly maintains a CAPS certification. "I strongly recommend that people who plan to age in place look for a builder with CAPS certification before starting a project with an eye to aging in place," he says. "You need to be certain that a builder or contractor knows what he is doing with respect to the needs of older people and the requirements and building codes of specialized equipment such as elevators or walk-in tubs." In business for over 30 years, F&S Builders has completed many renovation projects to help older individuals stay in their homes, from small improvements such as installing grab bars in bathrooms and widening doorways to accommodate wheelchairs, to large, full-scale renovations, such as two-story remodels with elevator installation, a custom roll-in tile shower, even an "endless pool" and outdoor landscaping designed to be accessible to homeowners with limited mobility.
Renovating a home to accommodate older individuals, regardless of whether they will live alone or with extended family, is a challenging process because it involves projecting future needs and modifications as well immediate needs. "We are talking renovations that can cost anywhere from a couple hundred dollars on up to tens of thousands, depending on the scale of the work," explains Smith, "so you don't want someone selling you stuff you won't use." Instead, he suggests asking yourself, "How will this make my life better?" For those considering renovations, he recommends an in-home evaluation with a professional who will discuss individual needs and most importantly, will help clients evaluate improvements. "You want someone who will help you decide what you will really use, day in and day out," says Smith. "Someone who will help you maximize your dollar."
Orchestrating a safe home environment will go a long way to ensure that individuals or couples can continue to live in their own homes, but sometimes even the healthiest and most active seniors have health issues that restrict their ability to care for themselves and may require medical care or rehabilitation. It is far better to have a plan in place for this ahead of time, rather than waiting for a health crisis to occur. There are several options for home health care available today; in fact, many communities have rehabilitation wings with skilled nursing care where even "non-resident" seniors can recover from an injury or illness.
The idea of spending your "golden years" in a rocker on the front porch is over … but only if you want it to be. As a retiree, you could be taking college courses, playing golf, teaching children to read, or learning to paint. You could be living with your extended family, or in the same home you've always lived in … or in a swanky new cottage or apartment surrounded by new friends. Whether you choose to join a retirement community, or age in place, one thing you won't be short on is options. Aging is a universal eventuality for every person, young or not-so-young. It pays to start weighing the many available choices, so that when you do reach that stage, you will be in control. With foresight, practicality and creativity, options for how to spend retirement are both exciting and full of promise.
aging, brandon oaks, F&S builders, retirement, richfield, senior issue, senior living, seniors