LIGHT UP THE HOLIDAYS
MAKING YOUR HALLMARK – OR GRISWOLD – CHRISTMAS DREAMS COME TRUE
Growing up one of my family's favorite holiday movies to watch was National Lampoon's Christmas Vacation. My dad always got a kick out of seeing the main character, Clark Griswold, and all of his mishaps installing lights — falling off his ladder, bulbs blowing and power shortages. While it's fun to sit back and laugh at this Christmas light escapade, it's probably not something you want to deal with in your own life. 

Hiring a pro? 
WHERE TO START
So, what does it look like to hire a professional to help with your outdoor lighting? Who do you call to take on such a task? Local companies that specialize in caring for the exterior of your home, such as power washers and landscapers, can actually be amazing resources for decorating for the holidays.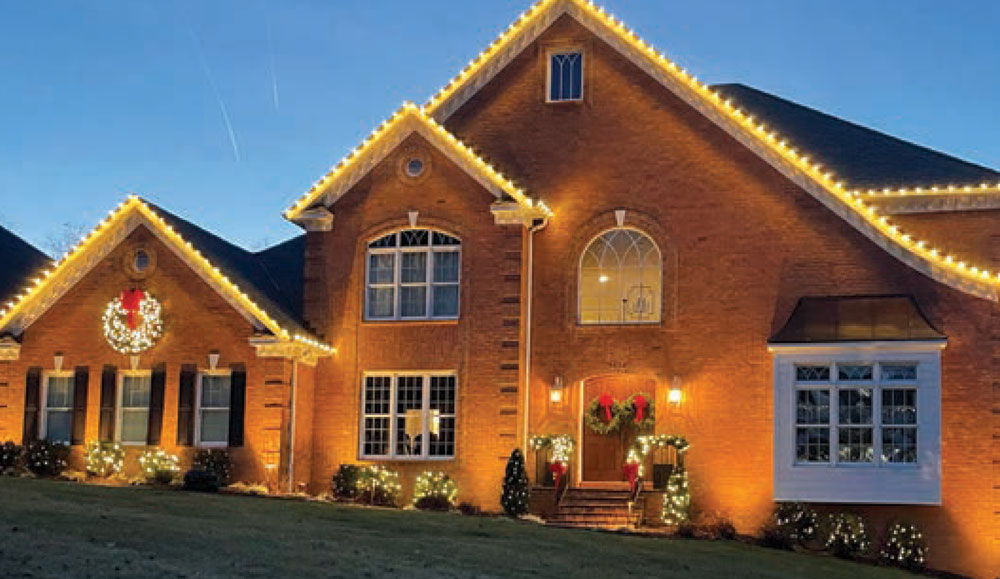 Photo Courtesy of Roanoke Landscapes
Roanoke Landscapes is a local start-to-finish outdoor living company that offers services for holiday lighting and decorations in the Roanoke and Salem areas. Randy Brannan, owner of Roanoke Landscapes, says that he and his team have been doing professional holiday light installation for 20 years and were one of the first companies in the Roanoke Valley to do so on a commercial level. 

As a distributor for Brite Ideas Decorating, one of the nation's largest manufacturers of specialized outdoor holiday lighting, Roanoke Landscapes has the access and ability to provide a myriad of customizable light displays for eaves, gutters, rooflines, windows, doors and trees. Unlike other companies that lease out holiday lights to clients, Roanoke Landscapes' clients are actually purchasing the lights. "They own the material, and we provide the installation and storage," Brannan said. This allows clients the flexibility of either having Brannan and his team install the lights or the homeowner doing so.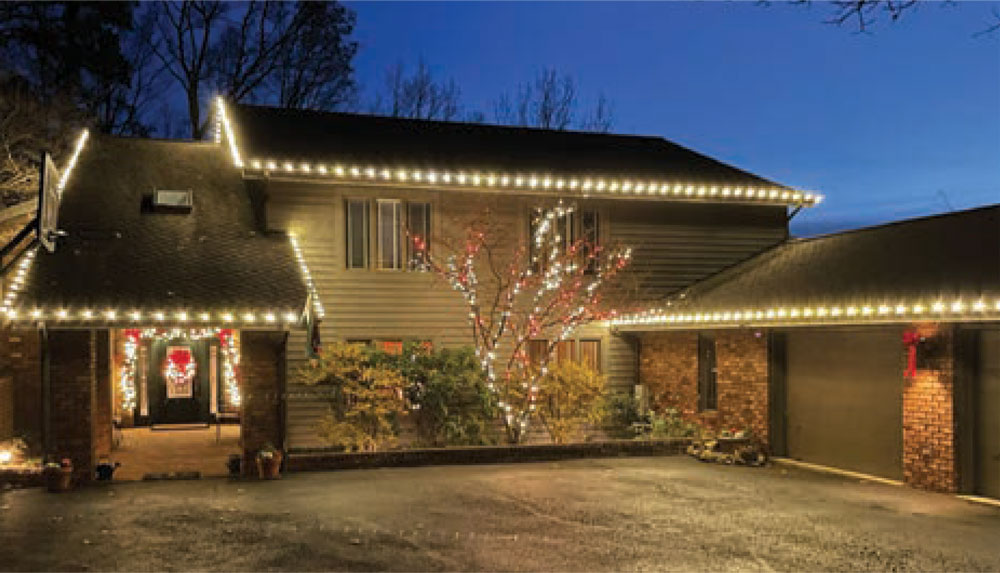 Photo Courtesy of Roanoke Landscapes
WHAT'S THE PROCESS WHEN WORKING WITH A PRO?
When working with a professional, you'll begin with a few key choices: white (warm or cool) or colored lights? Whimsical or classic? What design fits with your home and style? Just lights or also greenery and other decorations? Often, professionals will show you designs and pictures of homes they've decorated in the past to help with decision making. 
A popular option is to hire professionals to put lights in trees or to wrap the trunks. Mini lights work best for this and can also be used on shrubs. C9 LED lights are typically used on the roofs and gutters, as these lights are brighter and make the whole house glow for everyone around to see. Pros can also hang lit greenery and wreaths for an elegant display. 
Overall, Brannan says that two of the most appealing aspects of hiring a professional are convenience of installation and not dealing with the hassle of pulling lights out of storage each year. Hiring a pro saves you the time and stress of untangling lights and allows you to spend that precious time with the ones you love.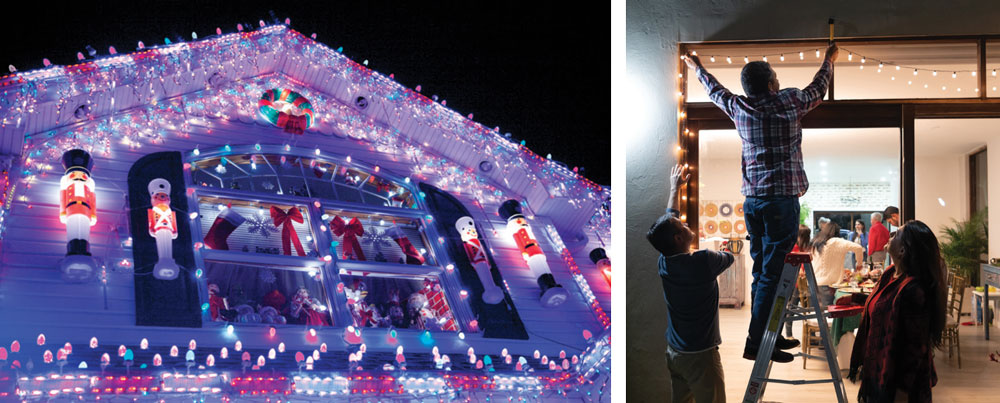 DIY decorating
For some homeowners, putting up lights and decorations themselves brings joy and unleashes creativity. You might take a do-it-yourself approach because you love it — or it better fits your budget. Here are tips to make the job more doable! 
Measure twice, buy once

. Decide where you want to install lights and

 

measure to be sure you buy enough to cover the space.

Draw a diagram

.

Make a map for yourself so you have a plan for where the

 

lights will go and how they will connect to your electrical outlets. HGTV

 

advises buying lights with 6-inch spacing for a "fuller look. Using that spacing,

 

you can then calculate the materials needed with this equation: distance/6 =

 

number of lights needed.

Put them to the test

.

Before hanging any lights, plug them in and be sure all

 

the lights come on.

Hold tight

.

Use clips to install along the gutter line or zip ties to hold lights in

 

place on branches.

Stay safe

.

When installing the lights (which often requires a ladder), always

have a helper nearby. Also consider placing a GFCI stake in the ground as your

 

power source. Pay attention to connection limits and only buy outdoor-grade

 

lights. If you're not sure about your electrical capabilities, consult an electrician

or lighting pro.

Be tech-savvy

.

Use a smart plug to control the lights from your phone. Or use

 

a traditional timer at the power source so the lights come on automatically.
Whether you hire a pro or go DIY, light up the holidays this season — Hallmark or Griswold style! You'll be making the neighborhood a bit merrier for all.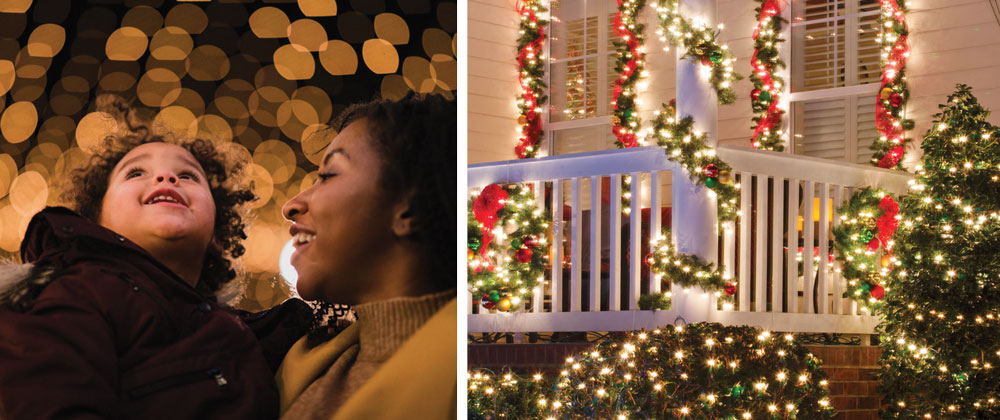 Local locations for lights
Roanoke is not lacking in shimmering holiday lights. Whether it's commercial displays or humble homes aglow, check out these light displays across the Roanoke Valley area and beyond. 
Grandin Court — There is a street in Grandin

 

Court that shines bright for the holiday season

 

where you'll find an array of chicken wire

 

spheres hanging festively from trees, as well as

 

other beautiful holiday lighting and decor.

 

Illuminights in Roanoke

 

—

Explore Park's

 

Winter Walk of Lights runs from Nov. 18

 

through December (closed some dates)

 

starting at 5 p.m. Tickets must be purchased

 

in advance for this event and can be

 

purchased online (www.roanokecountyparks.com/545/Illuminights) or over the phone at

 

540-387-6078.

 

Fashions for Evergreens at Hotel Roanoke —

 

runs from November to December daily from

 

6 a.m. to 10 p.m.

 

Roanoke Star — Catch the Roanoke Star

 

shining a dazzling light across the Roanoke

 

Valley every night during the holiday season.

 

Free to the public.
Delta Dental Dickens of a Christmas — The

 

event takes place on the first three Friday

 

nights in December. During night 1, the

 

Christmas tree lighting takes place on Salem

 

Avenue in the Plaza behind the Market

 

Building. The ceremony begins at 5:30 p.m.,

 

and the lighting of the tree takes place at

 

approximately 6:20 p.m.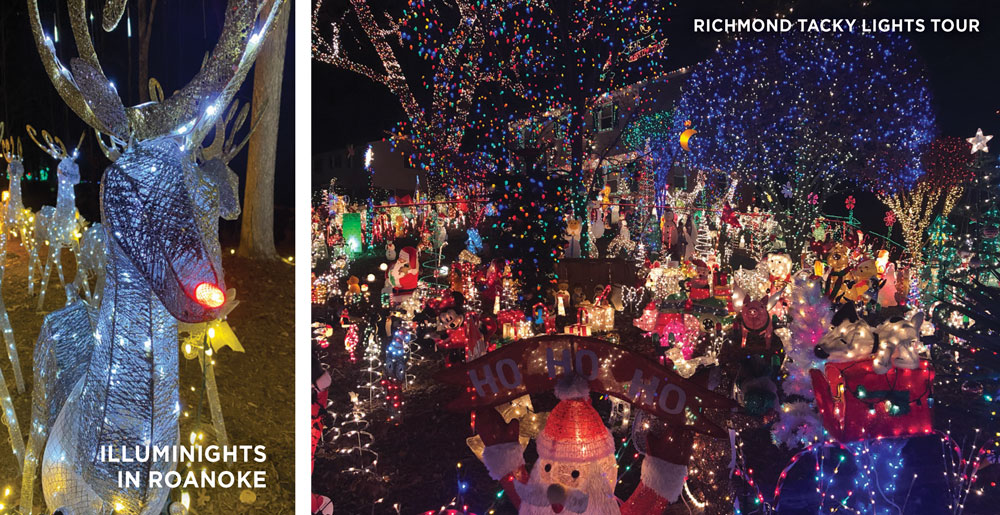 Photos: James River Media
Lights beyond the Roanoke Valley 
Christmas Lights Display at The Elks

 

(Former Elks National Home) in Bedford —

 

Begins in December and runs from 5:30-10 p.m.

 

Christmas Light Display at Liberty Lake

 

in Bedford — runs from Nov. 23 through Jan. 1,

 

around the clock.

 

Celebration of Lights at Riverside Park

 

in Lynchburg — runs from Dec. 1 through

 

Jan. 1, from 5 to 9 p.m. (no vehicles on special

 

event nights).

 

Richmond Tacky Light Tour — You and your

 

friends can hop on a comfortable, climate-controlled bus to view the best holiday light

 

display in Richmond and surrounding area.

 

For more information and to book tickets, visit

 

discoverrichmondtours.com/richmond-tacky-lights-tours/. ✦

 
Note: Events are subject to change, so check for updated details online.
Christmas light installation, Christmas lights, DIY decorating, holidays, Outdoor Lighting, professional light installation