Light the Night: Illuminate your Outdoor Space with Help from the Pros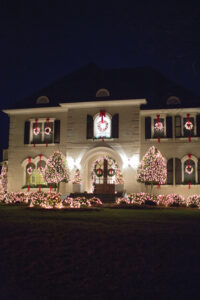 Lots of plastic containers (or tubs as we like to call them), stacked high, filled with outdoor Christmas decorations, are sitting in the basement or storage shed or attic, all ready for you…but are you ready for them?
The biggest chore many of us tackle every year is decorating our home's exterior for the holidays. Headaches often ensue when we drag items out of their yearlong hiding places (never in quite the order that we need them), climb rickety ladders to reach rooflines, dodge overgrown shrubbery, and attempt to untangle lights that may just decide for themselves not to get in the holiday spirit this year. Don't look down—a whole day could go by and you may not have anything to show for it.
More and more homeowners are hiring professionals to do the job because having it done on time, safely, and tastefully means a holly, jolly Christmas for all.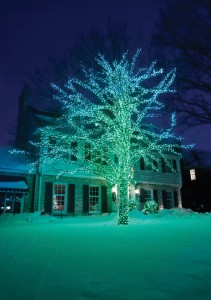 Landscape companies, who spend a good part of the year enhancing the home's surroundings, are a natural fit for this work as the cold weather begins to set in. Robert Brannan, co-owner of Roanoke Landscapes, says that his company takes care of every aspect of the job, from consultation and design, to installation, take-down, and storage of materials.
"It takes a lot of load off the client—they only need to flip a switch,"
Brannan says.
In some cases, his company becomes "a relief service," he says, as some clients are simply unable to do the work themselves because of age or disability. But most clients know how labor-intensive it is and their schedules at this time of year just won't allow it. "Most of them are people who just don't have time, and are reluctant to pull everything out every year, so it just gets stuck in the basement," he says.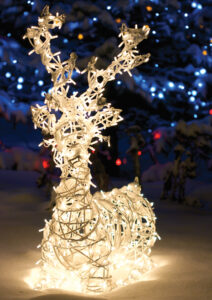 As a distributor for Brite Ideas Decorating, one of the nation's largest manufacturers of specialized, outdoor holiday lighting, Roanoke Landscapes can provide a variety of light strands for rooflines, eaves, windows, doors, or columns, as well as lighted stand-up yard displays, tree wraps (individual branches, not just trunks), and lighted fresh greenery, like wreaths and garlands.
Some homeowners don't know where to start when it comes to outdoor holiday decorating. (Then, of course, there are those who don't know where to stop!) While we can be lured by the pictures on the boxes in retail stores, many of us don't know how to combine the products for an elegant display. When hiring a professional, ask if they will first visit your home and help you plan your design. Brannan says his designers help determine how to highlight your home's features for the holidays—there's no going overboard.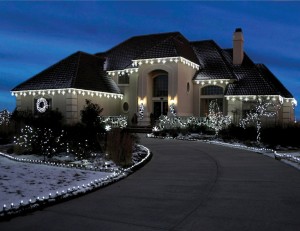 "We set everything to our customers' tastes, and try to balance upper and lower areas," he says.
Brannan says that another convenience factor is that while the customer owns the products, his company stores them and maintains them. No more carving out a spot in a storage shed and no more replacing bulbs or making repairs; the company takes care of all maintenance, too. The cost for the first year is typically higher due to purchasing all the materials up front—a minimum of $1,500 for the first installation, with most jobs ranging up to $5,000 for larger businesses, according to Brannan. Set-up for subsequent years would cost about 60 percent of that, Brannan says.
Installation can begin as soon as the client would like. Brannan says that many clients try to time it with special events they may be hosting. Some of his projects start as early as the end of October. Take-down is timely as well—no more waiting to see if you will be the last house in the neighborhood with Christmas lights as it gets closer and closer to Valentine's Day.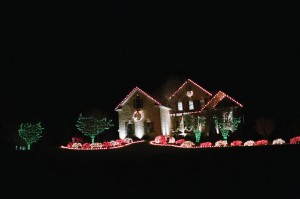 As the lighting industry continues to introduce more technology, the options have varied as well. Brannan says that about half of his holiday lighting clients have chosen LED lights for the longer life span. They come in single color, multicolored, or clear. LED rope lights are particularly popular, with flashing and scrolling options. Although they will be more costly at start-up, they pay off in the long run, Brannan says.
Some of the most popular products are what Brite Ideas calls "linkables"—rope lights with dangling shapes like snowflakes, candy canes, stockings, stars, swags and bows installed along the rooflines. Just adding a full strand of stars or snowflakes in a warm classic white, or even blue, can make a home look ready for a winter wonderland.
Another popular option is a product called a "starburst"—a cluster of lights that can be hung in trees, on houses, or planted in the ground for a more contemporary look.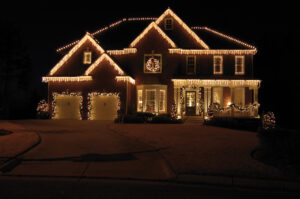 For even more fun, choose from a number of larger-than-life yard displays: candy canes, snowmen, elves, toy soldiers, a complete manger scene, or even Santa teeing off. And if you have children, animated rooftop or yard displays may be a must. Options include Santa arriving in his sleigh, traipsing across the roof, and heading down the chimney, or an elf jumping on top of gifts to hang a star on a Christmas tree. Even the yard displays and animations can be done in a tasteful way to help passers-by share in your holiday spirit.
While hiring a professional can take the headaches away, it can also take out all the guesswork. Installers will take into account your home's electric capacities, testing your outlets, using the appropriate adapters and cords, as well keeping cords safely tucked away in the yard and at the side of homes. They can set up specialized digital timers, too, so the work is basically hands-free for the homeowner.
If outdoor decorating is at the top of your Christmas to-do list, but often makes its way to the bottom, hiring someone to take care of the chore could free up more time to get to those tasks that make the holiday what it should be—a meaningful, stress-free, "bright" time for your family.

Christmas decorations, Holiday Lighting, Outdoor Christmas Lights, Outdoor Lights Design, Roanoke Landscapes, String of lights