A Labor of Love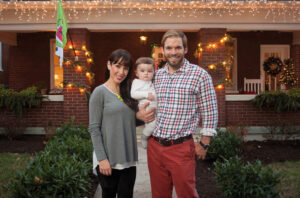 Stiff historic-district renovation restrictions, a shoestring budget and a baby
on the way did not thwart Amanda and Aaron Copeland's plans to renovate their first home in downtown Roanoke. Today their Old Southwest home, decorated for the holidays in keeping with this area's traditions, is another
gem in this historic neighborhood.
With a mix of structures dating from the 1880s to the 1930s, Old Southwest was originally developed for the well-to-do merchants of Roanoke. It remained a fashionable neighborhood through the end of World War II, and then the area began to deteriorate. With the revitalization of Roanoke, Old Southwest once again is enjoying a renaissance. While sections of the neighborhood are still in disrepair, families are moving into the area and taking on the task of renovating and revitalizing.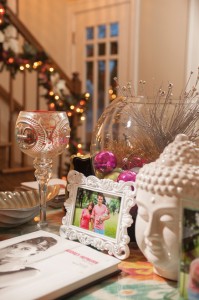 Both Aaron and Amanda were not strangers to the region. Aaron grew up in nearby Claytor Lake and Amanda was originally from Radford. Aaron was involved locally in a long-term project with the family business, Copeland Excavation and Construction, and since her then-future husband was so rooted to the area, Amanda settled into an apartment in Old Southwest Roanoke.
Prior to their marriage, Aaron purchased a 1930s-era brick duplex in Old Southwest. "It was pretty rough inside," says Amanda. "In fact, I did not want to live in this house." But its location and price compelled Aaron to purchase it. "We both loved the neighborhood," says Amanda.
Since 1985, the neighborhood has been listed on the National Register of Historic Places. Old Southwest, Inc. is the non-profit organization that represents this historic area, with members meeting regularly at the Alexander-Gish House—the oldest standing structure in the neighborhood. The organization's Architectural Review Board oversees residents' renovation plans and must approve exterior changes or alterations of homes in the district to ensure the area maintains historical integrity. For example, since the Copeland house was designed originally as a duplex, the organization's guidelines dictate that the two entrance doors in the front and two in the back had to remain.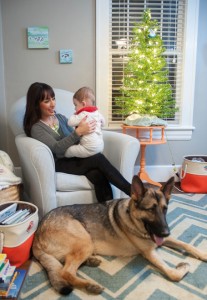 Prior to marrying, the couple began the arduous process of renovation. Their first tasks made the home livable: removing overgrown bushes that were encroaching on the roof, yanking out old shag carpeting, sanding and refinishing the floors, and painting. Then they moved into the first floor apartment and rented out the top floor.
This was five years ago. Everything in the home—like the kitchen and bath—was original and loaded with character, but very old. "It was exactly what we needed at the time," says Amanda. It was an ideal size for the young couple. But when they found out that Amanda was expecting their first child, they were forced to make a decision: either find a bigger home or remodel. "We could not find anything in our price range that had everything we wanted, so we decided to remodel this house," explains Amanda. The 32-acre Highland Park is across the street, and the historic Alexander-Gish House and Highland Elementary are both nearby. With a park to play in and good neighborhood schools in this charming historic district, the soon-to-be-family's most important needs were met.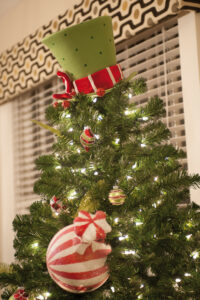 They finished remodeling just in the nick of time, one month before their son Graham was born. "We lived upstairs while the downstairs was being remodeled," says Amanda. The couple acted as the general contractors. "Whatever we could not do, we hired subcontractors to do. But we tried to do a lot of the work ourselves. My husband is really handy and I don't mind getting my hands dirty," says Amanda. She was familiar with renovation projects, having lived through one when her parents purchased and remodeled their family home, but admitted that it was hard and challenging work.
"We were on an extremely tight budget," explains Amanda. The couple hopes to someday sell this house, so they wanted to make sure they were making the right decisions and putting profitable equity back into the home.
The rooms throughout the home are simply furnished. In the living room, a cozy couch and conveniently placed sideboard make spending time with Graham comfortable and fun; life revolves around him right now, and his toys and books, lined up along bookshelves, are part of the décor by necessity.

And just in time for the holidays, the room is decorated with a contemporary white tree, bedecked with golden ornaments and peacock feathers. This tree is a yearly tradition in the Copeland household. According to Amanda, she wanted the tree to embrace an Alice in Wonderland theme. When she discovered an old frame at a tag sale, she brought home her find, spray painted it gold, and added it to her tree. Without a fireplace mantel, the windowsill nearby doubles
as the perfect place to hang their Christmas stockings.
"We made a lot of what you see in here," says Amanda. Her father built the dining room table using a metal base and wooden planks for the tabletop. Around the table are slipcovered chairs featuring a family monogram on their backs. While the Copelands' budget didn't allow for a houseful of custom window treatments, Aaron and Amanda put their creative vision to work and built their own fabric-covered cornice boards, and Amanda made all the no-sew window treatments and several pillows throughout the home.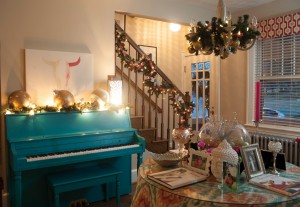 Amanda describes her style as contemporary, but she also favors an eclectic twist and has an affinity for art. She grew up with a talented aunt who spent time working with her on art projects and teaching her how to paint. "We did art projects all of the time," says Amanda. Several of Amanda's own paintings hang in the house, including an abstract in the dining area.
The downstairs entry foyer is the most dramatic room in the house. In keeping with the rules of the historic district, both entry doors of the once-duplex home remain in place. Each features beveled glass panes; while one serves as their door, the other, at the foot of the stairs, functions as a floor-length window.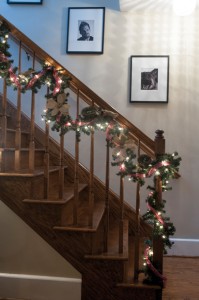 The couple exposed the staircase to the upstairs unit by removing a wall. Amanda wanted a view of the railing from the foyer, and for the holiday season she has decorated it with lights and garland. A large circular table with a floor-length tablecloth is the foyer's focus. Amanda found this material at The Second Yard, and knowing that it would be perfect for this room, she had them make it into a tablecloth. A glass jar, assorted collectibles and coffee table books cover the table year-round, and for the holidays, the jar is filled with colorful holiday ornaments and wand-like metallic tapers.
Amanda chose to create an accent wall by wallpapering it with paper featuring a silver interlocking design on white. Professionals hung the wallpaper, since matching seams is not for the inexperienced. As an accent piece, an antique upright piano is painted turquoise to match the tablecloth and is decorated with giant-sized metallic holiday ornaments.
According to Amanda, the previous holiday season was their first year decorating their newly remodeled home. "It was exciting and lots of fun," she notes. The entire decorating process took about three days and it was a family project. While Aaron helped set up all of the electric connections and hung the garlands and outdoor lights, Amanda decorated the trees. The parents are looking forward to a time when their son Graham can help continue this tradition of decorating for the holidays.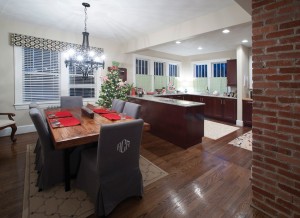 To create a large kitchen, the couple knocked down walls, connecting a small kitchen and an eating nook. Stools line the counter to serve as a place to snack or enjoy a light meal. Amanda found them on Craigslist, and after a quick clean up, paint job and new cushions, they are fine additions to their kitchen. A savvy shopper, Amanda knows how to find a deal.
"We did our whole kitchen through Ikea," says Amanda, referring to the furniture supply company known for inexpensive stock with contemporary lines. "I love that look, and also wanted to think about the resale value. Ikea was the only company that fit into our budget," she notes.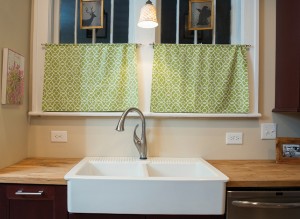 The couple travelled to Charlotte where Ikea has a large store and warehouse. They designed the kitchen with help from Ikea, using the company's computer program and their own kitchen measurements. "We ordered our cabinets, hardware and all of our countertops including the granite and butcher block," she explains. They brought their cabinets home that very day, and once they were mounted, Ikea delivered the countertops and the Copelands had them installed professionally.
Amanda describes coming home with boxes and boxes. "Everything comes in a box filled with a million pieces. All of the directions are pictures and no words. My husband and I, my mom and dad, and my husband's mom worked four straight weekends, putting all of these cabinets together." Then they hired a professional to do the installation. Though Amanda recalls the process as "nerve-wracking," the Copelands have appreciated the do-it-yourself savings.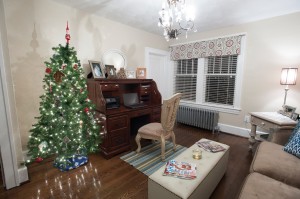 A small covered porch adjoining a large open deck is conveniently located just off the kitchen. Here the family can grill and picnic. Amanda points out that the porch was falling apart when they purchased their home, and they rebuilt it to conform to historic-district guidelines. A small back yard is nicely organized with a privacy fence along one border concealed with climbing roses. A small magnolia and crape myrtles dot the tiny yard, and a gated vegetable garden keeps the family in summer veggies.
An in-law suite on the first floor is an ideal place for overnight visitors. As a welcome gesture to both sides of the family, Amanda had pillows monogrammed with her mother's and her mother-in-law's initials. The bedroom furniture, which she painted peach, was hers as a child.
An upstairs foyer doubles as office space for Amanda and a play area for Graham. It adjoins the master bedroom suite and nursery.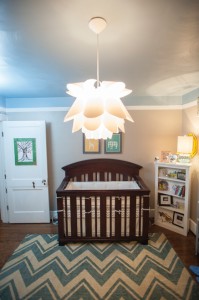 The nursery holds a special place in Amanda's heart. There was a big rush to complete this room in case the baby came early. Amanda hired professionals to paint, using an alternating blue-and-white-striped ceiling border on grey walls. "Before he was born I would go in there and just sit—it was kind of like my oasis. When the rest of the house was a disaster, I could go in and escape," says Amanda.
Perhaps the biggest change in the house was the bedroom master suite, according to Amanda. Once the floors were stripped and refinished, the couple installed a laundry, an enormous bath and a walk-in closet. The laundry area is conveniently tucked into one corner, and the walk-in closet doubles as Graham's play area when Amanda is getting ready for work in the morning. The cozy bedroom is decorated in white with subtle touches of crimson in the window treatment and the monogrammed pillow on the bed.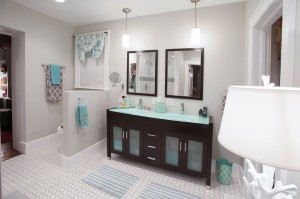 A white tile bath features a double sink vanity. The sinks and countertops are composed of glass tinted a soft mint green. Amanda had admired that exact sink at a friend's home; however, hers was a single unit and Amanda wanted a double unit. When she discovered how expensive double sinks were, she turned to eBay, another of her trusted sources. She found the precise vanity she wanted for a very good price. While eBay was a great resource, Amanda also notes that Ferguson Kitchen Bath and Lighting Gallery was a huge support in helping design the space and provide the other appliances that outfit this dream bath.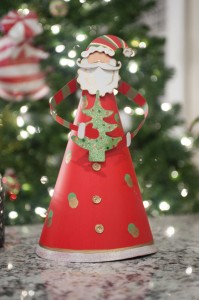 Despite a time crunch, budget restraints and architectural restrictions, Amanda and Aaron have successfully created a comfortable home for their family. "I have great memories of doing this whole house. It was a team effort and I could not have done it without my husband," says Amanda. "It could have been overwhelming otherwise. It was definitely a labor of love."
Ferguson Kitchen Bath and Lighting Gallery, Historic Places Copeland Excavation and Construction, In-Law Suite, nursery, Roanoke Old Southwest, Willow Grove Gifts