Light-filled Living
GARDEN ROOMS INVITE SPRING INSIDE
A bounding with fresh greenery, flowering plants and warm sunlight, garden rooms beckon spring's splendor inside. Distinct from a greenhouse, these idyllic rooms with a view are designed for cozy light-filled living. Whether an extension of your home or a repurposed posh shed, a garden room enhances your home's décor yet boasts unique features that usher nature indoors: glass windows, natural building materials like stone and wood, rustic furniture and plants galore. A versatile oasis, it expands your floor space and serves myriad purposes, from a sylvan home office and gym to a charming guest bedroom or dining nook. Whatever its function, your garden room will provide a relaxing retreat where you can escape from life's daily stresses and let your creativity soar.

A happy place
Garden rooms are trending in home design. Many work remotely, so home offices and workout rooms are house-hunting must haves.
Walt Derey, president and owner of Pitman Construction, thinks anything that creates a connection between the outside and inside is popular, whether it is a patio, a semi-enclosed space or an addition. He observes, "People just want a connection to their outdoor space and want their inside space to marry the two. Especially with COVID, people want to entertain outdoors with more space."
For Alicia Smith, vice president of F&S Building Innovations, the greenery, wood and sunshine in garden rooms inspire and relax. She says, "My happy place is out in the sunshine. A lot of times, garden rooms incorporate a lot of natural elements, wood and greenery. Greenery itself is relaxing and peaceful. It's a great way to start your day and wind down your day."
Inspiring history
You can create a garden room in your home or as a free-standing structure connected by pathways to the house. Your personality, your home's décor and your budget will guide your decision. A garden room house extension costs more than a stand-alone one and typically requires planning commission approval but a free-standing structure may not, depending on your locality. Both can raise the resale value of your home as they increase your home's usable space.
Home extension garden rooms — sunrooms, orangeries and conservatories — enjoy a rich architectural history, writes art historian Lynn Byrne in her article "Garden Rooms, Then and Now" in Interior Design. Introduced in Renaissance Italy, orangeries were initially greenhouses where the affluent cultivated citrus trees ripened by the sun rather than importing their fruit from the Mediterranean. Glass conservatories or "crystal palaces" prevailed in grand Victorian homes and gardens. The New York Botanical Garden's Enid A. Haupt Conservatory is the apotheosis of a Victorian-style crystal palace. With the introduction of furnishings, glass greenhouses pivoted to comfortable garden rooms.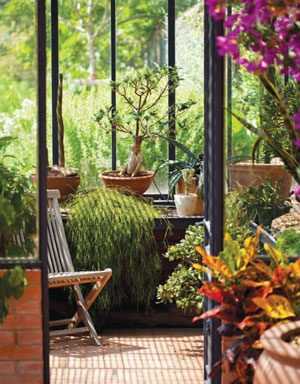 Contemporary home orangeries contain glass, stone, brickwork and a roof, which integrate with the house's architecture. In contrast, a conservatory is constructed mostly with glass windows embedded in the walls and roof. By installing heating and cooling, insulation and electricity, these sunny sanctuaries offer cozy year-round, light-filled living without even venturing outside.
Building a free-standing garden room takes careful planning. According to building experts, you'll want to consider the size and landscaping of your property; where and when the shade and sunlight fall; barriers such as fencing and hedges; existing garden structures like a pergola or trellis; and your home's architecture and aesthetic. A detached garden room affords precious privacy to fire up your creativity and find tranquility. Smith notes, "A true greenhouse is better detached from the house because it is a place to truly get away. There is physical separation for those who seek out that peace."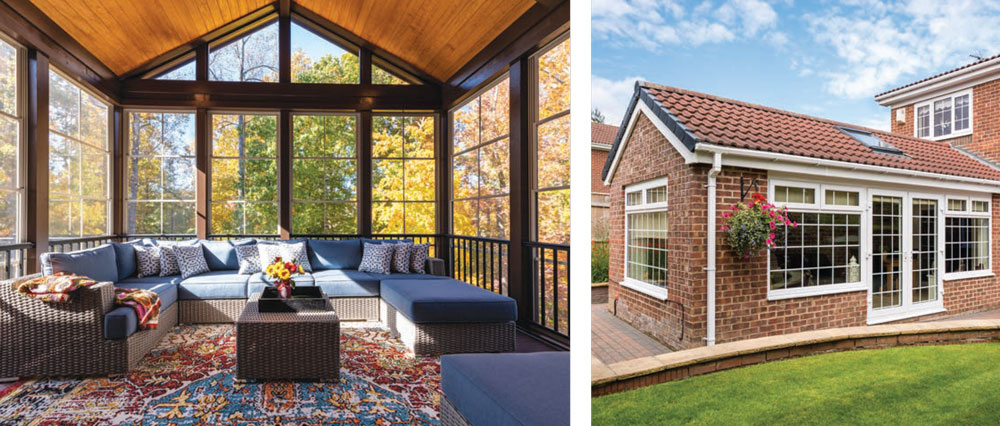 Light & décor
You can build a perfect bespoke garden room by using quality materials that reference the outdoors. Natural construction materials such as brick, wood and stone are durable and long lasting. Derey notes, "We've used stone, concrete paving and lots of different types of durable products. You want something that will hold up and last." Solar windows and sturdy pre-engineered designs of metal and glass are popular. For Smith, the more glass, the better: "People love glass rooms. One of the biggest selling features of a garden sunroom is its light and windows." Ensure your windows and screens are operable, so fresh air can flow in during the spring, summer and fall.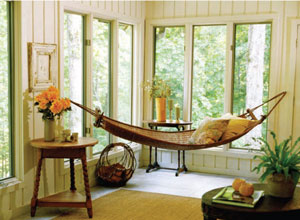 A garden room's furnishings and décor can be fun and eclectic yet still complement your home's design. Bring in your weathered outdoor painted table and chairs for a refresh. If your garden room is a modern glass extension, minimal furnishings look chic and elegant. Wicker, iron or teak furniture is classic and sturdy yet low maintenance. Derey explains, "There is a lot of composite wicker that looks like old-school standard wicker because it holds up to the weather and gives you the look and feel of that classic furniture without the upkeep. There is still a lot of metal furniture that people like. A lot of high-end outdoor furniture is wood made from teak."
Garden room décor reflects the room's purpose while celebrating the outdoors. Plantings add interest, color, texture and fragrance to a garden room. When selecting them, consider their water and sun requirements so they'll thrive indoors. Pair colorful floral and striped upholstery fabrics with rustic wood furniture and add pops of color and pattern. Throw pillows, blankets and rugs will soften the room's ambiance. When adding artwork and garden statuary, you'll fashion an inspiring space to get creative.
Your garden room will bring the outside in for you and your family to enjoy year-round. In the springtime, you can plant seedlings, work, study or exercise while soaking up the sun and marveling at spring's ever-unfolding blossoms. This is cozy, light-filled living at its best. ✦
free-standing garden room, garden room house extension, garden rooms, greenery, home design, Home Offices, light-filled living, natural elements, orangeries, Wood, workout rooms