Life with Pets | Combining Style with Safety and Comfort
Never have I been more grateful for the joy of pets than I have over this past year. They give us company, affection, and can help lower stress and improve our health. In return we love and protect them, and put up with a certain amount of fur and mess. I've occasionally had to remind myself of this agreement as I watch my two dogs thunder gleefully through mud and into the house, or one of my two cats scoop up a paw-full of Friskies and inexplicably fling it at the washing machine.
Through trial and error I've learned that it is possible to live with pets and not let your home go to the dogs, style-wise. There are ways to keep your pets safe and comfortable while still having a home and garden that is pleasing to the eye.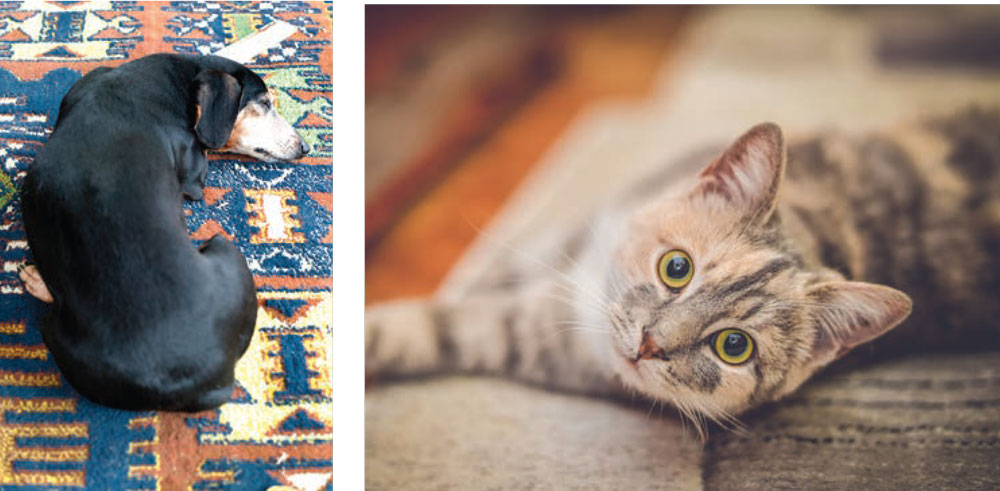 INDOOR LIFE
Flooring
Hard surfaces such as tile and finished concrete are extremely pet-friendly, and especially livable when combined with radiant floor heating. Hardwood flooring is also good for pets, provided that it's durable and doesn't get too wet.
But anyone who's had a pet knows that they prefer rugs—for lounging, for playing…and for their gastrointestinal issues. So, whether you have wall-to-wall carpet or area rugs, what's your best bet? It's probably not anything with a distinctive loop weave, unfortunately, which looks tidy and delightful for approximately two weeks before being torn up by claws, teeth and chew toys. And, though pets love them, high-pile rugs are high-maintenance, trapping dirt and messes and difficult to clean.
You'll often hear that area rugs such as indoor-outdoor are pet friendly because they're "washable," and yet somehow I've never managed to wash an 8×10 rug, either in a washing machine or outside with a hose. Though they're great in high-traffic zones and easy to spot clean, I've given up on indoor-outdoor rugs in a living area because the trade-off is usually that they're not very inviting underfoot, and style selection can be limited.
What does that leave? Wool rugs are surprisingly pet friendly in that they're durable, stain resistant, and do well when wet. Low-pile patterned rugs such as kilims and dhurries are a good choice because the weave stands up to traffic and the patterns help hide dirt. Be careful with fringes or tassels if you have a playful pet.
Natural fibers such as sisal, seagrass and jute are popular, but vary in best usage. Jute is soft but often chunky, which means hard to clean and easy to snag. Sisal is durable but coarse underfoot, and tends to absorb stains. Seagrass is durable, softer than sisal, and repels stains, making it the most pet-friendly option of the three.
Layering area rugs is a great way to combine style with practicality. Obviously the rugs need to relate to each other in some way, be it pattern or colors. If you're not confident in your pattern-mixing skills, make one of your rugs neutral and work with textures. A flat-weave, buff-colored rug pairs well with hide. Top a large natural fiber rug with a smaller patterned rug that offers some softness and durability. For maximum function, your smaller top rug should be the more durable, easily cleaned, and/or easily replaced one—the rug you're less likely to cringe over if a mess happens.
Furniture and covers
One way or another, sofas and armchairs are going to attract fur in a home with pets. Honestly, some of living stylishly with pets is just matching your furnishings and wardrobe to their fur. But there's no need to make things harder than they need to be, so choose material for sofas and armchairs with your furry friends in mind. If they'll be on the furniture, avoid fabrics such as silk, which rips easily and is hard to clean, or chenille, which has wonderful texture but can snag easily. Velvet can also be tricky to clean and seems to attract fur, though it's fairly easy to remove with a vacuum attachment or lint brush.
Woven fabrics, on the other hand, may be labeled performance because of their durability and stain resistance, but tend to trap fur between the fibers. Any type of tweed fabric will have this issue.
Microfiber is an affordable and easy-care option. Leather is too, though claw marks are certainly a consideration. Also, if your pet has a favorite spot, a discoloration might occur over time.
A removable, washable cover can solve a lot of issues. Beyond specially made pet covers found in catalogs, you can get creative with anything from a chunky cable knit or preppy stripe to a colorful kantha quilt or serape. Custom slipcovers made from sturdy, washable fabrics like canvas, twill or cotton duck are great for everyday use.
Beds and crates
There are plenty of attractive pet bed choices, but make sure they have a removable cover for washing. Imagine regularly disassembling and reassembling that bed, and steer clear of anything that looks too complicated. Loose fill in a bed tends to migrate to the edges, so choose orthopedic foam if possible.
If your dog is crate trained, there are custom crate covers that will not only make it more attractive, but will provide that cozy cave feel that they enjoy. Specialized crate furniture can house a pet bed while doubling as an end table or credenza. A particularly charming option is to create a pet bed cubby in the base of built-in shelving, or even in the nook beneath the staircase.
While many cats prefer lounging on your newspaper or laptop, there are plenty of cute beds for them as well. Plush round beds, felted cave beds, teepees—anything that allows them a feeling of nesting will likely be a hit. A perch or raised area will give them an extra sense of security.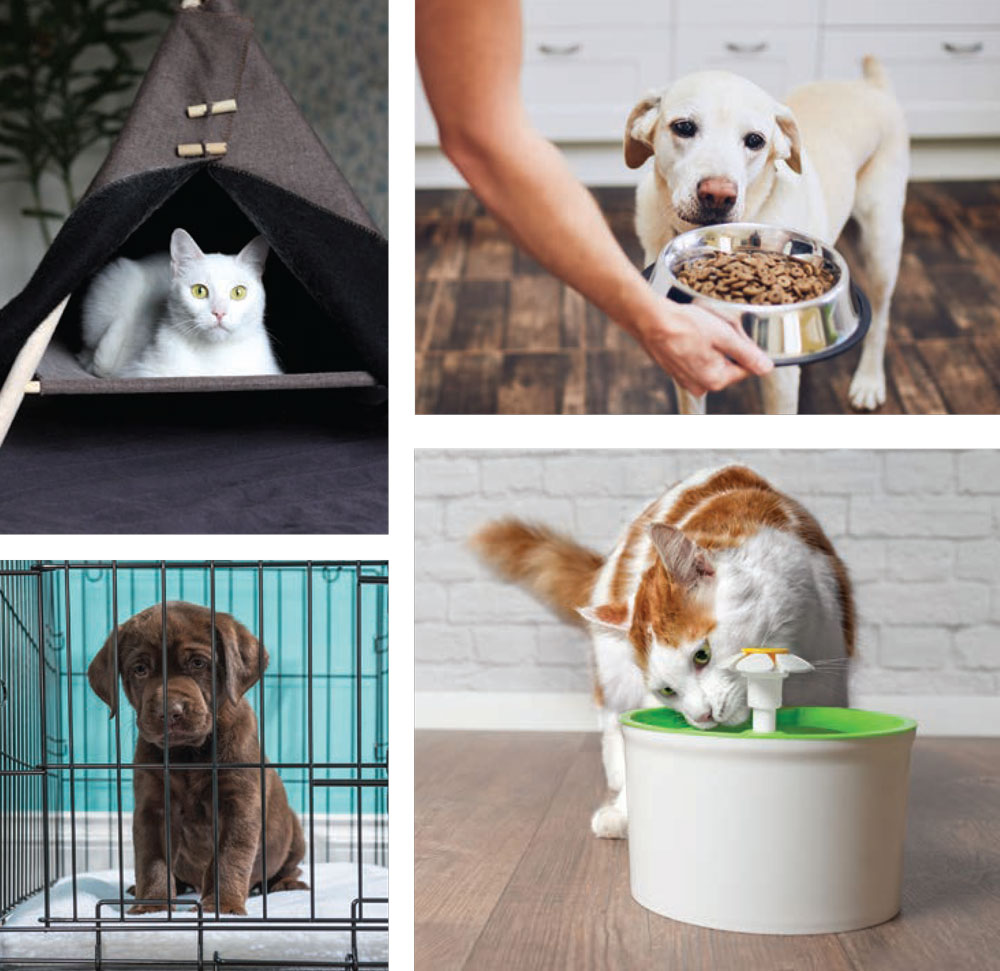 Food and water
There are a slew of food bowls out there, from purely decorative to functional items. Slow feeders for ravenous eaters; elevated bowl stands, which are helpful for large and older dogs; non-tip bowls for the rambunctious—there's a dish for every style and personality. Whichever you choose, keep clean up in mind. Some dogs like to splash around in their water dish, so a bowl shape which reduces splashing plus a food mat are good ideas. My Lab slurps water like he's just crossed the Kalahari and will lap a tidal wave onto the floor, so I've found the best solution is a large, shiny stainless steel bucket, combined with a food mat with a raised edge to contain any overflow.
Speaking of water, cats are notoriously finicky about having a fresh supply. Your feline friends will thank you for spoiling them with a pet water fountain, which continuously cycles water through a small reservoir and pump. Most dogs enjoy them too!
For food storage, there are lidded plastic, stainless steel, and good old galvanized bins. Some are air-tight, some have casters, others have locking handles or clamps. Some are stylish and designed to be left in sight while others are more utilitarian. It's fine to leave your pet food in the original container as long as it's well-sealed, but bins make it easy to scoop food and keep it fresher and safer from pests.
Gear organization
Toys, chews, collars, leashes, pet waste bags…all those accessories need a place to go. For toys and chews, covered baskets and bins look attractive and keep things tidy. You can also dedicate a small cabinet in the mudroom, or a drawer in a shelving unit for all the goodies.
There are even feeding station storage cabinets which offer a large pull-out drawer for the food, and another drawer beneath for food dishes. Sometimes these stations also have storage for other gear.
A wall rack by the door is handy for leashes and collars. Hang a pail or a cute bag on one hook to hold pet waste bags, a flashlight, and other walk accessories.
OUTDOOR LIFE
Fencing
It's vital to make sure your pets are able to enjoy the outdoors safely. This means that when your dog is in your yard, there should be a fenced or contained area unless they're on a lead. A physical fence is optimal, since electric fences rely on fear of the "zap" being greater than desire for what lies beyond it, so a dog with a high prey drive may decide that the lure of the road is worth a quick jolt of electricity. Anyone who's ever pushed a stroller past a furiously barking dog standing by an electric fence sign knows that unpredictable feeling.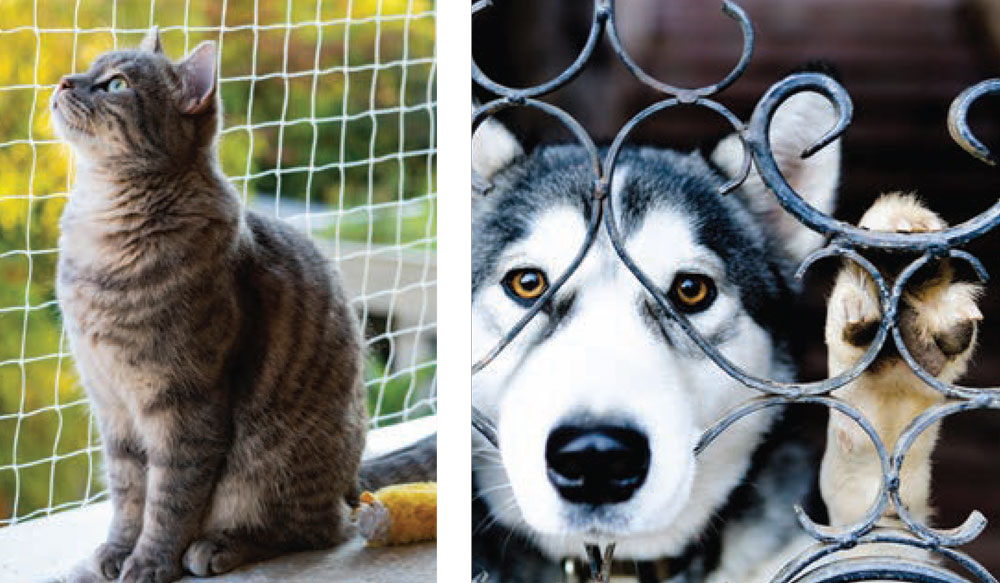 Fencing also needs to take into account the athletic inclinations of your dog. Can they jump it? Perhaps they'd enjoy digging under it? If you plan to leave your pooch unattended in your yard, be sure that your fence isn't one they can escape. A handy trick for stopping fence-line diggers is to buy ground-level fence panels, such as Dig Defense, which are rows of downward-facing metal rods that are inserted into the soil at the base of the fence. If you've got a jumper, a four-foot fence likely won't do. Six feet is your best bet, and make sure that any horizontal elements aren't helpful for climbing.
Cats also enjoy the outdoors, and many spend years of their lives trying to dart through open doors to get there. But, as your neighbors may have informed you, they are not welcome to stalk the bird feeders or mark the flower beds. And so, a catio is the perfect solution. The typical catio features a wooden frame with mesh walls, uses a window for access, and provides elevated perches and climbing options. You can build your own or purchase one ready-made.
If you're not ready to commit to a catio, a cat solarium— basically an open-air window unit for your feline—is a nice way to give Kitty a dose of fresh air and sunshine.

Garden beds
Some pooches are fond of trampling and digging in a fresh spring garden bed, so if you have a prized tulip patch or tender perennials emerging, it's wise to erect some barriers. Low fencing can deter a casual run-through catastrophe. Surrounding young plants with good-sized stones or hardier, more established shrubs can also help. And it's always wise to plant trample-resistant plants where possible. Small ornamental grasses, for example, will bend rather than break.
Be aware of plant toxicity, as some pets do like to nibble or gnaw on shrubbery. A surprising number of common plants can cause GI distress or worse if ingested. ASPCA's website has an extensive list of toxic plants, but a few that may surprise you are tulips, peonies, geraniums, hydrangeas, boxwoods and wisteria.
Pets require equipment as well as some lifestyle accommodations for most of us. Luckily there are a range of products, from affordable to extravagant, designed for pet lovers. But no matter your home and budget, pets are an excellent return on investment. ✦
armchairs, canvas, cotton duck, elevated bowl stands, Fencing, finished concrete, food storage, Garden beds, high-traffic zones, jute, leather, Low-pile, microfiber, Natural fibers, non-tip bowls, orthopedic foam, pet bed, pet water fountain, pets. Hard surfaces, seagrass, sisal, Sofas, tile, twill, Wool rug, Woven fabrics