A Collector's Eye
Photography by Jared Hall
A few blocks down Fincastle's Main Street lies a hidden historical gem: "Solitude," a two-story clapboard home built around 1830 as the residence of a prosperous local shop owner. As the county seat of Botetourt County, and a popular departure point for thousands of 19th-century pioneers headed west, both Fincastle and the store did brisk business and the house was built to reflect this prosperity. It boasts six fireplaces, gingerbread railings, a center medallion, and a double portico entrance.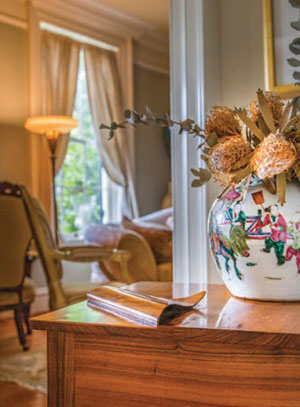 Charlotte Hagan first encountered the nearly 200-year-old house in 2005. "I was literally just driving around downtown Fincastle looking for houses, and I spotted it," she says. "It was clearly undergoing major renovations, but the energy was right. I just knew it was the right house." Charlotte, a busy medical doctor and mother of three, had plans to relocate her children and her practice to Virginia from New York, and the stately federal-style house was exactly what she had in mind. In short succession, Charlotte purchased the house, moved her family, and started work at the Salem VA hospital all in the same year. It was a big change for all of them, but it didn't take long before Fincastle began to feel like home. Charlotte made friends, joined a church, and eventually met local attorney (and neighbor) Robert Hagan, who found a special place in her heart. The couple were married in 2007 and Robert moved a handful of blocks down the street to join Charlotte at Solitude.
Local builder Ron Lucas and his son Jason renovated the home before selling it to Charlotte. "Ron was in love with historic homes—especially the local ones," she says. "He had a good idea of what to do to make these old places livable." Thanks to Ron, the home has fully renovated bathrooms and a kitchen, all new windows, and a roof that was raised to accommodate modern HVAC equipment.
"It's a special place," agrees Robert. "I think the Lucases did a great job, especially with salvaging the old wooden floors. They literally had to cut out the good parts and painstakingly re-lay them, and Jason Lucas made all the trim work and bookshelves. They look original, but that's 21st century craftsmanship."
Fourteen years later, the children grown, Robert and Charlotte are still comfortably ensconced in their own piece of history. With an eye for art and antiques, Charlotte has turned the house into a showcase of treasures collected over the years. Stepping into the entry, for example, a small table featuring a chessboard trompe l'oeil motif immediately demands a second look. "That was made by local artist Jake Cress," Charlotte says. "He's also a good friend." Cress may be local, but he is well regarded in the art world for his traditional and "animated" furniture at Yale University and the Smithsonian Institution. The table is not the only Jake Cress piece in the house; Charlotte also commissioned a bed for her master bedroom. "I remember saying something like, 'Jake, I need a bed and I know you'll create something amazing,'" Charlotte recalls. The finished product is a striking piece in dark-stained poplar wood with light inlays of intricately carved scrollwork and bouquets of dogwood flowers, paying tribute to Charlotte's love of gardens.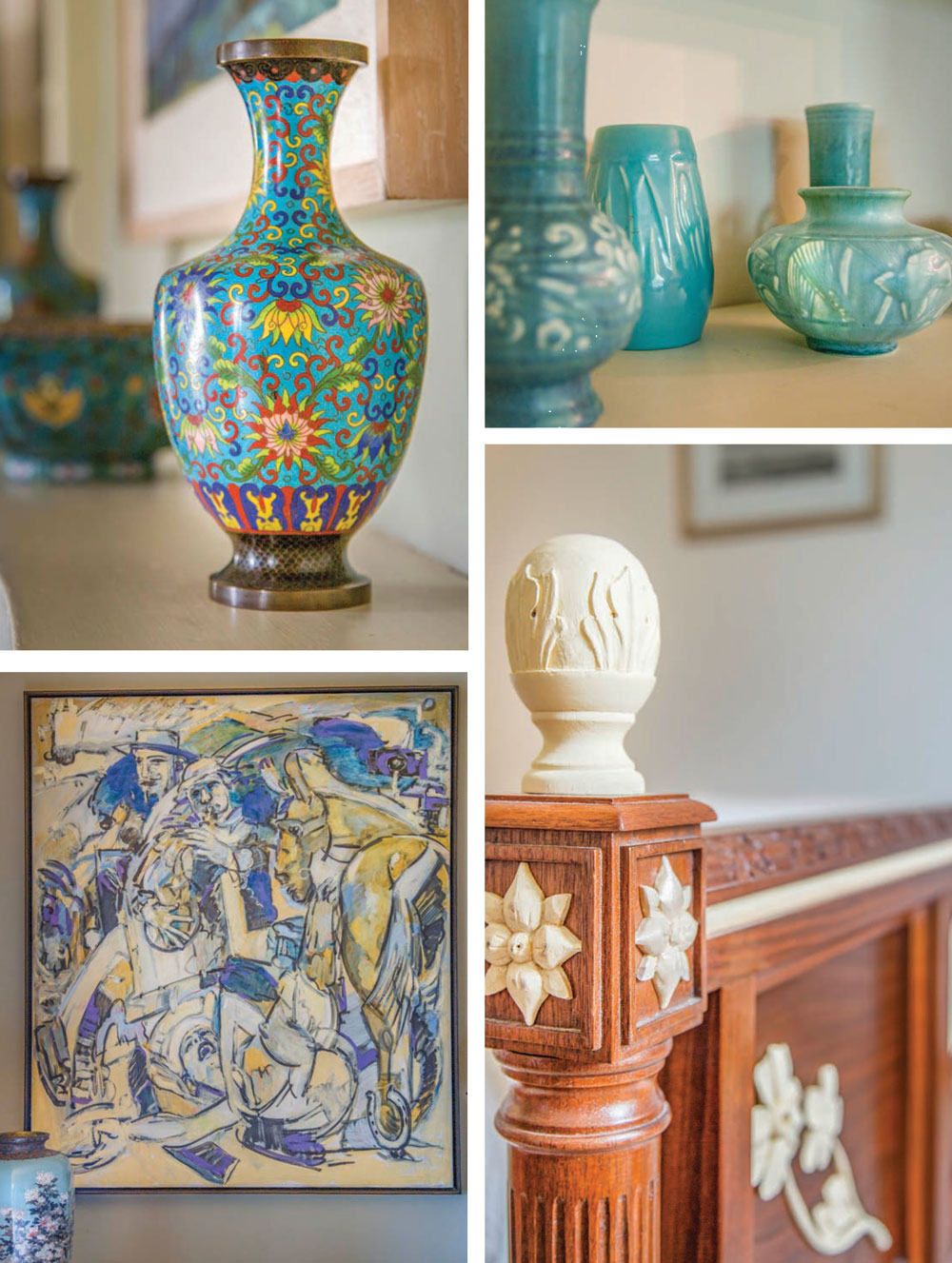 In the bright living room with its high ceilings, oversized windows and soothing sage-colored walls, Charlotte explains that though she trained as a scientist and a medical doctor, she has always had an appreciation for art, whether it be Asian cloisonne, wood blocks, sculpture, pottery or oils. Throughout the home, artwork demands attention from every angle. The living room features mostly Virginia artists, including a large oil by Brian Counihan, a pair of Dorothy Gillespie starburst sculptures, and a Ross Arkell landscape. Charlotte comes by her love of art naturally; her favorite aunt, Fay Zeitlin, was an accomplished painter, and Charlotte also displays two very special examples of her work in this room; a small oil, "Active Pleiades," and an abstract portrait of a young Charlotte. She credits her mother's love of Asian art as an influence as well.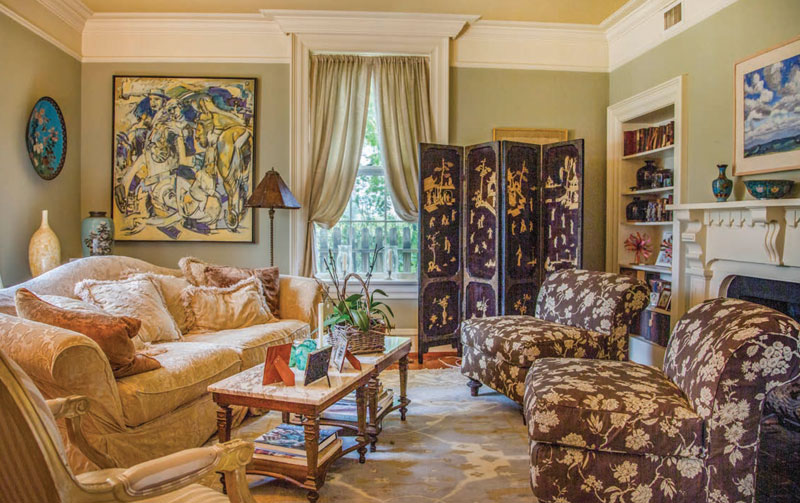 The antique table, chairs and crystal chandelier in the adjoining dining room, as well as most of the art, are the spoils of Charlotte's growing expertise with antique auctions, both online and in person. "You could say that antiquing is a hobby," laughs Charlotte, "but it has always been something that I enjoyed. I've been collecting art and antiques for over 20 years now, and I can honestly say that every piece was one that resonated with me at some point in my life."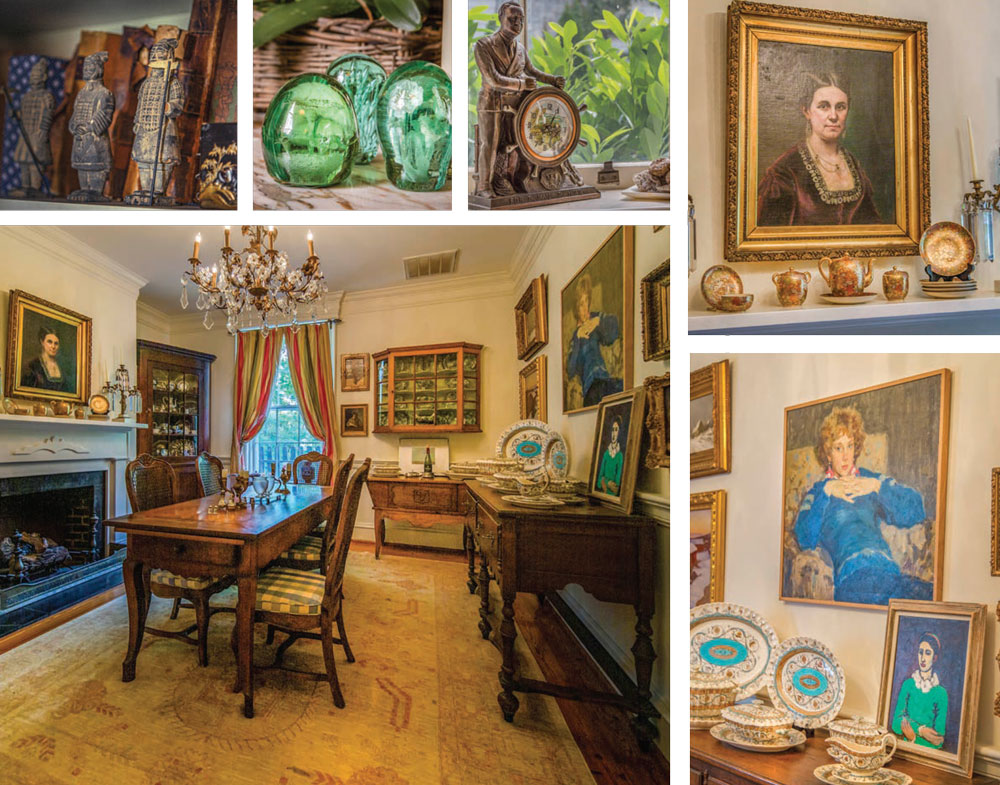 Robert is noticeably proud of his wife's acumen. "She really has developed quite an eye," he says, pointing out a glass-front cabinet displaying a rare Spode china pattern. "She found both the cabinet and the china on live auctions and it was her idea to mount them up on the wall like this. It's just beautiful."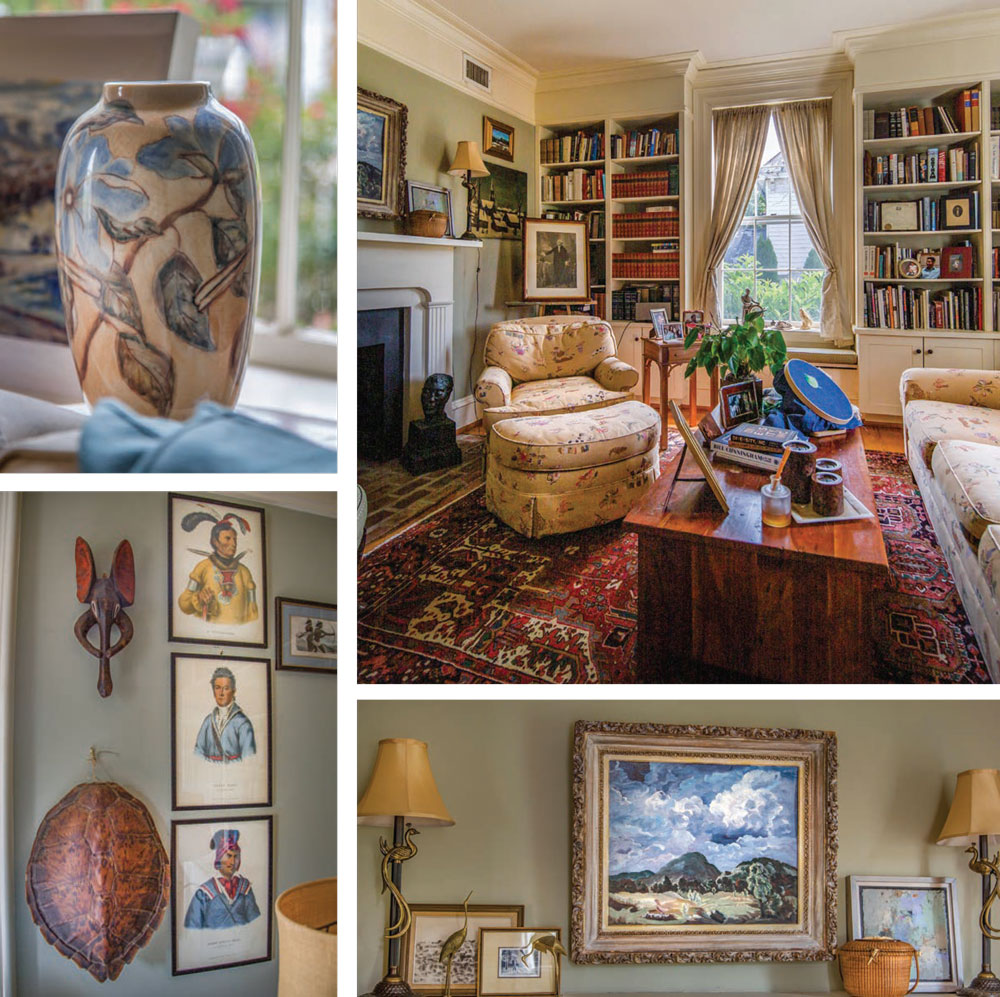 Avid readers, both Charlotte and Robert spend a lot of time in the home's cozy library. With large windows and two walls of custom bookshelves, it's easy to see that this is a room for bibliophiles; books abound, but tucked in amongst them are such treasures as an antique microscope, family photos, and two examples of Rookwood pottery, a famous American pottery company started in the late 19th century in Cincinnati. On the walls hang lithographs of famous Native American chiefs and oils by Brett LaGue and Ross Arquel.
Down the long central hallway is the home's eat-in kitchen with a wood counter island and a small antique table for two before the large fireplace. "This is where we eat when it's just us," says Charlotte, indicating the simple oak drop-leaf table with two armchairs. The custom cabinetry, countertops and tiled floors use a blend of sepia tones, suiting Charlotte's choice of decor which runs to the primitive in this room. Here she displays a collection of North Carolina pottery and antique cast iron cookware on and around the exposed brick hearth and chimney. Charlotte's favorite thing in her kitchen is the large floor-to-ceiling shelf where she displays more of her rare pottery collection in a place where she can see it every day. "I love the tactile nature of pottery, and its variety. You think of all the work—and science—that goes into creating a vessel, layering it, carving it, firing it, getting the glazes right without ruining it … it's amazing!" she says. "I also think that perhaps my scientific training in organic chemistry and physics makes me appreciate even more what a miracle it is to produce pieces like these."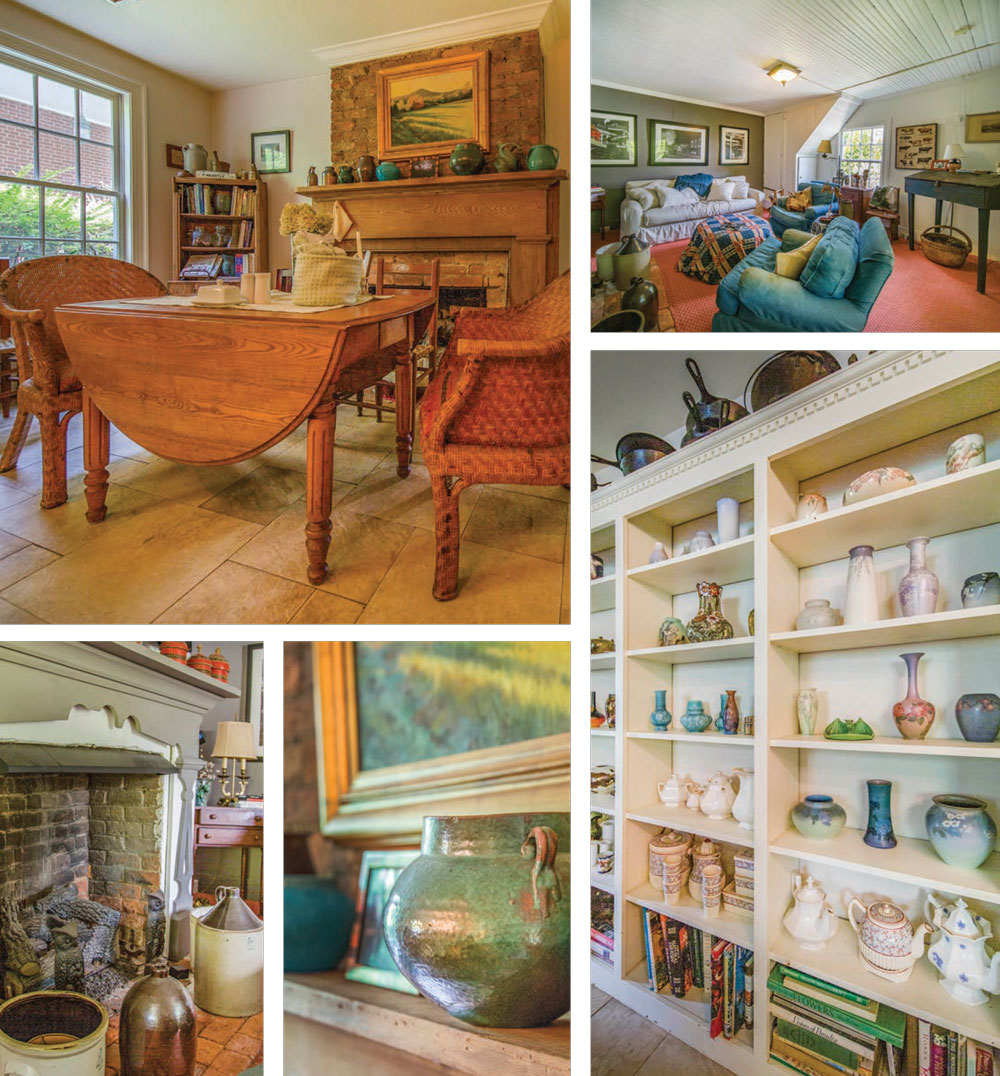 Directly off the kitchen lies an intimate sitting room that Charlotte and Robert think was probably the home's original kitchen, since it was once separated from the main house as kitchens often were due to risk of fire. Another reason the Hagans suspect this room was the original kitchen is because there is a rough stairway to an unfurnished living area hidden behind a whitewashed door. It's likely that this is where the original household's servants lived. Today, the room features dark gray walls, a plush red carpet, white trim, and relaxed slipcovered furniture. O. Winston Link prints grace the walls, and a flatscreen TV is mounted over the original fireplace. It's now a room for watching a ball game, or cuddling the family's adorable Lhasa Apso, Puck.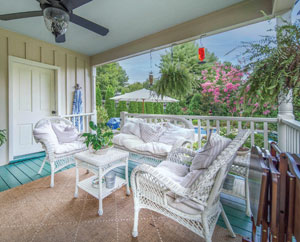 The back of the house opens onto a charming covered porch. With green painted-wood floors and white wicker seating, it's easy to see that the Hagans spend a lot of time out here in fair weather. On the walls and on the table, they have arranged a collection of Italian majolica they brought back from a series of memorable trips to southern Italy. But it is what is beyond the porch that draws the eye. Through an old-fashioned white wooden arbor laden with climbing roses and "apple blossom" clematis, the gardens are an explosion of beauty.
---

IT ALL STARTED WITH A ROSE
In a friend's blog, Charlotte details her "ever-evolving relationship with the Sombreuil roses I planted along my fence when I moved five state lines…" Careful research went into choosing these special roses, and planting them led to a serendipitous meeting of a new neighbor who strolled by and introduced himself. As the roses grew, so did their relationship, and the two married in 2007. Read all about what the Sombreuil rose represents to Charlotte and Robert at flowerpowerdaily.com/how-a-special-rose-brought-a-family-together
---
When Charlotte purchased "Solitude" 15 years ago, none of this was here. "It was pretty much flat grass and weeds," laughs Charlotte, "and the neighboring houses were just looming over this house." Always an avid gardener, Charlotte had Bartlett Tree Experts analyze the soil right away. She found that since the yard had been used for everything from penning livestock to making bricks over the years, the soil quality was extremely variable. In a back corner of the yard, Charlotte found a stand of 200-year-old peonies, a lucky treasure that she has since relocated to another section of her yard, but other than that, the rest of the yard was a blank slate. She began by planting fast-growing arborvitaes around the perimeter of the yard, which, over the years, have grown to 40 feet or so.
As she has slowly remade her yard, Charlotte has discovered a knack for garden design. "I always say, the aesthetic leads the education," she says. "I am a completely self-taught gardener. I do a lot of reading and take a lot of pictures of things that I like, then I go learn about them and figure out how to grow them."
This auto-didactive approach has resulted in a large, vibrant perennial garden that blooms from early spring through late fall, and has been featured in the Garden Club of Virginia's Historic Garden Week.
There have been a few hard lessons as well. For instance, dahlias are Charlotte's favorites. These delicate south American natives require extra care and do not tolerate cold. Unfortunately, Charlotte learned this lesson the hard way her first year, losing her entire collection to frost. Since then, she has learned that in Virginia, most varieties need to be dug up and overwintered indoors. Despite the extra care required, Charlotte has continued to collect dahlias. "They're my babies," she says. "When they're blooming, I check on them several times a day. They grow well here, and, since you dig them up each winter, it gives you the opportunity to move them around and try different color schemes." Interspersed with the dahlias, Charlotte has planted heirloom perennials, such as her mother's 40-year-old lavender varietal "Phenomenal," and assorted annuals that she starts from seed each year.
Charlotte's most recent garden project is the kitchen garden just off the porch, inspired by Parisian gardens where it is common to mix dahlias, roses and other flowers in with herbs and vegetables because, as the thinking goes, variety makes for better pollination. The garden, anchored by a mock orange cleverly planted to hide the heat pump, provides the Hagans with a steady supply of delectables for their own kitchen.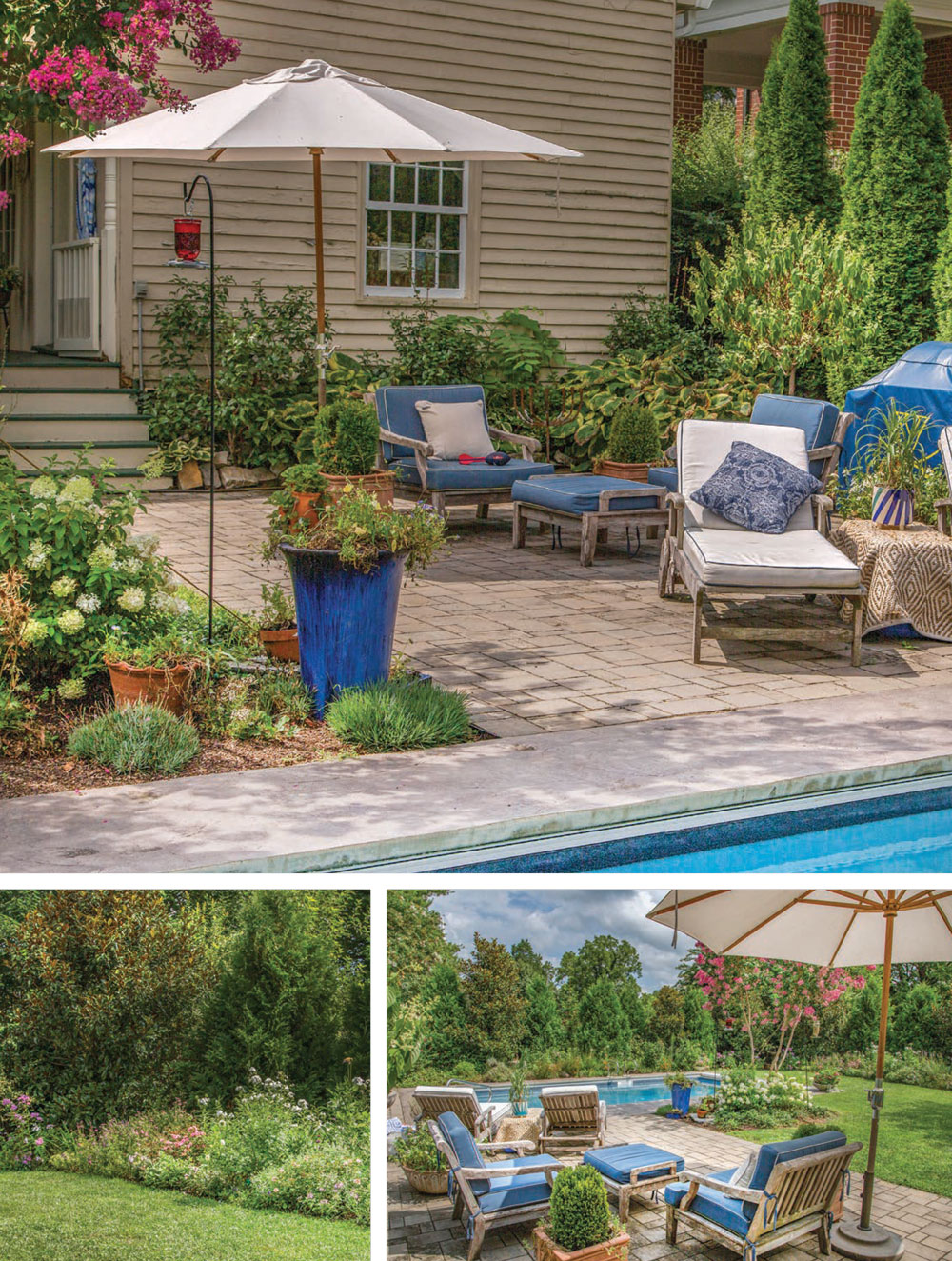 The pool was installed in 2016 and has given Charlotte, Rob and their families a welcome place to cool off amidst the summer heat. They entertain poolside, finding it a welcome distraction from the hot, sticky work of maintaining a garden of such scope. Newly retired from her medical practice, Charlotte intends to spend even more time working in her garden in the upcoming season. Each winter she makes plans for new plantings and layouts for her beloved heirloom plants.
The past 16 years have wrought many changes for Charlotte and Robert Hagan, but one constant has always been their love for their home, their garden and their family. The small but bustling community of Fincastle was a big change for Manhattan-native Charlotte, but it has been where she has found her heart's home. "Virginia has definitely taken root in my heart," says Charlotte. "I love it here in Fincastle. This is definitely home." ✦
1830, 19th-century, 200-year-old house, Antiques, art, clapboard home, Federal-style, historical gem, Solitude