Let's take this OUTSIDE
CREATIVE IDEAS FOR YOUR LAWN AND GARDEN
We're constantly learning new ways to create and customize the interior of our homes with tried-and-true methods for exerting creative energy in our space. This spring, consider taking that energy outside to create a garden space you'll love all year long.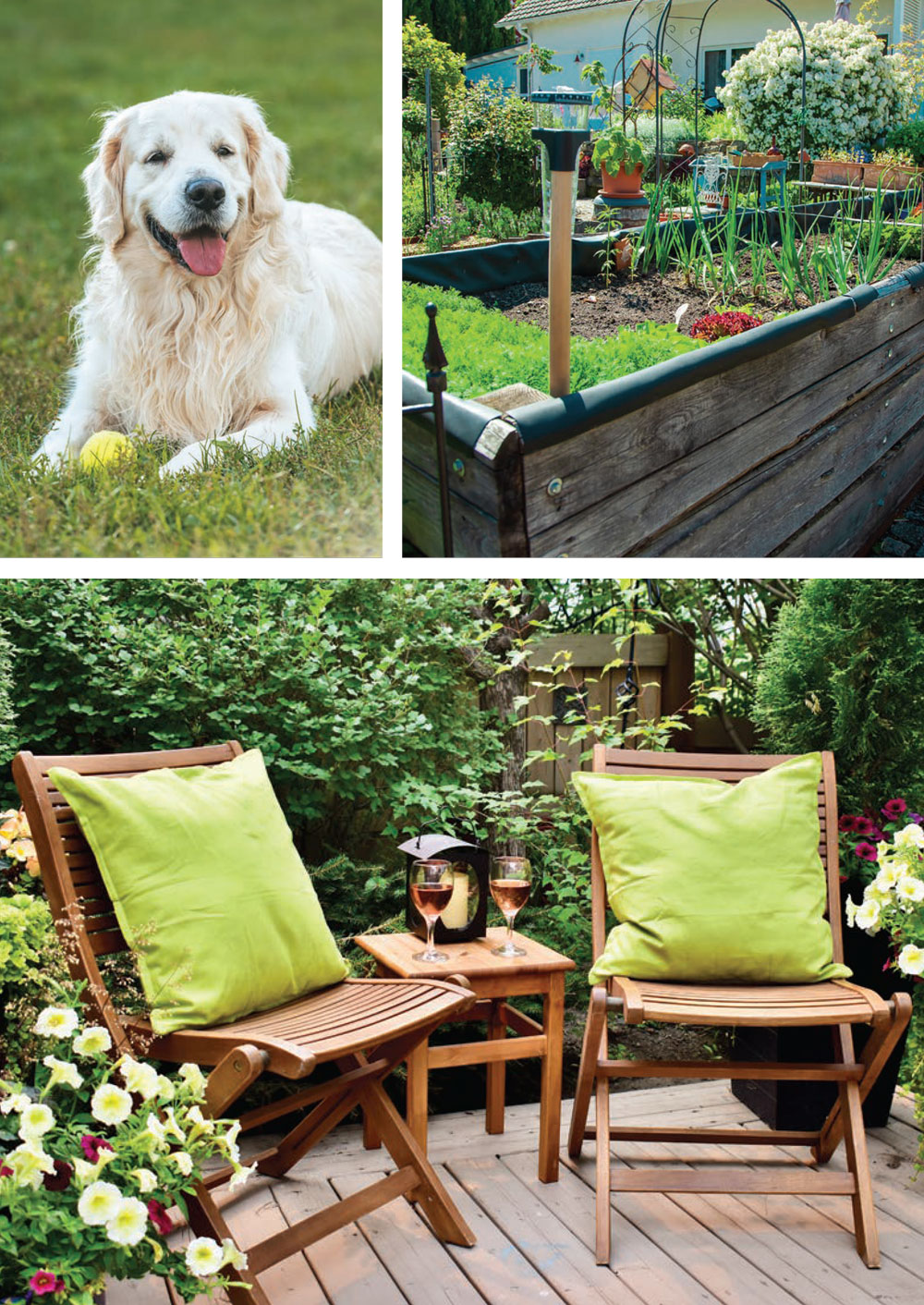 Green expectations
Before getting to work outdoors, you need to make a garden design. It might sound daunting, but the main question is how you will be using the space: Will it be a gathering place for loved ones? A work zone for your green thumb? A play space for your best four-legged friends? Or a spot for you to unwind? Based on your answer, you can more easily determine your specifications.
If you are (or would like to be) a hobby gardener, consider some raised garden beds. Whether you're cultivating flowers or growing fresh produce, raised beds have many benefits. First, they provide much more control over soil, drainage and pests than a typical plot, making them practical even in a grassless garden. Additionally, you can select any height — perfect for those of us with uncooperative joints or curious pets. And of course, a raised bed can be made of virtually any material, which ensures they'll be just as pretty as they are functional! Add a seating area or fire pit nearby to make your hard work the true focal point of your garden.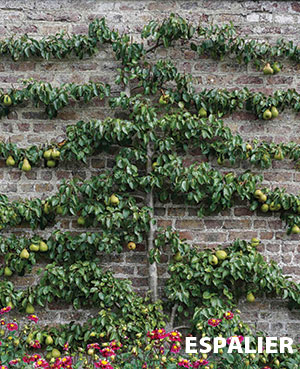 Garden vignettes
The other key design component is size. Of course, your project does not need to address all of your outdoor space. Especially if you intend to create a more intimate space, consider focusing on a smaller area to create a "secret garden" vignette.
First, use screens to seclude one part of your garden. The "screen" can be anything, such as a brick wall, a hedge, a plant wall made from upcycled pallets or even an espalier — a fruit tree secured to a trellis, then shaped to grow flat against it. Farmers originally developed espalier to supply the most possible sunlight to every branch, thus producing more fruit sooner. Though the espalier process can take around five years to reach maturity, the end product is beautiful, unique and delicious. If you want the "wall of green" with less time and toil, consider a lattice partition or pergola with climbing plants, such as honeysuckle, climbing roses or clematis. Alternatively, pick a corner of your garden and section it off with large planters. Once you have your "secret garden" spot, all you need to do is add some seating, like a bench, a few Adirondack chairs or even outdoor floor cushions.
Outdoor décor
Whether your garden is meant to be a functional or simply fun space, make sure it's reflective of your style. Selecting plants and outdoor furniture is an easy way to accomplish this, but consider adding some uniquely "outdoor" design components: statuary and water features.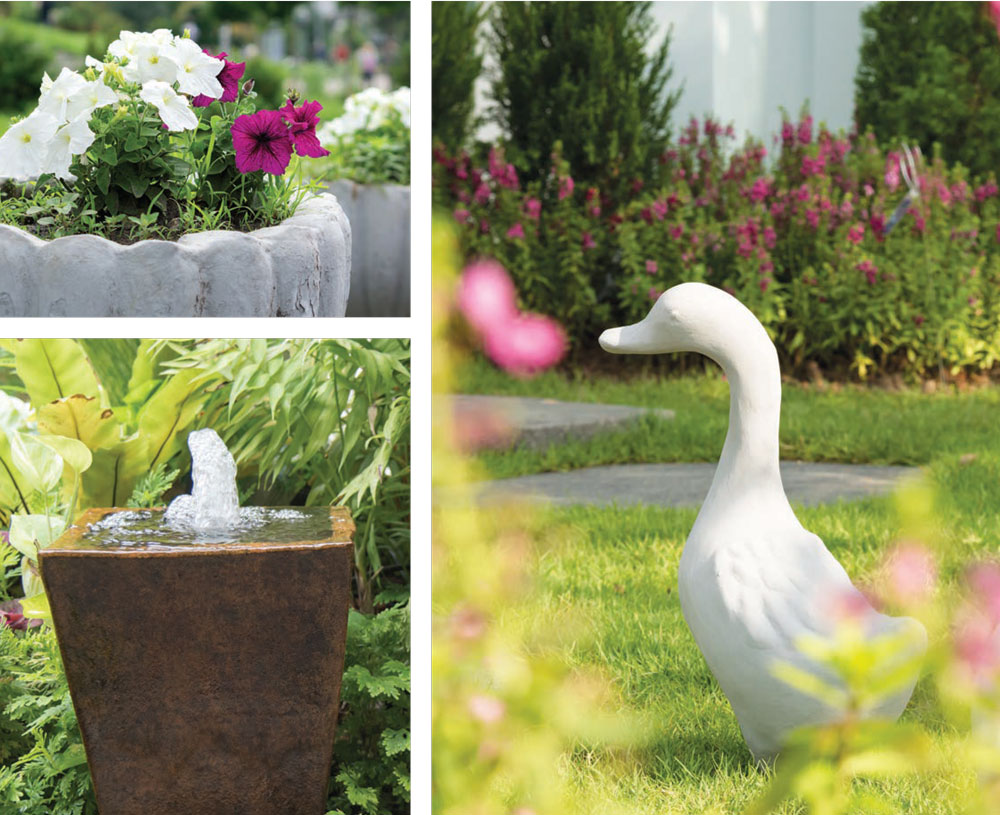 Garden art, sculptures and decorations can take your garden to the next level by centering a small garden and creating points of interest in a larger one, like a focal point in a courtyard or at the end of a path. Second, garden statues don't need to be the dramatic statement pieces we see in public gardens, nor are they limited to the classic deer and gnomes. Instead, pick what you like; a favorite animal or aesthetic can become a beloved garden art feature. You can choose a prominent piece, like a classical bust to bring some contrast to a group of evergreen shrubs or a pair of sitting dogs to add some personality to an entrance; or something more understated, like a small concrete rabbit climbing into a planter pot or some dragonfly-topped iron plant supports that are both practical and add interest to a flower bed or herb garden.
Another great place for garden art is around a water feature. For a naturalistic touch, add statues of animals and birds that naturally drink from the pond, such as a concrete turtle or bronze heron. To add a bit more whimsy, consider a statue fountain, like a stone fish or a lion with water coming out of its mouth. If you're looking for a simpler, quieter feature, start with a small pond or fountain and then branch out as you see fit, adding rocks, plants and koi or goldfish. If you do want to add fish, remember to add them last, since living in a construction site may disturb them.
Water features provide a unique opportunity to add water plants to your garden, such as water hyacinth, pickerel and, of course, water lilies. Adding plants at the sides of your pond or fountain is also an option and, though mosquitoes do not breed in moving water as easily, you may also want to add some mosquito repellent plants like Ceylon citronella grass, geraniums, lemon balm, lavender, marigolds, catnip, rosemary and allium. But remember, citronella, marigolds and geraniums are toxic for pets, so be sure it grows in an area your pet cannot reach.
With warm summer days ahead, now is the time to spruce up your outdoor space. Getting creative in your garden isn't much different from getting creative inside — just make your space suit your needs and desires! ✦
garden, garden art, garden design, garden space, garden statues, Lawn, outdoor décor, raised garden beds, screen, Secret Garden