Kitchen Confidential | Cabinets for Every Budget and Style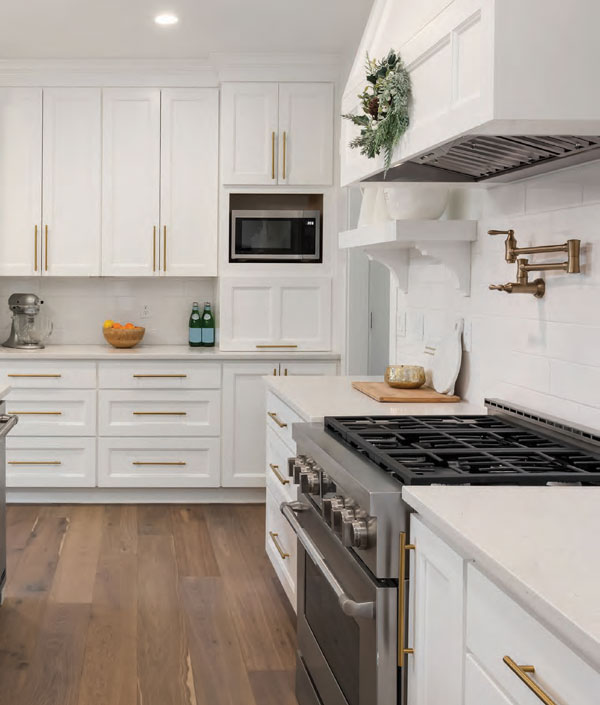 At the heart of the home, the kitchen is where food is abundant and memories are made, where friends and family are welcomed to gather, nourish and linger. To complete a new kitchen project with hospitality, efficiency and economy in mind, the design and construction decisions that must be made can be daunting.



Whether contemplating a partial or complete kitchen remodel, or a new build altogether, cabinet materials and customization choices are among the most crucial to the project's success. Cabinetry design is central to the aura of the finished room and choices made around their design and construction will likely have the greatest impact on the budget.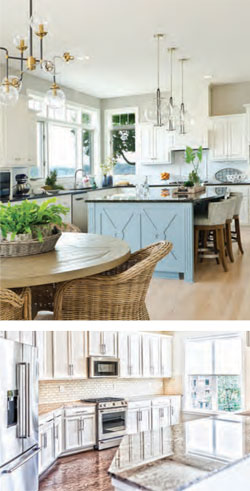 "I think a kitchen should reflect the style of the people who live there [in the home]," says Theresa Dorlini, an interior designer with Circle Design Studio in Roanoke. Dorlini says her firm does an extensive interview with the client before a new build or remodel, to guide clients away from passing fads they'll tire of in a few years. "If the pictures someone shows me are wildly different from the design and style of the current home, I try to figure out if we're going in the right direction."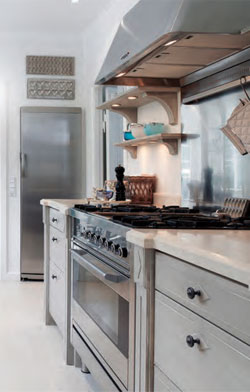 While HGTV and Pinterest flood our feeds with great kitchen ideas, it can be easy to fall into the trap of buying into the latest trends. Sure, the Joanna Gaines-inspired farmhouse kitchen looks fabulous on Houzz, but how will that shiplap backsplash look in the kitchen ten years from now? Whether your ultimate aim is to enjoy this kitchen forever, or to build one with appeal to potential buyers should it be time to move on, a better plan is to opt for a design that will hold its style, keeping it classy for the long haul.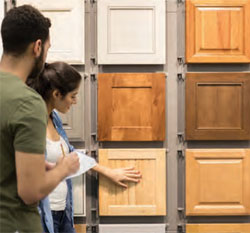 Don't be overwhelmed by the dizzying array of cabinet materials and products on the market; if terms like "laminate", "stock" and "semi-custom" are outside your daily vocabulary, we'll deliver the straight talk. Regardless of budget constraints, we'll show you how to create a kitchen with staying power—one you'll love for a good, long time, regardless of trends and fads.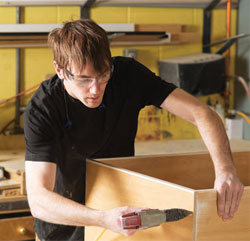 Stock options
Stock cabinets are ones that come in "stocked" sizes—so there is little to no customization available. This was more of an issue when reigning kitchen style dictated that every nook and cranny must be fitted with cabinetry, but today's open floorplans allow stock cabinets to function more intentionally. In an open kitchen design, if a stock cabinet doesn't feel quite right for the space, many homeowners and design partners opt instead for open shelving—a stylish and practical option that delivers real cost savings. Most kitchen designers and cabinetry showrooms offer a la carte upgrades for their lower-end cabinet lines; some companies offer the option of adding a few pieces from a semi-custom line which can give a stock kitchen a bit more pizzazz.
Don't lose heart if your budget is at rock bottom! Head for local big-box home centers like Lowes and Home Depot and find out when their big cabinetry sales are. Substantial cost savings during those events can be well worth a schedule plan-around. Homeowners across the board are opting for the bright white kitchen design currently on-trend; there are smart options to be found that won't break the bank. Rather than ordering painted wood cabinets, for instance, look at more economical materials like Thermofoil, melamine and other laminate finishes that deliver a clean, white look at a fraction of the cost. If wood is a non-negotiable, don't lose heart: painted oak is an option, is less expensive than other woods and shows the grain through paint.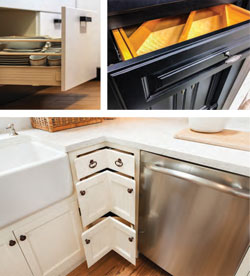 If budgetary constraints are front and center, there are online sources that offer affordable cabinetry options along with, in some cases, proprietary design software available for download. You will likely lose the personalized attention and counsel of local sources, but the investment of time and travel may drastically affect the bottom line. Don't discount, however, the value of working with local cabinet showrooms and architecture/design firms. Local professionals are often more able to direct time and attention to your project than designers at big box stores. Further, with the benefit of a local professional's creativity and expertise, you may well end up surprised and delighted with a plan you couldn't possibly dream up yourself, that addresses concerns around design, desire and cost.
Semi-custom and custom cabinets
"Semi-custom is the most popular with our customers, because it costs about 25 to 50 percent less than custom, but still gives lots of options," says Tom Ayres, manager of The Cabinet Gallery in Hardy. With semi-custom, says Ayers, a customer can still decide to splurge in an area or two, without full customization costs which can quickly swallow the budget.
Across the board, semi-custom cabinetry is the most common choice of renovators and designers; it costs 25 to 50 percent less than custom and offers leeway for creative options—upgrades and splurges in an area or two—without full customization costs that can sink a project fast. Both semi-custom and custom cabinetry offer numerous opportunities for creative functionality. If this is the chosen route, taking time to shop around will prove worthwhile, as will asking design and product professionals outright how you can save money.
"Drawer use is more common and we recommend them because they are easier to get into than digging around in cabinets," says Ayers. When cabinets are used instead of drawers, they often have rolling shelves that pull out for easy access, says Ayers, who notes that customers are generally cost-conscious and expect more than in previous generations. In response, cabinet companies have expanded product lines and many offer product levels of "good", "better" and "best" within the same company. Again, it pays to shop prices to achieve that great-looking kitchen at the best possible price.
---
TURNING TRENDS
Put a Twist on Current Styles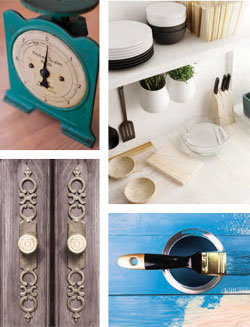 TREND: White perimeter cabinets with a contrasting island Try this: Opt for color throughout the kitchen. Does a blue kitchen suit you? Go for it! Try an all-white kitchen with contrasting countertop on the island, or a tuxedo kitchen with darker lower cabinets and lighter uppers. The contrast doesn't have to be stark; varying just a few shades will do the trick.
TREND: Farmhouse style
Try this: Avoid distressed or beadboard cabinets that scream farmhouse. Instead, opt for the clean lines of white Shaker cabinets. Layer accessories—antique signs on the wall or a vintage scale on the island. These things can be traded out later for a for a more modern look.
TREND: Open shelving
Try this: If you're not committed to open shelving everywhere, give it a try it in one area, maybe near the breakfast nook, in a butler's pantry, or along one wall. You'll still have closed shelving to hide what isn't display-worthy.
Trend: Glass-front cabinet doors
Try this: Light up glass-front cabinets from inside, with new LED strip lighting that doesn't get hot, so streamlined that it can fit almost anywhere. Since you're already showing off what's behind glass, light it up for extra oomph.
Trend: Gray cabinets (or blue, or green)
Try this: There's no doubt that gray rules the day, but give it your own spin by warming it up with burnished brass or gold hardware. Also consider green or blue cabinets, which are making their way into fashion-forward kitchens.
---
Trend forecast
Kitchen designers across central and southwest Virginia agree that white kitchens are in demand and on trend. While a white kitchen is always classic, the shade of white in demand now has very little pigment—just enough to cover' and looks cleaner and brighter white than higher-pigmented, creamier shades. While 10 to 15 years ago those creamy whites, or white with a layered glaze, were in high demand, those shades now look dated. Distressed and antiqued cabinets are also on the way out, by the way, unless the look is particularly suited to the style or history of the house—say, a log cabin in the woods.
Shaker and flat front cabinets are more current than raised-panel and ornate designs; even very traditional homes are settling on more transitionalstyle kitchens, with cleaner lines and less flair. The good news? "Many of our customers cite choosing Shaker because it is easier to clean and care for," notes Ayers. Dorlini also likes the Shaker and flat front styles and says homeowners looking to stay trend-neutral can't go wrong with either of these choices.
Popular in Europe is the flat front cabinet with a high shine, melamine finish, available in many colors and even patterns—wood grain, for example—offering durability and a sleek, utilitarian look. Along that vein, look for tophinge hardware on upper cabinets to grow in popularity, especially in modern-leaning communities.
As kitchen islands deliver splashier color, look for appliances and wall coverings to follow, as homeowners become bolder with color throughout the kitchen. Many cabinet makers will match any shade from Sherwin-Williams or Benjamin Moore, so color choices are limitless.
Popular in Europe is the flat front cabinet with a high shine, melamine finish, available in many colors and even patterns—wood grain, for example— offering durability and a sleek, utilitarian look. Along that vein, look for top-hinge hardware on upper cabinets to grow in popularity, especially in modern-leaning communities.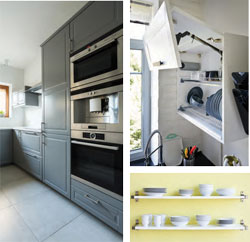 Taking its cue from professional and restaurant kitchens, open shelving, whether bracketed or floating, has come into demand and offers versatility, storing everyday dishes in busy family kitchens or displaying pretty cookware, artwork, cookbooks and decor. In home kitchens both traditional and modern, open shelving can work within almost any decor scheme.
If a new kitchen is on the horizon for you, set your budget first. For inspiration, look to your childhood kitchen, your favorite restaurants, magazines and web sites; better yet, use them all. Think about your style and lifestyle: do you need workhorse cabinets for a large and busy family, or are you an empty nester who can choose style over durability? Talk to several kitchen design professionals, then choose the one who makes you feel comfortable and understands your vision. Above all, buy what you love, not what you think will please others. Take time to work through the process and let your vision guide you. ✦
Cabinetry design, Features, kitchen cabinets, laminate, semi-custom, stock, Stock cabinets