Bathing Beauties | A 21St Century Revival for Three Master Baths


Photography by Jared Hall
The master bath is usually a full bath located in or near the master bedroom and generally designed exclusively for the use of one or two people. It is a functional space that many homeowners have come to think of as de rigueur in new construction and necessary addition to renovations of older homes. The renovation of a master bathroom is the most popular project on most homeowners' wish lists. A master bath incorporates the usual components of bathrooms everywhere but has enjoyed special attention in recent years, as one area of the home where luxury can be integrated on a smaller, more wallet-friendly scale and enjoyed on a daily basis.
It's true that renovated master baths can increase the value of a home, but they also improve the function of a room that receives daily use. Perhaps because of this, a thoughtfully updated master bath can deliver a circadian sense of contentment, even relaxation, that is the hallmark of well-designed spaces. A well-designed renovation was the goal in fact, for three builders in the Roanoke Valley recently, as they worked with area homeowners to design and remodel dated master baths in older homes creating new spaces that are as beautiful as they are functional.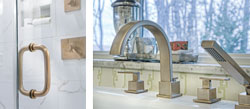 A facelift for an 80s bathroom
Moving to a sprawling mid-century ranchstyle home with stunning views of the Roanoke Valley was a logical next step for the Carters, now empty-nesters. The home was solidly built but hadn't been remodeled in decades, so Meg immediately called builder Rob Schroeder of RJS Builders. Meg and Rob had collaborated on several successful projects in the past, so Meg was confident that together they could design and plan a renovation that would both update and transform master bath space.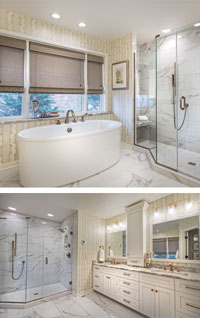 Thankfully the sizeable existing master bath had a footprint that worked for the Carters, but its last renovation had been in the 1980s. "The master bath really needed a facelift," explains Meg, "It was a great layout, but the circa 1980s décor and fixtures felt a bit dated. We wanted to update the colors and finishes. We'd worked with Rob on other projects and knew he understood what we were hoping to accomplish," says Meg.
Because the footprint of the bathroom was still functional, it meant that all sinks, shower, tub and toilet could be replaced without having to redo the plumbing. "We pretty much gutted the room;" says Rob, "removing the old tile and the platform tub and choosing a porcelain tile with the look of Carrara marble for the floors and shower and a free- standing soaker tub." Meg, who loves the clean look of Carrara, opted for the porcelain tile look-alike because of the myriad of warnings she'd heard about the upkeep of marble and other porous surfaces, especially in a bathroom. The one exception was the vanity top. "I saw this piece of marble with very subtle pale green and blue veining and just fell in love," laughs Meg, "It married perfectly with the wallpaper I'd chosen for the master bath and the colors in my master bedroom. I just had to have it!" The vanity surface has a "leathered" finish, which compliments Meg's hardware selections in a unique bronze-gold finish.
According to Meg and Rob, the process moved seamlessly from the demo, through construction and finishing and was completed in about three and a half weeks. They both cite good communication and careful planning as key to their success. "This project went so smoothly at least in part because we had all the details and material selections ironed out before starting," Rob reflects, "I've learned that this makes a project run so much better—it also helps clients to know the actual cost prior to starting."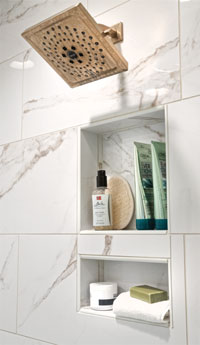 Even still, no project is without its challenges. For instance, Meg found that the door to the water closet banged into the bathroom door when it was opened and after discussing with Rob, they opted to replace the solid door with a bifold door. This turned out to be an ingenious solution. "The bifold door works so much better," says Meg, "and we got extra space out of that change which we used for a cabinet that now houses linens and a hamper for dry cleaning."
Rob is proud that the Carters are so pleased with the finished product. "Even with almost twenty years in construction, helping people bring their vision to reality, its always a great feeling when our customers are so satisfied," he says. The homeowners were grateful for the well-enforced start and end date, the attention to detail and the care with which RJS Builders demonstrated during bath remodel. When asked about her favorite feature of the new bath, Meg replies with no hesitation whatsoever, "Oh definitely the heated floors! Its the most heavenly feeling to walk into the bathroom on a chilly morning and feel that lovely radiant heat." Rob Schroeder credits sound design and meticulous attention to detail in planning and execution to the success of a project like this. "We're proud to have another happy customer," he says, "oh and the heated seat in the shower isn't bad either."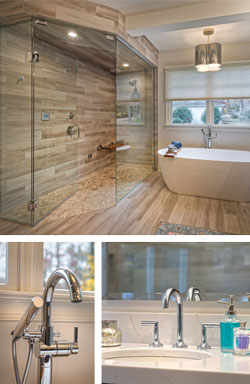 From average to awesome in eight weeks
Walt Derey, President of Pitman Construction, has done his share of bath remodels, but when doing work for friends, it can sometimes be stressful. Fortunately for Walt, the clients who called him seeking a bath remodel in their early 20th century home, about a year ago, were not only friends, they'd also been clients before. "We'd already done their kitchen and another bathroom for them, so we were pleased to be going in to help them with the master bath," says Walt.
It was, as he describes, a pretty average master bath that had been remodeled in the late 1990s, but it felt a little tired and had a built-in closet that took up a lot of space and made the room feel broken up and cramped. "The clients wanted to remodel the bathroom to 'live big,'" he explains, "Meaning they wanted their master bath to feel larger even if we weren't adding any square footage. They loved a sleek, transitional look and wanted that contemporary feel in their master bath." So Walt began to work on a design that would open up the room and give the couple the space they'd dreamed of.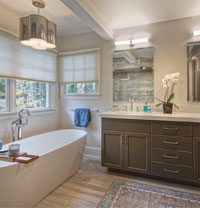 "These clients are athletic and the husband had his heart set on a spacious walk-in shower with a steam unit," Walt recalls, "She loved the idea of a soaking tub. So our challenge was how to give them the things they wanted but prevent the space feeling jammed-in." Another challenge was working in an old house."We do a lot of work on these old homes," Walt chuckles, "They're like a hundred years old, or close and the walls aren't plumb and the floors aren't perfectly level. Yeah, they're definitely a challenge when you're trying to lay tile or install cabinetry."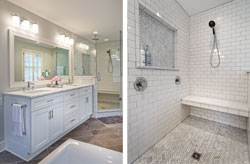 About two months after work began, Walt's clients had a master bath that they loved. The flooring and walls are rectangular ceramic wood-look tiles, which give the room a sleek, linear look while the wood-tones of the tile give the room a more rustic, warm feel. The shower itself is a "no-step" walk-in shower and the custom glass surround goes all the way to the ceiling to keep the steam in when it's operating in steam bath mode. The flooring is an intricate herringbone pattern and there are two separate shower heads and a sleek wooden flip-down bench.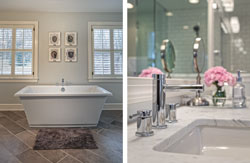 The soaker tub was positioned as the focal point beneath the window and the clients purchased a stunning metallic hanging light above. "I give them a lot of credit for the lighting," says Walt, "They have great taste and it turned out great." To accomplish the goal of "living big" in the new bathroom, Walt and his team removed the old framed in closet, replacing it with a space-saving floor to ceiling custom cabinet armoire that matched the quartztopped dark wood vanity. "I couldn't leave them with no storage," says Walt, "so the armoire gave them a place to put linens and such. It was also a handy place for us to locate the steam unit since it needed to be close to the shower."
The finished product is a design triumph. A sleek and contemporary space that indeed feels much bigger than it is. Walt is especially pleased with the way the shower came out. With the steam feature, the dual shower heads, the bench and the no step entry, the job required all the expertise of the four-decade-old business and it came out beautifully. "It's a great looking master bath," says Walt, "It's one of my favorites we've done."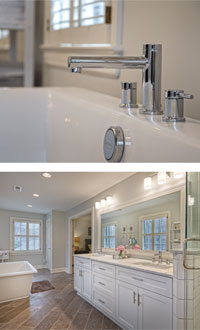 Transformation: small to spacious
Jennifer and Luke Carignan, young professionals who relocated to Roanoke a couple of years ago, purchased a home in the Edge Hill neighborhood. Jennifer and Luke loved the spacious home after years of cramped living in Chicago and Washington, D.C., reveling in their large master bedroom and space for their Staffordshire terriers to run. The one thing they felt the home needed, was updated bathrooms—the master bath in particular. They called Jack Hamlin, owner of Hamlin Builders for help renovating the small "vintage" master bath attached to their master bedroom. Complete with baby-blue tiled walls, shower and floors, a single pedestal sink and a bathtub awkwardly tucked in next to the shower, the master bath was like stepping back in time to the mid 20th century. The Carignans felt the master bath was ready for some updating.
When Jack Hamlin first laid eyes on Jennifer and Luke Carignan's master bedroom, he thought it was the largest master he'd ever seen. The attached master bath? Not so much. "So I floated an idea," recalls Jack, "What if we take some square footage from the master bedroom to enlarge the master bath?" He began to design a bath that would annex approximately 200 square feet from the master bedroom and enlarge the bathroom by almost two-thirds. The Carignans loved the idea of a bigger master bath but were concerned about losing the natural light that flooded the bedroom through several large windows along the back of the house—just the area that Jack proposed annexing.
"I was concerned about making our bedroom feel dark," explains Jennifer, "and I wanted to preserve the beautiful natural light, so it was really fortunate that we came upon a solution: a wide doorway and glass french doors." The french doors meant that all the natural light flooded straight through the master bath and illuminated the bedroom as well.
There were challenges of course, such as the functional radiant heating system in the ceiling which had to be drained and disconnected in order to install cup lighting. Both the Carignans and Jack worried that given the size of the bath and the simple palette of grey and subway tile for the walls, the large expanses of taupe rectangular tile, would feel cavernous. Jack designed a 30 square foot tiled shower with custom glass surround and Carrara marble tile floor and nook laid in a herringbone pattern, which took up a lot of space and set the flooring tiles on a 45-degree angle to help to break up some of the lines visually. The vanity is custom made and also covered in Carrara with his and hers drop-in sinks.
Even though many homeowners are forgoing the traditional bathtub in favor of larger showers, Jennifer was unwilling to part with the idea of a tub. "I'm generally a bath person," she explains, "I prefer a bath to a shower." Since space was no longer an issue, Hamlin ordered her a large soaking tub, which he placed underneath the bank of windows. When viewed from the master bedroom through the french doors this creates a stunning focal point for this beautiful master bath.
"That view from the master bedroom of the dramatic soaker tub framed by a bank of windows, is exceptional," says Jack, "We worked hard to get that design just right and I am very proud of it." Jennifer and Luke are too. "A project like this takes great communication and flexibility and it's important to have a builder who listens," cautions Jennifer, "Its important to remember that you can see all kinds of things on TV, but its worth it to take the time to find a builder who is creative but also realistic about your project, who can give you sound advice on where to try to save and where not to and most importantly who you feel has your best interest in mind. We were fortunate to have found that."
A master bathroom can be a bland, utilitarian room used in a purely functional way, or it can be envisioned as a personal oasis of calm and even luxury amidst the bustle of a busy household. Through careful collaboration, patience and compromise these fortunate Roanoke homeowners now have a space that can best be described as the latter. They've created a personal space that meets their needs, showcases their tastes and gives them the gift of beauty and functionality on a daily basis and will continue to do so for years to come. ✦
bifold door, Carrara marble, ceramic wood-look tiles, Features, free-standing soaker tub, full bath, master bath, mid-century ranchstyle, porcelain tile, porous surfaces, renovated master baths, Renovation, rustic