Island Time | What's Trending in the Modern Kitchen's Hardest-Working Space
A peninsula once reigned queen, until the island took over. No, we aren't talking about the hottest vacation destinations, but the star of the modern kitchen. A peninsula—that bank of cabinets jutting out from the wall with three sides for seating and storage—gained popularity in the 1970s and beyond. However, they have all but disappeared in favor of the freestanding island—which has had enduring power in kitchen design.
"Almost everyone who comes to us wants an island," says Lara Lee, a designer with Ideal Cabinets Design Studio in Roanoke. "The floor plan dictates whether there is adequate space, but in kitchen remodels we are often taking out peninsulas, and adding an island because the flow is better. You don't have that dead space in the corner."
An island allows the homeowner to engage with others while meal prepping, cooking or entertaining, and as the open floor plan soared in popularity, the kitchen island solved a very real problem: a lack of wall space. Without walls to anchor cabinets, the free-floating island created more counter space, as well as a casual seating area and storage for pots, pans and other kitchen necessities. It also delineates the kitchen space from a living or dining area in a large, open room.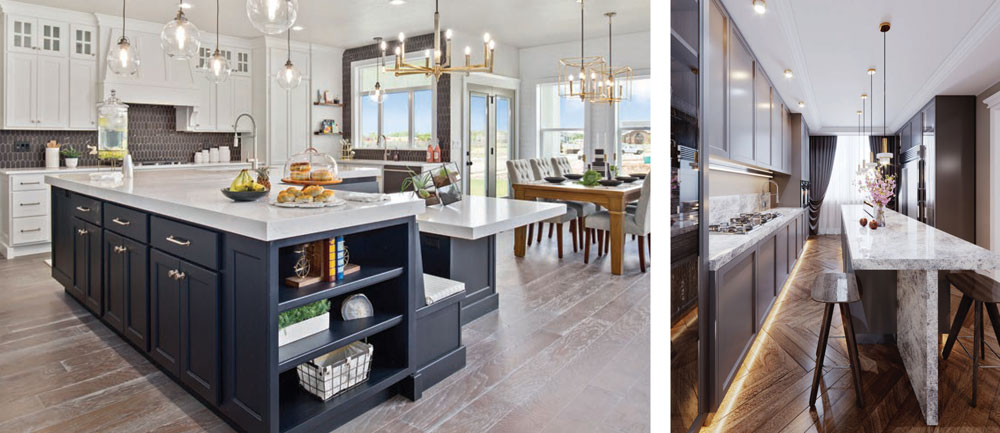 Island shapes and sizes
For the past several years, large open floor plans have been sometimes outfitted with not one, but two islands. In this layout, says Lee, one is often a working island, and one is used for entertaining and seating. "Sometimes it's not feasible to put in one huge island and two work better, and sometimes people don't want a seam in a countertop for a very large island so they prefer two smaller ones," Lee notes.
Whether a double island or single island, the overwhelmingly popular choice is a rectangular shape, with a single height countertop. More homeowners are requesting designs that allow for seating on multiple sides so diners can face each other, more like they would at a table. Islands are also taking over as the primary spot for casual eating, as some newer floor plans are opting to get rid of the kitchen table, and have island seating in the kitchen and a separate formal dining room.
In smaller, older homes undergoing a kitchen renovation, space may be at a premium, but a small island can still provide much-needed additional counter space and storage, as well as an opportunity to work in design elements, such as over-the-island pendant lighting. Even if the island is small, sometimes a small counter overhang can be added to one side for a single seat, which can function as a perch for a cup of coffee, quick lunch or for checking email. Whether a kitchen is spacious or space challenged, most still allow for an island, which can be mighty in terms of function, even if its size is mini.
What colors are trending for islands?
Alicia Smith, interior designer and director of marketing and development with F+S Building Innovations in Roanoke, has noticed that clients have become more adventurous in kitchen design. "I definitely see much more of a willingness to mix it up, using butcher block or custom rustic wood counters on islands, or waterfall edges," says Smith. Waterfall edges are when the countertop material extends down the sides of the island to meet the floor. While this was once a very modern look, Smith says she's integrated it into more transitional and traditional spaces with success.
Clients are craving blues and greens for islands, says Smith, and this covers the spectrum, from deep navy hues to barely there grayish blues, and pastel greens to brighter tones that pop. "I think after so much gray in design in the last several years, people are craving color," Smith says.
Oak has also come back in a big way, but with a much different treatment than the heavily lacquered, mid-tone oak of the 1980s, says Lee. The style is rustic, with the visible grains inherent in the wood species, but the simple Shaker style and flat-front cabinets with a matte finish create a modern look.
"I just finished up a large kitchen and we did the entire thing in two different finishes of white oak," says Lee. "There are some wonderful trends coming in with oak."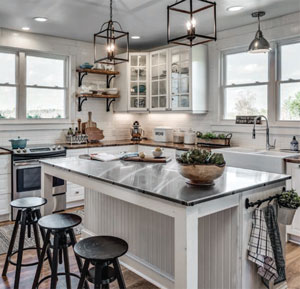 Painted white cabinetry has been the look du jour for some time, and the classic white kitchen will always have a place, say designers. But even white kitchens are mixing in wood elements, and more eclectic styles with open shelving and a more collected, curated feel—as though the kitchen has been added to over time, instead of installed all at once. As this trend evolves, one thing that has been steadily disappearing are wall cabinets, in favor of a mix of open shelves, dramatic backsplashes and even art displays. As wall cabinets disappear, an island's proper functionality becomes even more vital.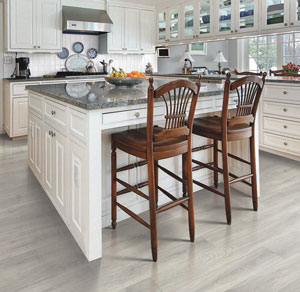 Island function and features
As kitchen design migrates to fewer wall cabinets, more is being asked of the island workhorse, like holding dishes and housing appliances. If wall cabinets disappear, there must be specialty drawers installed for holding everyday dishes. These drawers have dividers that fit dishes sturdily, and well. For longevity, quality cabinetry should be employed in the island if drawers are to hold heavy dishware, says Lee.
Smith likes to incorporate roll-out appliance storage in the island that hides away heavy appliances, like a Kitchen Aid mixer. "Some of these appliances are used a lot but they are cumbersome to carry, and if you don't want it to live on the counter, then something that hides away is great," she says.
As the island has become a kitchen staple, compatible appliances suited for island life have become popular. Refrigerator drawers, ovens, warming drawers, wine and beverage fridges and the microwave drawer are all available choices. If a sink is in the island, a dishwasher should be as well, and some homeowners with large families or who are frequent entertainers opt for double dishwashers, or a mix of a full-sized dishwasher and a dishwasher drawer.
For the avid cookbook collector, shelving can be housed in the island for open, accessible storage, or can be used for displaying photos or pottery. If you plan to plug in small appliances, or work at the island on a laptop, outlet placement should be carefully considered. Many designers like to tuck them in the seating area, just under the countertop so they aren't visible. If charging electronics will happen in the kitchen, a hidden charging station in the island hides messy cords.

Countertops cover the gamut
There are more kitchen countertop choices than ever now, including natural materials like wood, soapstone, quartzite, granite and marble, to man-made quartz, stainless steel and concrete. To add to the carousel of choices, many surfaces can be shiny or honed for a dull finish, and granite can be leathered for texture. The edge profile of the counter can be squared or rounded, or finished in a more decorative profile, though these have fallen out of favor in recent years. While standard countertops are typically ¾ inch to 1 ¼ inch, a thicker, square-cut countertop on the island can make a statement. Going thicker grounds the space and lends dramatic heft, especially in a room with high ceilings.
A countertop material that is popular right now is a wood top, such as walnut. And if you're wondering—yes, it can be used on an island with a sink, as long as the wood is properly treated. If that seems strange, it might help to remember that all boats were once built of wood, notes Lee, so wood can beautifully withstand moisture when it is properly maintained. A wood top can lend a warmth that stone cannot, and can look beautiful contrasted with stone tops on the perimeter.
If you are looking to avoid countertops that will look dated in a few years, steer away from very popular granites at big box stores, and look to quartz or quartzite.
In addition to your surface material, there are many things to consider when planning your kitchen island so that form and function are married in a pleasing design that works hard, and well. "A kitchen designer should ask you a lot of questions about how you use your kitchen," says Lee. "The designer needs to understand who you are, and what you need. It used to be that the work triangle dictated everything, and while it's important, the way the individual or family uses the space is also important." ✦
butcher block, casual eating, concrete, edge profile, Granite, Islands, L-shaped island, man-made quartz, marble, open floor plans, Quartzite, rectangular shape island, shelving, Soapstone, specialty drawers, Stainless steel, walnut, waterfall edge, Wood, wood counters