Historic Garden Week | Celebrate the Spring Garden
After a Covid-caused cancellation of the tour in 2020, Historic Garden Week in Virginia's Roanoke tour returns on Saturday, April 24 with a timely, exclusive emphasis on exterior living spaces and gardens. Locally planned and hosted by Roanoke Valley Garden Club and Mill Mountain Garden Club under the guidance of the Garden Club of Virginia, the 2021 tour features an early-spring collection of seven private gardens in the neighborhoods that dot the foot of Mill Mountain. A bonus eighth garden: the newly renovated and completely overhauled Mill Mountain Wildflower Garden.
Proceeds from Historic Garden Week fund restoration and preservation of historic public gardens in Virginia and provide graduate level research fellowships and a Garden Club of Virginia Centennial project with Virginia State Parks.
Advance tickets are limited and available online only at www. vagardenweek.org for $25 per person. For more information, contact roanoke@vagardenweek.org.
---
THE GARDENER'S GARDEN
2702 Crystal Spring Avenue. Walk through the ornate iron gate of this circa 1905 farmhouse and discover a feast for the eyes and tastebuds with dozens of native cultivars and plants to attract pollinators. While it appears to be well-established and years in the making, the master gardener who lives here recently transplanted the extensive collection from her previous garden. Raspberries, strawberries and blackberries mingle with old-fashioned daphne, lilacs and primroses. This is a sensory garden where the owners enjoy picking and eating right off of the plant or one of the fruit vines, often planning meals around the fresh produce and sharing the bounty with lucky neighbors and passersby. Teresa and Bob Blecksmith, owners.
---
CLASSIC COTTAGE GARDEN
3716 Heatherton Drive. Stone steps lead into a tranquil cottage garden and onto the back deck. Wrought iron furniture and stone benches provide inviting spots to relax among the hydrangeas and boxwoods. Statuary and ceramic pots of annuals are placed artfully throughout the garden. An Asian pagoda, given to the gardener by her mother, sits beside one of several fountains and is a testament to her love of chinoiserie. Arborvitae line a tall stone wall that encircles the back lawn and adjoins an uphill garden where an antique arbor, built by the gardener's husband, stands atop the terracing. Lacey and Keene Varner, owners.
---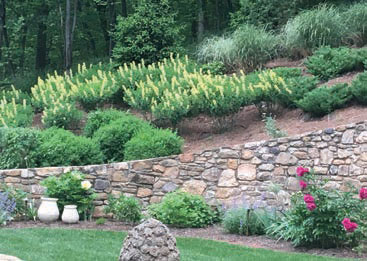 THE TERRACED TRADITIONAL GARDEN 301 Willow Oak Drive. Through an arched trellis entry, a lush green lawn and manicured levels of a terraced garden are revealed in this traditional garden that cleverly takes advantage of an extensive side yard. Hundreds of spring bulbs flower in wide beds alongside ferns, hostas and boxwood. Special features include espaliered Little Gem magnolia trees and various azaleas, hydrangeas and peonies. Native grasses and cherry laurel grow near a trompe l'oeil arbor on a tall stone wall. Take your pick of outdoor rooms with wooden swings, chairs, and a covered patio with a stone fireplace for socializing or relaxing. Julie and Ab Boxley, owners.
---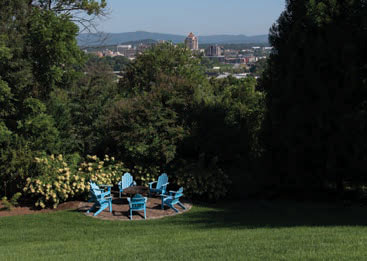 GARDEN WITH A VIEW 1325 Ivy Street. Stone steps flanked with oakleaf hydrangeas and skimmia japonica shrubs lead down into this garden with sweeping views of the city and the mountains to the north. While the front of the property faces up toward the Mill Mountain Star, the lawn behind the house opens to a spacious backyard surrounded by mature oaks, dogwoods, maples and majestic evergreens. Cherry laurels, hostas, hellebores, ferns and nine varieties of hydrangeas bloom in this full-sun garden. A fire pit, surrounded by Adirondack chairs, offers a spot to unwind any time of the day or evening. A potting bench is tucked behind the lower stone patio. Cindy and Tom Mohr, owners.
---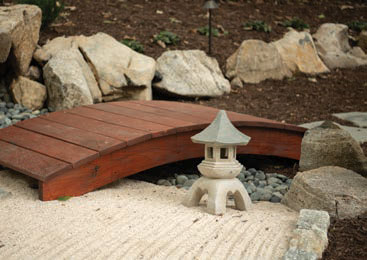 ZEN GARDEN
3517 Wellington Drive. A sense of serenity pervades this garden in Wellington where the owners have, in a single year, transformed a basketball court and children's play area into a gracious space for entertaining, relaxing and meditation. Extensive outdoor hardscaping includes a dry-stacked stone fireplace and slate patio complete with an outdoor kitchen. Plantings to attract pollinators include weeping cherry, creeping phlox, butterfly mint and red trumpet. Uphill, the yard features a unique, custom-designed Zen garden conceived after a trip to Kyoto, Japan. Amanda and Nick Marko, owners.
---
SHADE GARDEN CHIC
2812 Rosalind Avenue. The picturesque cottage at the corner of Rosalind and 29th Street is a shade gardener's haven. Follow the winding stone pathway through specimen plants indigenous to Southwestern Virginia and laid out with an artist's eye under a grand beech; overlapping textures of fern, coral bells, heucherella, astilbe and Lenten rose fill this woodland-style garden. A shaded patio with a fountain overlooks a 60-year-old magnolia tree, a potting corner, and a sunny perennial garden planted to attract a multitude of pollinators. The home boasts one of Virginia's famous "serpentine walls" planted with climbing hydrangea, camellias and multiple spring bulbs. Joyce Cline Jaeger, owner.
---
THE NATURAL HABITAT
3417 Wellington Drive. Designed by a Master Gardener, this extensive garden combines gracious outdoor living and dining areas for relaxing or entertaining with wildlife, bird and pollinator-friendly plantings. Spring-flowering trees, shrubs and bulbs abound with a focus on native plants and sustainable gardening practices. Highlights include a custom "pondless waterfall," a serenely private stone courtyard, home to the owner's extensive collection of exotic orchids which range from dollhouse-sized to giant, and a rain garden constructed to control erosion and run-off. This garden has received the National Wildlife Federation's Certified Wildlife Habitat distinction. Cyndy and Brian Unwin, owners.
---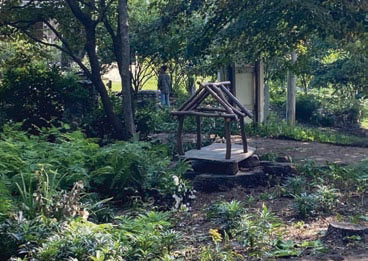 MILL MOUNTAIN WILDFLOWER GARDEN
Mill Mountain Park. Fifty years ago, members of the Mill Mountain Garden Club conceived a plan to adorn the two acres of paths leading to Mill Mountain Zoo with a native wildflower garden. Today, the latest generation of club members has undertaken the restoration of this community gift by reimagining the trail system, restoring the large pond and waterfall, removing invasive, non-native species of plants, and planting an infusion of native trees and plants. Visitors will appreciate daffodils, snowdrops and lily of the valley as they stroll through newly designed ADA-compliant pathways. Rhododendron and dogwood abound in this woodland garden that members hope will inspire horticultural education, conservation, and appreciation of Southwest Virginia's native plants. ✦
1905 farmhouse, CLASSIC COTTAGE GARDEN, dry-stacked stone fireplace, GARDEN WITH A VIEW, Hardscaping, Little Gem magnolia trees, master gardener, Mill Mountain Garden Club, Mill Mountain Star, mill mountain wildflower garden, National Wildlife Federation's Certified Wildlife Habitat, native cultivars, SHADE GARDEN CHIC, Southwestern Virginia, THE GARDENER'S GARDEN, THE NATURAL HABITAT, THE TERRACED TRADITIONAL GARDEN, tranquil cottage garden, ZEN GARDEN