Is Your Kitchen Keeping Up?
DESIGN TRENDS FOR THE MOST COMMON UPGRADES
Our kitchens see a lot of activity every day: Besides cooking and baking, there are school projects, coffee visits with neighbors, family game nights, working remotely and the constant coming and going of little hands snatching snacks. Kitchens are truly the hub of our homes, and for that reason, they see more upgrades than perhaps any other room.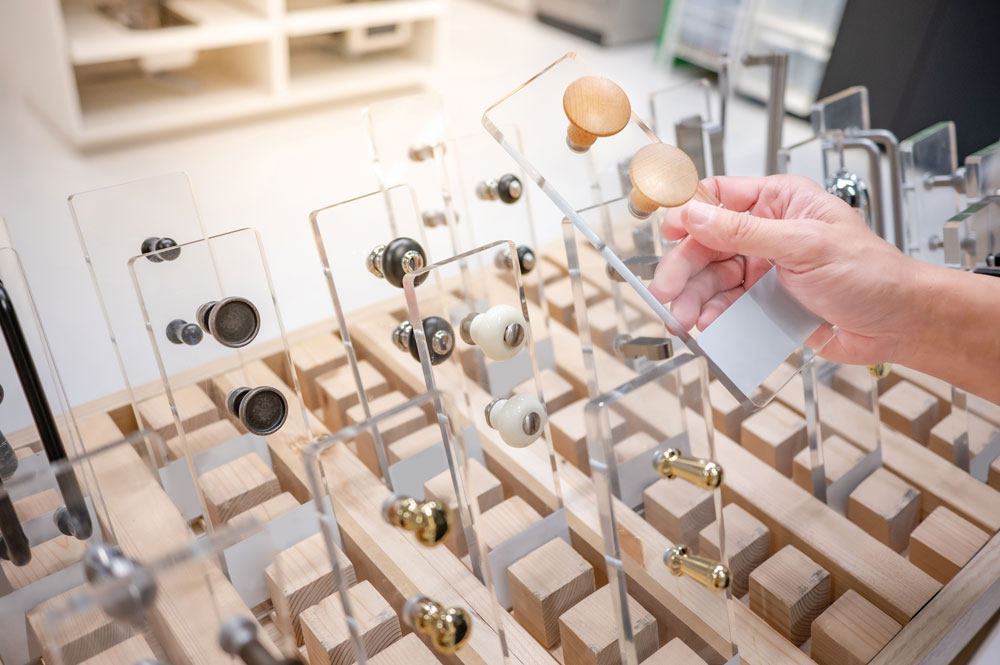 Whether you opt for a subtle hardware switch-up, a cabinet facelift or new appliances to bring your kitchen into the 21st century, you'll find today's trends reflect both style and function.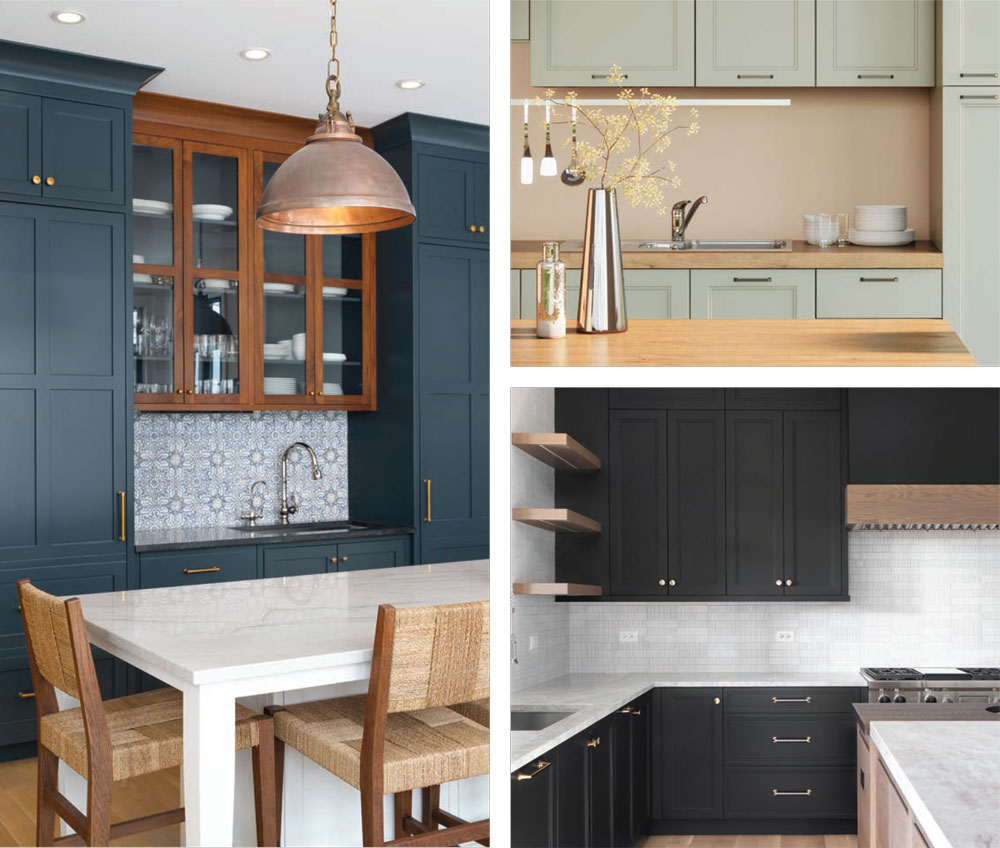 Cabinetry
When most homeowners start thinking about upgrading their kitchens, cabinets are at the top of the list. Simplistic designs seem to be taking over, with many people choosing painted cabinets, shaker style, with less interest in the natural wood cabinets of the past.
The National Kitchen + Bath Association's (NKBA) 2023 Design Trends report states that bold colors are gaining ground. The designers surveyed said they are seeing a rise in richer colors, mainly blues and greens, while white/off-white is still expected to remain the most popular neutral color.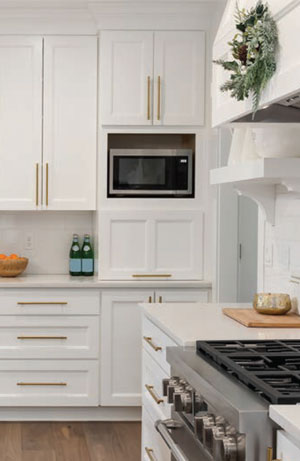 Kenneth Potter, owner of Potter Construction, which services the Roanoke Valley and Smith Mountain Lake communities, said a majority of his customers are choosing white and off-white cabinets. He said so far there has not been a resurgence of the natural wood cabinets — the oaks and cherries — though some customers have chosen to give their cabinets a facelift with a translucent wash.
"White cabinets are like the polished chrome bathroom fixture, they might not be the most popular, but they're never considered out of style either; they're always a safe bet."
Potter said when customers do request new colors for cabinetry, it's usually the neutral gray or beige, or they may do the perimeter in white but ask for the island to be painted with a light color, like a gray wash, making it the focal point of the kitchen.
Though he said the national trends haven't taken hold yet in our area, he has guided some customers who were curious if bolder colors would work in their kitchens. When a customer asked for a dark blue island in an all-white kitchen, for example, he used computer rendering software to help them visualize the change. In that particular case, the customers decided that they definitely didn't want to go that bold.
"What you're seeing in your mind may not be the same thing," he said.
But if you think you may be ready to ride the new waves of kitchen design, consider deep jewel tones, like turquoise and dark blues and greens. Some designers recommend black, which, when paired with lighter wood countertops or wood flooring can bring an earthy, organic feel to the room. Designers will tell you that black is still a neutral, and it's a fact that darker, deeper colors will certainly hide more dirt. Anyone with white cabinets knows what a chore it is to keep them clean, especially for a young family or an avid cook.
The NKBA states even areas like coffee bars — a trend in recent years — are being upgraded with new colors. Again, greens, blues and mixed wood grains bring a pop of color to a neutral kitchen.
In appliances, stainless steel is dominating, but black stainless is making its move. The black stainless is a traditional stainless but with a protective polymer coating that creates a black matte finish.
If you're looking for other ideas to keep your kitchen neutral but add some bursts of color, try switching up your décor, selecting colorful table linens, dinnerware, artwork or even mixing in colorful patterns in a tile backsplash.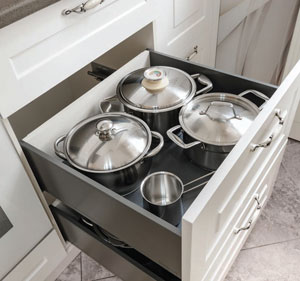 Storage
Countertop cooking appliances span a wider range today than ever before. If you've joined the craze in air fryers, electric pressure cookers, espresso machines and countertop ice makers, you know how handy they are to have around but also how they can start to clutter your kitchen.
According to the NKBA, more homeowners are preferring kitchens with an open look and feel with features to hide clutter. Some creative solutions for tucking away smaller appliances and kitchen gadgets are decorative counter boxes (larger versions of bread boxes) and appliance garages (yes, that's a real term for under-cabinet cubbies). In existing cabinets, some are choosing to box in the area between the upper cabinet and counter and install rolltop doors to create an appliance hideaway, fashioned after the old rolltop desk.
Other storage ideas for making your cookware more accessible include installing roll-out drawers in the lower cabinets and special roll-out racks for pot lids and spices. You don't have to get on your hands and knees and dig to the back of the cabinet anymore!
Some easy upgrades you can do yourself are inserting shelf risers in your cabinets and open shelves on your walls.

Backsplashes
Another idea to update the style of your kitchen without doing a major overhaul is changing the backsplash. White subway tile has taken kitchens by storm, mainly because it can go with whatever colors you use throughout your kitchen. However, durability is still key — you want a wipe-away surface for all those grease and water splashes.
Potter said tile backsplashes are trending toward larger, narrower tiles. "Subway tiles have evolved into the more updated version 3×12 instead of 3×6; it's the same way with bathroom tiles, going to a 12×24 for showers."
In countertops, the traditional granite has given way to more quartz or quartzite, in white and more natural tones, Potter said.
(Click here to see our article on countertops)
Washing up
Other popular upgrades involve installing larger sinks (especially useful for cleaning large pots and pans) and hands-free faucets. Potter said he's seeing a rise in large, single-basin sinks in a mix of styles, from stainless and porcelain, with apron fronts. Touchless faucets can either be equipped with smart sensors or turned on with the touch of an arm, proving useful when both of your hands are messy. The touchless faucets keep germs from spreading but also conserve water. Most of today's models come with a pull-down sprayer.
Lighting
Potter said one way to make a dramatic change in your kitchen is to add new lighting, especially recessed lighting. "People are using smaller recessed lights that still provide more light than the older ones, and they can make a huge difference in your design."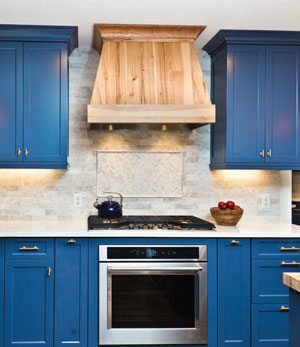 Cooktops
Decorative range hoods are becoming a statement piece in kitchens, even with induction cooktops. "We're doing more of those jobs with nicer range hoods, rather than the simpler cabinetry," Potter said. If your cabinets are painted, a wood range hood can be a way to bring in a burst of natural wood tone without it dominating your kitchen design.
Perspective
It's hard to know how many upgrades it will take to bring your kitchen up to speed and meet all of your needs. Sometimes it's more than just choosing to upgrade your appliances. Once you start to make changes, there's a strong likelihood you'll want to make more, so consider going after your project with a "whole room" perspective.
And with so much of our time spent in the kitchen, it's still important to maintain some of your own style, no matter what the design trend reports show. Trends will come and go, and what the industry says is "in" may not match your family's style in feel and functionality.
"In kitchen design trends, our area may still be several years behind some parts of the country — and sometimes that's not bad," Potter said. "Our area has a more traditional, conservative take on things, but sometimes it's better to avoid doing the trendy thing because it may go back out of style a few years later." ✦
(NKBA) National Kitchen + Bath Association, backsplashes, black stainless, cabinet facelift, cabinetry, chrome, coffee bar, hands-free faucets, jewel colors, KITCHENS, natural wood cabinets, painted cabinets, shaker style, Stainless steel, storage, subway tiles