Interior Comforts, Exterior Delights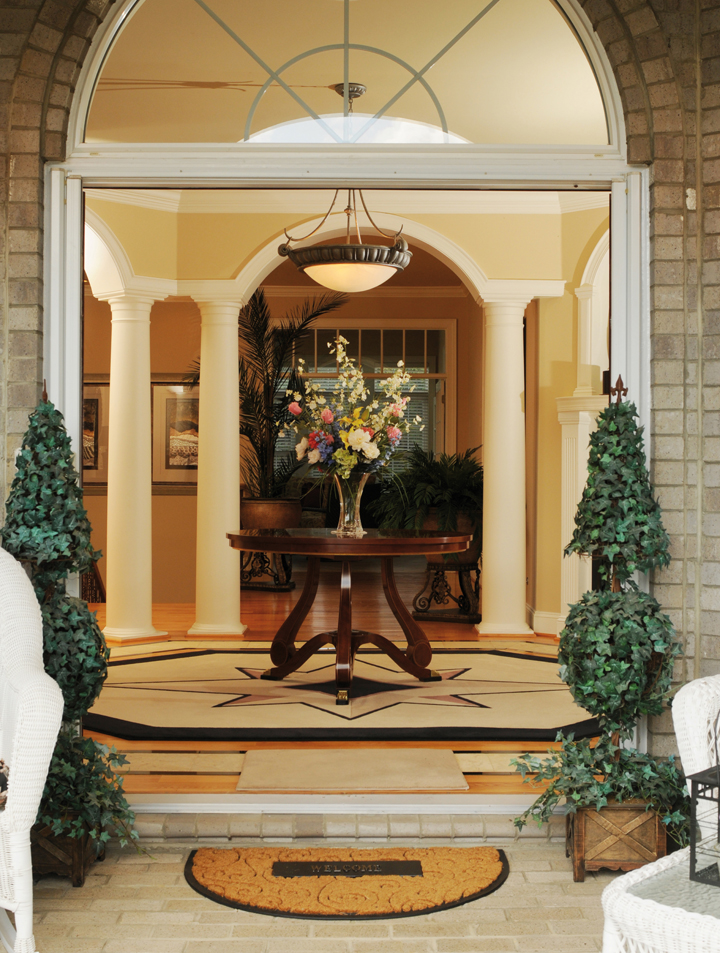 "We wanted a house that was just comfortable and open," says homeowner Sandy Howell. "Everyone should feel welcome here!" In keeping with this warm and friendly spirit, Sandy and Don Howell designed their home.
Sandy enjoys entertaining family and friends and is known to cook up a storm in her well-equipped kitchen. Both large and inviting, it opens up into the comfortable den. Here a fireplace, large-screen television and overstuffed furniture provide a cozy setting to watch television and movies. Just across the hall is a cheerfully-lit sunroom overlooking the gardens and new outdoor space. All combined, this home offers just the right ingredients to help make guests feel welcome.
Before they decided to design and construct their custom home, the Howells looked at many houses. "We really could not find anything we wanted, so we decided to build," says Sandy.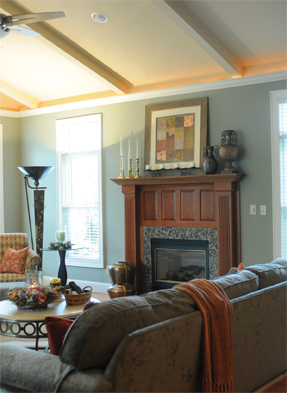 Ten years ago, they moved into their dream home. While Sandy did some of the decorating herself, she received a great deal of assistance from designer Randall Neely at Joran's Interior Design. According to Sandy, he was an enormous help with home colors and accessories. The couple liked California and Mediterranean styles and finally decided to use a bit of both in their design. Neely describes the interior as "classical transitional."
Luckily for Sandy and Don, Neely's specialty is floor design. According to Neely, "People don't do enough with their floors!" He believes the floor is like "the fifth wall." He often uses mixed media on the floors, incorporating stone, wood and glass. According to Neely, his objective when designing a room is "to make it beautiful even with absolutely nothing in it."
The effect can be quite dramatic, as it is in the Howells' entry hall. One of the few formal areas in their home, this large, columned room is shaped like a hexagon and features a hardwood floor set with black marble and terrazzo tile emphasizing the room's design. Neely found the perfect rug to accent the room. With its matching hexagon profile, its decorative pattern features a star within a star.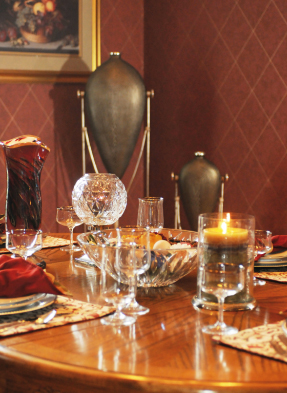 Inside and out, the one color that appears again and again is maroon. And no wonder! Both Sandy and Don are staunch supporters of Virginia Tech. Don is a proud alumnus and the couple attends most of their football games.
The home was completed in July 2000, and it took a year and a half to construct. After raising a teenage son and finally looking toward a grandchild in the future, the Howells decided to make a few changes and additions. They also wanted to do more entertaining and looked into ways to make their home more inviting for both friends and family.
They decided to focus on the outdoor area to help convey their welcoming spirit. "We built it for personal enjoyment and as a gathering place for friends and family," explains Don. "But most importantly, I wanted a place for Sandy to relax."
Don explains that when the house was first built, they installed a concrete patio directly off the first level of their home. After ten years, the concrete was starting to crack and looked unattractive. So Don pulled up the concrete and put down stone.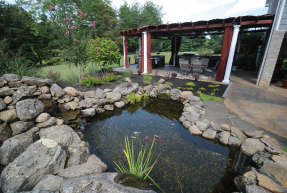 "My wife wanted one of those fancy bird bath fountains," says Don. "I first planned to go to one of the big-box hardware stores, pick up a kit and install it myself. However, it just so happened, that same weekend I attended a home builders' show and we met Norman." Norman Tharpe of Water Garden Designs and Tharpe Landscaping Co. had an elaborate layout at this local home show. Don immediately liked the designs but also knew that he could not do this kind of work himself. Tharpe visited their home and met with Don to discuss his ideas. Soon after, Tharpe returned with a plan that included everything that the couple wanted in their garden, and even more.
Tharpe has been in business for 27 years and is quite adept at building just about anything. "If I can picture it in my mind, then we can build it!" he says. Though his office is based in Lynchburg, he does work in five states.
The outdoor design that Tharpe planned takes its theme from the interior of the Howell home. "When I came in through the front door, I wanted to emulate what the Howells had inside," explains Tharpe. The arches and pillars from the center hall are used again in the outdoor living space, echoing the design from the inside to the outside.
Tharpe's custom-designed water feature includes a small pond and waterfall hand-finished with decorative stones and plantings. According to Tharpe, he designs his water features so very little maintenance is needed. There is also an automatic control that keeps the water levels up.
"The outdoor area has been a work in progress," says Sandy. It has progressed from a simple water feature to an elaborate outdoor space with gardens, a waterfall and pond, patio, sunscreen and a covered outdoor kitchen. What began as just a small fountain grew and grew. And it is the fountain that Sandy really enjoys. "For me, water is very relaxing," she explains. So this was an important element in the garden's design.
Norman Tharpe has a knack for taking an idea and finding a better way to go with it. For example, Don wanted some sort of screen or awning on the patio to shield them from the sun. The idea of a sail came up, and at first Don planned to attach it to the house. But Tharpe said he had a better way!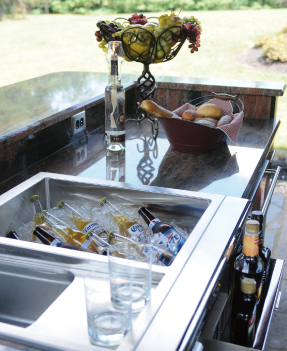 As he explains, "I was looking at the lamps they have in the upstairs family room." These lamps, constructed of an elongated shape and a contemporary design that Randall Neely describes as torchieres, were found from Fine Arts, a well-known manufacturer of fine lighting. "They inspired me, and I used the design for the base of an iron support that includes the silhouette design of herons in its motif," says Tharpe. He had Evington Ironwork fabricate the support. And Tharpe used this iron base to hang a completely weatherproof maroon sail, made from Sunbrella fabric. Strong enough to withstand hurricane winds, blizzards and monsoons, the sail is the perfect solution to the summer's hot sun. And at night when the patio is illuminated, a silhouette of the heron on the base reflects onto the side of the house.
Around the water, Tharpe designed a lovely yet easy-to-care-for garden. "We wanted to have a nice backdrop and also some shade, since it is a Southern exposure," explains Tharpe. "I did a stadium-effect with low growers in the front so they do not block the water feature." The low-growing evergreen "Creeping Jenny" forms a dense mat with fragrant yellow blossoms that bloom all summer long. An ornamental yucca and variegated banana plant, both tinted in Virginia Tech maroon, add a tropical flair to the area. Lemon drop crape myrtles and ornamental grasses provide framework and balance to the small garden.
Next they focused on an entertainment and dining area. When Don suggested that they build an outdoor cooking area, the result was a large pergola of solid cedar with an entire kitchen underneath.
According to Tharpe, initial plans left the pergola open. Then the Howells asked, "What if it rains?" To make the area more useful, Tharpe suggested they use the same weather-resistant fabric covering that is used as the sail to protect the area from the elements. Jefferson Awning of Lynchburg created the awning to match the sail. And yes, it is maroon, of course. The preparation and storage area as well as the dining table are all enclosed and protected from the elements.
The cabinetry in the outdoor kitchen is specially designed for the outdoors. Purchased through Custom Wood Products, the cabinets are made by Atlantis Outdoor Cabinets. According to Kim Brickley of Custom Wood Products, their products are totally weatherproof and can be exposed to the rain, bright sunlight, snow, and even temperature extremes. The cabinetry is fashioned from a marine-grade polymer called Perma-Panel that features UV inhibitors. The product comes in multiple colors and will retain its color. It will not warp, crack, split or deteriorate over time. According to the product specifications, it can stand up to anything that Mother Nature can dish out!
As with the cabinetry, everything in the outdoor kitchen is made for the outdoors and is waterproof. "It is pure outdoor stuff," says Tharpe. "It can withstand whatever the weather brings." Beautiful granite countertops designed and installed by Premier Stone Fabrication, Inc. in Salem also withstand any weather. The appliances, manufactured by Lynx, are also designed for outdoor living, in stainless steel with a seamless welded construction. As Don points out, "It's a safety thing." It is very important whenever electrical appliances are used outside to make sure that they are designed for outdoor use. With a refrigerator, stove, oven, and even a dishwasher, there is no need to travel indoors for anything; serving outside is a breeze.
The outdoor space is also furnished for comfort. Don says that National Pools in Roanoke was a "tremendous help with all of the outdoor furniture—bar stools, dining areas, and the outside living room." The Howells were so pleased with their support and products that they also used them as a resource for all the furniture in their sunroom.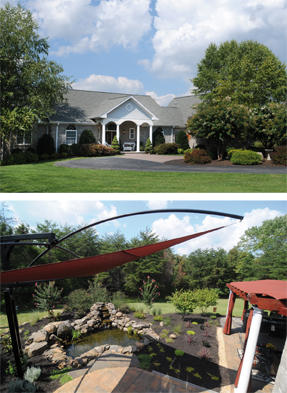 The Howell property encompasses five acres, which gives the couple a great deal of privacy. Bordered by woodlands and a spacious lawn, the gardens adjacent to the home are beautifully landscaped.
The surrounding plantings were already in place, so Tharpe did not need to make too many alterations. The Howells had specific tastes, wanting lots of low-maintenance shrubbery. The couple does much of their own garden work, and Tharpe wanted the grounds to be as easy to care for as ever. So they kept the existing oakleaf hydrangeas, crape myrtles and other landscaping around the foundation of the home.
At the front entrance of their home, a center landscaped island was left as is. It had been well designed and all the plantings are thriving. An inviting spot, it features barberry bushes and Japanese maples. Two river birch trees stand on either side of the home and a pair of spiraling topiaries greets guests at the front door.
When Sandy and Don began the project, they really wanted to keep everything local. "One of the things that I really believe in is economic development," says Don. "I used all local people from Southwest Virginia." Don had a small business and recognizes the importance of keeping business home. And he says that the experience was well worth it. "They were a great bunch of people and I highly recommend them all!"
Future plans for the outdoor space include a widescreen television, an outside heat source, a swimming pool, and walking trails through the surrounding woodlands. According to Tharpe, Don is willing to step out of the box and be creative with his designs. Their home flows from the inside entertainment area and right on to the outside. It is comfortable and attractive, and just what the Howells had hoped for.