Inside Out: Innovative Textiles Suitable for Indoors or Out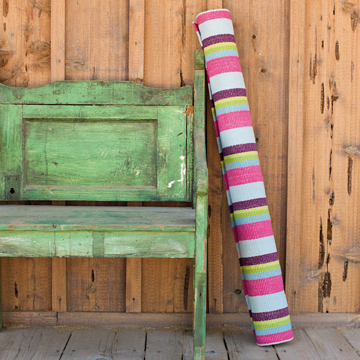 Take advantage of the season and step over the threshold to enjoy the added living space outside your home. These days, with fresh innovations in both texture and design, we can take all our cozy creature comforts outdoors. Pillows, drapery, rugs and cushions –
all are weather-resistant and all look great.
Once, homeowners had a limited selection of fabrics that could make the transition to an outdoor living space. Colors and patterns were restricted simply because manufacturers were rare, and the biggest hindrance was texture. Few consumers were interested in nestling their toes into a scratchy tarp-like rug.
Today, thanks to a toe-friendly polypropylene blend, modern indoor/outdoor rugs and fabrics have finally widened the scope of weather-resistant design.

Elaine Stevenson of Roanoke-based Elaine Stevenson Interiors stands by the Dash and Albert brand as a purveyor of this new trend in outdoor décor, also listing Trans-Ocean and Capel as viable options for her clients. Each brand name carries a collection of rugs for all seasons made specifically for high-traffic spaces, whether surrounded by drywall or trees.
If you once thought that bright colors were impossible to keep under the sun's summertime beating, think again. We're now seeing neon yellows, rich plums and punchy magentas – none of which are susceptible to the elements thanks to these advancements in material and finish.
"The colors have really broadened and improved so that they can function beautifully inside and out," Stevenson said of these dual-functioning pieces.
Happily, the pattern options are just as broad as the hues they come in. From zigzags and polka dots, to stripes and interlocking diamonds, there's a look for everyone.
Hope Hollingsworth, manager of The Second Yard in Roanoke, gave us a tour of their showroom, laying out bolt after bolt of gorgeous outdoor fabrics in all colors and patterns. Explaining that clients often come in with outdoor pillow covers and cushions in mind, Hollingsworth reiterated the fact that even though they feel soft and delicate, all are made to resist fading and moisture.
"This has added a whole new dimension to outdoor décor," she said.

Not sure where to begin? Try focusing on a specific color to help narrow down the array of choices. Seaglass is topping the trends this season, and for good reason. The soft blue with a hint of green is a not-so-subtle homage to the coastal hue we love so much at this time of year.
If you're working with an outdoor deck, one option is to begin by grounding the space with a seaglass-colored area rug. For a cottage garden look, try going with a graphic diamond pattern in the rug, and layer an accent color on the seating with pillows or cushions upholstered in a pale yellow floral. Finish it off with painted coral side tables and bunches of fresh flowers in vases or hanging baskets.
Or maybe you're going for a nostalgic nautical theme. For this look, pick a classic stripe for the rug and add a bold pop of red for the pillows and add a marine motif – think anchors, sea shells or starfish. Iron lanterns and rustic wooden planters carry the idea through the rest of the space.
With all of the ground-breaking new ways to use indoor/outdoor fabrics on an open back deck, patio or pool house, you might gloss over the other half of the equation: indoor uses!
Stevenson brought the point home by explaining how these textiles perfectly suit on-the-go families with pets and children. Her clients no longer have to shy away from white and other light-colored linens thanks to hardy outdoor fabrics that look and feel like they were made for stylish indoor spaces.
Although outdoor fabrics don't feel like it, they are based in plastic construction, making them a breeze to wipe down. Stains are hard-pressed to leave a lasting mark on these products, allowing you to place them in rooms you never thought you could.
The kitchen is a prime location for everyday messes, and it's a room that can benefit from an area rug. If you'd love to add that extra layer beneath the dining room table or kitchen sink to soften the space but worry about clean up hassles, an indoor/outdoor rug can quickly allay those fears. So, don't cry over spilled marinara!

Children's playrooms are another mess-prone area, but a tough indoor/outdoor rug quickly dissipates catastrophe during snack time and art projects. Because of the shallow pile, these rugs don't have the grip other fluffier rugs might have on fine materials like glitter. A simple shake outside rids them of any small particles and leaves them good-as-new.
The best thing about indoor/outdoor rugs, pillows and shades is that they are made to withstand the elements, but look and feel like a natural component to any indoor space. Take a bathroom, for instance. Wet feet straight out of the shower may not have the force of seasonal rainstorms, which outdoor rugs are made to withstand, but those same tootsies will be pleasantly surprised the first time they step onto the soft feel of a well-placed rug in the bathroom.
If it seems like the possibilities are endless, that's because they virtually are. "There really is no limit to what you can do anymore," says Hollingsworth.
In today's budget-conscious, fast-paced world, versatility is everything. We seek out pieces that work for this and for that, and are drawn towards products that allow us to kill two (or three, or four!) birds with one stone. By embracing these modern new textiles, homeowners are able to effectually double their potential living space. Here's to a summer enjoyed (stylishly) under the sun!