Historic Garden Week in Roanoke: An Early Glimpse of Tour's Homes, Gardens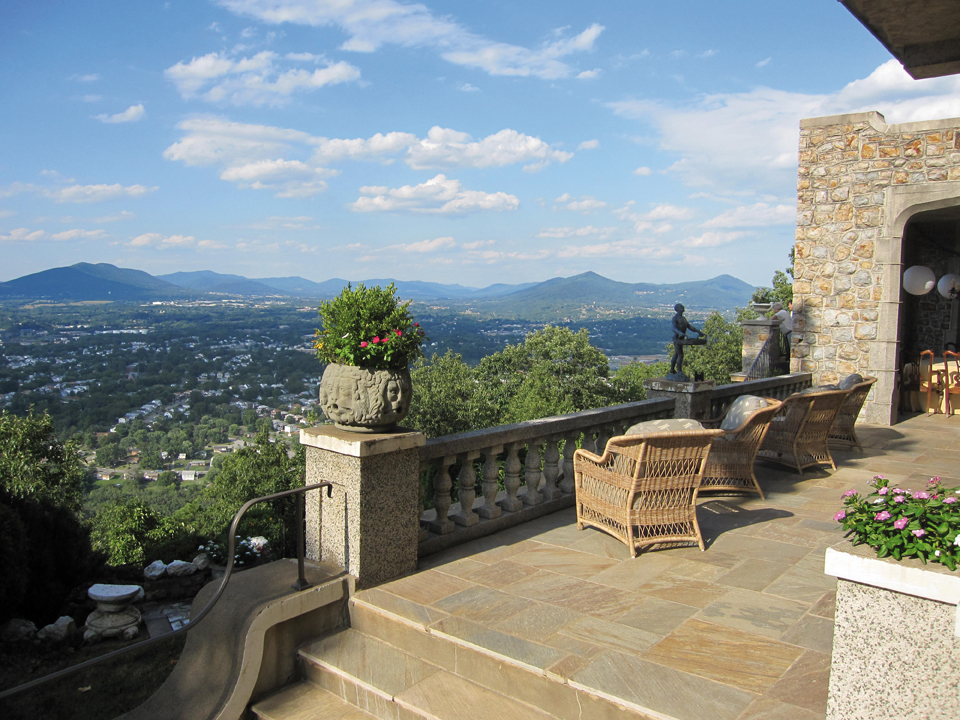 This year the Garden Club of Virginia celebrates 80 years of Historic Garden Week, a spectacular statewide event referred to as "America's Largest Open House." This year's local tour, sponsored by The Roanoke Valley Garden Club and The Mill Mountain Garden Club, will be held Saturday, April 27 from 10 a.m. to 5 p.m. Featuring beautifully appointed homes and gardens, historical sites and other places of interest, refreshments and activities galore…there's something for everyone to enjoy during this much-anticipated event.
Here at HOME, we are delighted to share a preview of the homes and gardens that await your discovery during Historic Garden Week in Roanoke.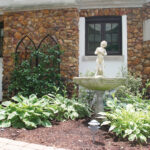 "Tarrylong," 1630 Belleview Avenue
This historic Tudor revival built by Charles Lunsford overlooks the winding Roanoke River. The home's 3-acre landscape is filled with patios, gardens, statues and fountains. Its spacious front hall includes a collection of bronze statues and Renaissance-style artwork. Antiques decorate the interior of Tarrylong. A seven-year renovation has restored the 1927 home to its former glory, with updated bathrooms, a breathtaking new kitchen, and gardens filled with plants and ironwork. The expansive property continues up the mountain where it is rumored that a previous owner kept his prohibition still. Owned by Carilion Hospital for more than 20 years, the home was used to host visiting physicians as well as hold medical gatherings and seminars before its current conversion to a private residence. Open for the first time for Historic Garden Week.
Dr. and Mrs. Glenn Torre, owners.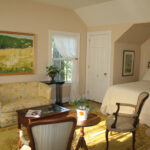 2725 Cornwallis Avenue
This Southern Colonial Revival is reminiscent of Mount Vernon. It sits on a quiet street across from a city park. Originally built by Horace M. Fox, the home was purchased by the current owner's parents in 1968. After growing up in the home and experiencing two renovations under his parents' direction, Mr. Chaney, Jr. and his wife, an architect, embarked on its third renovation. They added a four-car garage, an in-law suite, balconies, a "man cave," and a geothermal heat-pump system. The home features oak and heart-of-pine floors, fine paintings, Limoges china and numerous antiques. The patio and gardens off the family room are filled with hostas, azaleas and other native plants as well as an arbor of wisteria. Open for the first time for Historic Garden Week.
Mr. and Mrs. John M. Chaney, Jr., owners.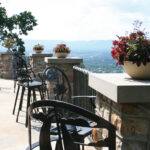 "Rockledge," 1801 Prospect Road

This historic home located near the top of Mill Mountain features magnificent views and landscaping. The Italianate-style stone home gets its name because of its location, having been built on a rock ledge. The gardens and terraces, designed by landscape architect Albert A. Farnham, are situated on a series of massive concrete window boxes, which are filled with native plants, garden statues and fountains. Visitors will pass the stone tollbooth dating from the road's opening in 1924 on the way up to the property. Rockledge was designed and built by William Henritze in 1929. The home remained in the Henritze family until the 1980s. The current owners purchased the home from Roanoke's mayor, Ralph Smith, in 2005 and began three years of extensive renovations. A second kitchen and master suite were added, as well as a new rooftop deck that takes advantage of the view. The original wood paneling, wood inlaid floors and stonework were preserved. The home is furnished with antiques and artwork. The gardens feature unusual items such as a Civil War cannon ball, a terracotta figurine built directly into the front yard terrace wall, and several millstones that now lead a path into the woods. The front yard fountain often becomes a birdbath for the red-tailed hawks that migrate over the mountain.
Doctors Nancy and Kevin Dye, owners.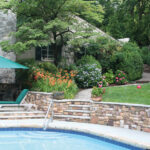 2826 Stephenson Avenue
This mid-century, modern home contains the original slate and hardwood floors throughout the living areas and in the great room. There is a mirrored wall, reflective of its 1949 construction. The home features cutout walls and Frank Lloyd Wright-style paint colors in keeping with its vintage look. The semi-open floor plan is filled with local art, antiques and light fixtures from as far away as Italy. It has been under renovation since 1999. In the backyard, the patio's fireplace is original. Located near an outdoor kitchen,
a pool and hot tub extend the outdoor entertainment space. The pool is surrounded by informal gardens designed by the owners. There is a jasmine-covered arched entry to the backyard, and the original iron gate remains. The herb garden is conveniently located off the kitchen. Dense evergreens offer privacy. In the front yard, a hidden putting green is an unexpected surprise. Open for Historic Garden Week for the first time.
Mr. and Mrs. Jack Webb, owners.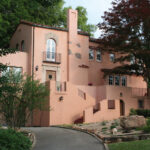 2706 South Jefferson Street
This Spanish Colonial, built in 1924, is made of adobe stucco and features a red-tile roof. The surrounding landscape features both native and arid gardens for show. The home includes original glass French doors onto the patios and red tile floors in the dining room. The informal gardens were redesigned during the summer of 2011 and contain Italian cypress, yucca, needle and windmill palms, and aspidistra. In the back, a flagstone patio is surrounded by an arbor trailing with wisteria. The restored kitchen has cabinets made of Alder wood and granite countertops. The staircase to the second floor features a curved iron railing and hand-painted tiles on the risers. The home is filled with antique furnishings and local art. Open for Historic Garden Week for the first time.
Marylee Burnstein, owner.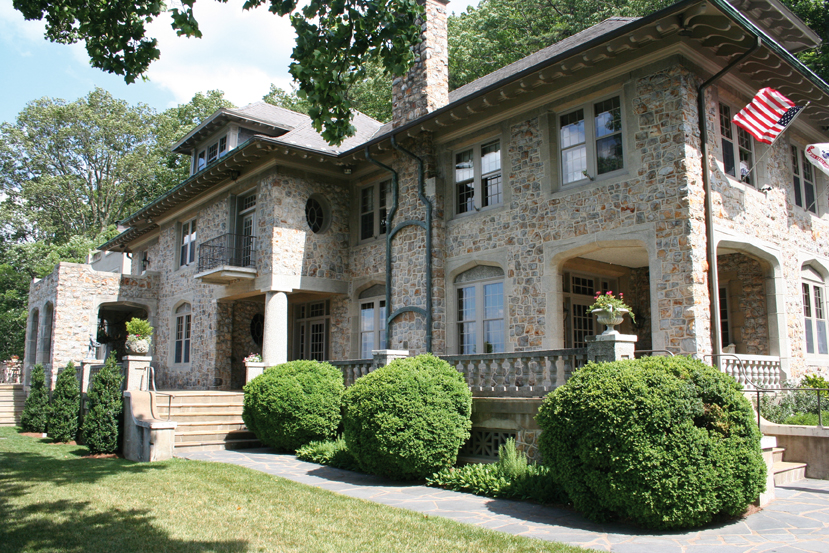 TICKET INFORMATION

Full-Tour Tickets $30 • No single-site tickets • Advance Tour Tickets $25; may be purchased by mail until April 22 by sending checks payable to "Historic Garden Week" and mailed to Roanoke Council of Garden Clubs, 3640 Colonial Avenue, Roanoke VA 24018. Advance tickets are also available by cash or check at the following area locations: Roanoke Council of Garden Clubs, Ronald McDonald House, Townside Gardens and Black Dog Salvage. Online tickets also available at
www.vagardenweek.org
.
TOUR HEADQUARTERS, TRANSPORTATION

The Ronald McDonald House, 2224 South Jefferson, is the tour headquarters and is the starting and stopping point for the trolley and the shuttle. Roanoke's Star Line Trolley and a shuttle will take guests round trip to the homes on the tour.
OTHER ACTIVITIES AND PLACES OF INTEREST

The Roanoke Council of Garden Clubs will also host a plant sale at the South Roanoke United Methodist Church parking lot across the street from the Ronald McDonald House.
Other places of interest on the tour include Fincastle Presbyterian Church, Fincastle, and Beale Memorial Garden at Hollins University. Both locations have undergone garden restoration projects by the Garden Club of Virginia using funds from Historic Garden Week.
For more information, visit the tour's website at
www.vagardenweek.org
and "Like" the "Historic Garden Week in Roanoke" page on Facebook, or contact Tour Chairman Cyndi Fletcher at (540) 589-3084 or
cyndi.fletcher1@gmail.com
.