Hillside Holiday | Making Memories in a Renovated Colonial in South Roanoke
Photography by Jared Hall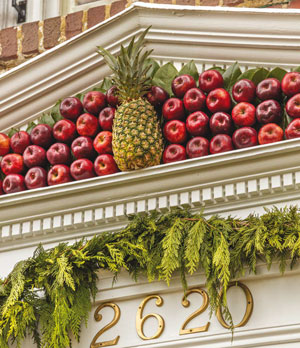 The home of Doctors Heather and Jerod Greer is built into the lush hillside above the Roanoke Memorial Hospital. The location was a selling point for this two-physician family when they purchased it in 2013. A traditional whitewashed brick two-story Colonial built in the 1950s, the home exudes gracious charm, set back on its lot with a meandering brick stairway to the front door. The Greers have spotlighted the front of the house for the season, highlighting a stunning seasonal fruit arrangement over the front door and calling attention to the living room window where Christmas tree lights twinkle.
Heather and Jerod, and their three daughters, aged 10, 13, and 17, have lived in the house since their move from Birmingham, Alabama in 2013. According to Heather, the house had been a rental for a few years, and was ready for some updating. "When we first looked at it," recalls Heather with a laugh, "I remember telling my husband that I really never saw myself falling in love with a house with chain link fencing and window units!" But fall in love she did, and Heather saw potential in the home on the hill.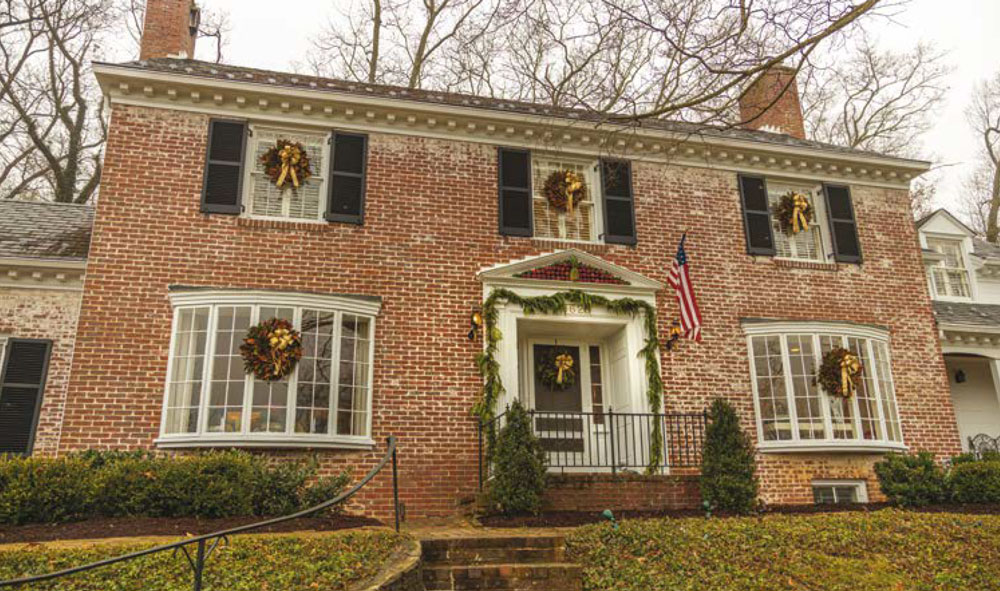 Though there were things about the house the Greers knew they wanted to change when they moved in, they decided to live in the house for a while before they started an extensive renovation that changed the layout and flow of the home without changing the footprint. "We lived in the house for three years before beginning renovations, which I really couldn't recommend more—living in the space for a while—because then you really know what it needs," says Heather. The renovations took seven months, and the Greers used the combination of Steve Morris of Classical Design and Walt Derey of Pitman Construction to bring to fruition an efficient space for a growing family. "I sing the praises of Steve Morris's concept and layout," says Heather. "I didn't need an architect for this job. Steve's design expertise and custom cabinetry, along with Walt's top-notch construction, made a great team." Combined efforts of Elaine Stephenson Interiors and Magnolia Furnishings, who collaborated with Heather on interior design, brought the project to completion in a way the Greers love. "This house has really been a group project. Working together has gotten us here," says Heather.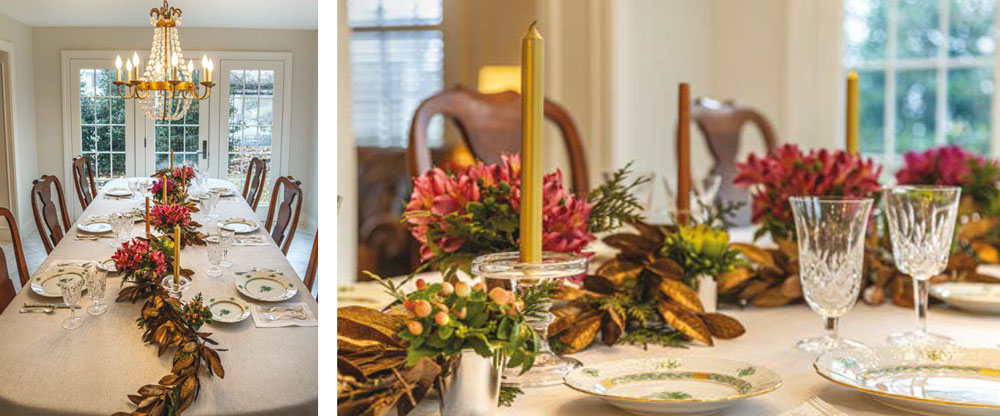 With the holidays rolling around, it is not uncommon to find the Greers preparing to entertain. Between work, the girls' schedules, and a large social group, the house is usually a hive of activity and preparation. There are little holiday touches in each room. Heather does most of the holiday decorating herself, combining fresh greens from Roanoke's Townside Gardens with high-quality artificial greens, and natural accents gathered from the yards of generous friends and neighbors. Conspicuously absent are swaths of artificial snow, tinsel and Christmas figurines. "I prefer clean and simple Christmas decorations, and really love the festive look of greenery," says Heather. "It doesn't all have to be fresh, but if you combine fresh and quality artificial greenery, it's hard to tell." Natural-looking garlands festoon several windows, thresholds, mantels and the dining room table. The Greers' concession to popular holiday decor, the family's pair of "Elf on the Shelf" elves, named "Peppermint and Lackey," do tend to move around, but today, they frolic amidst the upper branches of the Christmas tree.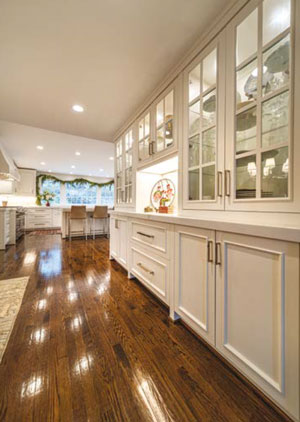 One of the most dramatic changes the Greers made when renovating their home was to expand the kitchen and several smaller rooms to give themselves a generous eat-in kitchen with an attached family breakfast area/dining nook. The room features acres of white quartz, including an expansive kitchen island, and has almost an impossibly uncluttered look for a family of five. "I always wanted a white kitchen," says Heather. "I love the clean, white, classic look." She has found that this U-shaped layout is surprisingly easy to keep clean thanks to good design. "There's actually not a lot of family traffic behind the island," Heather says. "The cook's work triangle is separated by the island." Heather learned from experience in the couple's previous home that it was challenging to get a lot done in a kitchen with three little girls underfoot, so when she sat down to plan the space with Steve Morris, she asked to keep the work triangle away from the main traffic of the kitchen, and he delivered.



The kitchen area is a study in uncluttered beauty. There is nothing on the counters at all. In fact, to keep the clean look, as Heather points out, there are no plugs and only a single light switch visible in the backsplash which is also made of the same gray-veined creamy white quartz as the countertop. The outlets have been cleverly hidden under the countertops. Other than the 60-inch Wolf range, all other kitchen implements, including the refrigerator and a large flatscreen TV, are enclosed in the cabinetry, so that the kitchen exudes a clean, uncluttered feel. Thanks to a custom mudroom just inside the back door which absorbs most of the family clutter, and the breakfast area, which is outfitted with stocked refrigerator drawers, the kids have everything they need without invading the kitchen's work triangle.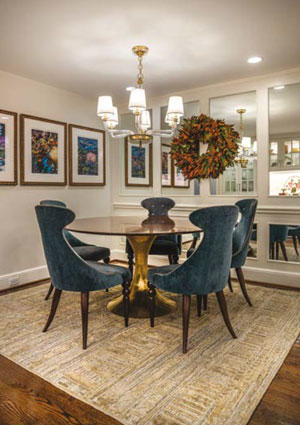 Much of the homework in the Greer household gets done in the breakfast area, and it's also where the family has most of its meals. Mirrored paneled walls reflect light out from what could have felt like a dark corner. A stunning holiday wreath, purchased at Weston Farms in North Carolina, hangs on the mirrored walls as a festive reminder of the season. On the adjacent wall hangs a triptych of colorful oils by David Kessler, entitled "Luminous Patterns 1, 2 and 3." The table and chairs reflect Heather's own blend of traditional and contemporary: The table has a traditional wood top above a funnel-shaped metallic base, and the chairs are upholstered in blue velvet with nailhead trim. Heather explains that she spotted the chairs online and instantly fell in love. "Unfortunately, it was just a picture though," she says. "No link. No designer… Nothing to help me find them. I searched for ages, and then finally found them. It turns out they were designed by one of my favorite designers, Julian Chichester."
Heather, a practicing OB-GYN, has both a passion and a gift for good design. "It is just something I have always loved," Heather says. "I even teased Steve [Morris] that when I give up my day job, I'm coming to work for him!" Though giving up medicine is not in the cards any time soon, Heather can indulge her hobby and passion in her own home and she brings a not-insignificant amount of expertise to the table when sitting down with the interior designer teams that helped her with this house: Elaine Stephenson, Katie Stevens and Jessica Durham. "I think that it definitely helps to love design," Heather says. "It makes me truly value the professional designers that I work with." Additionally, Heather's father made a career in the furniture business and she credits his connections as they decided on furniture for their home. "It really came in handy when furnishing a home like this for a busy family."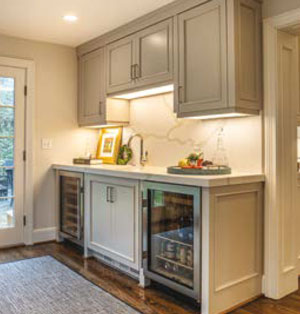 Heather and Jerod enjoy entertaining and decided early on that the home's dining room, adjacent to the kitchen, was a little cramped. Careful thought and consultation with Steve Morris led them to use the space that was once a screened-in porch as a dining room and convert the original dining room to an open bar area. It worked out beautifully. "It truly opened up the space," Heather says, gesturing around toward the French doors overlooking a slate patio beyond. The bar boasts a wall of custom cabinetry, quartz countertop and backsplash that mirror the kitchen and create cohesiveness, while at the same time providing extra entertaining space. The addition of two refrigerators, one for wine and the other for beer and mixers, mean that guests don't have to run to the kitchen to refresh drinks. "It's a house that 'parties well' now," laughs Heather. "Moving the dining room was a great idea. Thankfully, Steve is really cognizant of things like flow, and discouraged what he called 'dead end rooms,' which is what we originally had."
The dining room, thanks to its earlier incarnation as a porch, is a space flooded with light. Two more sets of French doors flanked by floor-to-ceiling windows overlook the green of the back yard. Flooring is white marble tile, and the walls are a quiet neutral. The large traditional table is set to entertain. Heather designed the center decorations herself from a combination of manufactured and fresh greenery. "The gold-leafed garland came from my favorite store 'Table Matters' in Birmingham, Alabama, where we used to live," says Heather. "My husband used to joke that my car was on autopilot and would take me there every Friday afternoon." Heather and Jerod make several trips back to Alabama each year, and the store is always on the itinerary.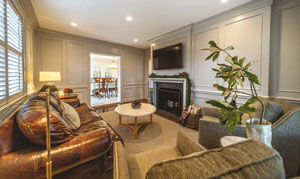 Off the dining room is what the Greers call the family room. Originally, the room was a dark wainscoted study, and Heather envisioned it as a sort of "man-cave" for the lone Greer man, Jerod. "I really saw this as a masculine den," Heather says. "I wanted it to have a darker, more moody feel." Nevertheless, she opted to paint the wainscoting a light grey, and added a soft geometric-pattern carpet. Window treatments are plantation shutters, which, when closed, give the room a darker vibe. A leather couch and pair of upholstered chairs arranged around the wood-burning fireplace complete the look. Over the mantel, holiday decorations are simple and natural: a garland of dried cedar embellished with pinecones. Across the room, a magnolia branch adds a splash of green in a treasured piece of art: a sculpted vase by artist Ian Craven, whom Heather actually had the chance to meet. Ironically, though Heather designed the room especially for Jerod, it happens to be where his all-female family likes to hang out. "Yes, it really is the family TV room," says Heather, gesturing to the large flat-screen TV mounted about the fireplace. "We love a cozy evening together with the fire going."



The living room beyond has a large bay window overlooking the street below that lets in ample light. It's also the perfect spot for the family's Christmas tree, a large spruce, tastefully decorated with dozens of engraved silver bells. "My maternal grandmother started collecting these bells years ago," says Heather. "When I was growing up, she gave one to me and one to my sister every year. Then my mother picked up the tradition for our children. Every Thanksgiving she gives one to each girl so that one day they'll be able to use them on their own trees." Other than the tree, the holiday decorations are, as elsewhere, mostly greenery with small additional touches. A live garland over the doorway was purchased from Townside Gardens, and the boughs over the mantel were made by combining an artificial garland with fresh magnolia leaves and nandina berries from her parents' home at Smith Mountain Lake.
Heather has taken care to design a room that does not feel formal by choosing comfortable, family-friendly furniture, a plush Oushak carpet, and walls of gray grass cloth by Philip Jeffries. Elaborate window treatments are not Heather's style, but she loves the simple, neutral silk-sateen panels embellished with decorative tape. The metal rods and rings are custom made with striated gold leaf by Brian Lawrence at Artistic Metals. The room has several antiqued gold-tone accents, from the starburst mirror, to the metallic frames on the coffee table and side tables, to the threesome of museum bees selected by Elaine Stephenson. Two large oils by John Lloyd Jones came from Heather's hometown of Kingsport, Tennessee, and others were purchased on the Greers' 20th-anniversary trip to Croatia.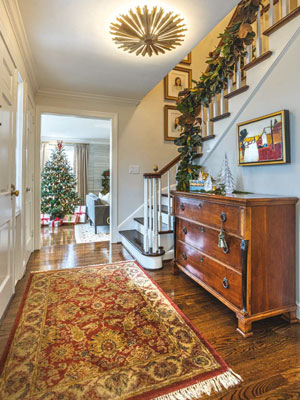 Indeed, much of the artwork that hangs in the Greers' home has special significance. Some, like the oils in the living room, were purchased to mark special occasions or to remind them of stages of their lives. Others they just fell in love with, such as the colorful Ted Turner oil that hangs in the foyer, or the Stella Hart commissioned portraits of the girls that hang along the wall of the stairway. Regardless, it took a long time for Heather to decide where to hang each piece. "Some of the rooms in this house are still the old plaster, and I just couldn't bear to put holes in the walls until I knew exactly where things were going," she says. Since the Greers have lived in Roanoke, they have begun to collect some popular local artists such as Diane Patton, Brent LaGue, Peyton Klein and Maria Driscoll.



In addition to the four bedrooms upstairs, the Greers' home has a bonus room on the ground floor. Originally a mother-inlaw suite, complete with sitting area and bath, the Greers have broken the space up differently since their renovation. They kept the bedroom and en suite bath, which they use as a guest room, but the sitting area has been completely rethought. The new space provides a home office/study with a lovely view out front for Heather and a much-needed first floor powder room. "I love having a study on the front of the house," she says. "I enjoy being able to see the neighborhood activity, even when I'm working." The half bath, for an active young family, was an absolute necessity. The tiny space is enhanced with an Asian-inspired wallpaper by Osbourne and Little.
The Greers have transformed their hillside home in ways that were both practical and meaningful for their growing family. All together, Jerod and Heather could not be happier with the home they've created in Roanoke. Careful planning and design have paid off in a home that the whole family enjoys. "We love this house," says Heather. "It hasn't always been easy, but I'm proud of all we've done in making it a great house for us." ✦
Custom cabinetry, dining nook, eat-in kitchen, family breakfast area, family-friendly furniture, Floor-to-ceiling windows, French Doors, Mirrored paneled walls, mudroom, Renovated Colonial, slate patio