HEARTH & SOUL
TODAY'S FIREPLACES CENTER ON STYLE AND EFFICIENCY
Cozying up to a toasty fire while the cold wind whirls around outside is the essence of the holiday season. Even if you rely on a central heating system, it's hard to feel at home without a fireplace. If you're planning to build in the new year, house hunting or kicking off a wish list of upgrades, local professionals can help you choose the right hot spot for your family.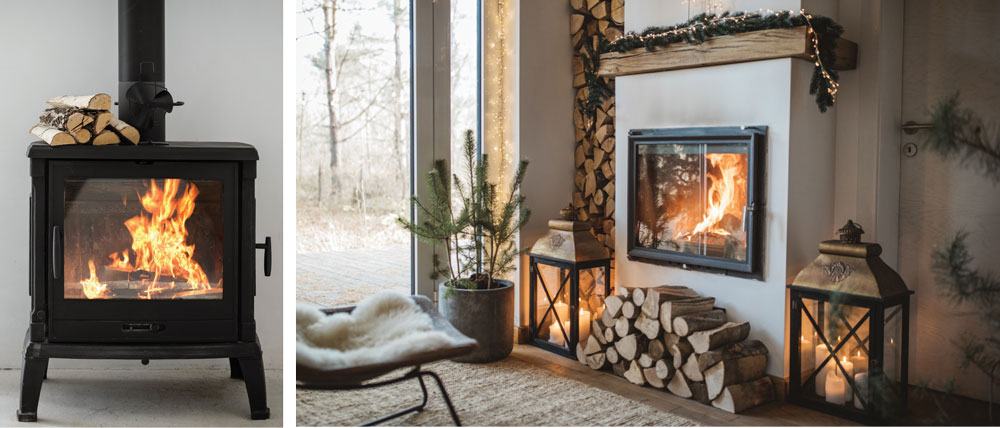 Fuel factor
Wood or gas? It's a never-ending debate in the fireplace industry, but no matter who you talk to, innovations have greatly improved efficiency on both sides.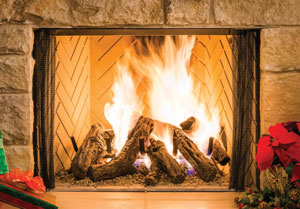 To some homeowners, it's about tradition: The hearty, smoky smell and crackling sounds of a wood fire awaken the senses. "There's something about an open, roaring fire in the fireplace that people will always be drawn to," says Ben Briscoe, vice president of Black Goose Chimney Service. Although his company sells, installs and services wood and gas fireplace options all year long, he says many of their customers prefer the self-sufficiency of solid fuel: "There's always the fear of a power outage, and they want to be the one warm house on the block."
Today's models have come a long way from our grandmother's old-timey wood stove, he says. A heavily regulated part of the heating industry, manufacturers of freestanding wood stoves and wood-burning fireplace inserts (a completely sealed unit placed into an existing fireplace structure) have made big strides in bringing cleaner-burning models and striking designs to market. It used to be that the larger the stove, the more heat. But smaller units are now holding a consistent burn for 12+ hours with a full load of wood, and many models can stretch that to 18-22 hours.
"It means you're burning a lot less wood for a lot more heat — and there's no heat quite like wood heat."
Today's models are also adding a ton of character along with the comfort. 
There's something mesmerizing about gazing at flames, and you can do that even better now with stoves and inserts that feature clear, ceramic glass panes on the loading door and a specially engineered "air wash" system that forces air over the inside of the glass to keep it from blackening with soot. There's even a modern design that features glass on three sides. 
Wood-burning fireplace inserts come in an array of finish accents, from ornate nickel and brass to enamel. For a luxurious look, Black Goose offers a glossy, chestnut brown-enameled insert, one of Briscoe's personal favorites.
"Not only are these products utilitarian, with all the heat you need and more, but they are very attractive to look at," he adds. "When you install something like that, the perfect setting is a large grand area that needs a new focal point — you want people to walk in and take notice."
Mark Silverstein, owner of Dixie Products, which carries both gas and wood-burning fireplace options, says the fireplace industry today is "primarily driven by gas," and customers who want its quick convenience.
"You can walk up, flip a switch or pick up a remote, turn it on and within seconds or minutes it's hot."
He says many people are opting for gas logs, with more realistic designs than ever before.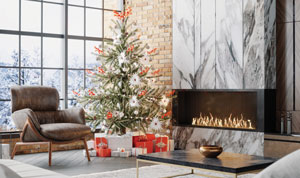 "Gas logs have come so far. The initial vent-free products came out 25-28 years ago and the changes in especially the last five years, the improvements and visual appearance, are amazing. The new flame patterns are at times breathtaking. Many of the newer gas units literally make it look like fire is coming out of the log itself."
If you're allergic to wood burning, or sensitive to the vent-free (or "ventless") gas logs that can affect the air quality, a direct vent gas fireplace is a sworn favorite. 
"It's like having a furnace in your wall," Silverstein says. 
"Direct vent" refers to a system where air is pulled in from outside the home and the exhaust — all the byproducts of combustion — are directly routed out of the home. Silverstein says he's seeing more customers opt for these highly efficient fireplaces, which are fully gasketed and sealed units that feature attractive glass fronts and often run on thermostatic controls with a remote.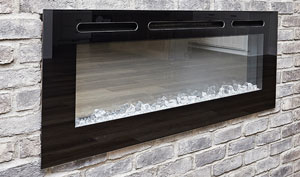 No chimney? No problem!
Installing a direct vent gas fireplace is an alternative if you don't have a chimney but want an efficient heating appliance along with the ambiance of a large, traditional fireplace. Vents can be easily routed through an exterior wall and aren't greatly affected by drafts and air pressure changes, so the heat isn't escaping like it does through a traditional fireplace chimney. A single double-walled pipe can both pull in air from the outside and expel exhaust outside as the unit radiates heat right into your room. Ventless gas logs can also be installed without a fireplace, but have some safety restrictions.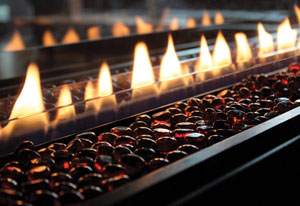 If you want to pile on the charm, another option is to go electric. There's no mess or maintenance; you're essentially running a fancy light show and a supplemental heater. Electric fireplaces are generally much cheaper, and many are safe to the touch, so there's no worry with young, curious hands. 
Silverstein says electric fireplaces are the newest kids on the block, with so many attractive options, including built-in and linear (long, rectangular) styles. Dixie sells models with multiple flame color themes and up to 14 ember bed colors you can select by remote. No construction or installation is required; you can hang them directly on a wall like a piece of art. Electric fireplaces are good for zone heating (but rarely intended as a primary heating source) and can really make a statement in your home décor.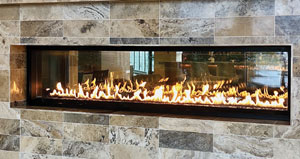 Toasty trends
Modern fireplaces are keeping up with the minimalistic, sleek trend in home design today, quite literally flipping the traditional kind on its side. Contrary to the usual 30×30 fireplace opening, a linear design is anywhere from 36 to 84 inches wide and about 15 or 18 inches tall. 
"Even though we're in a traditional market, we get a lot of demand for that contemporary look," Silverstein says. You can find a linear design in all types (direct vent, ventless and electric). 
Another design that has retained its popularity is the "peninsula" or "see-through" fireplace, where you can walk around the entire unit in the same room or view one side from your living room and the other from outside on your patio.
Homeowners are also embracing modern features, from adding a bed of river stones or crushed glass to getting creative with fronts and liners. 
Birch gas logs are trending ("far and away the prettiest out there," Silverstein says), and many people are changing up the look just by adding glowing embers throughout the burner. Many of the newer direct vent fireplace remote systems are capable of only powering on the lights, so you can enjoy the flame effect without heat in the warmer months too. 
"You can adjust the lights inside, so it becomes just an illuminated fireplace — spotlight it — with lighting under the logs, so you have just the appearance of a fire without using any gas."
Making the switch
Sometimes our families' needs change. Wood may have been your choice when you moved in but maybe you're considering switching to gas for convenience. Silverstein is seeing a tremendous amount of conversion projects. 
"If they have an existing brick fireplace or existing factory-built (prefab), a lot of times customers will try to install an insert (wood burning or gas) or they purchase a set of gas logs. If you have gas in the home, that already makes it a little bit easier. You can run a line to it and connect either set of logs or an insert."
He says many people choose the log approach, which is less expensive, however if you don't have gas or lines aren't run in your neighborhood, the alternative is a propane tank.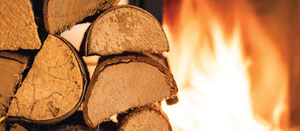 Back to wood
If you fall in the camp where you miss the authentic wood fireplace you grew up with and your new home has a gas unit that you just don't feel comfortable using, there is an option to revert back to wood.
At Black Goose, Briscoe says he's actually seeing a lot of people convert back to wood, especially with how efficient wood-burning stoves have become today. His company deals heavily in restoration of older fireplaces to burn wood. The process begins with a thorough Level 2 inspection (which he suggests for every new home inspection) and continues with annual maintenance.
"The chimney is always the most neglected portion of the home … Unless you have it regularly maintained, there's a 99% chance you have something that needs checked."
If you want the best of both worlds, some of the country's most high-end fireplace models are just coming onto the scene with the option for the homeowner to convert from wood to gas and vice versa themselves — whenever they want. 
On a cold winter day, a fire always beckons. As you explore the diverse range of fireplace options available today, you may just warm up to one that is the perfect fit for your family. ✦
direct vent gas fireplace, fireplaces, freestanding wood stoves, fuel, gas, Wood, wood stove, wood-burning fireplace insert