Good Fences Make Good Neighbors
from privacy to curb appeal, fences define your space
Long used for privacy and protection, fences can also create a visual impact that enhances the value of your home. Far beyond a simple way to mark your property line, a fence can add a decorative element to your yard while also serving an important safety or landscaping function. A variety of materials, colors and styles are available to help you creatively achieve your vision.

Fenced In: Why are fences beneficial?
Many people build fences for protection — to keep children or pets in a safe area — but fences are also useful for privacy, as accents for landscaping, and as borders around pools and patios. Fences can even create a new room in your yard. For instance, you can create a private area outdoors where you can read and drink your coffee. Or, you may want to enclose a garden and add outdoor furniture to create a den in the open air.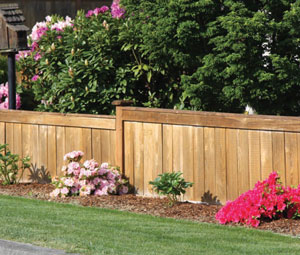 Depending on your purpose, the height of the fence can vary. You may install a low, 4-foot fence if you're just creating your own space and not trying to keep your neighbors away. On the other hand, if your goal is to hide an unsightly area, a 6-foot fence may be the answer.
Mending Fences: What types of materials are used for fences?
The style and materials of the fence depend on your reason for installing the fence in the first place. Many homeowners use vinyl, wood, or aluminum. A vinyl fence will last for decades with no maintenance. Vinyl won't warp, peel, chip, rot, crackor fade.
Wood will last for 20 years or more, but you'll have to stain, paint or treat it in some way. A wooden fence gives that classic, traditional look that can immediately upgrade the curb appeal of the home, yet maintenance is always an issue. A good chain link fence can last for 100 years.
You also have to consider the topography of your land when selecting materials. For instance, if you're trying to keep a dog in an area, you have to make sure the dog can't get under the fence. If your property slopes, the fence has to stay the same distance from the ground in spite of the rolling hills.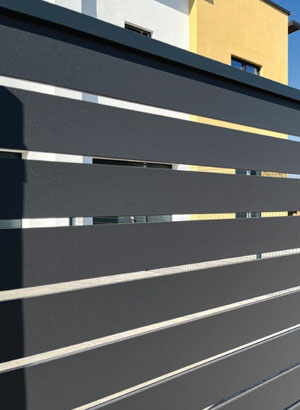 Mixing materials can be a viable solution for cost containment and for aesthetics. By choosing a mixture of pre-fab and custom pieces, your vision can be attractive, but still very affordable.
For the initial installation, a vinyl fence will cost more than one made of wood, but in the long run, will be far less expensive to maintain. Aluminum is a good option for a fence as well, but will initially cost more than wood, though as with vinyl, the maintenance is less.
Wrought-iron is another material that is popular for porch railings and gates due to the possibility of more ornate designs; however, wrought-iron is often cost-prohibitive for fencing.
According to Kenny Chattin, owner of Larry Chattin & Sons Fences, agricultural fencing is another important category of fencing. "Most of the time, we work for farmers and landowners," notes Chattin. "We develop a friendship with customers, and they trust us."
Kenny, the youngest of three Chattin sons, recommends considering the purpose for the fence when selecting materials. "We install a lot of barbed wire fences on farms," he says."In residential areas, we install board fences, and we also do some vinyl."

Fence Forward: What's trending in 2023?
Depending on the type of fence, once it is installed, many homeowners add twinkling lights and hanging planters to complete the visual appeal. Solar cap lights are fairly inexpensive additions to vinyl fences that add interest and an element of safety.
Color is also trending in fencing materials. Unlike the iconic Mark Twain character of Tom Sawyer who convinced his friends to help him whitewash a fence, folks today can enjoy color on the fence without the dreaded upkeep. Vinyl fencing comes in a variety of colors, including some that even look like wood and stone.
A single-panel privacy screen for patios and firepit areas is a less expensive option that seems to be growing in popularity. In an instant, a decorative screen that can be pre-fab or custom-designed provides the much-desired privacy while adding to the ambience of the area.
Jump the Fence: What are some other considerations before installing fences?
Fences can be installed at any time during the year. If you live in a neighborhood with a Homeowner Association, make sure you follow those guidelines and receive approval before designing your fence. Also, it's important to contact the utilities services prior to installation to avoid issues, something many fencing companies will do for the homeowner. Additionally, ask questions before choosing a fencing company. Some considerations include how the companies install the fence posts, if the company is licensed, bonded and insured, and how long a job will take.
For function or style, fences add visual appeal to your property and value to your home. So, if you're ready to upgrade your yard, it's time to install a fence!
---
PROS AND CONS OF AN ELECTRIC FENCE
One important reason people want a fence is containment for dogs. Invisible or electric fences normally deliver a warning sound and then an electric shock whenever the pet crosses a boundary. With training, the dog learns to stay within the confines of the invisible fence. This type of fencing can be an affordable option that doesn't interfere with the landscape and can be installed quickly.
On the other hand, the shock has to be fairly strong in order to deter the pet. Also, depending on the personality of the animal, the shock may not always be enough of a deterrent to keep the dog within the fence barrier. Obviously, an electric fence can't keep other dogs or animals away from your pet.
Trending in electric fences for dogs is a GPS-based collar. Owners often have the option to create as many as 20 different fences to keep the dogs safe. For instance, the same collar that creates a fence in your back yard creates a fence where you're vacationing. Such a "fence" is convenient if the pet acclimates well to the collar and responds by staying within the designated boundaries. ✦
Chain Link Fence, Electric Fence, fences, Porch Railings, privacy, Protection, Vinyl Fence, Wooden Fence