Gifts for Pets: Give Them What They Really Want!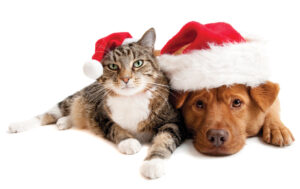 Buying a gift for your furry best friend shouldn't be any different than shopping for
your other loved ones. Keep in mind what they enjoy doing and if they have any
special preferences and shop accordingly. Remember, you're buying the gift for them, not yourself.
As with people, the best gift you can give your pet is something that's a special indulgence or something that brings them comfort. We think any of these gifts will set tails wagging and elicit purrs aplenty.
Canterbury Books and Gifts, located inside St. John's Episcopal Church's Mountain Avenue entrance, has a few special items for sale this holiday season with your furry best friend in mind.
All profits from the sale of these items will benefit all of St. John's community outreach programs—such as the Community Youth Program, an after-school program for at-risk youth providing homework help for students in grades four through eight; and the Temporary Relief of Unexpected Emergencies program, a program that helps connect people in need of housing and utility assistance with the appropriate community resources.
For more information, contact Barbara at (540) 491-9914 or by email at bookstore@stjohnsroanoke.org.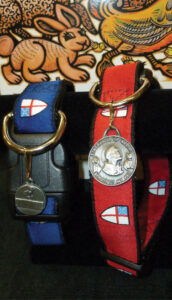 These pewter collar tags carry the emblem of Saint Francis of Assisi, the patron saint and protector of animals. The smaller size will fit the collar of a cat or small dog, $2.95. The larger size will complement the collar of a medium-to-large sized pet, $5.95. Collars and leads are also for sale, $15 and $18.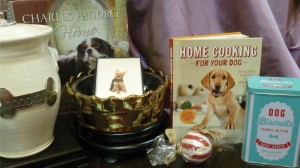 These three items are chosen with wellness in mind. The cookbook features a collection of 75 healthy recipes you can prepare for your dog—and the cute "peppermint" tennis ball will surely get his tail wagging for playtime! After his workout, reward that good dog with a peanut butter dog treat by Harry Barker. Cookbook, $19.99, peppermint tennis ball, $3, peanut butter treats, $11.99. All items are available at Provisions/rsvp.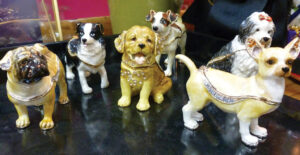 Choose your favorite breed or collect all six! These enameled miniature dog boxes by Kubla Craft will
delight any dog-lover, with their realistic depictions of our favorite breeds, decorated with Austrian
crystals. Each one, standing only two inches tall, is a tiny treasure you can
hold in your hand and a lovely reminder of your beloved pet.
Prices start at $30, available at Provision/rsvp.

Dog Biscuits, Dog Collars, Dog Healthy Recipes, Dog Tags, Miniature dog statues