Concrete Enhancement: How to Warm and Brighten Those Cold, Gray Floors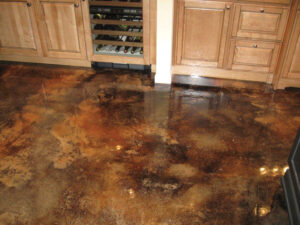 Historically, the only design choice associated with a concrete floor in the home was how best to cover it up: carpet, wood, tile or vinyl? No longer. Bare concrete has become a popular flooring option as homeowners turn to new decorative concrete materials, techniques and processes to brighten and animate their unfinished basements and other inside spaces.
Their choices include acid-staining the concrete, marbling it with warm or vibrant metallic coatings, scoring, sawing and stamping it to achieve all manner of patterns and artistic expression, and smoothing and polishing it to a glossy, mirror-like sheen.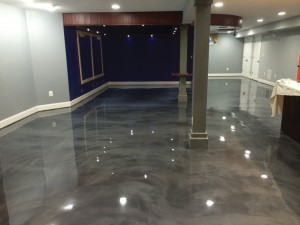 "It's really the idea of using what you already have, which is not only cost-effective and environmentally friendly, but with the decorative techniques you also get a finished, attractive, unique-looking floor," says Richard Taylor, owner of Design Concrete Surfaces in Roanoke, noting that decorative concrete floors are allergy-free, durable, easy to clean and require very little maintenance.
In fact, the trend is becoming so prevalent that it's not just for current homeowners who want a waterproof but inspired flooring solution in their basements. Decorative concrete is increasingly being used in new home construction.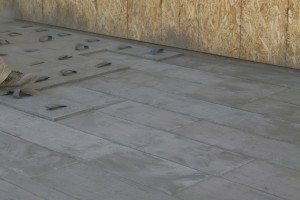 And this floor choice is not relegated to basements. If your house is built on a slab foundation, decorative concrete is a practical but beautiful choice for kitchens, baths, foyers, living rooms and closed-in porches. And if you have wood subflooring? It's still an option, though not an ideal one. Installers can trawl a layer of concrete over wood and jazz it up with decorative processes. However, since wood is pliable, this type of concrete floor is even more prone to crack and not something installers usually recommend.
Colorful Options
For most homeowners, decorative concrete is an affordable way to give new life to old floors—and also create a unique look. And you don't need to start from scratch or have perfect floors to get amazing results.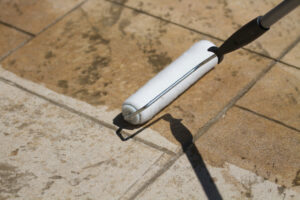 Oftentimes, concrete that's been covered is still in excellent shape and needs no prep work, but if it has been previously painted or has old carpet or wood glue stuck to it, an installer can grind the surface and then start the decorative process. And if the floor has a lot of damage or uneven spots? "We can come back and put on a very thin coating of a concrete product, which we call a micro-topping, and essentially refresh the surface," Taylor explains. "Then it can be stained and sealed as if it were brand new concrete."
In fact, many homeowners first learn about stained concrete after a basement flood, leak or mold problem forces them to call in a specialist to rip out old carpet or wood. "Once people have been through a leak or a flood, they're definitely a lot more willing to go back to their concrete floors," Taylor says. "Wood floors and carpets get wet, musty, grow mold, buckle, have to be torn out. With concrete, there's no concern with that. If water gets in, you shop-vac it or mop it up and everything's fine."
The simplest—and most cost-effective—decorative option is acid-staining, which, at about $3 to $5 per square foot installed, is comparable to the price of average carpet and costs considerably less than wood or tile.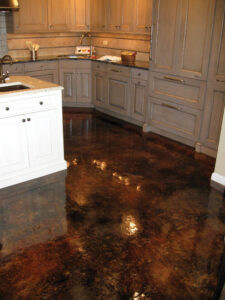 To achieve the look, Taylor's firm uses a high-grade stain product that deeply penetrates the concrete and chemically changes the color. After letting it dry overnight, they seal the color first with a layer of acrylic sealer or polyurethane (depending on the amount of foot traffic expected), achieving a warm, rich floor that plays up the variegated tones and shades inherent in poured concrete.
The color palette available with stained concrete is limited to warm earth tones, so homeowners who want a brighter, more primary coloring on their floors, including white, will need a metallic epoxy finish. This coloring technique, which generally costs between $5 and $7 per square foot, relies on an epoxy coating mixed with pigment and metal chips. The result? A marbled, semi-transparent appearance with more dimension and depth than a stained floor.
Floor Art
When combined with professional techniques like sawing, scoring, stamping and engraving, these two coloring processes can help homeowners turn their concrete floors into glossy works of art. The possibilities for an imaginative, conversation-sparking floor design are endless: irregular patterns, circular lines, geometric grids, and multi-color motifs. Some homeowners have even fashioned an original design, monogram or family crest in the center of a floor.
You can also go with a more traditional look. Installers can create a faux tiled floor by trawling an overlay of concrete onto existing concrete floors (or even wood subfloors), scoring or stamping the desired pattern and then individually coloring each block with acid-stain or metallic epoxy. These types of techniques can also be used to imitate other popular floor choices like wood, stone, slate, granite and brick.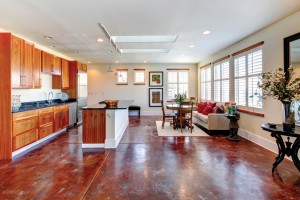 The benefits? You get the unique appearance, but not the shortcomings of those options. You don't have to worry about water damage like swelling, buckling and rotting. You don't have to purchase higher-priced specialty cleaners, as concrete floors can be wiped clean with a mop and soapy water. And the surface is as impervious as a floor can be to scratches and scuffs from toys, pets and high heels.
The one downside to concrete has always been that cracks can and do occur due to shrinkage. However, with decorative concrete techniques, these cracks are no longer an eyesore. They can certainly be smoothed over with thin layer of concrete and then stained and sealed, but it's also worth noting that a few cracks can actually add a unique character to this type of flooring. That's because cracks absorb more pigment than the rest of the floor, which accentuates the color and gives it a natural look.
Finally, homeowners can give their concrete floors a polish by using different diamond abrasive grit to achieve various levels of shine—from a matte finish to a wet look to a gloss so high that you can see your reflection in it. "The concrete gets a shiny look without need for a sealer, and it stays that way," Taylor explains. "So the advantage is that you don't need to maintain or redo the sealer to keep the shine."
No matter what decorative concrete color, style or finish you choose, you'll reap all the same benefits: a one-of-a-kind, refined, durable, allergy-friendly and easily maintained floor that your visitors will never recognize as concrete.
Concrete dyes, Concrete polish, decorative concrete, Design Concrete Surfaces, Metallic Epoxy