Flower Farms Are Blooming
A flower farm is a scenic wonder: rows and rows of bright petaled heads poking up from plentiful green leaves and lanky stems. Yet all that beauty comes from long hours of hard work and hands in the dirt. Does the joy that flowers bring match the sweat on the brow and the tired feet at the end of the day? Three local farmers tell the story of how they embarked on this adventure and what it takes to produce this precious commodity.
---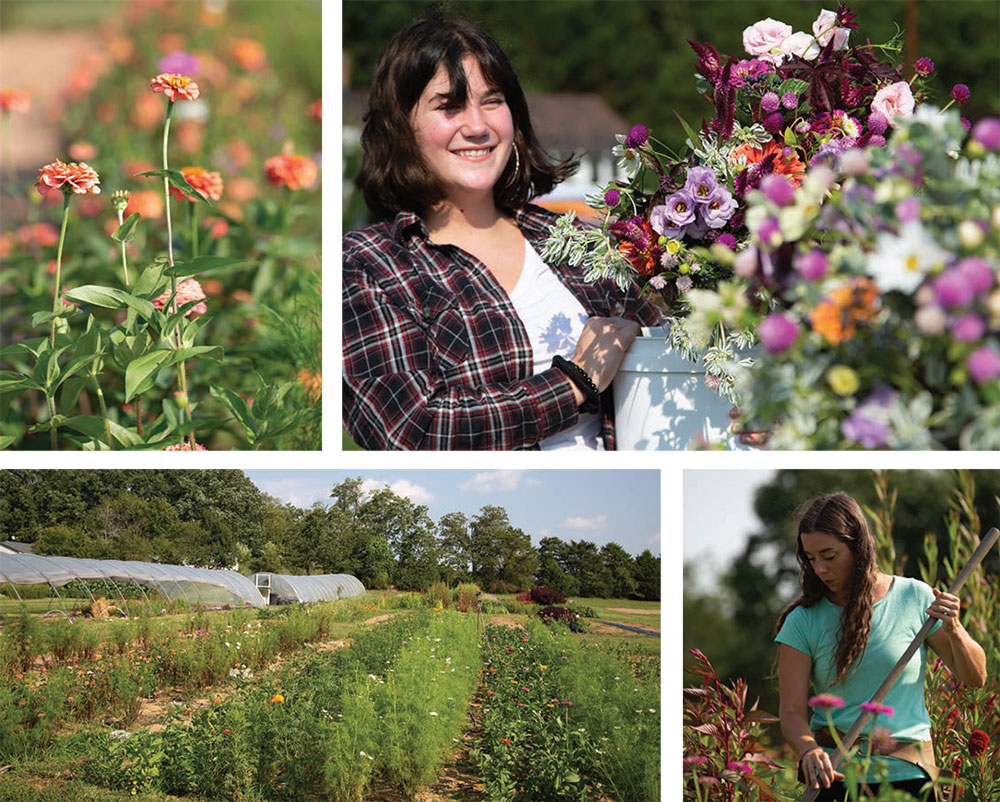 Photos: Sharptop Studios
Lessons learned in the fields
Sarah and Mark Sowers live on Sarah's family farm outside Fincastle, Virginia. Walking the flower fields with Sarah reveals her abundant knowledge about growing cut flowers, gained from seven years of experience on the farm that carries her name: SARAH'S PETALS. On Saturdays, she and her daughters sell her flowers at the Botetourt and Roanoke City Farmers Markets. Sarah's husband Mark tills the fields with his bright green tractor, and he builds hoop houses that allow them to extend the growing season. Mark designed and constructed a garden shed where the cut flowers condition in buckets; behind it is the Flower Closet, a cooler where flowers chill until they are used in Sarah's designs or wrapped in bouquets for the market. Outside the Flower Closet is Sarah's workstation where she creates her beautiful arrangements.
Sarah's Petals is a family business, with Sarah's parents helping too; all family members work in and amongst the flowers at different times. Mark builds raised beds and last year he constructed their first greenhouse. Sarah says, "[The greenhouse] is a welcome addition to the farm because it provides protection during the winter months and allows us an early start for seedlings. Once we add a heater, we will offer more potted plants." Sarah determines what to plant each season as well as designs the bouquets and arrangements. Sarah's daughters pitch in after school and on weekends to make deliveries.
Sarah's Petals does not use chemicals or harsh pesticides to grow their flowers. "We use a lot of compost to build the health of the soil and make it better for flower production," Sarah says. "Farming this way takes more time. It is a long-term fix rather than the quick fix that chemical fertilizers provide, but it is worth it." Looking at one of Sarah's favorite flowers, the dahlia—"the diva of the garden," as Sarah calls them—as well as the brightly colored zinnias and cosmos growing in bountiful groups, you know the soil is good.
At Sarah's Petals, flowers start budding in late April and May. Ranunculus, snapdragons, delphiniums and bells of Ireland brighten the spring days. Then cottage garden flowers like Sweet William, bachelor buttons, Canterbury bells and lupines arrive. Once a bed of flowers finishes, they plant cover crops such as buckwheat to keep the dirt from eroding and the soil from compacting. Known as green manure, this organic matter is tilled in before planting the next crop. New flowers are always being planted, along with fillers such as eucalyptus and silver shields, even unusual ones like an Oriental variety of milkweed with big green pods that attract caterpillars. Sunflowers and broom corn arrive in late summer. "I like to grow something unusual each season," Sarah says. "[Summer 2020] I tried a new variety of hibiscus called Mahogany Splendor that has exquisite foliage but will not flower in our climate," Sarah says as she handles a dark stem covered with reddish brown leaves. This foliage alone is exquisite in a vase. Sarah also grows popular flowers like Dutch iris and spring tulips to mix with varieties of ornamental onions for stunning bouquets.

Photos: Sharptop Studios
Late fall and winter are ideal for planning. To find ideas and inspiration, Sarah reads books on growing cut flowers. She is part of a Facebook group called Flower Farmers and she belongs to the American Specialty Cut Flower Growers, an organization that offers networking and other resources. Sarah shares her love of flowers and design knowledge through her wedding services as well as by offering workshops with demonstrations. Her ready-made arrangements sell at Bryant's Orchard Farm Market Store in Daleville.
Though you can schedule a delivery, you can also pick up pre-orders at the farm. Driving in to see those tidy fields of sunny flowers is worth the trip. sarahspetals.com, 540.793.0466
---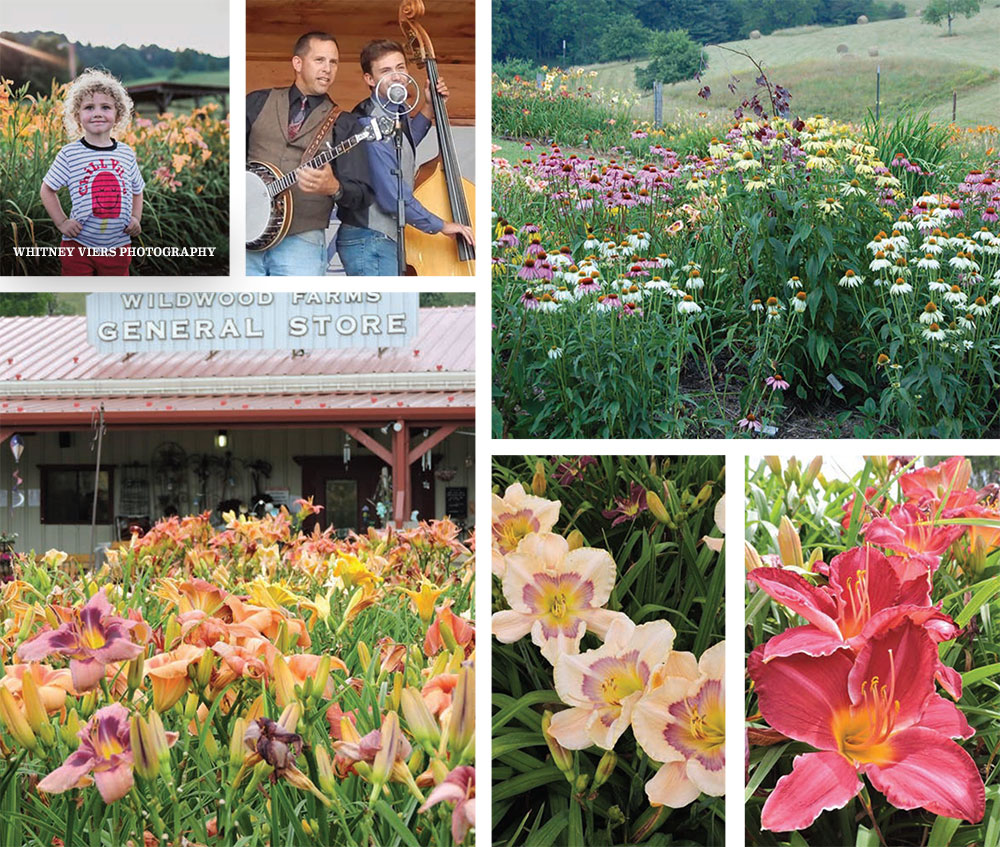 Photos: Wildwood Farms, Except as Noted
Daylilies in bloom
Judy Bowman, a registered nurse, and husband Bob, an ER physician, started a daylily farm in Floyd, Virginia that grew into a full-time business: WILDWOOD FARMS GENERAL STORE AND DAYLILY FARM.
It all started when Judy and Bob bought a daylily farm of five beds. Daylilies were a favorite in Judy's mother's garden, which encouraged them to take on this adventure. The following year they expanded their plot to about 10-15 beds and increased the lily selection. From there, it just kept going as they planted and experimented with different types of daylilies and grew collections for sale.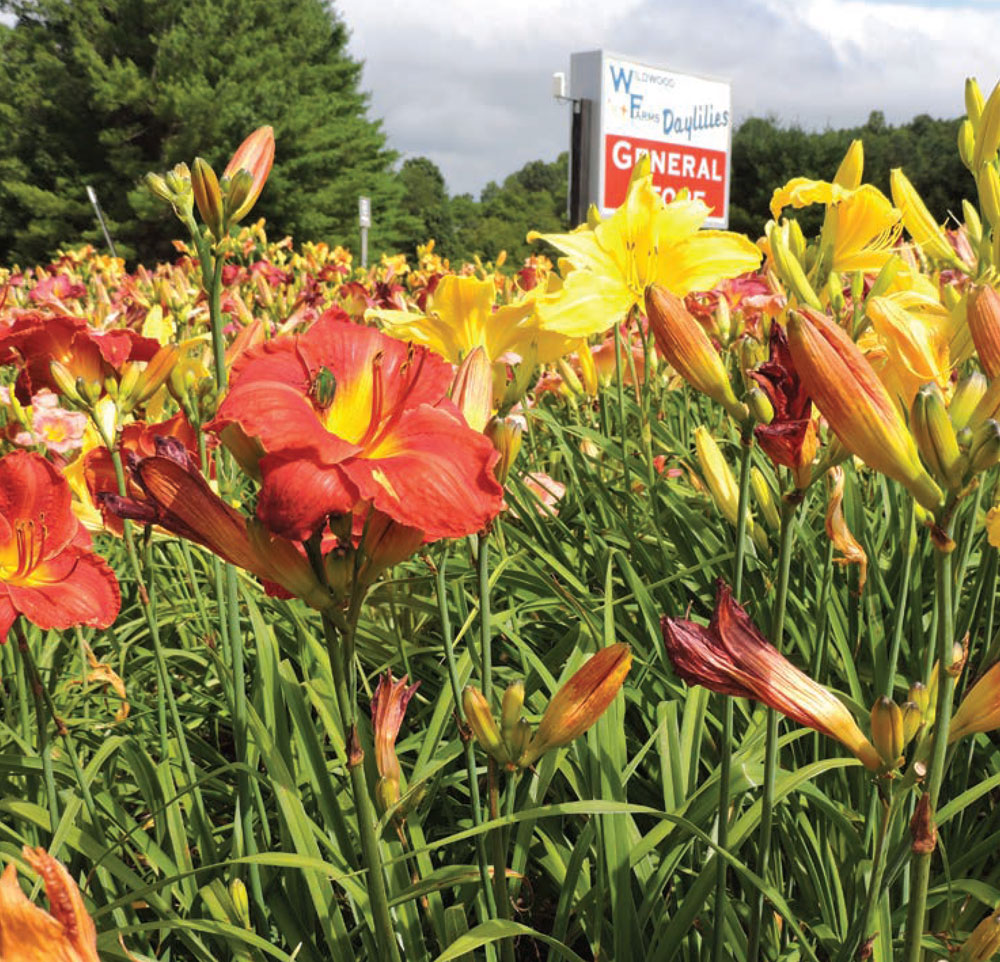 Once the fields of daylilies were established, the couple built the general store that stocks gardening supplies, Virginia-made jams, barbecue sauce, dried beans and more, with local artists' pottery and sculpture also lining the shelves. They added a cafe that offers barbecue, delicious sandwiches and fried chicken dinners. The front porch and deck provide a picnic spot for their customers. Out back, a stage offers a place for musical sessions when the weather is bad; another stage sits on the garden shed porch across from the store where musicians play beside the lily fields on Sunday afternoons. Judy grew up with a mother who loved flowers, and was excited to start propagating and selling lilies while she had her mom for advice; others in her family are musical. "Our family hosted weekly music jams when I was growing up, so we want to provide this for our community," Judy says. This site offers the perfect combination. The surrounding landscaping and gentle water features make a peaceful, shady place to enjoy a meal, listen to music, and gaze at the daylilies.
Now, people come from all over to purchase their plants. Customers walk the flower beds, select their plants by filling out a form, then shop or eat while Judy digs their lilies from the fields.
Over the years, Judy and her niece experimented with a few hybrids, but for the most part, Judy says, "We cultivate good garden flowers for this climate. It is wise to buy in your local area because those lilies are hardy for your garden and will do well."
The daylilies start blooming in June and peak in July; some go until mid-August and in the right conditions can flower into mid-September. By fall the beds are put to bed for winter. Spring is good for dividing lilies and nourishing the soil. The beds are alphabetized so that Judy knows exactly where each plant is located. With more than 600 different varieties for sale, being this organized is a necessity. As the Bowmans learned quickly, running a daylily farm takes up a good bit of time.
Since it opened in 2013, The General Store became a local connection for gardeners, music lovers and foodies. This work, along with the daylily farm, keeps the couple busy seven days a week. You can almost always find them working alongside their employees or catching up with friends who stop for a bite to eat. Some find it hard to leave this serene spot; it's a pleasure to drive up to Wildwood Farm and wander the property, browse the store, shop for garden tools, and take home a few jars of pickles. Just don't forget the daylilies; ask for your order form at the front desk. wildwoodfarmsdaylilies.com, 540.745.5155
---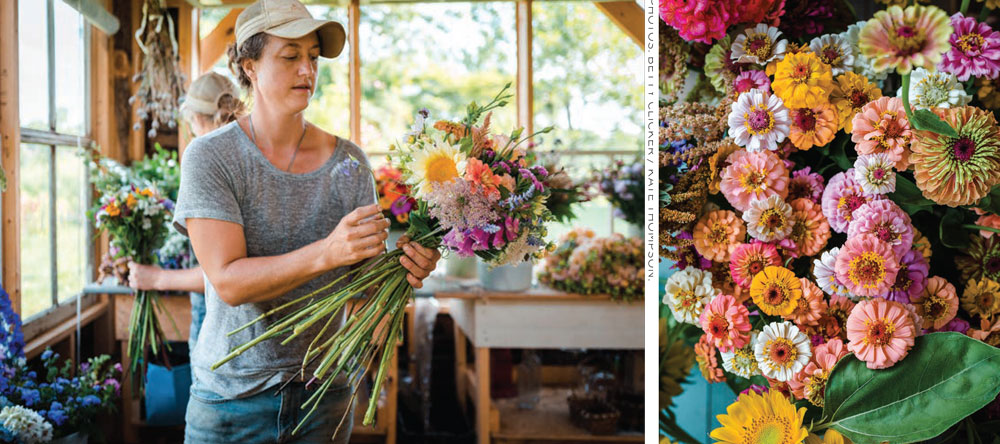 Photos: Betty Clicker / Kate Thompson.
Flowers feed the land and the soul
It was a friend's wedding on a farm in Maine that opened Susanna Thornton's eyes to the beauty of sustainable farming. "I realized I missed the immediacy, the physicalness of working with the earth," Susannah says.
She had grown up with her parents and two siblings on THORNFIELD FARM in Botetourt County when it was a dairy farm. Those early years on her parents' farm taught her the discipline of hard work and "got the land into her bones," she says. Years away for college and during her career in public policy that took her to New Orleans, San Francisco and Washington, D.C. gave Susanna the insight to support this major lifestyle change. After the friend's wedding, she stayed on that farm in Maine for a year to learn their practices and methods, then came home to institute the policies she learned so she and her family could transition their dairy farm to a greener one.
Six years later, she and her parents, John and Linda Thornton, have transformed over 300 rolling acres of pasture and fields into a farm where they grow flowers, fruits and vegetables. The Thorntons also raise grass-fed lambs and cows, and free-range chickens. In 2015, they expanded their business to include sustainably grown vegetables for sale in the community. Thornfield Farm is well known for its farm shares for their vegetables and the beautiful flowers and high-quality produce used by several local farm-to-table restaurants. They sell flowers, produce and meats to individuals through pre-orders on their website.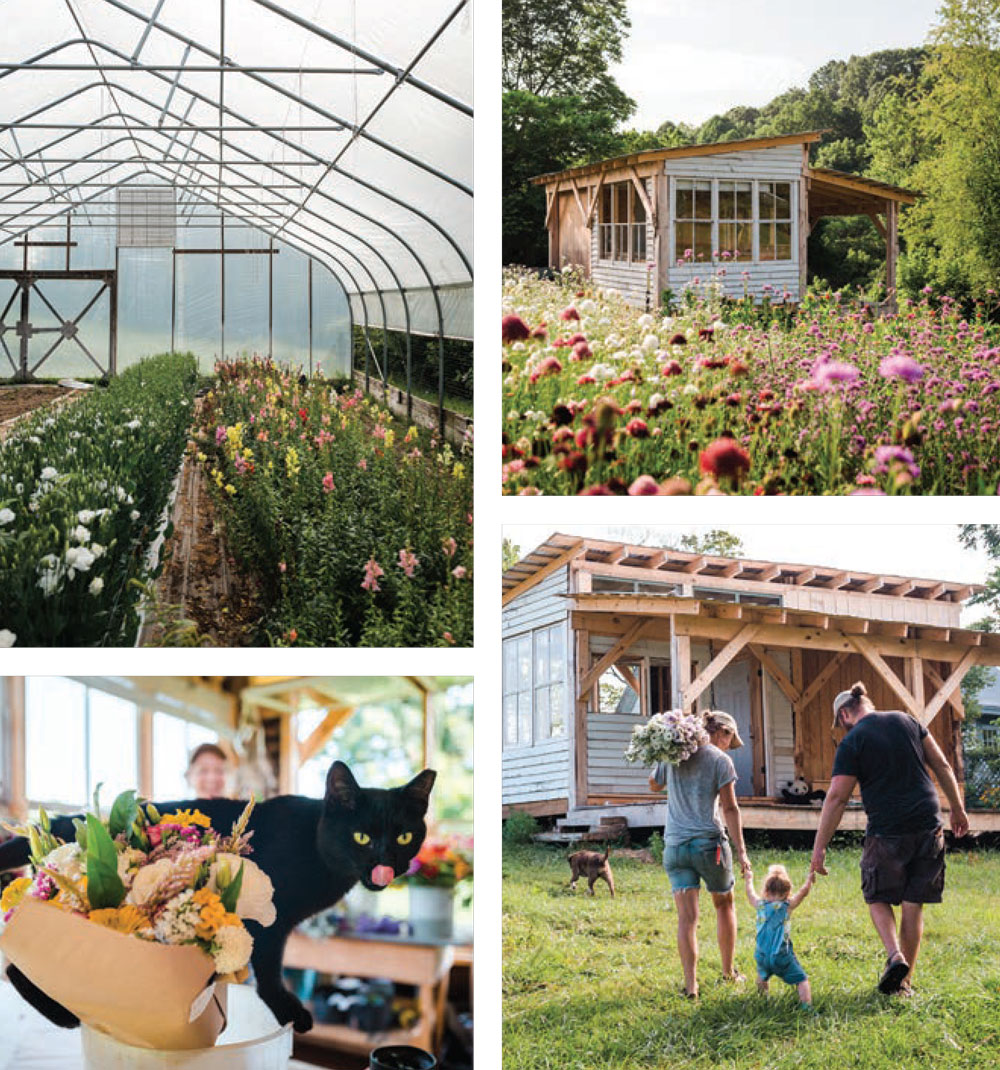 Photos: Betty Clicker / Kate Thompson.
Thornfield Farm cultivates a diverse portfolio of flowers and vegetables. "We plant one acre of flowers and three to four acres of vegetables each season," Susannah says. They also practice crop rotation and do not use synthetic pesticides or chemicals in an effort to maintain healthy soil, which they improve continually with compost and worms. They believe that healthy soil provides the ingredients plants need to fight pests.
Early spring bulbs, flowers, lettuces and spicy greens sprout in the fields followed by peonies, spinach and arugula. These greens along with the traditional vegetables such as carrots, beans and squash provide a variety of healthy options to purchase along with a bouquet of flowers.
Susanna added flowers in recent years and plants a wide selection that do well in our climate. She grows both annuals and perennials and strives to add a few new varieties each year. "We plant over 50 varieties of cut flowers and each season has a shining star. There are always one to two showstoppers in the flower field. In spring, the ranunculus steals the show," Susanna says. There are tulips, peonies and later dahlias that offer color and shape to her bouquets. She also grows eucalyptus, scented geranium, amaranth, verbena, zinnias and celosia to provide cut flowers all through the growing season. Once the heat of summer arrives, the sunflowers with their magnificent yellow petals and plate-size heads stand out in the field.
You can buy a bouquet of Susanna's flowers through pre-orders online. They also offer flowers by the bucket or in individual containers for events such as weddings. Susanna designs bridal bouquets, boutonnieres and corsages as well as arrangements for wedding events. Once you place an order for that stunning bouquet of flowers, get some veggies too and choose a location to pick up your flowers and produce. It is easy: pay online, drive up, and pop the trunk. Thornfield Farms also offers pick up at several locations in town, or if you have the time to go to the farm in Fincastle, you have the added bonus of watching the lambs romp in the fields as you wind the gravel drive up to the barn. thornfieldfarm.com, 540.520.1803 ✦
blooms, bouquet, compost, cut flowers, daylily farm, family farm, flower farm, flowers, grass-fed, Greenhouse, meats, produce, sustainable farming